Twice suffering workplace fire accidents, her husband died a painful death at an early age, leaving her as a young widow who went on to spend more than 30 years alone.
On May 20, 1916, the 16-year-old Iva was united in matrimony with 18-year-old Edward "Jesse" Henry (1898-1931), the son of Charles Ross and Lydia (Ansell) Henry of Scullton, Somerset County. The ceremony was held at Scullton, officiated by Rev. S.W. Bryan.
At the time of their marriage, Jesse gave his occupation as "professor," suggesting that he was a local school teacher. He listed his father's type of work as "traveler."
Circa 1917, the family resided in New Lexington, Somerset County.
When the federal census of 1920 was enumerated, he worked as a cashier at a local railroad station. At some point, they moved to the nearby village of Kingwood. They were members of the Wesley Chapel Methodist Church.
Jesse went on to operate a small restaurant in the nearby bustling railroad town of Rockwood, Somerset County.
In 1924, while earning a living at the restaurant, Jesse suffered the first of two serious burn-accidents. Said the Somerset Herald, "while lighting a gasoline burner on a coffee urn, he was badly burned when it became enveloped in flames and he carried it outside." Fortunately, Jesse recovered, though he would not be so fortunate a second time, some seven years later.
The second wave of tragedy struck in July 1931, when 33-year-old Jesse again was engulfed with fire at work and suffered fatal injuries. While "filling the tank of the gasoline engine of his electric plant" in his store, a gallon measure "exploded and set fire to his clothing." According to the Herald:
Just a day after the accident, on July 20, 1931, Jesse succumbed to the angel of death at the hospital. The Herald said that "It is thought that his former burns had weakened the tissues so that when exposed to the second fire, his resistance was lower and he could not throw off the effects."
After a funeral at the Wesley Chapel Methodist Church, Jesse's charred remains were buried at the Scullton Cemetery along Route 653 (Springfield Pike).
The Scullton Road, framed against the picturesque backdrop of the mountains, was affectionately known as the "Little Alps of America."
Iva then sought employment to support her and her children. One July in the late 1940s or early '50s, in a letter to a relative, Iva's mother wrote: "Gertrude and Iva has not bin here for some time. They don't get home often as they both work."
In an October 1955 letter from Iva's mother to a relative, she wrote this update on family visits:
The emotional toll extracted by the years was heavy. Iva's son-in-law Sylvester L. Everhart Sr. was killed in action during World War II, when his aircraft was shot down during a bombing run over Formosa. Further ache rocked Iva's heart again in November 1956, when her son Frank passed away after a tragic accident at work.
Iva's final home was in Addison, Somerset County, likely under the roof of her married daughter Wilma Everhart Wright. She contracted pancreatic cancer early in 1965 and suffered for three months until death mercifully carried her away.

With her health in decline, Iva was admitted to the Meyersdale Community Hospital, where she died at age 65 on June 7, 1965, after more than three decades as a widow. At the time, reported the Connellsville Daily Courier and Somerset Daily American, she was survived by 10 grandchildren and four great-grandchildren. She is buried beside her husband in Scullton. Her daughter Wilma, living in Addison, signed the official Pennsylvania certificate of death.
Above, back, L-R: Iva, Jess, Nora, Gertrude, Lester (with baby), Clint. Front: Jess and Susie (Harbaugh) Conn Strickler. Below: the Henrys' grave markers at Scullton Cemetery
~ Son Franklin Bernard "Frank" Henry ~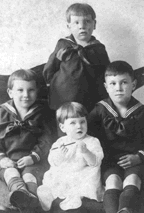 The Henry children

Son Franklin Bernard "Frank" Henry (1916?-1955) was born in about 1916 with the name "Willard F. Henry."

He relocated to Ohio as a young man, where he obtained work in Akron with B.F. Goodrich Company. With the onset of World War II, his work at Goodrich focused on production of defense materials.

During World War II, on Aug. 31, 1943, he enlisted in the U.S. Navy's Construction Battalion, nicknamed the "Seabees." He trained as a machinist's mate at Camp Peary, VA and Camp Endicott, RI and then was transferred to California. By May 1944 he was deployed to the South Pacific Theatre. Later he served in the U.S. Naval Reserve.

He was joined in wedlock with Rubye Lou McVicker (Dec. 12, 1912-1979), daughter of Austin and Vina (Brown) McVicker. They made a home on Main Street in Rockwood.

The couple bore one known daughter, Vivian Loebig.

With Frank away in the Navy, Ruby and their baby daughter made a home in the Miller Apartment Building.

The family residence circa 1950 was in Pittsburgh at 710 West North Avenue. Frank earned a living as a steam shovel operator, employed by Allegheny Contracting Industries Inc. Circa 1955, he worked away from home on a state highway construction project at Quehanna, Clearfield County, PA, at the site of the erection of a new Curtiss Wright aircraft testing plant.
World War II story
Courtesy S.L. Everhart Jr.

On the fateful day of Nov. 17, 1955, Frank was killed at work. The Clearfield (PA) Progress reported that he was "operating a large grade-all machine when the boom suddenly dropped and struck him on the chest and back. It was believed that his clothing may have become entangled in the lever used to raise and lower the bom, the weight of which was estimated at about two tons. Mr. Henry died in the ambulance enroute to the hospital without regaining consciousness." An examining physician wrote that his "Boom dropped down & squeezed subject to death." A short article about the accident appeared in the Altoona Tribune.

The body was tranported back to Rockwood to rest for all time in the Odd Fellows Cemetery.

Rubye outlived her spouse by 24 years. She married a second time to Anthony Thomas Seiler (Nov. 11, 1909-1977). He died on April 12, 1977, with interment in Twin Valley Memorial Park in Delmont, Westmoreland County.

At the end, she was admitted to Mercy Hospital in Pittsburgh. She was gathered in by the Angel of Death at the age of 67 on Aug. 8, 1979. Rev. Donald Krestar preached the funeral service, with interment beside her first husband in Rockwood. An obituary was printed in the Meyersdale Republican.

Daughter Vivian Louise Henry (1935-2000) was born on June 26, 1935 in Rockwood. On Dec. 2, 1950, when she was 15 years of age, she married 20-year-old Robert William Loebig (Oct. 24, 1930-2004), employed at the time as a clerk, and the son of Robert and Mildred (Eisenberg) Loebig. Their marriage endured for nearly half a century. The three children born to this union were Valerie Dobies, Kimberly Casale and Robert F. Loebig. They made their residence in the Scott Township suburb of Pittsburgh. Robert was a longtime coach and president in the Scott Township Baseball Association. Sadly, Vivian died at the age of 65 on July 11, 2000. Her remains were lowered into eternal repose in Saint Barbara Roman Catholic Cemetery in Collier Township near Pittsburgh. Robert endured for another three-and-a-half years and passed into eternity on Jan. 25, 2004. Inscribed on the face of their grave marker is this epitaph: "A truer love did not exist."
Granddaughter Valerie Loebig married David Dobies. They have lived in Gibsonia/Hampton Township north of Pittsburgh. They are the parents of Jennifer M. Dobies and Jessica A. Dobies.

Great-granddaughter Jennifer M. Dobies is a 1993 graduate of Hampton High School. She also is a 1997 magna cum laude graduate of the University of Pittsburgh, where she majored in nursing under the Stella Yaksich Scholarship. In 1994, she was elected president of the Lambda Sigma Honor Society, and at one time was vice president of the Pitt Pathfinders.

Great-granddaughter Jessica A. Dobies studied occupational therapy at Mt. Aloysius College circa 1997.

Granddaughter Kimberly Loebig studied at Edinboro University of Pennsylvania. She wed (?) Casale. She is the mother of Louis and has resided in South Fayette Township.
Grandson Robert F. Loebig

made a home in South Fayette Township. He is believed to be a building contractor.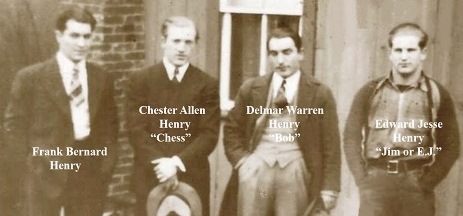 The Henry brothers, circa 1955. Courtesy Sylvester Everhart Jr.
~ Son Robert Bernard Henry Sr. ~
Son Robert Bernard Henry Sr. (1918- ? ) was born in 1918 under the name "Delmar Warren Henry."
He changed his name to Robert between 1930 and 1940, when he would have been of an age ranging from 12 to 22.
Robert was joined in marriage with Wilma Marie Panik/Panich (Aug. 30, 1918-2000), a native of Casselman and the daughter of Julius Michael and Mary Elizabeth (Prochnavy) Panik.
The couple produced five known offspring -- Robert Bernard Henry Jr., James William Henry, Joseph Henry, Jack Harvey Henry and Stephanie Robin Snyder.
Sometime in the 1948 to 1951 timeframe, he left his family and relocated to the Pacific Northwest. There, he set up a home in Salem, Marion County, OR and worked as an automobile mechanic. His name was printed in Salem newspapers when he filed an assumed business name for his auto repair business in January 1951 and then again when charged with obtaining money on false pretenses in April 1952.
His whereabouts after that are shrouded by the mists of the past.
Wilma remained in Rockwood for decades and resided at 221 West Main Street. Evidence suggests that by 1972, she married again to James Dunbar ( ? - ? ).

She died in Meyersdale Medical Center at the age of 81 on Feb. 18, 2000. Burial was in Saints Philip and James Catholic Church Cemetery in Meyersdale, with Rev. Sherman Berkey leading the funeral mass.

Robert Henry Jr.
Courtesy S.L. Everhart Jr.

Son Robert Bernard Henry Jr. (1940-2015) was born on Dec. 18, 1940 in Casselman, Somerset County. In young manhood he joined the U.S. Army and trained as a radar operator with the C Battery, 2rd Missile Battalion, 60th Artillery at the Philadelphia Army Air Defense Command. When he was 18 years of age, on Aug. 15, 1959, he married Sandra Lee Meyers ( ? - ? ), daughter of Rev. Earl E. Meyers of Garrett. Their wedding was held in the Garrett Evangelical United Brethren Church, officiated by the bride's father, and announced on the pages of the Meyersdale Republican. At the time of their wedding, Sandra worked as a stenographer for Petrosky Insurance and the law office of Robert M. Keim. The couple bore two offspring -- Steve Henry and Jody Henry. Robert served in the U.S. Army. For many years, he was employed by Walbridge Aldinger, a Detroit-based construction services company. In his spare time, he liked to hunt and work on his vintage Thunderbird. After a divorce, he wed again to Joyce Penley ( ? - ? ). Their marriage endured for 23 years until cleaved apart by death. She brought two children to the second union -- Michael Penley and John Penley. The Henrys were in Detroit in 2000. Robert passed away at the age of 74, in Allen Park, MI, on March 1, 2015. His remains were interred in Michigan Memorial Park in Flat Rock.

Son James William Henry (1942-2021) was born on Sept. 25, 1942 in Somerset. He attended Rockwood Area High School and then may have relocated to Detroit. During the Vietnam War, from Aug. 3, 1964 to July 21, 1966, he served in the U.S. Army. During that term of service, on May 1, 1965, he wed Sandra "Sandy" Grevis ( ? - ? ), daughter of Mr. and Mrs. Grevis of 8878 Lauder Street, Detroit. The pair stayed together for a remarkable 56 years until cleaved apart by death. They resided in the Detroit suburbs of Carleton and Monroe over the years. A trio of daughters born into this brood were Christine DeBacker, Andrea Metzger and Katherine Robinson. James was considered an "accomplished entrepreneur" and was self-employed in a number of businesses. When time allowed, he liked to play poker, golfed and hunted. They belonged to the Zion Lutheran Church. At the age of 79, James passed away on Oct. 28, 2021. An obituary called him "extraordinarily kind, giving and generous."
Granddaughter Andrea Henry wed Bruce Metzger. He apparently brought three stepchildren into the union -- Christopher Metzger, Matthew Metzger and David Metzger. Together, they bore two offspring of their own, Luci Metzger and Joshua Metzger.
Son Joseph J. Henry ( ? - ? ) was employed as a young man by E. Arthur James Inc. in Pittsburgh. He joined the U.S. Army during the Vietnam War and trained in Pershing missile operations at Fort Sill, OK. Joseph was united in matrimony with Marlene ( ? - ? ). They dwelled in Meyersdale as of 2009. Joseph was deceased by 2021.
Son Jack Harvey Henry ( ? - ? ) was born on (?). He graduated from Rockwood Area High School and in young manhood earned a living as a bookkeeper. On Aug. 12, 1972, he was joined in wedlock with Daisy Ohler ( ? - ? ), daughter of George Franklin "Bud" and Blanche C. (Emerick) Ohler of Berlin, PA. Their wedding ceremony was held in St. Philip and James Roman Catholic Church in Meyersdale, by the hand of Rev. George Clark. Daisy was pictured in a marriage announcement in the Somerset Daily American. She was an alumna of Berlin-Brothersvalley High School and, at the time of marriage, was employed with Howard Johnsons Restaurant. They put down roots in Garrett, Somerset County and by 2009 had moved to Somerset.
Daughter Stephanie "Robin" Henry ( ? - ? ) married Charles Snyder ( ? - ? ). Circa 2000, their home was in Bedford, Bedford County, PA.
~ Son Chester Allen Henry ~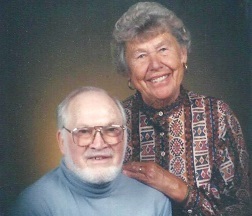 Chester and Betty Henry
Courtesy Sylvester L. Everhart Jr.

Son Chester Allen Henry (1920-1998) was born on June 9, 1920 in New Lexington or Listonburg, Somerset County.

On March 16, 1940 when he was age 20, and she 21, Chester married Betty Marie Patton (Aug. 22, 1918-2008), daughter of Norman Lewis and Orpha (Miller) Patton. Their marital union endured for 58 years.

Betty appears to have lived in young womanhood in Grantsville, Garrett County, MD. She brought a daughter into the marriage, Sonya Clair Patton.

The couple bore three children of their own -- Norma Montgomery, Jess Henry and Clifford Henry.

They relocated to the Detroit area, where they made their residence in the communities of Allen Park and Manistee.

The family grieved on Valentine's Day1960 when daughter Sonya, who shared a home with Betty Marie's mother in Grantsville, died of carbon monoxide poisoning at the age of 24. Her body was found in her automobile in the garage. Reported the Cumberland Evening Times, she was "Officials said [she] was lying on the front seat of the car as if she were tired, and said ti was possible she became ill just after she drove the car into the garage... The switch was still turned on when the body was found, but the car had run out of gas. The heater was still running." Rev. David Fetter, of the local Christ Lutheran Church, preached the funeral sermon. She rests for all time in Grantsville Cemetery in Garrett County, MD.

There, Chester owned Dayton Television in Lincoln Park, and later owned and operated Woodland Acres Cottages. They were members of the First Congregational Church in Onekama, MI. Chester also was an avid woodworker and hunter, and belonged to the Masons lodge in Lincoln Park.

Chester died at home at the age of 77 on April 17, 1998. Funeral services were held in the First Congregational Church, led by Rev. John Peterson. An obituary was published in the Somerset Daily American.

Betty outlived her husband by a decade and remained in Manistee. The Angel of Death carried her away at the age of 89 on May 13, 2008.


Daughter Norma Henry was united in matrimony with Robert Montgomery and in 2009 resided in Manistee, MI.

Son Jess Henry wedded Wendy and lived in Manistee, MI.

Son Clifford Henry married Elizabeth and made their residence in 1998 in Hilton Head, SC.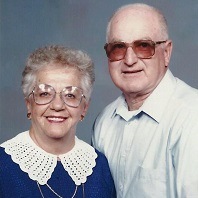 E.J. and Dorothy. Courtesy S.L. Everhart
~ Son Edward James "E.J." Henry ~
Son Edward James "E.J." Henry (1922-2009) was born on June 4, 1922 in Middlecreek Township, Somerset County.
He relocated as a young man to Ambridge, Beaver County, PA, where he found employment as a carpenter.
Then during World War II, E.J. enlisted in September 1942 in the U.S. Marine Corps. He trained at Parris Island, SC and then was moved to a new post at Camp Lejeune, NC. At some point he was shipped overseas to the Pacific Theatre of War and took part in what is referred to as "the island hopping campaign."
He married Dorothy Hoffman (Sept. 4, 1923-2000), daughter of Dr. Sherman and Edith (Workman) Hoffman of Duquesne, PA near Pittsburgh.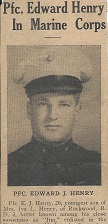 World War II news
Circa 1955-1965, they lived in Elizabeth, Allegheny County, PA. The couple did not reproduce.
Said the Daily American, Jim "was a member of the American Legion and the Carpenter's Union. He was a member of the Kingwood Church of God and loved to play golf with his friends."
Dorothy was a longtime legal secretary for the law firm of Munnell and Norton in McKeesport, near Pittsburgh. She belonged to the Order of Eastern Star in Aliquippa and later in White Oak.
By 1998, apparently after retirement the Henrys returned to New Lexington.
Dorothy passed away at the age of 76 on June 29, 2000, as a patient in Somerset Hospital. Rev. James Monticue preached her funeral sermon at the Kingwood Church of God, with an obituary appearing in the Daily American.
Jim outlived his wife by eight-and-a-half years.
Toward the end, he was admitted to Pittsburgh's West Penn Hospital. He died there at the age of 86 on Jan. 14, 2009. Following funeral services again led by Rev. Monticue, he was laid to rest at Scullton Cemetery. The Somerset County Honor Guard furnished military rites at the service. The Daily American printed an obituary, in which the family asked that any memorial donations be made to the family church.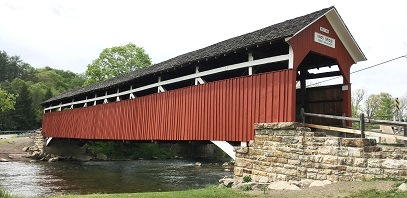 King's Bridge, a landmark built in 1802 near New Lexington
~ Daughter Wilma Lois "Sis" (Henry) Everhart Wright ~

Sylvester Everhart Sr.
Courtesy S.L. Everhart Jr.
Daughter Wilma Lois "Sis" Henry (1924-living) was born on Nov. 19, 1924 in New Lexington, Somerset County.
In young womanhood she relocated to Akron, OH where she earned a living as a waitress at Kestler's Restaurant. She then enrolled as a student nurse at Memorial Hospital in Cumberland, MD.
Wilma was married twice. In 1944, in a ceremony held in Baton Rouge, LA, she was united in matrimony with her first spouse, Rockwood serviceman Sylvester Leo "Bess" Everhart Sr. (May 2, 1921-1945), son of Samuel Nathan and Goldie Beatrice (Johnson) Everhart and a native of Cherry Run, Morgan County, WV. A story in the Somerset County Leader that she "was attired in a powder blue street length dress with white accessories, offset by a corsage of pink rose buds." Rev. G.A. Gatzhe led the ceremony in the local Lutheran Church.
The couple produced an only son, Sylvester Leo "Sam" Everhart Jr.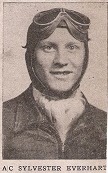 Sylvester Sr.
Courtesy S.L. Everhart Jr.
Prior to marriage, as World War II was raging, Sylvester had joined the U.S. Army Air Force on Oct. 20, 1943. He trained at Moore Field, TX and qualified on May 23, 1944 as a fighter pilot. After their wedding in Louisiana, the couple had some time together at Peterson Field in Colorado Springs, CO, where he was receiving final training.
The 24-year-old flier was then deployed to the China-Burma-India Theatre of war. He flew missions over Formosa, today known as Taiwan, as a member of the 72nd Fighter Group of the 2nd Squadron.
While Sylvester was away, Wilma made a home with his parents in Rockwood. She learned that she was expecting their baby.
Grief and anxiety cascaded through the family when Sylvester's aircraft was shot down. It happened on his 10th combat mission during a bombing run over Formosa on Feb. 25, 1945. He initially was declared missing in action. No announcement was made, however, until his mother was notified in Rockwood on April 2, 1945. Wilma received a letter from Major Edward F. Witsell, Adjutant General of the Army, of the War Department, dated Feb. 14, 1946:
It is with regret that I inform you of the death of your husband, Flight Officer Sylvester L. Everhart, T126691, Air Corps, who was previously reported missing in action on 25 February 1945 over Formosa Island. A telegram announcing his death was sent to his mother who was designated by him as the person to be notified in an emergency. A casualry report has now been received which states taht he was killed in action on the date he was previously reported missing in action. Reports on our brave men who have given their lives in battle do not reveal details of the heroic action which led to their deaths. The significance of his heroic service to his country will be preserved and commemorated by a grateful nation, and it is hoped that this thought may give you strength and courage in your sorrow. I extend to you my deepest sympathy.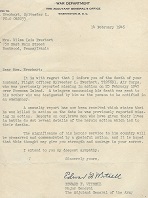 War Department letter
Courtesy Sylvester Everhart Jr.

The tragic news was reported in the Connellsville Daily Courier and Somerset Daily American. His body was never found.

Wilma delivered a baby boy in August 1945, some five months after her husband was lost.

Sylvester finally was declared dead in March 1946, with the news published in the local newspapers as well as in the Pittsburgh Press. In the years that followed, his name was inscribed on a tablet at the Manila American Cemetery and Memorial, and on a bronze marker in the Odd Fellows Cemetery in Rockwood.

After three years as a widow, in 1948, Wilma wed again to Jack Thomas Wright (Nov. 20, 1918-1997), son of Franklin Cleveland "Frank" and Edith Margaret (Wass) Wright of Confluence.

The pair produced a son of their own, Jack Thomas Wright Jr.

Jack also was a veteran of World War II, having served as a bombardier in B-17 aircraft in Europe with the 332nd Bomber Squadron, 94th Bomber Group, 8th Air Force. They resided in Addison, where Jack worked for Dennis Lumber Company and Yezbak Lumber, and at one point was a self-employed carpenter.

They were members of the Addison United Methodist Church. Jack belonged to the Pennsylvania Chapter of the 8th Air Force Historical Society and Veterans of Foreign Wars. Wilma served as secretary of the inaugural reunion of the Rockwood High School class of 1942.

The federal census enumeration of 1950 lists the Wrights in Addison, with Jack earning a living as a carpenter in the house construction field.

Jack passed away at the age of 78 at home in Addison on Oct. 15, 1997. Burial was in the Addison Cemetery.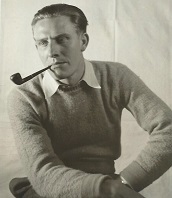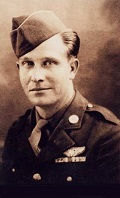 Jack Thomas Wright.
Courtesy Sylvester Everhart Jr.
Son Sylvester Leo Everhart Jr. (1945-living) was born in 1945, five months after his father was shot down during World War II. He attended Indiana (PA) State College for a year or two. Then, during the Vietnam War, he joined the U.S. Air Force and trained as a communications specialistat Lowry Air Force Base in Colorado. On Oct. 17, 1964, in nuptials held in Trinity Lutheran Church in Confluence, he was joined in the bonds of wedlock with Sandra Lee Koontz ( ? - ? ), daughter of Scott Ivan Koontz of Confluence of the family of Samuel G. and Mary Ann (Younkin) Phillippi. Co-officiating the nuptials were Rev. Lester E. Rudisill and Rev. John R. Hickson. In reporting on the wedding, the Uniontown Evening Standard said that Sandra "wore a floor-length gown of white taffeta, fashioned with a fitted empire waistline, portrait neckline, long tapered sleeves and controlled skirt ending in a watteau train. Her four-tiered veil of silk illusion was attached to a pillbox headpiece of silk and she carried a cascade of white pompons centered with a white orchid." The newlyweds' first home was in South Carolina, where Sylvester was posted at Shaw Air Force Base. Sandra was an alumna of Robert Morris Junion College. They made a home in 1997 in Oakton, VA and Pinehurst, NC in 2009. Sylvester graciously has shared photograph images for this and other Conn family biographies on this website.

Son Jack Thomas Wright Jr. (1949- ? ) was born in about 1949 in Maryland. As a student at Turkeyfoot High School, he starred in baseball, basketball and football. He was awarded an academic scholarship to study biology at the University of Pennsylvania in Philadelphia. That year, in April, he was seriously injured when his automobile overturned along Route 53 a mile south of Confluence. He was married and the father of Jack Thomas Wright III. The family residence in 1977 was in Pottstown, PA and in 1997 in Spring City, PA.
Copyright © 2001-2002, 2005, 2008-2009, 2012, 2014, 2017, 2020, 2022-2023 Mark A. Miner