Harvey 'Clinton' Conn
(1903- ? )

Harvey "Clinton" Conn was born on Dec. 9, 1903 in Jersey Hollow near Confluence, Somerset County, PA, the son of Alexander Wilson and Susannah (Harbaugh) Conn.
Clint married Melda Hostetler (1907-1938) in about 1925, when he was age 21 and she 18. She was a native of Kingwood, Somerset County. They adopted a son.
Circa 1930, when the federal census was enumerated, the Conns made their home on State Street in Versailles, near Pittsburgh. He was employed there as an insurance agent.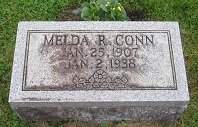 IOOF Cemetery, Kingwood
Sadly, Melda suffered from an undetermined illness, and she died at McKeesport, near Pittsburgh. Her death occurred on Jan. 5, 1938, when she was age 30. A short obituary was published in the Connellsville Daily Courier.
Her remains were returned to Kingwood for interment in the Odd Fellows Cemetery. When photographed in May 2014, a small planting freshly adorned her grave marker
The Conns occasionally attended the annual Harbaugh Reunions, which had begun in 1926 and were a tradition in the family. In an August 1954 letter to a relative, Clint's mother wrote: "We was at the reunion last Sunday. My 2 girls was their and Jess and Clint, Nora youngest boy Wilson and his wife and children..."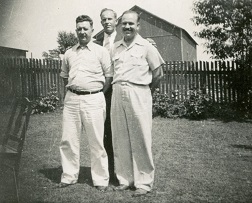 Conn brothers, L-R: Jess, Lester and Clint
Seen here, Clint (at far right) poses with his brothers Jesse (left) and Lester, date unknown.
In an October 1955 letter from Clint's mother to a relative, she wrote this update on family visits:
... yesterday Clint and his wife and family was here for dinner. Iva still lives at Kingwood and Gertrude still lives at Confluence and Lester still at bible school and Jess still at McKeesport... One of Nora's boys and his little girls was here the other Sunday to see us. Well we was glad to see them come.
In a Jan. 22, 1956 letter, Clint's step-father, Jesse O. Strickler wrote that "Clint and his wife and son was here to see Mam last Sunday."
Circa 1965, when mentioned in the Connellsville Daily Courier obituary of his sister Iva Henry, Clint made his home in Mill Hall, Clinton County, PA.
Nothing further is known about his life.
Copyright © 2001-2002, 2013-2014 Mark A. Miner