Jesse Gaumer was born on Feb. 6, 1835 in Southampton Twp., Somerset County, PA, the son of Charles and Sarah "Sally" (Shoemaker) Gaumer. He was a veteran of the Civil War whose six months of wartime service caused more than six decades of pain and suffering.
As a young man, Jesse was a farmer. He stood 5 feet, 7 inches tall, weighed 130 lbs, and had a fair complexion, light hair and brown eyes.
Jesse married Malinda Kendall (1850-1929). Their children, born between 1870 and 1889, were Wilson Gomer, Sarah Gomer, Marras (or 'Marnass') Gomer, Rachel Gomer, Charles E. Gomer, Ida B. Gaumer, Cora A. Gaumer, James G. Gaumer and Earl Gomer and Mary P. Gomer. (These spellings are taken directly from a handwritten list made during Malinda's lifetime.)
During the Civil War, on Oct. 24, 1862, Jesse was drafted to serve in the 171st Pennsylvania Drafted Militia. He was assigned to Company H, and joined the regiment in Cumberland, MD. Also serving in this regiment, in Company K, were distant cousins Henry A. Miner and Charles Rose, also of Somerset County.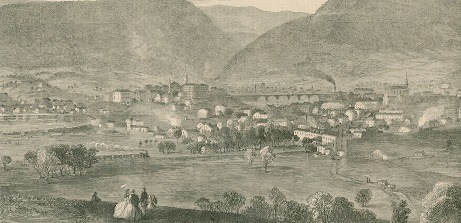 Cumberland, MD during the Civil War -- Harper's Weekly, Oct. 20, 1866
On April 20, 1863, while the regiment was in North Carolina, he contracted typhoid fever and 'cerebro spinal meningitis," breaking out in 'fever sores.' His right arm became partially paralyzed. He was treated in Stanley General Hospital in New Berne, NC. He was so ill that he was discharged from the Army two months later, on June 20, and sent home.
In July 1863, Jesse contacted Dr. John P. Cover for a consultation. Dr. Cover found him "suffering greatly" and followed his case for many years. Other physicians who examined him said his "brain seems sluggish ... he is slow to answer [questions]."
Jesse returned home to Somerset County and resumed farming. He and Malinda were married several years later, but sources differ on the actual date. Various papers provide four different dates -- June 1867, March 1868, Nov. 13, 1868 or June 1870. Jesse was 15 years older than his bride. Justice of the peace James Devore performed the ceremony, held at Kennells Mill, near Hyndman, Bedford County, PA. Recalling this event later in life, she said, "At the time of ... marriage in Pa, no marriage license was required, therefore no public record of [the] marriage exists."
Circa 1888-1889, he resided in Wittenberg, Somerset County.
Malinda lost her eyesight as she aged. Jesse once wrote, "My wife is blind and can't see to do no work." They needed to pay someone to help with housework, baking and cooking. A friend said she "is blind and uneducated. Can not read or rite."
Circa 1909-1921, Jesse resided at R.F.D. #2, Sand Patch, Larimer Twp., Somerset County. He suffered from impaired vision and hearing, stiff knees, deformed right hand and incontinence. After examining Jesse in 1921, a surgeon wrote: "I have known Jesse Gaumer for about 40 years and he has been an invalid all this time. He has all appearance of one who was grossly neglected after if not during a severe illness... He cannot descend the steps from the house for daily purposes."
Alzheimers apparently set in. Another neighbor, justice of the peace J.L. Kendall, observed that Jesse "frequently wanders from his home, necessitating search for him... It is unsafe for him to be alone at any time."
By 1915, Jesse noted that his eldest son Wilson and youngest daughter Mary were dead, but dates are not known.
Jesse finally passed away at home on Nov. 4, 1925. He was just 3 months shy of his 91st birthday. He was buried at White Oak Cemetery.
After his death, Malinda had no source of support, and decided to apply to the government for her late husband's pension. This task was quite difficult, said friend Kendall, because "all papers relative to pensions were strayed, lost or stolen, she can not say." Fortunately, her application was approved, and she began receiving $40 a month, later increased to $50.
By March 1926, Malinda had moved into the home farm of son Earl near Frostburg, Allegany County, MD. A friend wrote, "She does not live in the town of Frostburg but a little ways outside of the town limits, and not on any R.F.D. Route." She apparently suffered a stroke, as she was paralyzed for about a year prior to death.
Malinda passed away on May 13, 1929. She was buried at Temple Cemetery near Sand Patch. Whether this is the same burial site as White Oak Cemetery is unknown.
Son Wilson Gomer
Daughter Sarah Gomer
Son Marras (or "Marnass") Gomer
Daughter Rachel Gomer
Son Charles E. Gomer
Daughter Ida B. Gaumer
Daughter Cora A. Gaumer
Son James G. Gaumer
Son Earl Gomer
Daughter Mary P. Gomer.
Copyright © 2003, 2014 Mark A. Miner