Hardin Duvall Carroll
(1863-1941)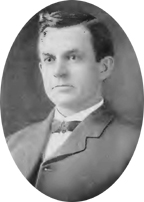 Hardin Duvall Carroll
Hardin Duvall Carroll was born on Feb. 16, 1863 near Masontown, Preston County, WV, the son of James M. and Elizabeth (Burke) Carroll.
Despite an affliction with epilepsy, which began when he was 17, he became a prominent educator and dairy farmer, and was profiled in several history books about Preston County.
On Nov. 7, 1888, Hardin married Elma Herring (1861-1940), also a native of Preston County. He was age 25 at the time of marriage, and she was one year older. Rev. Samuel DeBerry officiated.
The Carrolls went on to produce five children -- Alan Keyser Carroll, Paul Carroll, Ruth Leeth, Myra Carroll and Helen Carrico.
Wiley's 1882 History of Preston County lists Hardin's name as a teacher in sub-district 3 during the winter term of 1881-1882 in the Valley District of Preston County. He continued teaching at least through 1886, when he was named in the Biennial Report of the State Superintendent of Free Schools of the State of West Virginia.
An 1891 issue of the West Virginia Argus reports that Hardin was selling "Pure Bred Poland Chinas of the very best strains" and was inviting the public to "Write for prices and pedigrees." On Thanksgiving Day of that year, he moved to his parents' farm, where:

Profile, Preston County history book
He has erected a dwelling on the place and is now making arrangements to run a milk wagon and supply our people with milk. This is a commendable move and should be encouraged, as many of our people do not keep cows and in winter milk is sometimes hard to get.
Of Hardin's long career, which included serving as a teacher for a total of 23 years, the 1914 History said he:
…superintended the schools at Masontown three years, and as an agriculturalist held farmers' institutes and lectured. Beside superintending the farm and veterinary practice, he is connected with the Civil Service in the Post Office Department and finds time to write for several agricultural papers and report to the U.S. Agricultural Department.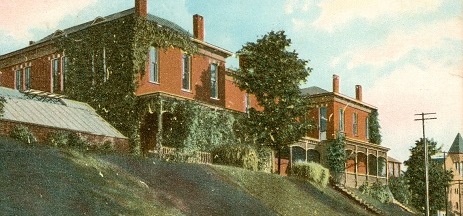 West Virginia University's agricultural experiment station, Morgantown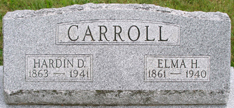 Masontown Cemetery
At the age of 42, Hardin obtained a bachelor of science degree in agriculture in 1905 from West Virginia University, majoring in veterinary science. He is pictured and featured in a lengthy profile in H.S. Whetsell's 1914 book, A History of Preston County.
As Hardin's epilepsy developed into psychosis, he was admitted to the State Hospital for the Insane in Weston, WV. There, he lived for the balance of his life.
Elma spent her final years in the home of her married daughter Helen Carrico in Dover, Tuscarawas County, OH.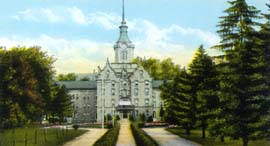 State Hospital for the Insane

, Weston, WV
She died in 1940, when she was age 79. The details are not yet known. Her remains were shipped back to Preston County for burial in Masontown Cemetery next to the high school in Masontown.
Hardin outlived Elma by just one year, and died at the hospital in Weston at age 78 on March 26, 1941. His remains, finally at rest, were returned to Masontown for burial, beside his wife.
Despite an extensive search of the Preston County Journal archives on microfilm, no obituary for Hardin has been found.
~ Son Alan Keyser Carroll ~

Alan Carroll
Son Alan Keyser Carroll (1890-1970) was born on April 11, 1890.
Alan is said to have been the "first R.F.D. carrier from Masontown, 1909." He later obtained a bachelor's degree in agriculture from West Virginia University in 1918, and is pictured in that year's yearbook.
He is known to have served in the U.S. Army during World War I.
At the age of 33, in about 1923, he wedded 22-year-old Frances Durham (1901- ? ), a native of North Carolina and the daughter of Leola Durham.
The couple's two offspring were Alan Durham Carroll and Donna Faye Carroll.
Alan is pictured and profiled in the 1979 book, Preston County West Virginia History, published by the Preston County Historical Society. According to the book, he "was an agricultural professor in Washington State."
The family in fact relocated to Washington State circa 1923-1924, where both of their children were born. The 1930 United States Census shows the family in Bellingham, Whatcom County, WA, with Alan employed as a high school teacher.
Alan and Frances lived at different addresses in 1940. That year, he dwelled with his mother-in-law in Bellingham, while she and the children made a home in Piedmont, Alameda County, CA. Alan's occupation as shown in the 1940 census was high school science teacher.
Their residence in 1943 was 4539 Brooklyn Avenue in Seattle. By 1970, the family had moved to College Place, WA. In May 1970, he was named to the WVU Alumni Association's Emeritus Club at a dinner held at the Hotel Morgan.
Alan died in at the age of 80 on Sept. 29, 1970. His remains are in eternal repose in Mountain View Cemetery in Walla Walla, WA.
Son Alan Durham Carroll (1924-1943) was born on June 19, 1924 in Washington State. At the age of 19, he was an aviation cadet with the U.S. Navy, stationed at Corpus Christi, TX. On the tragic day of June 5, 1943, while on a training mission, he was killed when his aircraft crashed 16 miles from the naval air training center. News of the disaster was printed in the Oroville (CA) Mercury Register and Spokane (WA) Chronicle. Burial was made in Rose Hill Memorial Park in Corpus Christi. On his standard issue military grave marker, his middle name is spelled "Durhan."
Daughter Donna Faye Carroll (1925- ? ) was born in about 1925 in Washington State.
~ Son Paul Carroll ~
Son Paul Carroll (1893-1948) was born on St. Parick's Day 1893 in Kingwood.
He also suffered from epilepsy and convulsions, starting at age 12.
He resided in Masontown, but is not known to have married or had children. In 1923, suffering from psychosis as a result of his illness, he was sent to the Hospital for the Insane in Weston, as had his father, where he remained for the remaining 25-plus years of his life.
He died at the hospital 20 days after his 55th birthday, on April 7, 1948.
The remains are believed to have been donated to West Virginia University's school of medicine.
~ Daughter Ruth Henrietta (Carroll) Leeth ~
Daughter Ruth Henrietta Carroll (1895- ? ) was born in 1895.
When she was about 26 years of age, on March 26, 1921, she was united in matrimony with 23-year-old Willard Henderson Leeth (Jan. 29, 1898-1974), a native of Alexandria County, VA. At the time of marriage, Willard made his home in the Canal Zone of Panama. Rev. Job Jones, of the Methodist Episcopal Church of Masontown, officiated at the wedding.
Two children born into this family were Wallace Carroll Leeth Sr. and John Lawrence Leeth.
Willard stood 5 feet, 9 inches tall and weighed 170 lbs. His left arm bore a tattoo showing an ace of spaces with a bursting star.
Early in the marriage, the Leeths resided in Masontown, Preston County, WV. Circa 1935-1940, the family lived in Arlington, VA, where Willard was employed as vice president of Leeth Brothers Inc., a retail tire and battery company, and Ruth earned a living as a federal government clerk. Their home address in Arlington was 4766 North 26th Street, while the firm was located at 1220 13th Street Northwest.
Willard served in the U.S. Navy at some point in time.
Sadly, Willard passed into eternity in Edgewater, Anne Arundel, MD on Dec. 10, 1974. His remains were lowered to rest in Sunset Memorial Gardens in Kingwood.
Ruth only outlived him by about a year. She succumbed to the angel of death in 1975.
Son Wallace Carroll Leeth Sr. (1923-2009) was born on Feb. 13, 1923 in Masontown, Preston County, WV. He moved with his parents to Arlington, VA during the mid-1920s and remained there into adulthood. During World War II, he served in the U.S. Navy, assigned to a torpedo boat squadron and deployed to the South Pacific. On Jan,. 8, 1944, at the age of 20, he entered into marriage with 19-year-old typist Eris "Jane" Vincent (Sept. 23, 1924-2008), a native of Fairmont, WV and the daughter of Eldon and Ruby (West) Vincent. At the time, she was living in Alexandria, VA. Their union endured for an extraordinary 65 years. Two sons born to the couple were Wallace Carroll Leeth Jr. and Gary Eldon Leeth. Over the years, he earned a living as a machinist in a torpedo factory in Alexandria, VA, for two decades with the family owned Leeth Bros. Tire Company and then as a machinist for Vega Laboratories for another 20 years. He liked to fly airplanes, sail, operate a ham radio, fix clocks and collect antiques. He belonged to ham radio groups and the American Legion in Woodstock, VA. In retirement, the couple moved to Woodstock. Eris Jane passed away in Woodstock at the age of 83 on April 18, 2008. As his health failed, he became a resident of Greenfield Assisted Living in Woodstock. Death swept him away at the age of 86 on Aug. 10, 2009. An obituary appeared in the Shenandoah Valley Herald. Their remains repose for all time in Quantico National Cemetery in Prince William County, VA.
Grandson

Wallace Carroll Leeth Jr.

(1947- ? ) was born on March 24, 1947 in Virginia. He lived in Herndon, Fairfax County, Va in the 1960s and remained there for decades. Wallace was married at least twice. The first union ended in divorce. Then on Jan. 14, 1978, in Fairfax County, he married 29-year-old Rita Fern (Dutton) James (Aug. 30, 1948- ? ), also divorced and the daughter of Lacy and Opal Mae (Moore) Dutton. Rev. David F. James II, of the Cameron United Methodist Church of Alexandria, presided over the nuptials.
Grandson Gary Eldon Leeth

(1950- ? ) was born on July 31, 1950 in Washington, DC. He lived in Falls Church, Fairfax County, VA at the age of 23 in about 1973. He was joined in the bonds of wedlock on Aug. 11, 1973 with 23-year-old Mary Kaye Frye (Dec. 28, 1949- ? ), of Leesburg, Loudoun County, VA and the daughter of Irving B. and Bernadine Viola (Howard) Frye. Officiating was Rev. Warner D. Bose Jr. of the Presbyterian Church, with the ceremony held in Lucketts, Loudoun County. Gary in 2009 dwelled in Strasburg, VA.
Son John Lawrence Leeth (1926-1984) was born in about 1926 in the District of Columbia. He on Nov. 3, 1984, possibly in Florida.
~ Daughter Myra Carroll ~

Masontown Cemetery
Daughter Myra Carroll (1900-1994) was born on May 8, 1900 near Masontown in Preston County.
She never married. She was "one of Preston County's outstanding school teachers," said the 1979 history. "She taught at Bretz, Masontown, Cascade and Arthurdale for more than 40 years," said the Preston County Journal. "She was a self-taught naturalist and avid gardener, and she brought these interests into her classroom."
Myra obtained her bachelor of science degree in human resources and education in 1958, at the age of 58, from West Virginia University.
She was a member of the Wesley United Methodist Church of Morgantown, and belonged to Alpha Delta Kappa, a national sorority of women educators. Myra authored a chapter on the Carroll family for the 1979 book.
Failing in health, Myra in 1988 went to live in Madison House in Morgantown. She passed away there after six years of residence, at the age of 94, on March 8, 1994, and was buried beside her parents in Masontown. An obituary appeared in the Journal.
~ Daughter Helen (Carroll) Carrico ~
Daughter Helen Carroll (1904- ? ) was born in 1904.
She married Walter Carrico ( ? - ? ).
Together, the couple bore three children -- Carolyn Jones, Christine Goldman and James Walter "Sonny" Carrico.
They relocated in 1925 to Dover, Tuscarawas County, OH, where he first earned a living in the shipping department of the Reeves Steel mill. He eventually was promoted to be an accountant in the mill. In time, she was employed there as a school counselor.
Helen is believed to have passed into eternity on Feb. 22, 1987 in Dover.
Daughter Carolyn Jo "Ca" Carrico (1924-2019) was born in 1924 in Morgantown. At the age of one, she accompanied her parents on a relocation to Dover, Tuscarawas County, OH. In 1943, at the age of 19, she was joined in matrimony with Robert "Corkey" Jones ( ? - ? ). Four daughters born into this family were Christine Jones, Wendy Jones, Robin Jones and Tracy Freeman. Robert was a naval pilot during World War II, and was deployed to Oklahoma and California, with Carolyn with him during that time. Upon completion of his service, he finished his college degree. From there the Joneses moved to Cincinnati and Springfield, OH, University City and Kirkwood, MO and Glen Ellyn, IL. In 1963, the couple moved back to Dover. Carolyn was active in the community as president of the Union Hospital Auxiliary, member of TWIG 2, president of the Tourist Club, director of the Dover Senior Center, and member of the First United Methodist Church council and choir and parent-teacher associations. In her personal life, she liked to read, play piano (especially music by Chopin), play bridge, sew, knit, garden, cook and entertain. The pair traveled together to all 5 states and many foreign countries. Death swept her into eternity at the age of 95 on Jan. 3, 2019. In a Dover Times Reporter obituary, the family requested that any memorial donations be made to the Cleveland Clinic Union Hospital Auxiliary.
Daughter Christine Carrico (1924-2012) was born on Dec. 6, 1924 in Dover, Tuscarawas County. She was a 1942 graduate of Dover High School and received her bachelor's degree in 1945 from Ohio University in Athens. She married John Goldman ( ? - ? ). They bore two daughters together -- Carolyn Grant and Mary Ann Wren Jarvis. The Goldmans resided in Wyoming, OH near Cincinnati most of their adult lives. They belonged to Faith Methodist Church in Wyoming. She passed away in Wyoming at the age of 88 on New Year's Eve 2012, served in her final illness by VITAS Hospice. An obituary was published in the Cincinnati Enquirer and the Times-Reporter.
Granddaughter

Carolyn Goldman wedded John Grant

. The Grants were in Cincinnati in 2012.
Granddaughter

Mary Ann Goldman was twice-married. Her first spouse was (?) Wren. Her second husband was James Jarvis

. Circa 2012, the couple was in Novato, CA.
Son James Walter Carrico (1935- ? ) was born in about 1935 in Ohio. He was united in wedlock with Virginia "Ginny" ( ? - ? ). They made a home in Lajitas, TX.
Copyright © 2001, 2003, 2006, 2009-2010, 2013, 2021 Mark A. Miner
Photograph of Hardin Duval Carroll originally published in A History of Preston County, West Virginia, by H.S. Whetsell (1913) and digitized for Microsoft Corporation by the Internet Archive in 2008, courtesy of the New York Public Library. Photo of Alan K. Carroll courtesy of Preston County West Virginia History, published by the Preston County Historical Society (1979).