Home

Laura (Minerd) Younkin
(1813- ? )
Laura (Minerd) Younkin was born on Aug. 9, 1813 in Hexebarger, near Kingwood, Somerset County, PA, the daughter of Jacob and Catherine (Younkin) Minerd Jr.
She grew up on a 500-acre farm near what today is the Old Bethel Church.
Laura was united in holy matrimony in the 1830s with a cousin, John M. Younkin ( ? - ? ), son of Jacob and Eleanor (Chambers) Younkin.
The Younkins lived in what poet John Keats once called the "silence and slow time" -- and what Librarian of Congress James Billington once said was "the lost world of biblical time, in which most Americans lived their lives in the past century."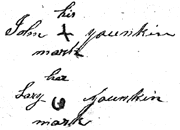 1843 document signed by
John and Laura with "X's."
Laura and John were first cousins, and their marriage was among at least 15 in the 19th century between the interlinked "kissin' cousin" Younkins and Minerds of Somerset County, PA. In this case, the bride and groom both were grandchildren of Johannes "John" and Catherine (Dorscheimer) Younkin.
Though difficult to understand today, cousin marriages of the era were socially prized as a way to ensure that like-minded couples with similar cultural values and heritage stayed together. (For more, click to read "Kissin Cousin Marriages.")
John was born in Lower Turkeyfoot Township in 1803, a son of Jacob "of John" and Eleanor (Chambers) Younkin. Because so many Younkin cousins were named John, he often went by "Lowry John," a slang version of his wife's first name.
They spent their adult years in the Turkeyfoot region, working and raising their family of 10 children -- Catherine Younkin, Eli Younkin, William "Shedrick" Younkin, Charles Younkin, Josiah Younkin, Jacob M. Younkin, Daniel Martin Younkin, Josephine Moan, Mary Caton Davis and Millie/Nellie Younkin.
Neither John nor Laura could write; when they signed documents in 1843 (seen here) and 1851 relinquishing legal claims to their respective parents' lands, they marked their names with an "X." The latter transaction led to litigation -- in March 1851, John and his siblings sold their late father's 159-acre farm (on the hill between Coke Oven Hollow and Smith Hollow) to Solomon Baldwin.
Five years later, a dispute arose after Baldwin only paid part of the purchase price, claiming that five of the acres had no title and that the defective tract (containing "a road to the house") caused "injury to the farm." A panel of arbitrators heard the case and awarded John $100 in damages.
He held an account at the John McMillan tannery in Listonville, and entries from the years 1844 to 1857 are recorded in the tannery's business ledger which is preserved today. The entries read as follow:
...a Qr of up[pers] at $1.12½, cost $1.12½, and a SS [sheepskin] at 33 cents, Dec. 4, 1844 – 4¼ lbs. of SL [shoe leather], $1.33, Jan. 26, 1847 – a QR of SL weight 7 lbs., $2.18, Nov. 25, 1847 – a 2 inch strap of Harnace, 50 cents, May 8, 1848 – a pair of vamps, 25 cents, Aug. 26, 1848 – a Qr of up, cost $1.50, Oct. 27, 1848 – harnace at 50 cents, Jan. 9, 1849, peece of up at 37½ cents, and 1½ lbs. of SL, cost 42 cents, March 13, 1849 – leather for a pair of shoes, $1.00, Feb. 20, 1851 – 3 years interest on the above, $1.50, and 3¾ lbs of SL at 37?, cost $1.24. June 11, 1857.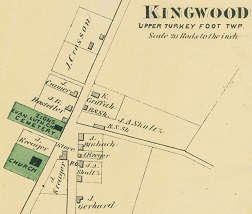 Map of Kingwood showing the Lutheran
Cemetery location (in green), from the
1876 Beers' Atlas of Somerset County
John was a farm laborer but never owned land of his own. In addition to her role as a wife, mother and housekeeper, Laura was a "spinster," a 19th century term for a seamstress. As well, they helped raise their young granddaughter Harriet (Younkin) Romesburg after the girl's mother died.
Occasionally John attended community events such as estate auctions of deceased relatives and friends. In February 1852 he bought "1 Lot of Bees" at the auction of the late Michael Ansell, suggesting that both men made honey.
When John's father Jacob Younkin died in about 1849, he did so without the benefit of having written a will. John inherited the sum of $21.44 from the estate. In a document dated Feb. 6, 1852, he said that he was "one of the sons and heirs at law of Jacob Younkin of John late of Lower Turkeyfoot township... [and] discharged [administrator] james Cunningham from all actions or suits that may or can arise from the said personal estate on my account." John signed his name with an "X." Also receiving payouts from the estate were John's widowed mother Eleanor ($32.17), sister and brother in law, Catherine "Caty" and George Firestone ($21.44) and nephews John X. Younkin ($10.72) and William Younkin ($10.72).
One of Laura and John's daughters, Millie, died young, but the precise details have been lost to history. In later years, they also suffered the deaths of two adult sons, one in war and the other of a yet unknown cause.
Laura died sometime before 1880. Her burial site is thought to have been the Zions Evangelical Lutheran Church Cemetery at Kingwood.
John then moved into the home of his son Charles at Casselman, Somerset County. His death date is not recorded, but he is also said to be buried at the Lutheran cemetery in Kingwood. Both Laura and John rest in unmarked graves.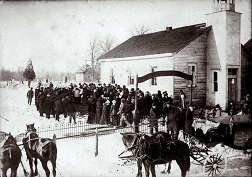 Funeral, Mt. Zion Lutheran, Kingwood.
The identity of the deceased is unknown.
In death, the couple largely faded from memory, but not entirely. They were briefly mentioned in a chapter about their son Daniel in the 1906 volume, History of Bedford and Somerset Counties. As well, some of their descendants attended the first annual Minerd Reunion in August 1913 at Ohiopyle, Pa., and heard John and Laura's names in a speech by Minerd cousin Allen Edward Harbaugh. They also were named in a 1918 Somerset County Leader article about that year's Minerd-Miner Reunion, held at Rockwood and organized by their son Daniel.
In October 1934, John and Laura were named in extensive genealogy manuscript records compiled by distant cousins Otto Roosevelt Younkin and Charles Arthur Younkin, who were gathering data in connection with the Younkin clan's new national home-coming reunion. Otto took extensive handwritten notes, and later had them carefully retyped and organized, and a copy today is in the Minerd-Miner-Minor Archives. Click here to see Otto's handwritten and typed notes from a visit with the Younkins' son Daniel, and also a more complete record of Laura and John and their offspring, typed by Otto circa 1934. During this research, Charles Younkin learned that Laura (spelled "Lorah") also was of Younkin lineage, based on records he had seen that had been prepared years earlier by Allen Edward Harbaugh. He wrote:
Just the other day while looking [at] some old Harbaugh Records I happen to have I came across this where a Jacob Minerd, who was born in Maryland in 1780, married Catherine Younkin, who was born in Somerset Co. 1787. Well I knew that Polly Younkin was married to Henry Minerd, this Henry Minerd, who was married to Polly Younkin, was a son of the above Jacob, as I happen to have the names of the descendants of the Jacob and Catharine union, also a Lorah Miner brother of Henry above was married to a Younkin, the name I do not know at this time.
Click here to read Charles' actual letter of Sept. 29, 1935, spelling out these new discoveries.
Copyright © 1996, 2000, 2002, 2006, 2008, 2014-2016, 2022 Mark A. Miner
Kingwood map originally published in Beers' 1876 Historical Atlas of Somerset County, Pa. Mt. Zion church photo courtesy of Clark Brocht.