William 'Shedrick' Younkin
(1838-1923)


Shed and Caroline
William "Shedrick" Younkin was born in January 1838 or on Feb. 16, 1839 near Kingwood, Somerset County, PA, the son of John M. and Laura (Minerd) Younkin. His familiar nickname was "Shed" or "Sheddy."
In conversations with his children, Shed often referred to his own grandfather as "Fred" even though the man's name was Jacob "of John" Younkin.
Shed is believed to have been named for a well-known and respected local clergyman of the era, Rev. Dr. William Shadrach (1804-1890), for 60 years "a household word among the Baptists" of Pennsylvania, who preached in Somerset County and was an admirer of the Disciples of Christ congregation of Shed's maternal grandparents.
As a young man of 22, Shed boarded on the farm of Joseph and Catharine Bittner in Milford Township, as shown in the 1860 federal census enumeration. His post office was located in Benford's Store.
During 1860 or 1861, when he would have been about age 22 or 23, Shed married Caroline Cupp (1840-1924), daughter of local farmer Thomas "Tommy" and Katharine (Bowlen) Cupp.
Caroline grew up on a 122-acre farm in Milford Township, high above the Casselman River and located south of Mineral Point, Somerset County. Milford's name later was changed to "Black" Township, and Mineral Point to "Rockwood."

1876 Atlas of Somerset County shows the "T. Cupp" farm (circled) where Caroline grew up and which she and Shed later occupied.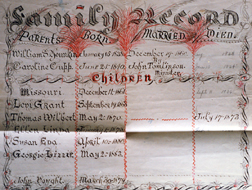 Inked fraktur of births of the Younkins
Their seven children were Missouri Wingerd, Levi "Grant" Younkin, Ella Hauger, Thomas Wilbert Younkin, Susan Edith Miller, Elizabeth "Lizzie" Wable and an unnamed son. Sadly, they lost son Thomas at age three in July 1873 and the infant son at some point in time.
A paper "fraktur" listing of all of the family births and deaths, shown here in bright red and black inks, was created for the family. The date of its origin, and name of its artist, are unknown.
In 1870, census records show the Younkins residing in Upper Turkeyfoot Township, with Somerfield named as their post office. That year, Shed earned a living as a laborer, and their children Missouri (age 8) and Levi Grant (1) were in the household.
The 1876 Atlas of Somerset County shows that Caroline's father still owned the farm on which the Younkins dwelled, and that the tract contained deposits of valuable coal. Eventually, Caroline and Shed purchased the farm and moved their family there.
The family has not yet been located on the 1880 federal census enumeration.
The Younkins seem to have been very family-oriented. When a daughter gave birth out of wedlock, in 1879, Shed signed a legal agreement to keep and maintain the boy at his own expense. She and Caroline were in their early 40s at the time. In about 1900, they helped raise their granddaughter Lizzie Younkin.
Rockwood's "Diamond"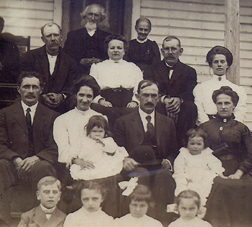 Shed, Caroline and family, circa 1910
In 1900, census records of Black Township show the Younkins residing on a farm as next door neighbors to their married son Grant and married daughter Ella Hauger. Dwelling in their household that year were 21-year-old grandson John Vought Jr. and 17-year-old granddaughter Lizzie Younkin.
Later in life, Shed and Caroline suffered the deaths of two of their married daughters, Edith Miller and Elizabeth Wable.
Shedrick appears to have been schooled in the practice of herbal medications. In January 1906, the Connellsville Weekly Courier reported in its "Rockwood" column that "W.S. Younkin was out on the road yesterday selling his celebrated rheumatism cure. Mr. Younkin makes the medicine himself, is his own salesman and delivers the goods in person."
In 1909, Shed's name was published in the Rockwood Leader and reprinted in the Meyersdale Republican in a story about local land speculation. Said the article:
The town is agog with Western Maryland Railroad discussion. The connecting link of the great Wabash system will doubtless be built along the romantic Casselman and most any Wabash enthusiast at Rockwood has already pictured an imaginary Wabash train steaming and thundering along the south bank of the river. Every other subject has taken a back seat in the mnids of many Rockwood citizens, and the Wabash project has right of track with a vengance. Real estate adjacent to the proposed route of the W.M. is already commanding attractive prices under impetus of the reported early construction of the road. Shedrick Younkin, it is said, has been offered $18,000 for his farm of 160 acres by Meyersdale capitalists. This report seems to come from reliable source, and some think the Wabash itself is backing the Younkin deal and wants his coal for its engines.
Shed and Caroline, and granddaughter Olive (Hauger) Younkin, attended the first annual Minerd Reunion in 1913 at Ohiopyle. A rare group photograph taken that day has been found in the collection of a descendant. Click here to view the image in high resolution, with each face numbered for identification purposes. In 1918, Shed's brother Daniel Martin Younkin organized the Miner Reunion, held at Rockwood.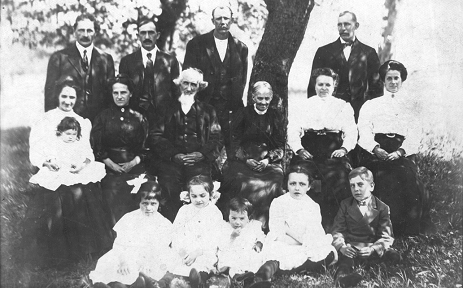 Shed and Caroline (seated) and adult children, 1910s.
Rockwood Historical Society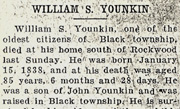 Obituary, 1923
Shed and Caroline are seated in the back row of the photo seen here, presiding over their large brood of children and grandchildren. The image is thought to have been made circa 1910.
When the federal census was taken in 1910, Shed and Caroline were marked as living in Black Township as farmers. Shed's brother, widower and coal miner Charles Younkin, made his home there that year, though within a few years would migrate to Washington State. In the 1910 census, Shed's first name was mistakenly spelled as "Sheridan."
In the waning days of summer of 1923, Shed suffered a stroke and died at home a week later, on Aug. 12, 1923. A local newspaper reported that he was "a son of John Younkin" and was "one of the oldest citizens of Black township and had been "raised in Black township... The funeral was held from the home on Tuesday afternoon, conducted by the Rev. L.M. Bartlebaugh, pastor of the Rockwood Evangelical church. Interment was in the Rhoads Cemetery." He was age 84 at the time of his passing. Daughter Missouri Wingard signed his official Pennsylvania certificate of death.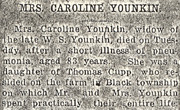 Caroline's obituary, 1924
Among the assets in Shed's estate were shares of stock of Economy Telephone Company.
Caroline only outlived her husband by one year. During that time, she moved into the home of her married daughter Ella Hauger in South Rockwood. Stricken with acute lobar pneumonia, she died at the ae of 83 on Jan. 8, 1924.
In her obituary, the local newspaper said she and Shed had "spent practically their entire life" on the farm where her father, Thomas Cupp, had resided. "The funeral was held on Thursday afternoon from the Hauger home," said the article. "Services were conducted by the Rev. L.M. Bartlebaugh of Ellerslie, Md., former pastor of the local Evangelical church, assisted by the present pastor, Rev. C.W. Raley." She rests beside her husband at Rhoads Cemetery near Rockwood. Daughter Ella Hauger was the informant for her certificate of death.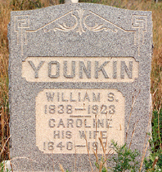 Rhoads Cemetery, 1991
Shed's and Caroline's daughter and son in law, Ella and Jonathan Hauger, operated a grocery store in Rockwood for many years near the Western Maryland Railroad depot.
In October 1934, long after they had died, Shed and Caroline were named in extensive genealogy manuscript records compiled by distant cousins Otto Roosevelt Younkin and Charles Arthur Younkin. The researchers were gathering data in connection with the Younkin clan's new national home-coming reunion. Click here to see Otto's handwritten and typed notes about Shed, based on an interview conducted with his elderly brother, Daniel Martin Younkin. Click here to see Otto's notes from another interview thought to have been done with Shed and Caroline's daughter Ella Hauger.
Great-grandson, 2nd Lt. Louis E. Younkin, was killed in World War II, and his name is etched on war memorials in the Rockwood IOOF Cemetery and beside the Somerset County Courthouse.
This biography is adapted from one that originally appeared in the article, "Whispers of the Silence and the Slow Time," in the April, May, June 1996 edition of the Younkin Family News Bulletin, published by Donna Younkin Logan.
Copyright © 1996, 2000, 2005-2007, 2012, 2014, 2017, 2019 Mark A. Miner