Susan 'Edith' (Younkin) Miller
(1880-1920)
Rockwood Odd Fellows Cemetery
Susan "Edith" (Younkin) Miller was born on April 10, 1880, at South Milford Township, Somerset County, PA, the daughter of William "Shedrick" and Caroline (Cupp) Younkin.
In about 1899, when Edith was age 19, she wed 24-year-old George A. Miller (1876-1941), the son of John and Amanda (Swank) Miller and a native of Markleton, Somerset County. He was four years older than his bride. Rev. F.E. Hetrick performed the ceremony after Edith's parents signed their consent, as she was underage.
The Millers produced an only son, Harry W. Miller.
A year after marriage, the Millers were enumerated in the 1900 federal census, and made their home in Upper Turkeyfoot Township, Somerset County. George's occupation that year was listed as "laborer - saw mill."
During the decade of the 1900s, George obtained more secure and lucrative employment as a locomotive engineer with the Baltimore & Ohio Railroad. Over time, he became "well known" throughout the region.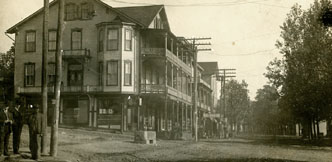 Rockwood's Main Street at the turn of the 20th century

Obituary, 1920
When the federal census was taken in 1910, George was listed as an engineer. That year, Edith, George and Harry resided in their home on Broadway in Rockwood. They are shown as living as next door neighbors to Edith's sister and brother in law, Elizabeth and Charles T. Wable and their young daughters.
Sadly, suffering from an abscessed liver, Edith was unable to recover. She died at the family home in Rockwood on Nov. 24, 1920, "following a long and painful illness," reported a local newspaper. She was only 39 years of age at the time of her untimely passing. Burial was in the Rockwood Odd Fellows Cemetery.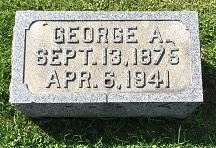 Rockwood Odd Fellows Cemetery
As a widower, George lived for another 21 years and maintained a home at 531 Broadway in Rockwood.
On April 11, 1925, at the age of 49, he wed for a second time to his late wife's double cousin, 42-year-old telephone operator Elizabeth Ann (Liston) Rush (May 10, 1882-1967), daughter of Simon and Salome (Younkin) Liston of nearby Kingwood. Rev. Victor M. Miller performed the ceremony, held in the Lutheran Church parsonage in Rockwood. News of the nuptials was published in the Meyersdale Republican.
Elizabeth had been married previously to John Rush ( ? - ? ), and they divorced on Dec. 3, 1913. She brought a daughter to the second union, Dorothy Rush.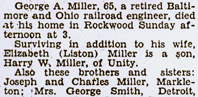 Daily American, 1941
The Millers had no children together.
After retiring from the B&O, George died at age 65 on April 6, 1941. He was buried next to his first wife in the Rockwood IOOF Cemetery, and his obituary was printed in the Somerset Daily American. Their graves are in the immediate vicinity of those of her adult siblings and their spouses, among them Levi Grant Younkin, Missouri Wingerd and Elizabeth Wable.
Elizabeth survived her second husband by 26 years and remained in Rockwood. She was a member of St. Luke's Lutheran Church in Rockwood and the North American Women's Association. In June 1964, the gossip columns of the Republican noted that she had entertained a visit from her grandson Jack Schardt and his wife, residents of Garden Grove, CA. She passed away at home at the age of 85 on Aug. 8, 1967. An obituary in the Republican reported that burial was in Jersey Baptist Church Cemetery, following funeral services led by Rev. Gene Abel.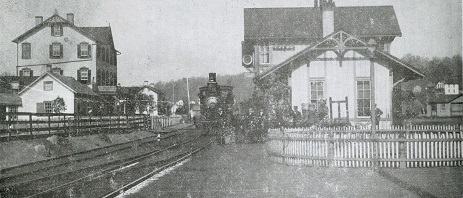 Old B&O Railroad station in Rockwood
~ Son Harry W. Miller ~
Son Harry W. Miller (1899- ? ) was born in 1899. He was age 21 when his mother died.
Harry settled in Unity, near Pittsburgh.
He was twice married -- first to Effie (?). Later, he wedded (?).
No children were born to either marriage.
Harry suffered from cancer and is said to have died in the mid-1980s, but this needs to be confirmed. Before he passed away, he gave some old family coverlets to a cousin as heirlooms.
~ George's Stepdaughter Dorothy F. (Rush) Johnson ~
Stepdaughter Dorothy F. Rush ( ? - ? ) was born in (?).
She was united in matrimony with (?) Johnson ( ? - ? ).
She produced a son, Jack Schardt.
In 1967, Dorothy resided in Rockwood and her son in Garden Grove, CA.
Son Jack Schardt ( ? - ? ) was born in (?). He married Elinor D. ( ? - ? ). Circa 1952, he served as an engineman first class with the U.S. Navy aboard the LST 602. As part of Operation Coral Head and Operation Rendezvous, he took part in joint exercises with the U.S. Army off the coasts of Okinawa and Japan, respectively. In 1967, he dwelled in Garden Grove, CA.
Copyright © 2001, 2007, 2010, 2014, 2018-2019 Mark A. Miner