Catherine (Knight) Younkin
(1837-1867?)
Catherine Anne (Knight) Younkin was born in 1837 in Turkeyfoot Township, Somerset County, PA, the daughter of James and Susanna (Imel) Knight Jr. At age 13, after her mother died, she moved with her father and brothers to Marshfield, Athens County, OH.
Catherine was united in holy matrimony with William Younkin (1836-1900?), a native of Somerset County, PA, and the son of Wilhelm "William" and Catherine (Firestone) Younkin. Theirs' was one of several marriages between members of the Minerd and Younkin clans over the years -- for more on these "kissin' cousins," click here.
William was a teenager when his father died, likely in the early 1840s, and became orphaned when their mother died young. He was taken into the home of his grandfather John Firestone in Lower Turkeyfoot Township, while his brother John X. Younkin was brought to live with his Younkin grandparents. A legal guardian was assigned, and a cousin, Rev. Harmon Younkin, at the time a man in his 20s, accepted the responsibility. The Younkin grandfather died in 1848 when William would have been 12 years of age. At the grandfather's death, William and his brother each received $10.72 in payouts from the estate.
When the 1850 federal census was taken, William dwelled with his aged grandfather on the Lower Turkeyfoot Township farm of his uncle and aunt, George and Catharine "Katie" (Younkin) Firestone. The Firestone grandfather passed away in May or June 1852, also bequeathing to William and his brother property from the estate.
Their three children were Horton Howard Younkin and twins Edward Ellsworth Younkin and Ellazor Younkin (born on April 14, 1863, near Albany, Athens County).
William held an account at the John McMillan tannery in Listonville, and entries for the year 1853 are recorded in the tannery's business ledger which is preserved today. The entries read as follow:
...soaling shoes, cost 37½ cents, May 1853 – cash for watch, cost 55 cents, June 1, 1853 – cash for watch, cost $5.00 and paying Jacob $2.00 and Jehu 62 ½ cents, cost $1.62 ½, June 25, 1853.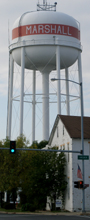 Marshall landmark
On Feb. 6, 1865, William purchased a farm of 58 acres in Ohio in Bern Township, Athens County (Section 17, Township 7, Range 12). He paid $1,400 to the sellers, Elijah and Rebecca Hanson. The tract was bordered by a state road, and contained such landmarks as a white oak tree and a frame stable.
Sometime about 1867, four years after the birth of her youngest child, Catherine became ill. It's thought that William took her to Central Illinois, hoping her health would improve. They left their children behind, in the homes of family and friends.
Also going on the trip was Catherine's married brother Norman D. Knight, who had returned home from the Civil War with his health shattered, and needing relief from rheumatism and fluttering heartbeat. The Knight relatives made their home in Morrison, Whiteside County, IL, near the Iowa border.
Tragically, the cure did not work for Catherine, and she passed away. She is said to be buried in Marshall, Clark County, IL, as per notes compiled circa 1934 by cousin Otto Roosevelt Younkin of Masontown, PA, based upon an interview he did with Catherine's son Horton. An October 2007 search of court records and cemetery listings for Clark County showed no death records or burial sites for Catherine.
The heartbroken William and his children returned home to Ohio.
Two years after Catherine's death, William married Emily Brooks (1836- ? ), a native of Ohio. They applied for a marriage license (seen here) at the Athens County (OH) Courthouse on May 12, 1869, and the document is still on file today.

William and Emily's marriage license, Ohio
William and his wife (named "Mary" in the deed) sold their farm on Oct. 27, 1873 to Calvin M. Linscott Jr. No money exchanged hands, but rather the legally documented promise by Linscott "to provide and care for us in all matters and things pertaining to our necessities and comfort during our natural lives..."
When the federal census was enumerated in 1880, 44-year-olds William and Emily and 17-year-old son Ellsworth were residing in Bedford Township, Meigs County, OH. William and Ellsworth both were listed as "farmers." Living next door were C.H. and Margaret M. Brooks, who may have been Emily's kin.
In 1886, at age 50 and living in Alexander Twp., Athens County, William signed an affidavit attesting to the poor health of his former brother in law, Civil War veteran Norman D. Knight. The document gives a window into the Younkins' migrations around the time of Catherine's death:
In 1866 about Oct. 1st, [Norman] and I moved to Ill., where [his] health somewhat improved.... About the 1st of November 1867 I moved from Illinois back to Ohio....
William is thought to have died at the home of son Horton in Pickaway County, OH, in about 1900. Emily's fate is unknown.
Son Horton and family were regular attendees of the Younkin National Homecoming Reunions of the 1930s, where grandson Fred played his fiddle. Extensive research on this branch was conducted by Horton's great-grandson, the late Ronald M. Younkin, and generously donated to our archives, before Ron's untimely death in 1995.
Copyright © 2000-2002, 2005, 2007, 2016-2017, 2021 Mark A. Miner