Home

Christian Church in Turkeyfoot
Also known as Spruce Creek and the Fairview Church of the Brethren, dating to 1830, it's the site of the unmarked burials of Jacob and Catherine (Younkin) Minerd Jr.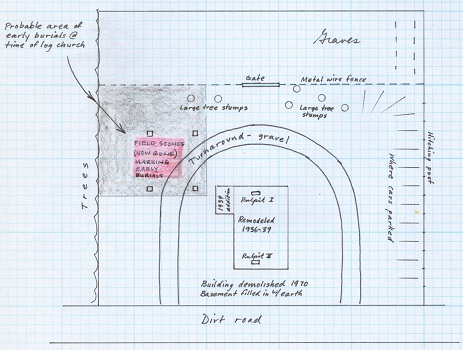 Based on extensive research, and interviews with local residents, the red area is the best guess as to where the old Minerd graves are located. Old field stones once stood in the red area, marking early burials.
This map depicts the site of the old Christian Church in Turkeyfoot (Disciples of Christ) near Kingwood, Somerset County, PA. Among the pioneering early congregants of the church were Jacob and Catherine (Younkin) Minerd Jr. and Leonard and Martha (Minerd) Harbaugh Sr. in addition to Dr. Jonas and Martha (Pringey) Younkin, Elijah Younkin, Abraham "Abram" Younkin, Joseph Harbaugh and newlyweds Rev. Harmon and Rachel (Younkin) Husband.
For more detail about the early origins of this congregation, and its connection to a national movement, see the Minerd.com profile, "A Family's Influence in the Pioneer Founding of the Disciples of Christ Movement in Somerset County, Pennsylvania."
The last of several houses of worship was torn down circa 1970. Among the local residents who have helped maintain the cemetery since then were the late Orville Brougher, Dutch Brougher and Harvey Shaffer. Ross A. Brougher cut grass there with a team of horses. In an interview in 1992, with the founder of this website, Orville said that the old log church was located closer to the woods than it was to where the frame church later stood.
The inverted "U" shape on the map marks a turnaround for horses and buggies, and later automobiles. The turnaround was dug down 6 or 7 inches and a stone base was laid in. The excavated earth was spread on the sloping ground near the tree line to level off the property. Before that, the ground was so bumpy that someone could not take a riding lawnmower over it.
Map copyright © 1992 and text copyright © 2002, 2012, 2017 Mark A. Miner