Joel and Kate (Seneff) Minerd
Joel Minerd was born on the family farm in 1827 at Hexebarger near Kingwood, Somerset County, PA, the son of Jacob and Catherine (Younkin) Minerd Jr.
An orphan by age 20, Joel moved to nearby Normalville, Fayette County, and worked as a domestic servant and farmer.
Joel was married twice. His first bride was Margaret Jane Leichliter (1831-1857), daughter of Jacob and Martha (Williams) Leichliter, also spelled "Lichliter." They did not reproduce.
Tragically, Margaret died after just a short time of marriage, on Aug. 10, 1857, at the age of 26 years, five months and 19 days. Her death was recorded in her father's family Bible, with her last name spelled "Minerd."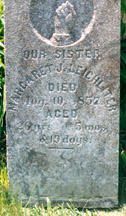 Grave of Joel's 1st wife
One wonders if the marriage might have been strained, or if the couple separated, because oddly, her grave marker at Normalville Cemetery, seen here, is carved with her maiden, not married, name. The stone also states "Our Sister" so it's presumed that her family -- and not Joel -- erected the monument. Perhaps Joel and his wife's people simply did not get along which could have amplified after her untimely death.
Joel is mentioned in histories of the Leichliters, including in Vol. IV of Walkinshaw's Annals of Southwestern Pennsylvania, an 1899 profile in The Mountaineer newspaper of Normalville and in the Jacob Leighliter family Bible.
As a young man, Joel learned the lessons of settling disputes in court. In 1856, he was involved in a dispute with Maxwell Clark that was settled in arbitration. In 1868, he and his former Leichliter in-laws filed countersuits over a $100 loan dispute.
When the federal census was taken in 1860, the 33-year-old Joel boarded with his married sister Catherine Barnhouse near Normalville.
On Sept. 15, 1861, after five years as a widower, Joel was united in holy wedlock with his second bride, 26-year-old Catherine "Kate" Seneff (1836-1920), daughter of John and Elizabeth (Miller) Seneff. Rev. Walker performed the nuptials and probably was Bev. Benjamin Walker, a pastor serving the Old Bethel Church of God in Kingwood during that era.
The Minerds went on to produce five children -- William Henry "Squire" Miner, David R. Minerd, Elizabeth Rosensteel Zadowsky Wilson, John Wesley Minerd and Ella R. Pritts Polen Pryor.
During the Civil War, Joel registered for the draft, but was never selected for duty. The draft registration book shows that he was age 35, his occupation was "labor," and that he resided in Springfield Township.

Family Bible noting Joel and Kate's marriage (above) and births (below).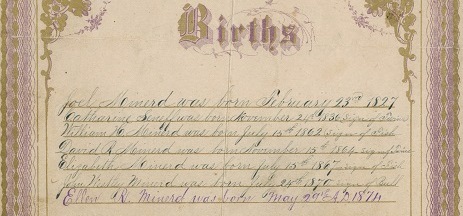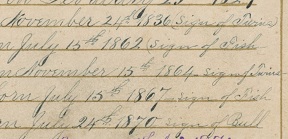 Zodiac signs in the Minerds' birth records
A family Bible, printed in English, was used to record the family's birth, death and marriage information, beginning with Joel's birth in 1827 and concluding with their son William Henry's death in 1953. The lettering was done in a fine hand. Following the German obsession with the signs and seasons of the Zodiac formations in the sky. Beside most of the birth inscriptions were penned each child's corresponding sign, as follows: Kate (Nov. 24, 1836, sign of Twins), William Henry (July 15, 1862, sign of Fish), David (Nov. 15, 1864, sign of Twins), Elizabeth (July 15, 1867, sign of Fish) and John Wesley (July 24, 1870, sign of Bull).
Joel and Kate acquired a 126-acre farm near Rogers Mill, Fayette County, where they resided from 1870 to 1905. The land was inherited from his Seneff in-laws.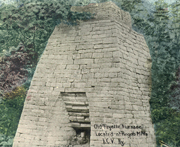 Old Fayette Furnace ruins
Their dwelling was a short distance from the ruins of the old Fayette Furnace. The furnace was built in 1825 by Joseph and George Rogers to produce pig iron, and ceased operations after 12 years, in 1837. It was still in "an excellent state of preservation" in about 1910, when this colorized photo was taken, and still stands today.
When the census was again enumerated in 1870, Joel and Kate and their children William, David and Elizabeth made their home in Springfield Township. They lived as near neighbors to 73-year-old Joseph Rogers, a physician, and Joel may have worked in the Rogers household, as Joel's occupation that year was recorded as "domestick" servant.
Very little is known about the lives of Joel and Kate in the late 1800s. One nugget that has emerged from the shady mists of the past is a short blurb printed in the Connellsville Courier on Oct. 11, 1895 -- "Dennis Smith of Hogg's, Pa., visited Joel Miner, Saturday." Smith's connection to Joel and Kate is unknown.
The family appears on the 1900 census with the spelling of "Minerd." Joel, age 73, is marked as a farmer. Unmarried, 35-year-old son David made his home under their roof that year, in Springfield Township. Interestingly, Joel indicated to the census taker that his father has been born in Pennsylvania and his mother in Virginia. Living next door were Kate's kin Jacob and Mary Seneff.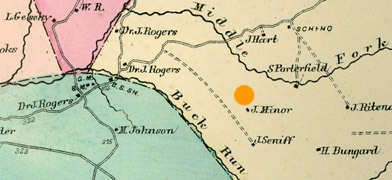 Above: Orange dot marks Joel's farm near Rogers Mill, east of Normalville, from the 1872 Atlas of Fayette County. Below, scenes from the farm during a 1991 visit.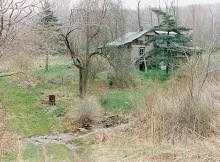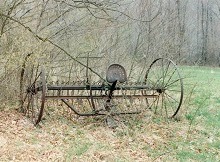 Tragedy struck the family in 1903, when son David died of tuberculosis at the age of 38. He was laid to rest in the Seneff family cemetery near the Miner home, where Joel and Kate eventually would join him in eternal repose.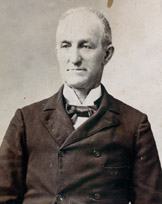 Joel in later years
Kate is said to have been "a great big woman with arms as big around as a stove pipe." In his manuscript autobiography, her brother David Rugg Seneff wrote:
Mother and sister ... were experts in the art of spinning,... the latter at a big wheel -- a wheel 6 feet in diameter, whirled into such rapid revolution that it kept a spindle running while the operator ran backward 15 to 20 feet, holding a roll of wool attached to the thread on the spindle, and forward until the new finished thread was nicely wound on the spindle with its predecessors. No one in the community was able to turn out as many rolls of woolen thread as sister Catherine.
In 1901, the Connellsville Courier reported that Kate "was made happy [on] Christmas] by receiving a handsome bedroom suite. She knew nothing of it until delivered at her home. It was presented to her by her daughter-in-law, Mrs. John Miner."
By April 1905, Joel and Kate had aged and decided to relinquish their farm. Said the Connellsville Courier, "Joel and Catherine Miner sold their farm located on Laurel Hill, above Roger's Mills, to W.P. Hooper for $1,400 cash." In their later years they lived with their son Henry near Mill Run. The 1910 census shows 82-year-old Joel and 73-year-old Kate living on Mountain Road, with Joel marked as an "invalid."
Joel died at age 86 on Aug. 11, 1913, just days before the first annual Minerd Reunion, the last survivor of his family.
Kate outlived him by seven years. She was afflicted with a stroke and died at the age of 83 on Jan. 5, 1920. She, Joel and son David are buried in unmarked plots at the Seneff Cemetery near Rogers Mill, seen below.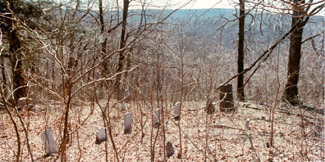 Seneff Cemetery where Joel, Kate and their son David rest anonymously for eternity, as photographed in 1988.
Copyright © 2000, 2002, 2004, 2008, 2009, 2016-2017, 2020 Mark A. Miner