Warren Dempsey Younkin, Sr.
(1893-1969)


Warren and Prudence Younkin, 1926
Warren Dempsey Younkin, Sr. was born on Dec. 3, 1893 in Clay Run, Fayette County, PA, the son of William 'Dayton' and Lucinda (Harbaugh) Younkin.
He was wounded during World War I and, although living another 50-plus years, never fully recovered. Adding to his lifetime of suffering, in less than one week in 1939, he lost his wife, baby daughter and mother to the Shadow of Death.
In childhood and as a young man, Warren was close with his first cousin, Oliver Shaw Stoner, even though Stoner lived in Sistersville, WV, and later in Robinson, IL. Both men served in the U.S. Army during World War I.
Warren served in Company D of the 110th Infantry during the war. He regularly wrote letters home to his mother, assuring her that all was well. In one letter, still while training in the United States, he complained, "The way it seems by the newspapers, that unless we hurry and get to France we won't get a chance to do any or much fighting. They will have all the Germans killed off."
His mother replied regularly, and once sent him a sweater. He also received letters over time from his sister Lena and brother David as well as J.W. White and Edna Younkin (precise identity unknown). Warren was promoted to corporal in March 1918, while in training in Camp Hancock in Augusta, GA.
Warren finally was sent overseas in May 1918, arriving in Liverpool, England, and soon after was sent to the front. In a letter to his mother, he wrote: "Where we are now we can hear very plainly the noise of the guns on the battle front a few miles away, and at nights the sky is some times lit up by the flare of the bursting shells and the flash of the guns."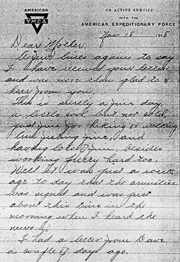 Letter from France, 1918
Ironically, both he and his brother Gus were stationed about a mile apart -- and both were wounded in action by enemy poison gas. The Sept. 19, 1918 issue of the Connellsville Daily Courier reported that Warren had sent a letter home, stating "he is in a hospital in France gassed and burned, but not seriously. He expected to be out again by the time the letter arrived, he said."
One of Warren's letters, on YMCA stationery, is seen here.
In a letter dated Oct. 20, 1918, he told his mother that "It is now just two months since I came to the hospital and am only too glad that I am ready to leave again ... So far I haven't gathered many souvenirs from the battlefield, and can't say that I want any for anyone who has been there could find more than he could carry, all sorts of them too -- from helmets and pistols to gold watches and pictures of German women."
After the armistice was signed on Nov. 11, 1918, Warren remained in France, near the town of Metz, bunking in billets formerly occupied by enemy forces. His letters home were always reassuring, telling his mother she had no reason to worry. In April 1919, he was promoted to supply sergeant for his platoon, and saw his brother Gus regularly. Soon after, they were shipped home to begin their civilian lives.
Warren married Prudence Albright (1897-1940), a native of Ursina, Somerset County, PA, and the daughter of William D. and Lucy (Kelley) Albright, "all well known people of the lower end of Somerset County," said the Meyersdale (PA) Republican.
The Younkins had seven children -- Betty June Swartzwelder, Elmer Ralph Younkin, Warren Dempsey "Bud" Younkin Jr., Prudence "Ruth" Nicklow, Fern Louise Younkin, Shirley Ann Cornell Bruening and Lucy Lucinda Younkin. Sadly, in 1933, Fern died at one year of age, of spinal meningitis.
The family resided in Connellsville, Fayette County. In about 1931, Warren and Prudence moved to a home at Murphy Siding in Bullskin Township near Connellsville.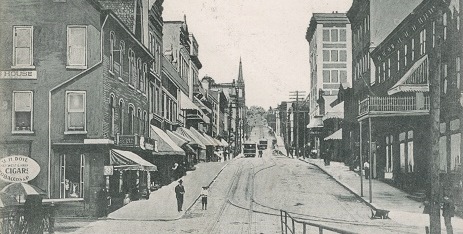 Connellsville's Main Street looking east
The Younkins enjoyed the annual Harbaugh Reunions. They are known to have attended the first event in 1926, when Warren was elected president. He also is recorded to have gone to reunions from 1947 to 1968, including 1949-50 when he was vice president, and in 1968 when he was acknowledged as the "Oldest Man Present." Warren also was a contributor to his brother Charles' genealogy newspaper, The Younkin Family News Bulletin, circa 1939.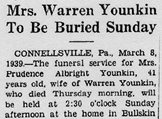 Obituary, 1939
Double tragedy struck in March 1939, just after Warren's elderly mother passed away. Prudence, who was suffering from a bad cold, which later turned into double pneumonia, gave birth to their youngest daughter, Lucy Lucinda. The baby was named after her grandmothers, but right away it was clear that she was very sick too. Warren called for help, and two nurses came to the house.
They sat up all night with the family and brought the child back from death twice. The nurse would fill pans of water, one hot, the other cold, and would dip the baby into one and then into the other, then pinch its nose and breathe into its mouth. When the baby stopped breathing a third time, the doctor advised the nurse, "The good Lord has called that baby three times. Now let her go."
Later that day, on March 7, Prudence gave up her battle with pneumonia, and passed away at the age of 41. She and her baby were buried together, with the baby in her mother's arms, and laid to rest in the Younkin plot at Hill Grove Cemetery in Connellsville. There was a huge outpouring of grief by friends and family. News was published in the Daily Courier as well as in the national family newspaper published by Warren's brother, the Younkin Family News Bulletin.
As a young widower with five children, Warren did his best to keep the family together. He often would take his children to his Aunt Susie Conn's farm near Cranberry Glade. They picked cranberries and pine cones for Prudence's grave. One of the daughters was taken in by an aunt and uncle, Elmer Ellsworth and Bessie (Albright) Hindes.
Hill Grove Cemetery
He later bought a home on Englishman Hill, where he remained the rest of his life, near his daughter Ruth's residence. During the 1940s, Warren's cousin Harry David Miner often came to visit, including at Christmas 1942 and Thanksgiving 1946. Warren worked as a salesman for the produce company owned by his brother David, but otherwise was "hopelessly crippled," according to his brother Charles. He attended the Millertown Community Church at Indian Head.
Warren passed away at age 75 on April 28, 1969, at the Veterans Administration Hospital in Aspinwall, near Pittsburgh. He was buried beside his wife at Hill Grove Cemetery.
~ Daughter Betty June (Younkin) Swartzwelder ~
Daughter Betty June Younkin (1926-2011) was born on March 12, 1926 in Connellsville. She was just 13 when her mother died, and from then on she helped her father raise her younger brothers and sisters.
On Nov. 14, 1945, she was united in matrimony with Berton M."Bert" Swartzwelder (Dec. 24, 1925-2017), the son of Berton M. and Harriet (Boyd) Swartzwelder Sr. At the time, Bert was in the midst of serving in the U.S. Army in the immediate aftermath of World War II. Their home for six decades was on Stephens Street in Connellsville.
Their two children are Berton M. Swartzwelder III and Nancy Susan Shaffer.
The Connellsville Daily Courier once noted that Betty was " employed as a seamstress by Carilee Sportswear of Connellsville. Betty was a longtime member of the Scottdale Church of Christ, where she taught Sunday School, sang in the choir and led a care group. She was also noted for making and donating beautiful flower arrangements for the church. Betty was also noted for her beautiful handmade afghans, most of which she generously gave away to friends and family."

Camp Christian in Mill Run, PA, where the Swartzwelders served
Said the Daily Courier, Bert " was employed for 10 years by local Ford Dealers and employed by the Connellsville Post Office as a letter carrier for 31 years, carrying on the same route for 28 years and retiring in 1990. Bert was a longtime member of the Scottdale Church of Christ, serving in various positions, his last office being that of Trustee. He served as Church Treasurer for almost 30 years and also served as Treasurer and Registrar for Camp Christian in Mill Run for 15 years." He enjoyed working in his basement wood shop, crossword puzzles and feeding wild squirrels and birds.
Sadly, just five days before Christmas 2011, Betty died in Harmon House in nearby Mount Pleasant, Westmoreland County, PA. Rev. Bob Chambers officiated at the funeral, followed by interment in Green Ridge Memorial Park.
Berton survived for another five-and-a-half years. He passed away at the age of 91 on June 27, 2017, also while a resident of the Harmon House.
Son Berton M. Swartzwelder III married Janice. They resided in Prince Frederick, MD.
Daughter Nancy Susan Swartzwelder was wedded to (?) Shaffer. She has made her home in Connellsville.
~ Son Elmer Ralph Younkin ~
Son Elmer Ralph Younkin (1927-2007) was born on Nov. 18, 1927.
Elmer stood 6 feet, 2 inches tall and weighed 154 lbs. He was a veteran of World War II, serving in the U.S. Navy. During his tour of duty, he is known to have served aboard the NTC Sampson, USS Briareus, USS Gemsbak, USS Vanderburgh and USNS N-3923.
Elmer married Evelyn Jean Burke (1932-1992), daughter of Charles Burke of Mount Pleasant.
They produced four children -- Carol Younkin, Rodney Younkin, Edward Younkin and Randy Scott Younkin.
The Younkins dwelled in Brown Row circa 1956.
Elmer was employed by Fruehauf Corporation as a welder, and was a life member of the Dawson Volunteer Fire Department. He and his father-in-law were arrested in January 1960, charged with illegal operation of a moonshine whiskey still in the Burke farmhouse basement in Bullskin Township near Pennsville. Federal agents confiscated 500 gallons of mash, 15 gallons of moonshine and a 100-gallon copper still.
Sadly, Evelyn passed away at age 59 on Aug. 11, 1992.
He died in Scottdale Manor Rehabilitation Center at the age of 79 on Sept. 28, 2007. Rev. Dr. Martin Watson led the funeral service. Interment was in Mt. Tabor Cemetery, with military rites furnished by the American Legion and Veterans of Foreign Wars. His obituary was published in the Connellsville Daily Courier.
Son Rodney Younkin ( ? - ? ) served as "tail twister" for the Dawson-Vanderbilt (PA) Lions Club in 1992-1993, and received the "Lion of the Year Award" from the Lions Club of Dawson, Fayette County, in 1994. In both instances, he was pictured in the Connellsville Daily Courier.
Daughter Carol Younkin ( ? - ? ) was deceased by 2007.
Son Edward Younkin ( ? - ? ) wed Margaret ( ? - ? ) . They lived in Connellsville in 2007.
Son Randy Scott Younkin ( ? - ? ) was born in 1956 in Connellsville State Hospital. News of his birth was published in the Connellsville Daily Courier. Randy joined in wedlock with Sandy ( ? - ? ) . Their home in 2007 was in Dunbar, PA.
~ Son Warren Dempsey "Bud" Younkin Jr. ~
Son Warren Dempsey "Bud" Younkin (1929-1980) was born on July 15, 1929 in Connellsville.
He served in the U.S. Army during the Korean War. Later, he worked as "a sandblaster for the Triple R. Furniture Company," said the Connellsville Daily Courier.
Bud moved to Hollywood, Broward County, FL in the late 1950s or early '60s, where he was a professional waiter.
Tragically, in the early hours of Christmas Day 1979, he and his roommate William Thomas Frazier argued, and Frazier struck Warren with a bottle and his fists. Warren lapsed into a coma, and remained in this state for eight months in a hospital, until death mercifully swept him away on Aug. 20, 1980. Frazier was arrested in June 1983, as reported in the Miami Herald, and found guilty of manslaughter in February 1984.
His remains were returned to Connellsville for burial in Hill Grove Cemetery.
~ Daughter Prudence "Ruth" (Younkin) Nicklow ~
Daughter Prudence "Ruth" Younkin (1931-2017) was born on Jan. 8, 1931 in Bullskin Township near Connellsville.
On July 14, 1953, at the age of 22, she married Donald E. Nicklow ( ? -2013).
Ruth worked for more than four decades as office manager for Connellsville Sportswear. Later, she assisted with sales for Green Ridge Memorial Park.
She and her family enjoyed attending the Harbaugh Reunions, and she served as Secretary-Treasurer in 1949 and won the award for "Latest Married" in 1952
Don was a longtime machinist for Modulus Plant in Mount Pleasant, Westmoreland County, and was a veteran of the Korean War. They were members of the Church of Jesus Christ in Vanderbilt.
They graciously hosted several visits in their home with the founder of this website circa 1992-1993.
Sadly, Donald died on Feb. 27, 2013.
Ruth survived her husband by more than four years. As her health declined, she was admitted to Excela Health Frick Hospital. There, on Sept. 14, 2017, at the age of 86, she passed away. Rev. Fred Bauer led funeral services held at Green Ridge Memorial Park's chapel.

Doug Nicklow
Son Douglas Arthur Nicklow (1954-2006) was born on Feb. 23, 1954 in Connellsville and that year received the award for the Harbaugh Reunion's "Youngest Baby." Douglas and his brother Donald both were members of the 1972 graduating class of Connellsville Area High School. He went on to earn a bachelor's degree from California State College. He was married four known times and had two daughters, Ashlee Rae Rogers and Heather Lynn Zuzik. Circa 1976, he made his home in Leesburg, VA, where he taught chemistry in the Loudoun County School District. On May 15, 1976, he entered into marriage with his first wife, classmate Deborah Ann Howarth ( ? - ? ), daughter of Clyde Howarth of Connellsville. The couple was pictured in a wedding story in the Connellsville Daily Courier. At the time, Deborah earned a living as a sales clerk with Murphy's Mart. In time he helped develop the Stargate network and joined the workforce of the early search engine Lycos.com providing network and support services. He also was employed as a computer network designer by Pittsburgh-based PNC Bank and at the end by National Real Estate Information Services. He was interested in family history and the Civil War, especially the 85th Pennsylvania Volunteer Infantry regiment. At one time Douglas had his own website, Nicklow.com, where much of his research was published. Doug graciously helped advise on the structure and format of Minerd.com. Sadly, he passed away on Aug. 1, 2006. His uncle, Elder Robert Nicklow Sr., presided over the funeral service, with burial in Green Ridge Memorial Park. An obituary was published in the Pittsburgh Tribune-Review. Former wife Deborah married again to (?) Etter and remained in the Leesburg area, where she volunteered with the Leesburg Volunteer Fire Company.
Granddaughter Ashlee Rae Nicklow married (?) Rogers. They lived in Bethel Park and North Fayette Township. Tragically, she died of heart problems on Oct. 20, 2012.
Granddaughter Heather Nicklow made her home in Leesburg, VA. She married John Zuzik. Their children are Jacob Zuzik and Henry Zuzik. She and her mother were named in an Oct. 7, 2004 article in the Washington Post about their passion for playing bingo as a fundraising support for the local fire company.
Son Donald E. "Donnie" Nicklow (1955-2021) was born on Jan. 18, 1955 in Connellsville. Donald and his brother Douglas both were members of the 1972 graduating class of Connellsville Area High School. He was united in matrimony with Shawnee J. Zur ( ? -living). Their marital union endured for 46 years. Donald was a graduate of Summit Theological Seminary and for 31 years, from 1983 to 2014, was an ordained minister "preaching at many churches in several states," reported the Connellsville Daily Courier. His primary source of income was employment with Allied Feed Mills in Everson and Anchor Hocking Glass Corporation in South Connellsville. Their two children were Dawn Miller and Jared Nicklow. At the age of 66, Donald succumbed to the angel of death on April 24, 2021. Rev. Joe Wingrove officiated at the funeral service, with interment followign in Sylvan Heights Cemetery in Uniontown.
Granddaughter

Dawn Nicklow was twice-wed. Her first spouse was (?) Miller

( ? - ? ). The first marriage resulted in two offspring, Rilyn Miller and Westin Miller. By 2021, she had married again to John Ulery ( ? - ? ). Two sons produced by the second marriage were Jonathon Ulery and Michael Ulery.
~ Daughter Shirley Ann (Younkin) Cornell Bruening ~
Daughter Shirley Ann Younkin (1938-2013) was born on June 14, 1938 in Bullskin Township.
She graduated in 1956 from Connellsville High School.
Shirley was twice-married. Her first spouse was Lee Cornell ( ? - ? ).
The pair put down roots in Connellsville and produced a son, Lee D. Cornell.
Shirley's second spouse was widower Donald F. Bruening (Aug. 11, 1930-2022),, son of Edmund A. and Rachel (Manges) Bruening. He too had been married before to a distant cousin of Shirley's, Patricia Ann Miner (Nov. 30, 1931-1971), daughter of Russell W. "Billy" and V. Mildred (Hall) Miner of the family of John Walter and Mary May (Miller) Miner. He brought four stepchildren into the second union -- Deborah Jeanne Thomas Rodman, Marsha Lynne Bruening, Russell Edmund Bruening and Frederick Scott Bruening.
Sadly, Shirley passed away at home at the age of 75 on Sept. 8, 2013. Her funeral was conducted by Rev. Suzanne Zampella, with interment in Green Ridge Memorial Park.
For more about Shirley's Bruening family, see the Miner biography.
Son Lee D. Cornell ( ? -living) was born in (?). He entered into marriage with Lisa. They are believed to be the parents of Justin Cornell and Max Cornell. Circa 2013, the Cornells dwelled in Long Island, NY and in 2022 in Long Beach, NY.
Copyright © 2001-2002, 2005, 2009, 2017, 2021, 2022 Mark A. Miner