William Gustin 'Gus' Younkin
(1897-1960)
William Gustin "Gus" Younkin was born on May 10, 1897 in Clay Run, Fayette County, PA, the youngest son of William "Dayton" and Lucinda (Harbaugh) Younkin.
He was married to Elizabeth Logan, and perhaps later to Mary (?).
Gus was raised on the family farm. It's thought that he is the person in the photo seen below, with two of the family horses.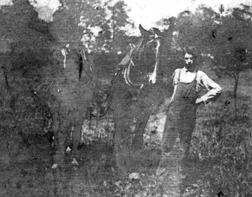 Later, Gus served as a sergeant in World War I, in the 59th "Mtr Trans Co OMC." His brother Warren also served in the war, and was wounded in action in France when gassed by the Germans.
Gus is said to have once run a store on Baum Boulevard in Pittsburgh. A check of Pittsburgh deeds did not reveal his name as the property owner, so he probably was a hired manager.
A niece reports that Gus later worked for the Office of Special Services (OSS)., forerunner to today's Central Intelligence Agency, and that he would "just drop in unannounced." He once promised her that if he ever got back to Australia, he would bring her a kangaroo.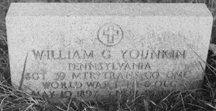 Gus resided in Chicago in 1947 and at Smicksburg, PA later in life.
He died on Nov. 22, 1960. He is buried at the Imel Cemetery. The fates of his wives are not known.
The summer after his death, in 1961, Gus's relatives at the annual Harbaugh Reunion paid a moment of respect in his memory.
Copyright © 2001-2002 Mark A. Miner