Ira 'David' Younkin
(1886-1963)

Mayor Younkin
Ira "David" Younkin was born on July 21, 1886 at Clay Run near Mill Run, Fayette County, PA, the son of William "Dayton" and Lucinda (Harbaugh) Younkin.
He was an influential and visionary Fayette County politician whose integrity was legendary, who helped build Connellsville's airport and who whose life touched President Franklin D. Roosevelt and World War II hero General George C. Marshall, author of the world-renowned "Marshall Plan."
As a measure of his prominence, David is profiled in Lewis Clark Walkinshaw's 1939 book, Annals of Southwestern Pennsylvania, Volume IV. When he died, he rated not one but two editorials of praise in the Connellsville Daily Courier.
The Courier once said that as a "citizen with deep convictions about his hometown, Younkin was prominent in virtually all of its community activities…. [He] was closely identified with practically every promotion aimed at Connellsville's future." The Courier also said that "Many of the firsts Dave had to his credit – first to donate an extra dollar to the crippled children; first to enlist in the Salvation Army kettle drive; first to volunteer for sports car races duty; first to jump into any volunteer work of any worthwhile type."

Connellsville Daily Courier
On Oct. 29, 1915, at the age of 29, David married 18-year-old Clara Jeffery (1897-1956), the daughter of John and Dollie (Brouchis) Jeffery of Philadelphia.
They produced two daughters, Grace Sheely and Anna Binning.
Clara was active in the community in her own right, serving as president of her Sunday School class for 14 years and as matron of the Order of the Eastern Star, as well as hosting many of her husband's family and friends at their home.
A family oriented man, David attended the early reunions of the Harbaugh and Younkin families. When his brother Charles was editor of the national Younkin Family News Bulletin in the 1930s and early 40s, David supported the effort, and his many activities were chronicled on its pages.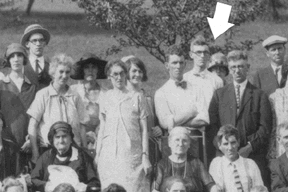 David and Clara (arrow), Harbaugh Reunion, 1926
In the photo seen below, of the first annual Harbaugh Reunion in 1926, David and Clara (arrow) stand in the back row, with, standing left to right: sister Charlotte "Lena" Showman Doyle, brother Warren Dempsey Younkin Sr., sister Laura Belle Shroyer, Warren's wife Prudence, unknown, sister in law and brother Ida and James "Frank" Younkin, unknown, and cousin Oakey Harbaugh. Seated, left to right: grandmother Mary (Whipkey) Harbaugh (who was celebrating her 94th birthday), mother Lucinda (Harbaugh) Younkin and brother Charles A. Younkin.
Over the years, David attended the Harbaugh Reunion, including in 1953 when the group heard a talk by visitor J.L. Cooprider, of Evansville, IN, co-author of the book Harbaugh History. The 1947 volume contained entries on David's parents and all of his mother's sisters, brothers, cousins and their children. He also received the "Oldest Man Present" award in 1962.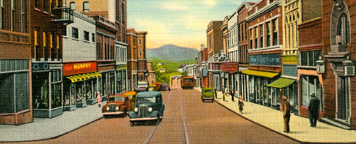 Connellsville in the 1930s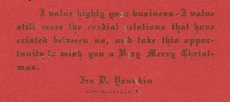 David's Christmas card, date unknown
As a young man, David moved to Connellsville, and worked for two years for the F.T. Adams Produce Co., learning the wholesale produce trade. Sparked by an entrepreneurial spirit, he went out on his own, and with his brother Osborne established the Younkin Brothers Company. After five years, he then joined the Tri-State Candy Company, where he worked for three years. Still wanting to be his own boss, he then launched a produce company under his own name. This company remained in business in Connellsville for more than three decades, until his retirement in 1961.
Politics was always one of his passions. In 1929, David was elected to Connellsville's City Council, and in 1936 was appointed Mayor of Connellsville, succeeding his distant cousin, Dr. Harold "Daniel" Minerd. He then was elected in 1937, serving until 1941.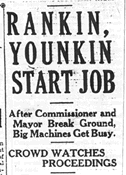 Daily Courier
With an eye on cultivating his business and political relationships, David sent them beautifully engraved Christmas messages on heavily red paper stock. In one such card, date unknown, printed with black ink on red card stock, the message read: "I value highly your business - I value still more the cordial relations that have existed between us, and take this opportunity to wish you a Very Merry Christmas."
Among David's accomplishments, perhaps none was more important than in 1936, when he and Fayette County Commissioner John W. Rankin helped break ground for a new airport in Connellsville, a project they had supported for years. As their shovels plunged into the dirt, said the Courier, "the crowd cheered and applauded when told of how they had stuck to their guns through all adversity to change what might have been only a dream into an actuality." When the airport was completed and dedicated in October 1938, David said: "Because of the resourcefulness, courage and vision of the men engaged in the aviation industry, our city will benefit in the years to come. Air transportation has accelerated business, contributed to prosperity and given increased transportation convenience."
Later in 1936, President Roosevelt's train stopped in Connellsville, and Roosevelt gave a speech to a crowd of thousands at the B&O station. David had originally been scheduled to introduce the president, but when the time came, he "declined the honor, saying that it would be a difficult task to break through the crowd, and that because of the limited time the train was stopping here the President should be given all of the time available."
Also during David's tenure as mayor, Connellsville High School completed its football field, an "elaborate athletic plant, regarded as one of the finest scholastic stadiums in Western Pennsylvania." One of the star football players for Connellsville High was Johnny Lujack, who graduated in 1942 and went on to play for the University of Notre Dame, capturing the 1947 Heisman Trophy. He then played for the Chicago Bears in the National Football League for several years.

Connellsville High School's new Campbell Stadium, dedicated in 1938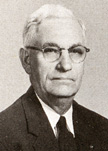 Mayor Younkin
David was tough on crime, and during his first year as mayor, the police more than doubled their arrests, to 802, up from 329 the year before. In 1940, when US Army Chief of Staff George C. Marshall returned to his hometown of nearby Uniontown, Fayette County, on the eve of World War II, David was one of several to extend greetings at a public ceremony.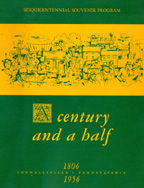 Book naming David
When defeated by Dr. Minerd in the mayoral election of 1941, David was very gracious to his opponent. David told him that "I meant just what I said when I asserted I would give you all of my support if you defeated me. This tally shows you are elected and I want to be the first to congratulate you." Of this incident, the Courier said: "It is such a spirit that keeps Connellsville going forward. There is no holding back if a citizen is conscientiously honest in trying to better his city…. It would have been the same had the other man won. Civic progress was never in jeopardy, regardless of the outcome."
Connellsville celebrated its sesquicentennial (150th birthday) anniversary during 1956. As one of four surviving former mayors, David served on the celebration's Executive Committee, helping organize an air show. He is pictured on two different pages of the booklet published for the event, entitled A Century and a Half: Connellsville, Pennsylvania. An original copy is preserved today in the Minerd.com Archives.
The tireless David also played public roles as Connellsville's Director of Accounts and Finance, was on the city's Board of Trade and was a Trustee of the Carnegie Free Library. In 1942, during World War II, he was elected president of the Connellsville Rotary Club, typically a one-year term. He also served as Treasurer of the Board of Trustees of the First Episcopal United Brethren (EUB) Church.

Daily Courier, 1942
Always a "money man," David and fellow politician Abe I. Daniels were widely known as "one of the best money raising teams this city – or any other for that matter – ever knew…." The Courier added that the team "was a combination of sincerity of purpose, absolute honesty, unselfishness, a combination that made the solicitation task easy."
David once was quoted as saying "You know I enjoy doing this sort of thing. It's surprising how willing people are to give to a cause if you make them fully acquainted with the facts."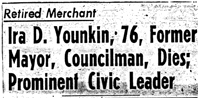 Obituary, 1963
Clara passed away at age 58 of a heart attack on May 24, 1956.
David outlived Clara by six and a half years. He died at age 78 on Jan. 28, 1963. They are buried together at Green Ridge Memorial Park near Connellsville.
Copyright © 2000-2004, 2006, 2008, 2010, 2013, 2020 Mark A. Miner