Charlotte Magdalene 'Lena'
(Younkin) Doyle Showman
(1900-1972)

Charlotte Doyle
Showman
Charlotte Magdalene "Lena" (Younkin) Doyle Showman was born on Feb. 1, 1900 in Clay Run, Fayette County, PA, the daughter of William "Dayton" and Lucinda (Harbaugh) Younkin.
In 1926, Lena attended the 94th birthday party of her grandmother and partial namesake, Mary Magdalene (Whipkey) Harbaugh, held on the old Harbaugh homestead at what is now Clairton Lake near Scullton, Somerset County, PA. The event attracted some 225 family and friends, and became the first annual Harbaugh Reunion. The reunions are still held today.
As a young woman Lena worked as a clerk in Connellsville. There, she boarded with her brother Osborne in the "rooming floors" above an old opera house owned by Alex Chinn.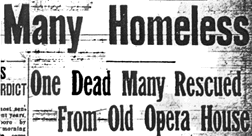 Connellsville Daily Courier, 1926

In November 1926, the two narrowly escaped a disaster when their boarding house "was totally destroyed by fire." Among the possessions she rescued was the old Harbaugh Bible that she had borrowed from her grandmother. She and her brother David are said to have taken the drenched relic to brother Warren's home, where it was placed on towels on top of a heater, so it could be dried. The Bible's covers and edges were scorched and stained with water damage, but was saved, thanks to Lena's quick thinking and loving care afterward to help preserve it.

Later, the Bible served as major source material for the Harbaugh History book, published in 1947 by Cora Bell and J.L. Cooperider.

Lena served as maid of honor when Os married Katherine Williams two years later, in 1928.

On April 12, 1929, at age 29, Lena married 42-year-old Patrick Joseph Doyle (1887-1940), a native of County Durham, Ireland. He was the son of Thomas and Isabelle (Carberry) Doyle. She was a clerk, and he a foreman, at the time of marriage. Justice of the peace H.S. Whipperman performed the nuptials at Somerset, Somerset County, PA.

The Doyles produced three children -- Patricia Greaff and John L. Doyle and one other.

The B&O yards at Connellsville, with the city as a backdrop, and the Youghiogheny River in the foreground.

Charlotte
Patrick is believed to have been an employee of the Baltimore & Ohio Railroad, which had major operations in Connellsville. At the time of his death, in mid-summer 1940, he was a bookkeeper in the main office of the Works Progress Administration in the state capitol city of Harrisburg, Dauphin County, PA.
Lena was a member of the B&O Veterans Association. She also worked for Anchor Hocking Glass Company in Connellsville. They were members of the Immaculate Conception Roman Catholic Church, where she belonged to its Confraternity of Christian Mothers.
In 1934, when Lena's brother Charles co-founded the Younkin National Home Coming Reunion, she supported the effort, and arranged for her young daughter to sing as part of the official schedule of events. In its heyday, the event drew more than 1,000 people annually.
Patrick suffered from heart-related illness, and became deathly sick in the summer of 1940. He died at Connellsville State Hospital on July 26, 1940, at the age of 53. He was buried at St. Joseph's Cemetery in Connellsville, following high mass at Immaculate Conception Church.
Lena outlived her first husband by 32 years.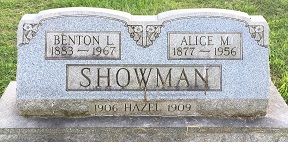 Normalville Cemetery
Sometime after 1950, she re-married to widower Benton L. Showman (Jan. 28, 1883-1967), son of David and Emma (Grimm) Showman. His first wife Alice Johnson (1877-1956) had died in 1956. He brought a son to the marriage, Earl Showman.
Benton was a retired conductor with the Baltimore and Ohio Railroad, having logged 49 years of service to the company. He belonged to the B&O Veterans Association, the Railroad Veterans Unit 88 of Connellsville, the Retired Peoples Fellowship, the Connellsville Order of Eagles and was an original member of the local YMCA.
They lived in Benton's home at 703 Willow Street in Connellsville. Lena enjoyed the Harbaugh Reunions, and is known to have been in attendance in 1948, 1954 and 1965. Her son John won the "Furthest Traveled" Award in 1954, coming a distance of 700 miles. In 1965, her husband Benton received the "Oldest Man Award.
In his later years, Benton suffered from heart disease. When stricken with acute fluid buildup in the lungs, he was admitted to Connellsville State Hospital, where he died at the age of 84 on April 24, 1967. His remains were placed into rest beside his first wife in Normalville Cemetery, with Rev. Robert Gerrett officiating and an obituary printed in the Daily Courier.
On Dec. 14, 1972, Lena died at the Connellsville State General Hospital at the age of 72.
~ Son John L. Doyle ~
Son John L. Doyle (1936-2005) was born on June 12, 1936 in Connellsville.
During the Korean War, he served in the U.S. Marine Corps.
John was united in matrimony with Linda Lowery ( ? - ? ).
They were the parents of William D. Doyle, Patricia Tarnerhoulet and Michael J. Doyle.
After the war's end, John established a home in Hawaii, where he was employed by Pan American Airlines. Later, he returned to Connellsville.
He endured the deaths of his wife and son Michael. As a widower, he lived with his married sister.
John was admitted to the Veterand Administration Hospital in Oakland near Pittsburgh where he died at the age of 69 on Dec. 2, 2005.
Son William D. Doyle
Daughter Patricia Doyle Tarnerhoulet
Son Michael J. Doyle
~ Daughter Patricia (Younkin) Greaff ~
Daughter Patricia Younkin ( ? - ? ) was born in (?).
She was wedded to Kenneth Earl Greaff (Nov. 12, 1925-1981).
They lived in Connellsville and produced one known son, Richard D. Greaff.
Kenneth died in June 1981, with interment in St. Joseph's Roman Catholic Cemetery in Connellsville.
Son Richard D. Greaff (1948-1996) was born on June 11, 1948. He was involved in an incident at the age of 18 in which he was accused of burglary and larcey in Connellsville. He died in Connellsville on Feb. 15, 1996 at about the age of 49, with burial in St. Joseph's Roman Catholic Cemetery in Connellsville.
Copyright © 2001-2003, 2012, 2018-2019 Mark A. Miner