Harry David Miner
(1889-1971)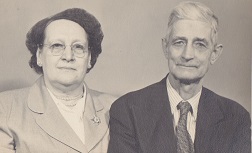 Amanda and Harry Miner
Harry David Miner was born on Dec. 26, 1889 near Kingwood, Somerset County, PA, the son of Ephraim and Rosetta (Harbaugh) Miner. He was named in part for his maternal grandfather, David Harbaugh.
As a boy, Harry attended the Old Bethel Church of God, located at the intersection of Nicklow and Old Bethel Roads next to the old farm once owned by his great-grandparents, Jacob and Catherine (Younkin) Minerd Jr. The original wood-frame building has since been demolished and the structure rebuilt in brick across the road.
Harry constructed a small dwelling behind his parents' home in Hexebarger, and lived there and in Scullton, Somerset County in young manhood. He earned a living as a laborer.
On Christmas Eve 1911, when he was 22 years of age, Harry entered into the bonds of holy matrimony with 17-year-old Amanda Laura Burkett (Dec. 10, 1894-1963). Justice of the peace J.W. Henry officiated. Amanda was the daughter of Cornelius and Mary "Elizabeth" (Miller) Burkett of Connellsville, Fayette County. Because she was legally underage, her parents gave their consent to marry.
The couple went on to produce two children – Lilly "Blanche" Sanner and Earl David Miner.
Harry always seemed to be in poor health and was very thin all his life. In about 1909, either for his health or to find work, Harry and his half-brother Lincoln Miner traveled to North Dakota and stayed in Merricourt, Dickey County.
In August 1924, Harry and Amanda attended the Minerd-Miner reunion at Lincoln's grove, near the Western Maryland Railroad Station in Confluence. Among the 82 individuals present in the crowd were also Harry's mother, brother and sister in law John Andrew and Susie (Pletcher) Miner, and a nephew and niece.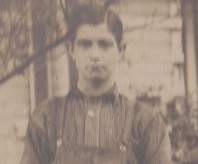 Harry as a boy
In an article about the reunion, the Meyersdale Republican newspaper spelled the family name as "Minard" but reported the following: "A very successful and pleasant reunion of the Minard family was held in what is known locally as Lincoln's grove, near the Western Maryland Railroad Station.... The family is a numerous one in Western Pennsylvania, especially in Fayette, Somerset, Westmoreland and Huntingdon Counties. The gathering on Saturday was their twelfth annual reunion."
Harry and Amanda, along with Mr. and Mrs. Harry Nicola, jointly purchased in August 1928 what the Republican called the "old Harrison Brougher farm upon which H.G. King lives." They agreed to take occupancy on March 1, 1929.
During the 1940s, Harry kept a diary in which he recorded events of daily life. He described visits with his aunt Susie Conn and cousin Warren Younkin and attending the June 1944 funeral of Lawson Minerd.
In 1942, during World War II, Harry traveled to McCleary Sanitarium, Excelsior Springs, for treatment of intestinal problems.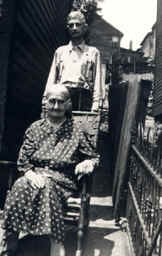 David and his mother

, 1940s
By the following year, Harry had returned home and was residing at Perryopolis, Fayette County, PA, where he worked as a caretaker at the home of a physician.
The Miners relocated to Connellsville, where Harry worked in a glass factory, likely Anchor Hocking Glass. Their address during those years was 253 East Fairview Avenue.
In 1946-1947, Harry's mother Rosetta was living under their roof in Connellsville. She was featured in a Connellsville Daily Courier article on Jan. 24, 1947 for her "fine head of hair" which measured 32 inches in length.
Amanda and Harry subscribed to the Daily Courier, and she described herself to the editor as a "silent reader," not voicing her opinions. But in January 1951, she wrote a letter which was published, complaining about how discourteous her neighbors were. One complaint was that their coalhouse roof always needed to be repaired because children played on it. A handful of boys dug up freshly planted onions in her garden, and then "sassed" her when she asked them to stop. A baseball in flight hit Harry on the head, with his bruise lasting for two weeks. A boy chased a baseball into their garden, stopped on the tomato plants and made stains on white shirts hanging out to dry. Dogs barked all night and ran freely through the streets. She blaimed that boys were growing up wild because their mothers held jobs outside the home.
Amanda received so many telephone calls and comments on her letter that she wrote another one the following week. Apparently her fans wanted her to call out corruption in Washington, DC. She wrote that she would cut President Truman's salary from $75,000 to $12 since he had been given a home, food and travel expenses. She offered to change Social Security so that her husband, who could not find a job due to his age, would receive some relief. She feared her son would be sent to Korea as "a machinegun target." She also complained about Truman's comment that he would "tax 'til it hurts" and that she hoped a wolf would birth pups at her door so she could sell them to pay their upcoming annual taxes.
Amanda, Harry and son Earl
The Miners remained in Connellsville well into the 1950s. At some point, they returned to Kingwood and resided on daughter Blanche's farm. "In the south they'd call where we live a plantation, in the west they'd call it a ranch but here it's a 2 hundred and 86 acre farm - teehee," Blanche once wrote. The reasons for the move were Amanda's poor health and high taxes.
Harry and Amanda enjoyed keeping in touch with his first cousin, Agnes (Stoner) Wood, who resided in Oblong, IL. In a letter to Agnes, dated Aug. 5, 1957, Amanda wrote:
... [Harry] has gone with the tractor to the big spring around the hill for clear rinse water for Blanche to wash today. The well has water in but so yellow makes the clothes a muddy cast, and the other spring only supplyes enough water for bathroom and household use. There is so many people complain their springs are dry. We did have a nice rain Saturday night but all it done was freshen up the garden, not enough to raise the water in springs and wells yet.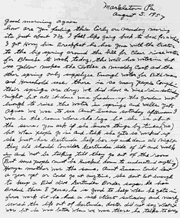 Amanda's letter to cousins
Harry bought an old model Plymouth car but a good one (and we are like a puppy - can see us anyplace)... Since Harry retired we are just having the time of our life. He took me by bus in June to Shepherd, Michigan. Then my cousin and her husband took us by car up in Northern Michigan. From her home we traveled 5 hundred 67 miles, stayed all night in a twin cabin along the lake. We had a lot of fun. When they wanted to see something special they stopped and looked it over.
Harry and Amanda enjoyed attending the annual Harbaugh Reunions, and in 1963 received the "Couple Married Longest" award. In the 1957 letter, Amanda wrote: "Will be at the Harbaugh reunion at Kingwood odd fellow grove... your mother's [Aunt] Adaline's daughter is supposed to be there. She is one hundred years old - Mattie Gorsage."
At the age of 68, Amanda succumbed to death in Meyersdale Community Hospital on Oct. 25, 1963. An obituary was published in the Republican and the Daily Courier. She was survived by her children, six grandchildren, eight great-grandchildren as well as sister Maggie Burkett and brother William Burkett, both residing in Somerset at the time.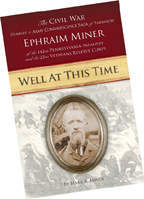 Book about Harry's father
Harry outlived her by eight years. He passed into eternity at home on Dec. 30, 1971, just four days after his 82nd birthday. Rev. Paul Tobias officiated the funeral service, with an obituary appearing in the Republican.
Harry and Amanda rest in eternal sleep at the Independent Order of Odd Fellows Cemetery in Kingwood, in the same plot of graves as his parents.
Many members of this branch have helped with children's games and prizes and brought delicious cakes to our national family reunion the past several years.
Harry and Amanda are pictured and mentioned in a lavishly illustrated, 2011 book about his father -- entitled Well At This Time: the Civil War Diaries and Army Convalescence Saga of Farmboy Ephraim Miner. The book is authored by the founder of this website. [More]
Copyright © 2001-2005, 2007, 2011, 2021 Mark A. Miner