Lilly 'Blanche' (Miner) Sanner
(1915-1976)

Blanche Sanner
Lilly "Blanche" (Miner) Sanner was born on Aug. 11, 1915 near Kingwood, Somerset County, PA, the daughter of Harry David and Amanda (Burkett) Miner.
Blanche grew up on her parents' farm in the Kingwood area. Living nearby were her grandparents, Ephraim and Rosetta (Harbaugh) Miner, and great-grandmother, Mary Magdalene (Whipkey) Harbaugh, all of whom she would have known in her childhood.
There was a 12-year difference in age between Blanche and her younger brother Earl David Miner.
The photo seen here shows young Blanche with her grandmother Rosetta Miner (at right) and great-aunt, Lucinda (Harbaugh) Younkin Johnson.
Blanche with her grandma
Rosetta (right) and aunt Lucinda
On Oct. 21, 1933, at the age of 18, Blanche married 24-year-old Earl Wilbur "Berkey" Sanner (1909-1975). He was the son of Peter and Minnie (McCulley) Sanner.
The couple produced four children over the span of nine years – Henrietta Pauline "Shirley" King, Thelma Grace Gross, Rachel Driver Townson and David Warren Sanner.
The Sanners resided on a 286-acre farm south of Kingwood. Blanche was a member of the Kingwood Church of God and the Rebekah Lodge of Kingwood.
When the federal census enumeration was made of Upper Turkeyfoot Township in 1940, the 31-year-old Berkey was listed as having the occupation of "laborer - general work."
Berkey also worked for the railroad at one time.
Over the years, Blanche maintained friendships with her out-of-town cousins Warren Dempsey Younkin in Connellsville, PA and Agnes (Stoner) Wood in Illinois.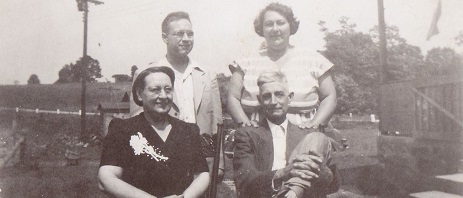 Blanche (back, right) with her parents & brother Earl, 1951. Below: men clearing a heavy snowfall on the road from Confluence to Somerset, circa 1936.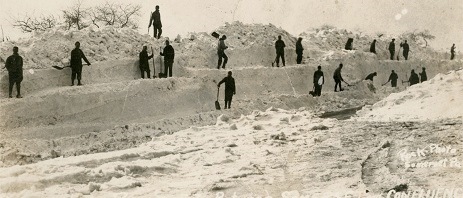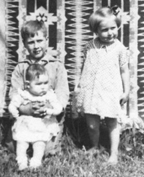 Thelma (left) and Shirley
with uncle Earl Miner
As she needed wisdom to face life's difficulties, Blanche often confided in her father. "I just think if I could only talk a half hour to my daddy I would be OK," she wrote in later years. "I was so close to him always.I loved my mother but I could always go to my daddy with my troubles and he understood me so much."
Blanche and her parents and brother Earl are seen at right together in June 1951. She would have been age 36 at the time.
Berkey passed away at home of lung cancer on May 9, 1975. He was buried at the Kingwood IOOF Cemetery, with Rev. Paul Tobias preaching the funeral sermon.
Alone in widowhood, Blanche enjoyed writing to relatives. In a letter to cousin Agnes Wood, she wrote:
I still tell everyone I could move a mountain if I could only lift the thing. I do charity work as much as I can…. I've been going out having some fun with my grandchildren, they seem very proud of me being able to dance and carry on with them. I went out New Years night for the first time in my life. I sure did have fun at my saur kraut and pork after midnight.
Blanche suffered from cancer for 10 years, and passed away as a patient in Somerset Community Hospital on Aug. 5, 1976. As he had with Blanche's husband, Rev. Paul Tobias officiated at the funeral service, with an obituary appearing in the Daily American. She was laid to rest beside her husband at the Kingwood IOOF Cemetery, near the graves of her parents and grandparents, Ephraim and Rosetta Miner. At the time of her death, she had 13 living grandchildren and four great-grandchildren.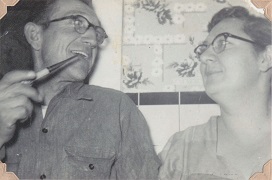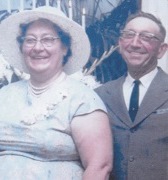 Berkey and Blanche over the years

Shirley King
~ Daughter Henrietta " Shirley" (Sanner) King ~
Daughter Henrietta "Shirley" Sanner (1934-2018) was born on May 22, 1934 in Confluence.
On July 15, 1950, at the age of 16, she married Roy Milton King (Jan. 1, 1931-2002), the son of Melvin and Mary Catherine (May) King. Their union endured for nearly 52 years until cleaved apart by death.
They had six children -- Wendy Warrick Zeller, David "Leo" King, Nancy Lee Swope Miner Snyder, Roger Roy King, Tracy Rae Sanner and Kelly Sue Zerfoss.
Roy "was a retired employee with 30 years of service of Keystone Lime in Springs," said the Somerset (PA) Daily American. "He was a member of the Appalachian Wagon Train Association, the Horse and Mule Association, and a former member of the Wheelers and Dealers Square Dance Club. He was a former Black Township supervisor and a volunteer worker at the New Centerville Firemen's Farmers' and Threshermen's Jubilee."
Shirley was employed for a number of years for Siemon's Lakeview Manor. She was a member of the Christ United Methodist Church of Rockwood, the Appalachian Wagon Train, the Rockwood Red Hat Society, TOPS PA and Rockwood Senior Citizens. Said the Daily American, she "enjoyed knitting, doing puzzles, camping and spending time with her grandchildren. She was well known for her sense of humor and for helping her daughters at the Dough Girls Pizza Shop."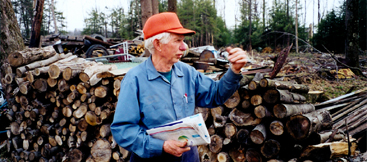 Roy Milton King surveys cleanup of extensive 1998 tornado damage at his home near Rockwood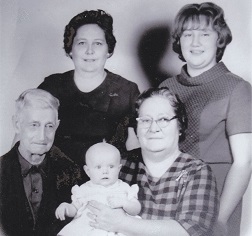 Shirley (top left) with her mother,
grandfather, daughter Wendy and
granddaughter Amy -- 5 generations
Their home was along the Markleton School Road. The founder of this website had the privilege of attending the Kings' 50th wedding anniversary celebration held in Rockwood's fire hall in July 2000.
Sadly, Roy suffered a major stroke and passed away on April 25, 2002. He was laid to eternal rest in the Kingwood IOOF Cemetery, following a funeral service led by Rev. Milton Morris. The Daily American reported that he was survived by 21 grandchildren and 12 great-grandchildren.
Shirley outlived her husband by 16 years but endured the deaths of her son David and granddaughters Lucinda and Lucretia Warrick. She enjoyed attending some of the national Minerd-Miner reunions, including the 2017 event.
As her health failed, she was admitted to In Touch Hospice House where she succumbed at the age of 83 on April 22, 2018. An obituary in the Daily American said she was survived by 19 grandchildren and 23 great-grandchildren.
Daughter Wendy Kay King (1951-living) was born in 1951 in Price Hospital in Confluence, Somerset County. She has been married twice. Her first husband was William Warrick ( ? - ? ). They were the parents of Amy Warrick, Kimberly Warrick, twins Lucinda Warrick and Lucretia Warrick, and William Warrick. Sadness swept across the family when the twin daughters died at birth in 1972. On July 17, 1982, she married her second husband, Thomas Zeller ( ? -living). He brought two children to the union, Thomas Zelleer and Susan Zeller. The family resided in Dunnellon, FL and Stevensville and Manchester, MD. Wandy has served on the national Minerd-Miner Reunion planning committee circa 2017-2019 and provided important insights for this biography, including a number of the images.
Granddaughter

Amy Warrick

has been married twice. Her first spouse was Robert Knestout ( ? - ? ). Two sons born to this union were Michael Knestout and David Knestout. Her second husband was Steven Kurry.
Great-grandson Michael Knestout married Mara Lindy on Nov. 28, 2019.
Great-grandson David Knestout
Granddaughter Kimberly S. Warrick

(1968-living) was born on Nov. 18, 1968. She was joined in wedlock with Joseph Hearld Hyde Jr. (May 18, 1955-2020), son of Joseph Hearld and Mary Pauline (Wilkerson) Hyde. They resided in Maryland in the towns of Waldorf, Charles County and Jefferson, Frederick County. Together, they were the parents of Bradley Hyde and Jennifer Hyde. Joseph loved trucks and fast cars and earned a living with Lee D. Trucking of Point of Rocks, MD. The family also liked to camp. Sadly, at the age of 64, Joseph passed away from the effects of cancer on Feb. 15, 2020 in Waldorf. His remains were brought to Kimberely's family's ancestral village of Kingwood, Somerset County, PA, for interment in the Odd Fellows Cemetery. Pastor Kevin Marr presided over the funeral service. An obituary appeared in the

Frederick News-Post

.
Great-grandson Bradley Hyde has dwelled in Jefferson, Frederick County, MD.
Great-granddaughter Jennifer Hyde resides in Newburg, MD.
Leo and Patricia King
Son David "Leo" King (1953-2012) was born on Dec. 10, 1953 in Confluence's Price Hospital. On June 2, 1973, at the age of 19, he married Patricia Ann Sipe ( ? - ? ), daugher of Donna Marie Sipe of Somerset. They made a home in Addison, Somerset County. The couple produced these offspring -- Shane David King, Wayland Leo King and Heidi Ann King. Heartache swept over the family when David, age 58, died at nearby Memorial Medical Center in Johnstown on Sept. 5, 2012. His funeral service was conducted at the United Community Church of God in Ursina, preached by a quadruple cousin, Rev. Dean Hay (of the family of Amanda [Younkin] Hechler).
Grandson

Shane David King

lived in Denver, CO in 2012.
Grandson Wayland Leo King

made a home in 2012 in Unadilla, GA.
Granddaugter Heidi Ann King

is believed to have married Nicholas Barry Henges Sr. ( ? - ? ) and to have borne these children -- Nicholas Barry Henges Jr., Calob Nicholson Henges, David Ezra Henges, Axel Zachariah Henges, Jacob Leo Henges and Daisy Ann Marie Henges. Sadly, their three-week-old son Nicholas passed away in Pittsburgh's West Penn Hospital

on Feb. 10, 2003

. Heidi dwelled in Reels Corner, Somerset County in 2012.
Daughter Nancy Lee King (1957-living) was born in 1957 in Price Hospital in Confluence. She is a talented wedding dress designer and maker. Her first spouse was Stan David Swope Sr. ( ? - ? ). Their children were Stan David Swope Jr., Nathanael Lee Swope, Adam Charles Swope and Roy Allen Swope. After a divorce, she married Edward Ross "Eddie" Miner (of the family of Frank Miner of Mill Run, PA) on Nov. 8, 1986. He brought a daughter to the marriage, Kimberly Ariel Miner. In April 1992, Nancy and Eddie spent a day with the founder of this website, driving through the countryside and meeting members of their families in Mill Run and Kingwood. Nancy's third husband is Albert Snyder.
Son Roger Roy King (1961- ? ) was born in 1961 in Meyersdale, Somerset County. On June 27, 1981, he was married to Sandra "Sandy" Knieriem ( ? -living) of Pocahontas, Somerset County. They have dwelled in Markleton over the years, with Roger employed as a truck driver for a coal stripping business. Their two children are Ben King and Sara King.
Grandson Ben King (1982-living) was born in 1982. On July 21, 2007, he was united in matrimony with Amber Brooks (1983-living). Their two children are Maci King and Bryce King.
Great-granddaughter Maci King (2009-living) was born in 2009.
Great-granddaughter Bryce King (2011-living) was born in 2011.
Granddaughter Sara King (1987-living) was born in 1987. When she was about 29 years of age, on Aug. 13, 2016, she entered into marriage with Steven Skeva ( ? -living). The Skevas have a daughter, Sophia Skeva.
Great-granddaughter Sophia Skeva (2018-living) was born in 2018.
Daughter Tracy Rae King (1963-living) was born in 1963 in Meyersdale Hospital in Somerset County. On Sept. 12, 1981, she was united in matrimony with Kenneth Sanner ( ? - ? ). They are the parents of Laura Sanner, Renea Sanner, Craig Sanner and Rachel Dively. Tracy helped with children's games at Minerd-Miner reunions of the early 1990s and has been on the planning committee circa 2017-2019.
Granddaughter Laura Sanner

( ? - ? )
Granddaughter Renea Sanner

( ? - ? )

is the mother of Hunter Sanner. Later, she married James Somerville

( ? - ? )

. One son was born to this marriage, Cullen Somerville.
Grandson Craig Sanner

( ? - ? )

wedded Andrea Lenhart.
Granddaughter Rachel Sanner

( ? - ? )

was united in matrimony with (?) Dively ( ? - ? ). The couple's son is Nicholas Dively.
Daughter Kelly Sue King ( ? -living) was born in (?) in Meyersdale Hospital. On Aug. 5, 1989, she was joined in wedlock with Marty Zerfoss ( ? - ? ). She is the mother of Marlee Addair and Kelsey Stillwagon.
Granddaughter

Marlee King was joined in matrimony with Isaac Addair. Their one son is Easton Addair.
Granddaughter Kelsey was united in wedlock with Andrew Stillwagon

. One son born in this family was Sawyer Stillwagon.

Thelma Gross
~ Daughter Thelma Grace (Sanner) Gross ~
Daughter Thelma Grace Sanner (1936-2002) was born on Nov. 19, 1936.
She was a graduate of the Pittsburgh Beauty Academy.
On Oct. 25, 1958, when she was age 21, she married Charles William Gross (1935-living).
They made their home south of Kingwood along Route 281 and had four children -- twins Kristi Jo Pletcher Ohler Brant and Ben William Gross, Tammy Knoblach and Jennifer A. Bowman.
Said the Daily American, Thelma "was the former owner of 'G.Y. Not Ceramics.' She was a past president of the Middlecreek Ladies Golf League. She was an avid bowler and enjoyed the outdoors, riding her 4-wheeler and hunting."
Stricken with cancer, Thelma died on Dec. 14, 2002, at the age of 66, relieved of her sufferings. Rev. James Monticue officiated at the funeral service, held at the Miller Funeral Home in Somerset, followed by interment in the Kingwood IOOF Cemetery.
Daughter Kristi Jo "Cricket" Gross ( ? -living) was born in (?), a twin with her brother Ben. On Sept. 25, 1982, she first married Bryan D. Pletcher ( ? - ? ). Their two daughters are Nikki L. Bain and Kasie M. Luke. Kristi loves her family history and has provided significant material for this website. She also was instrumental in arranging for the founder of this website to publish the Civil War diaries of her great-great grandfather, Ephraim Miner, in the book entitled Well At This Time. In fact, the volume is dedicated to her. In about 2013, in nuptials held at historic Mount Union Church, she married Dean Brant ( ? -living). They are active in local history organizations in Somerset County, especially the auxiliary of the Mt. Union Church Camp 502, Sons of Union Veterans of the Civil War. Kristi and Dean were pictured in the December 2010 edition of Somerset Magazine.
Granddaughter

Nikki L. Pletcher

was joined in the bonds of holy wedlock with Ryan Bain ( ? - ? ).
Granddaughter Kasie M. Pletcher

received a bachelor's degree in education from Penn State. She married (?) Luke ( ? - ? ), and the marriage ended in a short time. She relocated to Alaska where she received education administration credentials from the University of Alaska. in about 2011 she joined the Lake and Peninsula Borough School District as an itinerant counselor and was promoted to principal and personnel director. In January 2021, she was named superintendent of the district, with offices in King Salmon and Palmer, AK.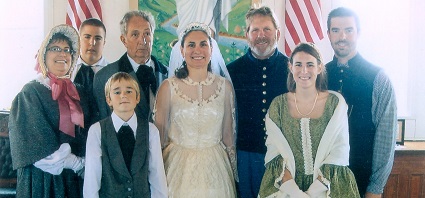 Kristi and Dean Brant's Civil War wedding
Albert Knoblach III, receives
an award from Clark Brocht
Son Ben William Gross ( ? -living) was born in (?), a twin with his sister Kristi Jo. His first bride was Tammy Shrower ( ? - ? ). They bore three daughters, Erin Gross, Mallory Gross and Jessica Gross. Later, he wedded Sandy Colflesh Gindelsberger.
Great-grandson Connor Shaulis (2016-living) was born in 2016.
Great-granddaughter Rebecca Shaulis (2020-living) was born in 2020.
Daughter Tammy Gross ( ? -living) was born in (?). She was united in matrimony with Albert Knoblach Jr. ( ? -living). Their children are Albert Knoblach III and Anna Knoblach. Prior to a divorce, they operated Shepherd's Farm & Ice Cream Shoppe in Confluence. Tammy's second spouse, whom she married on July 14, 2018, is Eric Clare. Eric brought two children of his own into the second union.
Grandson

Albert Knoblach III
Granddaughter Anna Knoblach
Daughter Jennifer A. Gross ( ? -living) was born in (?). As a young woman, she worked at Kings Family Restaurant in Somerset. She was joined in marriage on Oct. 15, 1995 with Michael Earl Zerfoss ( ? -living), son of Glenn and Helen Zerfoss. At the time, Michael earned a living at Jenny Products of Somerset. The couple was pictured in a wedding story in the Somerset Daily American. They produced two children together, Matthew Zerfoss and Erin Pletcher. Later, she married (?) Bowman and had a son, Logan Bowman.
Grandson

Matthew Zerfoss

( ? -living)
Granddaughter Erin

( ? -living)

wedded Michael Pletcher

( ? -living)
Grandson Logan Bowman

( ? -living)
~ Son David Warren Sanner ~

David W. Sanner
Son David Warren Sanner (1948-2013) was born on March 29, 1948. He was baptized in the Wesley Chapel United Methodist Church.
His first wife was Sue Kreger ( ? - ? ). They wed in 1966, when he was age 18.
Their two sons were Derek Sanner and Scott Sanner.
At the age of 24, on July 2, 1972, he married his second spouse, Gladys Shipley ( ? - ? ).
They resided in Markleton. He legally adopted Gladys' daughter Christine Stahl.
Later, he wedded Holly Jill Patterson ( ? - ? ).
David inherited the family farm in about 1976. He added to his holdings with the acquisition of the adjacent Glenn Sanner farm.
For nearly 40 years, he was employed with the CSX Railroad, retiring from the position of conductor. He also belonged to the Odd Fellows lodge in Kingwood, the Scullton Road and Gun Club and the Somerset County Beef Producers.
Said the Connellsville Daily Courier, he "had a broad smile and a wonderful sense of humor that he shared with those around him. He was an avid hunter and had a passion for fishing, even ice fishing. He had horses all of his life and enjoyed trail riding and hunting in Colorado with his own horses. He was an excellent cattleman and a dedicated farmer. David was a man you could count on and a dedicated steward of the land. David absolutely loved working outdoors. He worked from 'CAN SEE to CAN'T SEE' and beyond. He was creative and courageous; confident and intelligent. David always made the work lighter with his 'short breaks' and 'short stories.' He loved history, especially the Civil War; playing guitars with his family; farming with RED tractors; and lending a hand wherever he could. The warmth of a good campfire and cookouts with his family with homemade pie for dessert always put a smile on his face."
Sadly, David passed away at home at the age of 64 on Jan. 11, 2013. Pastor Denton Lester led the memorial service held at the family church.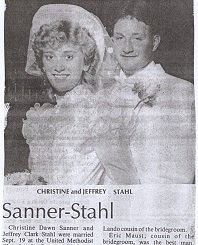 Somerset Daily American, 1987
Son Derek Sanner ( ? - ? ) was born in (?). He married Tracy ( ? - ? ). They have five offspring, Jesse David Sanner, Jubal Sanner, Alison Sanner, Emily Sanner and Sara Whitney Sanner.
Grandson

Jesse David Sanner

has been married and divorced. With Lacy Stevanus, they produced a son, Cooper Sanner.
Granddaughter Alison Sanner
Granddaughter

Emily Sanner
Granddaughter

Sara Whitney Sanner
Son Scott Sanner ( ? - ? ) was born in (?). He wedded Kathy ( ? - ? ). The couple are the parents of Joseph Scott Sanner, Jordan Sanner and Ryan Sanner.
Grandson

Joseph Scott Sanner
Daughter Christine Sanner ( ? - ? ) was born in (?). She is a graduate of Somerset Area Vocational School. On Sept. 19, 1987, in nuptials led by Rev. Daryl Harclerode at the United Methodist Church of Confluence, she was united in wedlock with Jeffrey Clark Stahl ( ? - ? ), son of Ernest E. and Maxine Stahl of Somerset. At the time, Jeffrey worked at the Stahl Oil Company. The couple was pictured in a related wedding announcement in the Somerset Daily American.


Rachel Driver Townson
~ Daughter Rachel Lee (Sanner) Driver Townson ~
Daughter Rachel Lee Sanner (1943- ? ) was born in about 1943.
On Oct. 21, 1962, she was united in marriage with her first spouse, Robert Lee Driver (Oct. 27, 1939-1984). They did not reproduce.
The Drivers lived in Olney, Montgomery County, MD.
Sadly, Robert died on April 13, 1984, terminating their marriage of 21-plus years' duration.
Four years later, on Nov. 21, 1988, she remarried to Peter Townson (1948- ? ).
Copyright © 2004, 2008, 2012, 2019, 2021 Mark A. Miner
Minerd.com extends its deep gratitude to the following for their important contributions to this family's biography -- Henrietta "Shirley" King, Thelma Gross, Kristi Brant, Wendy Zeller and Nancy Snyder.