Maggie married Joseph Cyrus Cramer Sr. (March 26, 1879-1948), son of George and Rebecca (Mellinger) Cramer of Mount Pleasant.
They produced eight children -- George Nicholas Cramer, Gladys Clare Poole, Dorothy Rebecca Nicholson, William Russell Cramer, Mary Grace Wiley, Ruby Joyce Aitken, Joseph Cyrus Cramer Jr. and Nelda Jean Marth.
The family resided for many years in Scottdale, Westmoreland County at the address of 115 Fourth Street. Joseph was a self-employed painter.
In 1931, the Cramers are known to have attended a 25th wedding anniversary reception for Maggie's brother Alvin Thurston in Mount Pleasant.
Sadly, Maggie was plagued with chronic heart problems ("myocarditis") and congestive heart failure. She passed away at age 58, on April 29, 1940. The Connellsville Daily Courier said she had suffered "a prolonged illness" and had been "a resident of [Scottdale] since her marriage 39 years ago. She was a member of the First Baptist Church."
Joseph outlived Maggie by eight years and appears to have wedded a second time, to Eva ( ? - ? ). She moved into his home at 115 Fourth Avenue in Scottdale.
In about 1943, Joseph began to suffer from hypertension and bore the problem for the final five years of his life. He endured the untimely deaths of his married daughters Dorothy Nicholson in 1942 and Gladys Poole in 1943.
Then in November and December 1948, he was stricken with three heart attacks. The last one claimed his life at the age of 69 just four days before Christmas 1948. Interment was in Scottdale Cemetery.
~ Son George N. Cramer ~
Son George N. Cramer (1903-1964) was born on June 26, 1903 in Scottdale.
He married Emma Frick ( ? - ? ).
They had one son, Harold L. Cramer.
The Cramers initially lived in Belle Vernon and Charleroi, PA, where he was employed by the United States Casket Company and as manager of the Atlantic & Pacific (A&P) grocery store in Scottdale at the corner of Pittsburgh Street and Homestead Avenue. Later, they relocated to California, making a home in Alameda near Oakland, CA. There, George worked for 15 years as a regional salesman for Western Surgical Supply Company of San Francisco.
George died on Feb. 23, 1964, at the age of 61. An obituary was printed in the Oakland Tribune as as the Connellsville (PA) Daily Courier. Burial was in Mt. View Cemetery, with Rev. H.W. VanDelinder officiating.
Son Harold L. Cramer (1923-1993) was born in 1923. He was married and had a daughter, Beverly Tallerico.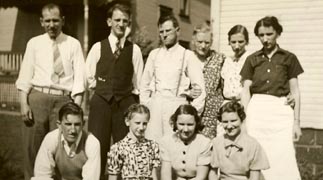 Back row, l-r: George, Bill, Joseph Sr. and Maggie, Dorothy, Gladys. Front, l-r: Joe Jr., Nelda, Grace, Ruby.
~ Daughter Gladys (Cramer) Poole ~
Daughter Gladys Cramer (1905-1943) was born on Sept. 23, 1905.
She married Ottis Poole (1899- ? ). The couple did not reproduce.
They resided at Ruffsdale, Westmoreland County.
At the age of about 23, in 1929, Gladys began to suffer from heart and kidney disease. She endured the illnesses for 14 years but could not recover. Admitted to Frick Memorial Hospital in Mount Pleasant, she died at age 39 on Sept. 28, 1943. Burial was in Mount Lebanon Cemetery in Westmoreland County. An obituary appeared in the Connellsville Daily Courier.
Ottis survived her by 46 years, and passed away on Feb. 8, 1989.
~ Daughter Dorothy (Cramer) Nicholson ~
Daughter Dorothy Cramer (1906-1942) was born on Sept. 7, 1906 in Scottdale.
She married Clarence E. Nicholson (1908-1988).
In the early 1940s, the Nicholsons made a home in rural Perryopolis in Franklin Township, Fayette County.
Tragically, in the fall of 1941, she contracted subacute bacterial infection of her heart. Her health declined over the next 14 months and she passed away at the age of 36 on Nov. 29, 1942. Her remains were placed into repose in Scottdale Cemetery.
Clarence outlived her by 46 years. He succumbed on May 29, 1988.
~ Son William R. Cramer
~
Son William R. Cramer (1913-1991) was born in 1913.
Circa 1939, William was employed by the Pennsylvania Turnpike Commission in Mount Pleasant.
On June 17, 1939, when he was age 26, William was united in matrimony with Margie M. Beadling ( ? - ? ). She was the daughter of J. Wesley and (?) (Dushane) Beadling of South Chestnut Street in Scottdale. Rev. J.E. Lutz led the nuptials at the Methodist church in Scottdale, with assistance from Rev. Roy E. Whittemore of the First Baptist Church. The wedding made news in the Connellsville Daily Courier.
Their initial home in 1939 was in the Gilmore Apartments in Scottdale, Then in 1940, they in Jenkins, KY. By 1964, they were in Uniontown, Fayette County, PA.
They had two daughters, Marilyn Cramer and Cheryl Cramer.
Marge may have lived in Englewood, FL in 2005.
~ Daughter Mary Grace (Cramer) Wiley ~
Daughter Mary Grace Cramer (1915-1998) was born in 1915.
She married James W. Wiley III (1913-1982).
They made their home circa 1940-1943 in Owasso, MI. By 1964, they were in St. Petersburg, FL.
James died at age 69 on Oct. 23, 1982.
Mary Grace survived him by 16 years, and passed away on Sept. 14, 1998.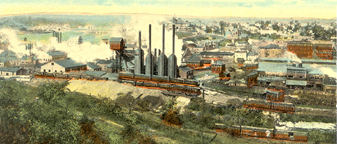 Bird's-eye view of industrial Scottdale
~ Daughter Ruby Joyce (Cramer) Aitken ~
Daughter Ruby Joyce Cramer (1917-2005) was born on July 24, 1917 in Scottdale.
She married David Aitken (1910-1993).
They had three children -- Rev. Caryle Jeanne Wilkie, Bonnie Kay Aitken and Margaret "Katherine" Hurly. Sadly, Bonnie Lee died in infancy in 1945.
Said the Uniontown (PA) Herald-Standard, Ruby "worked from 1957 until her retirement for the medical offices of Dr. Rush and Dr. Sloan as their Medical Secretary and Office Manager. All their patients will fondly remember her as 'Ruby'." She was active in the Third Presbyterian Church of Uniontown, and serving "the wider community, [she] was a member of the Uniontown Chapter No. 263 Order of the Eastern Star, the Uniontown Service League and the Uniontown Hospital Auxiliary and also was a volunteer for the Meals on Wheels."
Having survived her husband by a dozen years, Ruby moved into the home of her daughter in Toms River, NJ. She passed away there at the age of 87 on April 7, 2005. Her remains were transported back to Uniontown for funeral services led by Rev. William D. Rodahaver, followed by burial in Scottdale Cemetery. An obituary appeared in the Uniontown Herald-Standard.
Daughter Rev. Caryle Aitken married Peter Wilkie. Their daughter was Meghan Wilkie. In 2005, their home was in Toms River, NJ.
Daughter Margaet "Katherine" Aitken wedded Patrick Hurly. The couple produced two children, Erin Hurly and Erica Hurly. They resided in 2005 in Clinton, VA.
~ Son Joseph C. Cramer ~
Son Joseph C. Cramer (1920-1996) was born in 1920.
She married Jean Forsyth ( ? - ? ).
They produced two children, Jay Cramer and Janice Cramer.
The Cramers are believed to have dwelled in Bradford, PA in 1964.
Joseph died at age 76 on Feb. 3, 1996.
~ Daughter Nelda (Cramer) Marth ~
Daughter Nelda Cramer (1925-1986) was born in 1925.
She married James R. Marth Sr. (1924-2009), the son of Charles and Anna (Martz) Marth.
They had one son, James R. Marth Jr.
James Sr. served in the Navy Seabees during World War II, said the Greensburg Tribune Review, and "retired from U.S. Steel, Irving Works." He attended First Baptist Church of Scottdale and was a member of the Scottdale American Legion, Scottdale Volunteer Fire Department Band, Harrold Grange and Laurel Square Dance Groups and Ridge Runner and Wally Byham Trailer Clubs.
Nelda was active with the alpha Gradale Sorority and served in the position of tribune in 1952. She also was a member of the Junior Philathea Class of the First Baptist Church.
Nelda passed away at age 61 on April 30, 1986.
James married again to Phyllis (?). James passed away at home at the age of 84 on March 27, 2009.
Copyright © 2001, 2004-2006, 2009, 2018 Mark A. Miner
Minerd.com extends its gratitude to Jay and Frankie Cramer and to Kathie Hurley for furnishing information for this biography