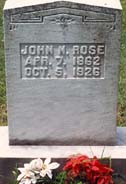 Normalville Cemetery
John N. Rose was born on April 7, 1862 in Somerset County, PA, the son of Andrew J. and Susanna (Minerd) Rose Sr. At a young age, he moved with his parents to nearby Normalville, Fayette County, PA.
John was a skilled stone mason. The April 1898 Connellsville Courier reported that during repair of the United Brethren Church at Normalville, he was doing masonry work, and a "large portion of the right wall had to be taken down."
Also active in the Poplar Run Church Sunday School, John was elected "Chorister" in the spring of 1900. That year, at age 38, he resided with his mother and bachelor brothers William and Andrew Jr.
On Jan. 21, 1901, at Greensburg, Westmoreland County, PA, 39-year-old John married Carrie Eicher (March 2, 1882-1958), daughter of A.D. and Louise (Prinkey) Eicher. The Courier said that their "numerous friends extend hearty congratulations for a long and happy wedded life."
In the fall of 1902 the Roses moved to the county seat of Uniontown. By March of the next year, they had returned to the mountains of Normalville, purchasing a farm next to his mother's, and across the road from his uncle Martin Miner. They later bought and moved to a farm at Crossland Station near Connellsville, Fayette County.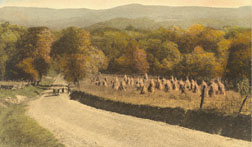 Road through Normalville
The road passing through Normalville, framed against the picturesque backdrop of the "Little Alps of America," is seen here. Note the shocks of bundled wheat standing upright in the field.
John and Carrie had two children -- Ida "Frances" Minor and Harold Ethan Rose.
The marriage was rocky at first, and in 1911 John filed for divorce. However, the couple patched things up, and they remained married for good.
In about 1918, they moved from Normalville into Connellsville, although Carrie retained her membership in the Normalville Methodist Church.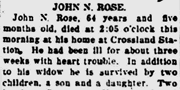 Connellsville Daily Courier, 1926
John suffered from lesions on his heart valves and disease of the kidneys. At age 64, in September 1926, his health began to fail significantly. Just a few weeks later, on Oct. 5, 1926, he died at home. He was buried at Normalville Cemetery.
At some point in time, Carrie took into her home her young cousin James Minor, the motherless son of her cousin Harry C. Minor. She considered him as a "foster son" for the remainder of her life.
Carrie later married Newton I. Christopher (1876-1951), of Crossland Station, and the son of John and Mary Christopher. Newton resided for many years in the coal mining patch town of Republic, Fayette County, and in about 1922 relocated to Connellsville and Crossland Station.
Newton died at the age of 75 the day after Christmas 1951. He was laid to rest in Normalville Cemetery, following funeral services at the Brooks Funeral Home.
Twice widowed, Carrie outlived her second spouse by seven years. After a lingering illness of chronic rheumatism and heart disease, she died in the Fayette County Home, after a stay of four-and-a-half years, on Jan. 9, 1958. Her obituary in the Connellsville Daily Courier noted that she was survived by 13 grandchildren and 14 great-grandchildren.
~ Daughter Ida "Frances" (Rose) Minor ~
Daughter Ida "Frances" Rose (1901-1986) was born on July 1, 1901.
She married a cousin, Charles Dewey "Red" Minor (1900-1968), son of John R. and Mary (Moody) Miner. They had six children -- Raymond A. Minor, Dorothy Grimm, Harold Lawrence Minor, Arthur Minor, Dolores Hatter and Mary Elizabeth Prinkey.
Frances passed away on June 6, 1986.
~ Son Harold Ethan Rose ~
Son Harold Ethan Rose (1913-1985) was born on March 24, 1913.
He married Mabel Eldora Lee (1916-1961), daughter of Samuel E. and Cora P. (Trump) Lee of South Connellsville.
They had five children -- Harold Ellsworth Rose, Robert Lee Rose, Cynthia Ann "Cindy" Hudzina, and twins Patricia Miller and Paula Childs.
Their home was at 2204 Ridge Boulevard in the Crossland Station section of Connellsville. Harold commuted to Pittsburgh for many years as a foreman at the Edgar Thomson Works of the United States Steel Corporation.
Harold was involved in a freak shooting accident in late October 1943 which the Connellsville Daily Courier called "the first serious hunting accident of the season." While on the hunt on the farm of his brother in law Charles "Red" Minor with cousin William Giles and friend "Heavy" Stillwagon, they "were in the underbrush when a pheasant flew up. The bird had risen only about six feet when Stillwagon is said to have blazed away with the bullets striking Giles, walking only a short distance away... Just a few minutes before the accident Giles had brought down a pheasant." Pellets struck Giles in the left eye and temple, and he was hospitalized in Connellsville State Hospital.
Mabel died at the age of 45 on Sept. 12, 1961 in Pittsburgh's Womens Hospital. Burial was in Green Ridge Memorial Park in Connellsville. Her obituary in the Connellsville Daily Courier noted that she "lived in the Connellsville vicinity all of her life and was a member of the Connellsville Church of the Brethren.
Having been widowed for two years, Harold married a second time, on Oct. 5, 1963, to Pauline (Bezilla) Stafford (1926-2017). The widow of William C. Stafford, she was the daughter of Joseph F. and Veronica Olga (Conko) Bezilla. She brought a daughter to the second marriage -- Paula Childs.
The Connellsville Daily Courier once noted that Pauline "worked for many years as a bookkeeper for Colatch Vending until her retirement. She was a member of St. Rita Roman Catholic Church, Connellsville, where she was also a Christian Mother. She was a member of Club 14. Pauline loved sending cards and keeping in touch with her family and friends. She was the least selfish person anyone could know. She always enjoyed spoiling her family..."
At the age of 72, Harold died on June 21, 1985, and rests in Green Ridge.
Pauline survived her second spouse by more than three decades and remained in Connellsville. She died in the home of her stepdaughter Patty at the age of 91 on Nov. 18, 2017. A funeral mass was held followed by committal rites at St. Rita Roman Catholic Cemetery in Connellsville. An obituary was printed in the Daily Courier.
Son Harold Ellsworth "Bud" Rose (1937-2012) was born on April 29, 1937. He married Rita Margaret Zimmerman ( ? - ? ) on Jan. 22, 1959 in Connellsville. Circa 1961, they lived in Connellsville. He was employed at the Edgar Thomson Works of U.S. Steel. He died March 28, 2012, with an obituary carried in the Connellsville Daily Courier.
Son Robert Lee Rose (1938- ? ) was born in 1938. He married Carol Mae Grimm ( ? - ? ) and resided circa 1961 in Coraopolis, near Pittsburgh. By 2017-2021, his home was in Columbia, SC.
Daughter Cynthia Ann Rose (1946-2021) was born on Sept. 6, 1946 in Pittsburgh. She grew to womanhood in Connellsville, Fayette County. After high school, Cynthia received further education at the Durbin Secretarial School in Connellsville. She then accepted a position with the federal government and relocated to Washington, DC, where she spent the balance of her life. She retired in 2015 after almost half a century of public service. She married Stephen Hudzina ( ? - ? ). Their union endured for 42 years. The couple together bore a son, Michael Hudzina. Reported the Connellsville Daily Courier, "Cindy was a bright light to all who she encountered, a friendly, loving soul who loved to host get-togethers with her family and friends... Cindy was a maternal figure to children that were not even hers, demonstrating exceptional kindness and the comfort of giving and receiving hugs." The family enjoyed vacations at Ocean City, MD and rooting for the Washington Redskins of the National Football League. In the 2000s, they dwelled in Bristow, VA. Cynthia died at the age of 74 on March 25, 2021.
Daughter Patricia "Patty" Rose ( ? - ? ) was a twin with her sister Paula. She wedded Larry Miller ( ? - ? ). Their home in 2017 was in Connellsville.
Daughter Paula Rose ( ? - ? ) was a twin with her sister Patricia. She married Joseph "Joe" Childs ( ? - ? ) and the pair has lived in Connellsville.
Copyright © 2001, 2006, 2013, 2017, 2021 Mark A. Miner