Andrew Jackson Rose Jr.
(1870-1947)
Andrew Jackson Rose Jr. was born on Oct. 28, 1870 near Normalville, Fayette County, PA, the son of Andrew J. and Susanna (Minerd) Rose Sr.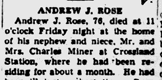 Daily Courier, 1947

Andrew was a lifelong farmer. He never married.

The federal census enumeration of 1900 shows Andrew at age 29 sharing a home with his widowed mother and bachelor brothers John and William in Springfield Township. His work at that time was as a day laborer.

Andrew remained with his mother during the 1900s and was in her household at the time of the 1910 U.S. Census.After the death of his mother in 1919, Andrew relocated to Donegal in nearby Westmoreland County to live with his married sister, Sadie Witt and her husband Jacob.


In about 1927, Andrew moved with the Witts to Mount Pleasant/East Huntingdon Township, Westmoreland County. There, Andrew and his brother-in-law earned a living as farmers.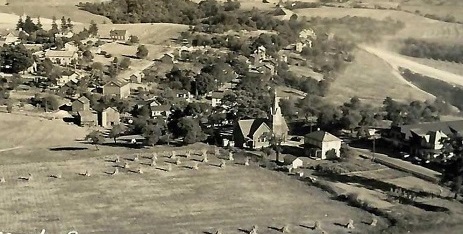 Donegal, PA, Andrew's home in 1920
His whereabouts in 1940 are not yet known. During Andrew's later years, he was burdened with heart and kidney disease.
He became ill in February 1947 while staying at the home of his niece, Frances (Rose) Minor, at Crossland Station, near Connellsville, PA. (Frances' father in law was John Ross Miner.)
Andrew died at the Minor home on Feb. 18, 1947, at the age of 76.. His remains were laid to eternal rest at Normalville Cemetery.
Copyright © 2001, 2022 Mark A. Miner