Andrew Jackson Rose Jr.
(1870-1947)
Andrew Jackson Rose Jr. was born on Oct. 28, 1870 near Normalville, Fayette County, PA, the son of Andrew J. and Susanna (Minerd) Rose Sr.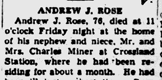 Andrew was a lifelong farmer. He never married.
In about 1927, Andrew moved to Mt. Pleasant, Westmoreland County, PA.
Andrew became ill in February 1947 while staying at the home of his niece, Frances (Rose) Minor, at Crossland Station, near Connellsville, PA. (Frances' father in law was John Ross Miner.)
Andrew died at the Minor home on Feb. 18, 1947, and was buried at Normalville Cemetery.
Copyright © 2001 Mark A. Miner