John Ross Miner
(1858-1935)
John Ross Miner
John Ross Miner was born on New Year's Eve 1858 near Humbert, Somerset County, PA, the son of Henry A. and Matilda (Rose) Miner. As a young boy, he moved with his parents to the booming coal and coke center of Connellsville, Fayette County, PA.
On July 24, 1881, at the age of 23, John married 19-year-old Mary Melissa Moody (1862-1922), the daughter of James J. and Nancy (Ritenour) Moody Sr. The ceremony was held at the Dravo Coke Works, in the presence of his brother Silas Miner and Cal Harcum, and was performed by M.G. Marple, a minister. John's new father in law was politically active and was elected constable of Lower Tyrone Township in Fayette County in 1881.
John labored as a coke drawer and coal mine laborer for 45 years. His primary place of employment was in Connellsville at the Davidson Coke Works of the H.C. Frick Coke Co., which eventually became a subsidiary of United States Steel Corporation.
The Miners had 14 children -- but tragically and astonishingly, all but four died before the age of 18. Their family Bible, viewed by the founder of this website in the early 1990s, contains the handwritten listings of all the children's deaths, one after another after another.
~ Children's Deaths Recorded in the Family Bible ~
Nora Estella - died in 1882 at age 3 years
Viola Miner - died in 1883 at age 1 year, 2 months
John William Miner died in 1886
James Henry Miner - died in 1892 at age 8 years, 7 days
Emma May Miner - died in 1892 at age 1 year, 4 months
Grant Sylvester Miner - died in 1895 at age 8 months
Emanuel Theodore Miner - died in 1897
Tomey Miner - died in 1899 at age 9 months
Eldora Elizabeth Miner - killed in 1907, age 18 years, 8 months
Ethel May Miner died in 1910 at age 8 years, 2 days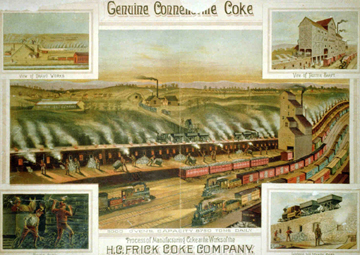 "Genuine Connellsville Coke" poster advertising the growing empire of the H.C. Frick Coke Co., John's longtime employer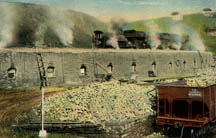 Davidson coke works
The children all were buried at the Mennonite Cemetery near Pennsville, but in another twist of fate, none of the graves is marked. They are remembered in the family Bible, and on this webpage, and perhaps nowhere else.
Perhaps the most shocking and tragic deaths was daughter Elizabeth's, on Sept. 25, 1907. The 18-year-old accidentally was struck by a moving railroad car at the Davidson Coke Works where she was visiting her father at his place of employment. A rare old postcard view of the Davidson Works is seen here.
The four children to survive this cruel shadow of death were Mary Lavida Bailey, Elmer Ellsworth Miner, Nancy Stillwagon Kuhns and Charles Dewey "Red" Minor.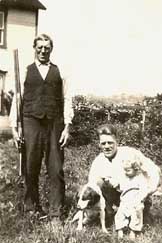 John and son Red Minor
John and Red are seen together here in a photograph pose with Red's baby girl, Delores.
John and Mary lived for many years at Dawson and at No. 32 Davidson Hill in Connellsville.
Scandal would have rocked the family in 1912, when John's son Elmer had an affair with, and eloped with, John's sister in law, Fannie (Dublin) Miner (Enoch Miner's wife). Elmer's whereabouts were unknown circa 1935.
In 1929-1930, John was elected treasurer of the large McDowell-Miner Reunions held at Hillcrest Park in Connellsville. In 1920, he is believed to have attended the Minerd-Miner Reunion at Ohiopyle, Fayette County, and in 1927 he spoke at the clan's gathering in nearby Confluence, Somerset County.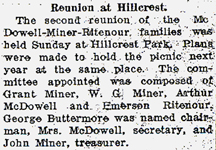 McDowell-Miner-Ritenour reunion news
John and his brother Grant went to the Minerd Reunion in August 1932, held at Lake Forest Park near Scottdale, Westmoreland County. Writing in the Huntingdon (PA) Daily News, their cousin Laura Jane (Minerd) Williams reported: "Everyone seemed to enjoy the fine fellowship that existed among all the reunionists and the innumerable baskets that provided dinner and supper for the party were bottomless."
Mary suffered from epileptic seizures. She was found dead in bed at age 60 on Aug. 19, 1922. The cause of death was believed to have been a stroke. She was laid to rest in the Mennonite Cemetery in Connellsville Twp.
John outlived Mary by 13 years, and retired from the Frick Company. He began receiving a pension, one of the earliest family members to have this type of company benefit.
At age 64, on March 28, 1923, John married 31-year-old Mary Ellen Ringer (Feb. 13, 1892-1970). She was less than half his age and the daughter of William and Caroline (Frickey) Ringer of Summit Mills, Fayette County. She may have brought a daughter of her own to the marriage, Grace Tressler ( ? -1950).
They had one daughter, Mabel Kennick.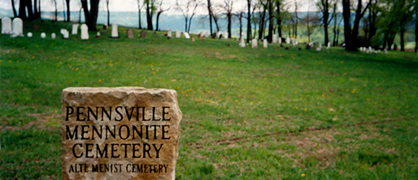 Pennsville's Mennonite Cemetery near Connellsville, where John, first wife Mary and many of their young children rest for eternity in unmarked graves

Connellsville Daily Courier
On Sept. 21, 1935, John died at home at age 76. Though devastated by the deaths of so many children, at his own passing he was survived by four children and 10 grandchildren. The funeral was conducted by John's distant cousin, Rev. David E. Minerd. The Daily Courier reported that a "quartet composed of Mrs. Walter Smith, Mrs. William E. Bisel, Edward Hiltabidel and Homer Davis, sang. Miss Lulu Bailey was accompanist." Pallbearers were his nephews Clyde Miner (son of Grant), Frank Miner (son of Silas), Noah Miner (son of Enoch) and William Miner (son of William) and George and William Richter (sons of Mary Anna Richter).
John was buried with his first wife and children in the Mennonite Cemetery at Pennsville. Their graves today are not marked.
After some years as a widow, Ellen married her second husband, Richard Kerns (March 13, 1880-1963), son of Solomon and Hannah (Hall) Kerns of Davistown, Fayette County. He was a dozen years older than his bride and, having been divorced in 1939, brought five children to the marriage -- Carl Kerns, Kenneth Kerns, Effie Bauer, Anna Bauer and Ellouise Basinger.
The Kernses made their home at the corner of Balldridge Avenue and Mill Street in South Connellsville, where Richard was employed by the State Hotel in Connellsville. They were members of the Calvary Assembly of God Church in town.
Richard suffered a fatal heart attack and died instantly at home at the age of 83 on March 13, 1963. His remains were placed into eternal rest in Connellsville's Hill Grove Cemetery following funeral services led by Rev. E.J. Hatchner.
Ellen spent her final years residing with daughter Mabel and died on Sept. 6, 1970. Rev. Charles Dale led the funeral service followed by burial in Hill Grove.
Stepson Carl Kern lived in Connellsville in 1970.
Stepson Kenneth Kern made his home in 1970 in Connellsville.
Stepdaughter Effie Kern wed Carl Bauer and resided in Connellsville.
Stepdaughter Eloise Kern was joined in wedlock with Charles Basinger of Connellsville.
Stepdaughter Anna Kern was united in matrimony with George Bauer. In 1970, their home was in the state of California.
~ Daughter Nancy (Minor) Stillwagon Kuhns ~
Daughter Nancy M. Minor (1887- ? ) was born in 1887.
She first married Oliver R. Stillwagon (1878- ? ) on Feb. 3, 1903, when she was age 16 and he 25. They united themselves in marriage, with W.W. Greene and Joan Brownfield serving as witnesses. He was the son of Joseph and Aleghela Stillwagon and a resident of Tyrone Township, Fayette County.
After less than two years of marriage, Oliver deserted Nancy in August 1904, and "has not given her one cent since [then] and never did support her, it is alleged," said the Daily Courier. She moved back in with her father, but as he had "seven children to look after, [he] does not feel that he is able to support his married daughter." Oliver was jailed for non-support in August 1905.
Later, Nancy married (?) Kuhns and in 1935 resided in Loveland, OH.
~ Son Elmer Ellsworth Miner ~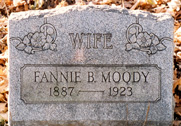 Hill Grove Cemetery
Son Elmer Ellsworth Miner (1892-1952) was born in 1892. In a scandal that shook the family to its core, he married his aunt by marriage, Fannie (Dublin) Miner, the wife of his uncle Enoch Miner Sr. They moved to Pittsburgh.
Fannie passed away in 1923, and was buried by her husband in Connellsville's Hill Grove Cemetery. Her grave marker is seen here. After her untimely death, he later changed his last name to "Moody."
Elmer was married several other times, including once to "Josephine." A niece remembered that he was a "displaced person" for many years, and rode the rails from city to city. He was nicknamed "The Preacher" and was religious "at times," keeping a Bible in which he inscribed notations.
He died circa 1952 in a rooming house in Sewickley, near Pittsburgh. His burial place is unknown, and no death certificate has been found.
~ Daughter Mary Lavida (Minor) Bailey ~
Daughter Mary Lavida Minor (1895-1931) was born in 1895 in Connellsville.
At the age of 22 in 1917, she resided at West Bethlehem Township, Washington County, PA. That year, in December 1917, she married 26-year-old farmer John W. Bailey (1891- ? ), also a resident of West Bethlehem Township. He was the son of George and Mary (Booth) Bailey.
They had two known daughters, Mary E. Bailey and Ruth O. Bailey.
When the federal census was enumerated in 1920, the Baileys lived in West Bethlehem, where John was employed as a laborer with a farm company.
For reasons not yet known, Mary was admitted to the Dixmont Hospital for the Insane in Kilbuck Township north of Pittsburgh. There, suffering from pulmonary tuberculosis, she died at the age of 36 on June 9, 1931. A search of the Connellsville Daily Courier failed to locate a newspaper obituary. Her remains were placed into eternal rest in Beallsville (PA) Cemetery.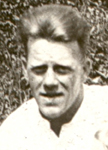 Red Minor
~ Son Charles Dewey "Red" Minor ~
Son Charles Dewey "Red" Minor (1900-1968) was born on Jan. 20, 1900 at Little Summit, Dunbar Township, Fayette County. He was five feet, eight inches tall, with red hair, grey eyes and "a ruddy complexion," said a newspaper.
Red married a cousin, Ida "Frances" Rose (1901-1986), daughter of John N. and Carrie (Eicher) Rose. Their nuptials took place on May 25, 1918, when Red was age 19, and Frances 17, at the parsonage of the First Methodist Church in Connellsville. Rev. G.L.C. Richardson officiated.
They had six children -- Raymond A. Minor, Dorothy Grimm, Dolores Hatter, Carrie Prinkey, Lawrence Minor and Arthur Minor.
Red registered for the World War I military draft in 1918, and stated his occupation as a laborer for the Soisson Fire Brick Company, spelling his own name "Minerd" at that time. He also was a coal miner in early adulthood.
He was employed for many years with the Edgar Thomson Works of United States Steel Corporation at Braddock near Pittsburgh. He was a longtime member of the United Steelworkers of America."
Tragedy rocked the family in 1923 at the untimely death of their son Arthur. Details of this loss are being researched.
In April 1943, Red made news when living at Crossland Station, and working at the Phillips plant of the H.C. Frick Coke Company. He left home for work at 11 a.m. one day, riding as a passenger in the vehicle of a fellow miner. He did not return for several days, and the Connellsville Daily Courier reported that he was missing and sought by his family.
Later that same year, Red was involved in a freak shooting accident in late October 1943 which the Connellsville Daily Courier called "the first serious hunting accident of the season." While on a hunt his Crossland Station farm, with cousins William Giles and Harold Ethan Rose and friend "Heavy" Stillwagon, they "were in the underbrush when a pheasant flew up. The bird had risen only about six feet when Stillwagon is said to have blazed away with the bullets striking Giles, walking only a short distance away... Just a few minutes before the accident Giles had brought down a pheasant." Pellets struck Giles in the left eye and temple, and he was hospitalized in Connellsville State Hospital.
Frances' aged uncle Andrew Jackson Rose Jr. came to live in their home in Crossland Station in the winter of 1947. He died there, at the age of 76, on Feb. 21, 1947.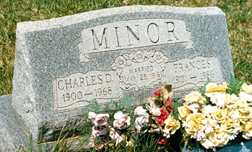 Normalville Cemetery
Red retired in 1965. They spent their final years together at 2202 Ridge Boulevard in Connellsville.
Even though Red was dying at the time, he and Frances marked their golden wedding anniversary on May 25, 1968. The Daily Courier printed a story and photograph of the couple, subtly noting that "Due to illness in the family there was no celebration."
Red died just 40 days later, on the Fourth of July 1968. He was laid to rest in the Normalville Cemetery following a funeral service led by Rev. Melvin Trout. The Daily Courier reported that he was survived by 14 grandchildren and one great-grandchild.
Frances outlived her husband by nearly two decades. She died in 1986, and reposes with Red for eternity.
Son Raymond A. Minor (1919-1971) was born in 1919. He served in the U.S. Navy before and during World War II. He was a sailor on the USS St. Louis, and survived the Japanese attack on Pearl Harbor on Dec. 7, 1941. For a larger photo of Raymond in uniform, taken in Hawaii, view our "Photo of the Month" for June 2001. He married Virginia Lee ( Brooks) Bowers (1905-1985) (who had been married before to Eugene Bowers) and brought two children to the marriage -- Milford Bowers and Brenda Bowers. They had several children of their own. Sadly, their son Wes was killed in an automobile accident in 1961. Raymond lived in Somerset, Somerset County, PA in 168. He never got over the shock of the Pearl Harbor tragedy, and died in 1971 while visiting at the home of his mother. He and Virginia are mentioned in the 1975 book, Brooks Family History.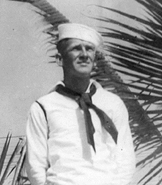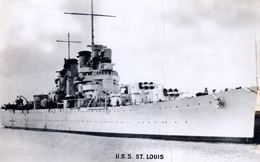 Pearl Harbor survivor Raymond A. Minor, whose ship (USS St. Louis) was in drydock in the harbor the morning of the attack.
Daughter Dolores Minor married Gifford Hatter. He was wounded in action during the Korean War. They resided at Morrell near Connellsville. In the early 1990s, they hosted the founder of this website as a visitor in their home.
Daughter Carrie Elizabeth Minor married Donald C. Prinkey (1911-1985). Donald was a retired employee of U.S. Steel Edgar Thompson Works," said the Daily Courier. "He was a veteran of World War II, serving in the U.S. Army."
Son Lawrence Minor lived in Claysville, Washington County in 1968. Nothing more about him is known.
Daughter Dorothy Marie Minor (1923- ? ) was born in about 1923. When she was age 18, Dorothy eloped to marry 27-year-old farmer Don D. Grimm (1914- ? ) of Normalville. To tie the knit, they traveled to Cumberland, Allegany County, MD and were joined together on Oct. 23, 1941. Their home in 1968 was in Wheeler near Connellsville. In May 1970, Dorothy was admitted to Lafayette Manor in Uniontown, where she remained for most of if not the rest of the year.
~ Daughter Mabel (Miner) Kennick ~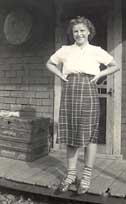 Mabel Kinnick
Daughter Mabel Miner (1926-1981) was born in 1926.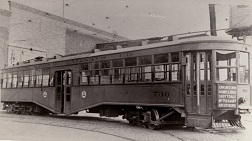 West Penn Railways car, early 1900s
At the age of four, her hand accidentally became caught in a grain cutter, and she underwent surgery to remove the middle finger on her left hand.
She married George Kennick Jr. (1907-1988).
They resided in Dunbar (Juniata), Fayette County, where George was a carpenter with H.R. Mangus and Sons, and an employee of West Penn Railways.
They were members of the St. Stephen's Byzantine Catholic Church in Leisenring.
Mabel passed away at age 55 on July 9, 1981.
George outlived his wife by almost seven years. He died on May 7, 1988, at the age of 81.
"Genuine Connellsville Coke" poster courtesy of the Library of Congress American Memory Project. West Penn Railways photo by John C. Roberts, Columbus, Ohio.
Copyright © 2000, 2004-2007, 2009-2010, 2012-2013, 2017 Mark A. Miner