During his adult years he used three spellings of the family name -- Minerd, Miner and Minor. He and his wife met tragic fates together in an automobile accident.
Silas grew up in the Humbert area, where his father, brothers and cousins were stone masons. While in his 20s, he came with his family to Connellsville, Fayette County, drawn by the plentiful jobs in the newly burgeoning coal and coke industry.
It is possible that he married Helen (?) in about 1879 and had a son Albert, and lived in Connellsville. The fates of Helen and Albert are unknown, although she may have died after only about a year, in July 1880, as suggested by a brief article in the Connellsville Keystone Courier (July 30, 1880): "Mrs. Cyrus Minor died at her residence near the steel works, Tuesday night, and was buried Wednesday in Hill Grove cemetery."
On July 3, 1883, at age 31, Silas married 18-year-old Rachel (Pritchard) Dublin (1864-1927) at the home of his sister Mary Ann Richter. The news was reported in the Courier, and thence at periodic intervals over the years in anniversary editions.
Rachel's first husband had been Charles W. Dublin, and she brought a young daughter, Fannie B. Dublin, to the marriage. At the time she married Silas, Rachel resided in Leisenring near Uniontown, Fayette County.
Silas and Rachel had nine children of their own -- Elmer F. Miner, George H. Minor, Irvin Grant Miner, William Dewey Miner, Emery "Franklin" Miner, Bruce Wesley Miner Sr. and Aaron "David" Minord, along with perhaps one other unidentified child who died young.
Leisenring No. 1 ovens, railcars and laborers of a hard- edged era in the Connellsville coke fields
In 1882 the Miners bought a house in his parents' neighborhood on North Avenue in Connellsville. A year later, they sold it to nephew John N. Rose. For many years they lived near the Washington school house on the Swaugertown Road. Among their neighbors were distant cousins Henry and Eliza (Swink) Miner.
Silas also served as a trustee of the Evangelical Association. In 1909, the trustees purchased a tract of land in Poplar Grove for use "as a place of divine worship."
Silas is believed to have worked as a laborer at the Leisenring No. 1 coke ovens near Uniontown circa 1895. The ovens were owned by the H.C. Frick Coke Co., which later was merged into United States Steel Corporation.
Circa 1888, Silas lent $127 to his sister and brother in law, Mary Ann and Robert Richter. When they failed to make the promised repayment, he sued in the Fayette County Court of Common Pleas, and won the judgment in his favor.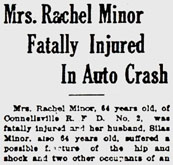 Rachel's obituary, 1927
Sadly, the Miners suffered through the loss of five of their offspring. While at Leisenring in 1895, infant son George died of "congestion of the brain." He was buried at Point of Rocks near Moyer. Four years later, 10-month-old son William died of pneumonia at Swaugertown, and also was buried at Point of Rocks. On Oct. 28, 1907, their seven-year-old son Irvin Grant Miner, afflicted with tuberculosis, died in Connellsville, with burial in Hill Grove.
In 1918, son Elmer (1886-1918) died at age 31 of a syphilis-related illness in which he lost control of his muscles.
In 1902, Rachel's daughter Fannie B. Dublin married Silas' brother Enoch Miner. The marriage lasted about 10 rocky years. In 1912, Fannie left home and "ran away" with her step-cousin, Elmer Ellsworth Miner, son of Silas' brother John Ross Miner. Fannie later married Elmer, and they changed their last name to "Moody" (the maiden name of Elmer's mother). Fannie and Elmer may have had a son, Samuel Miner, who was residing at Poplar Grove circa 1923. In Pittsburgh, the Moodys lived in an apartment at 510 Sandusky Street. Tragedy compounded their troubles when Fannie contracted a fatal case of pulmonary tuberculosis which lasted for two years. Unable to recover, she died in Pittsburgh on Feb. 17, 1923, at the age of 42. The funeral was held in Silas and Rachel's home, and she was buried at Hill Grove.
Silas' obituary, 1927
In July 1919, Rachel underwent surgery at the West Penn Hospital in Pittsburgh for an unspecified ailment. While recovering there, her son Emory and his wife drove to Pittsburgh to visit her. Said the Daily Courier, "She is getting alone nicely and expects to be able to return home in two weeks."
Silas and Rachel attended the 1920 Minerd Reunion at the Ferncliff Hotel in Ohiopyle, and were among the cousins photographed in the group that day. He also was mentioned in a related newspaper article about the reunion in the Connellsville Daily Courier.
Tragically, the couple was killed in an auto accident in the wee morning hours of Christmas Eve 1927. Son Emery and his girlfriend had driven them to visit relatives at Fairbank near New Salem, Fayette County. While rounding a "bad curve ... passing another machine," said the Daily Courier, their car skidded from the highway and plunged down a steep embankment. Silas, who had a fractured leg, and Rachel, with a fractured skull and internal injuries, were taken to the Uniontown Hospital, where they died. A coroner's inquest exonerated Emery "from all blame."
~ Son Elmer F. Minor ~
Son Elmer F. Miner (1886-1918) was born on April 18, 1886 or 1887 in or near Connellsville, Fayette County. He is not to be confused with his first cousin, Elmer Ellsworth Miner, son of John Ross Miner, both of whom served prison sentences as young men.
One of Elmer's eyes was badly injured sometime circa 1905. He underwent treatment, but nothing would work. The eye was surgically removed at the Cottage Hospital in Connellsville in January 1906.
At age 22, while residing near the Washington Schoolhouse, Elmer was employed to labor on township roads. That August, he was arrested for assault and battery with intent to rape. The Connellsville Daily Courier reported that, "without warning," he had "brutally" attacked an 11-year-old girl while she was picking berries near Poplar Grove. "She fought against his advances but he choked her, preventing any outcry. The girl is a frail young thing." Her father reported the crime to the local justice of the peace. Added the Courier, "When Miner was arraigned before Squire Stillwagon last evening he had nothing to say. He did not deny the charges against him and was lodged in jail until a hearing could be held. The victim of Miner's assault is a frail, undersize child. She was badly shaken up as the result of her encounter with Miner." He was sentenced on Aug. 17, 1909 to five months of imprisonment at hard labor, and incarcerated at the Pennsylvania Industrial Reformatory in Huntingdon, Huntingdon County.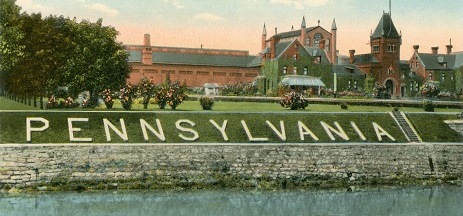 Pennsylvania Industrial Reformatory, Huntingdon
Once released, Elmer returned to Connellsville. Circa 1911, he was employed as a railroad brakeman.
On Sept. 15, 1911, in Connellsville, Elmer wed Rose Martin (1888- ? ), the daughter of James and Eliza Martin of Breakneck, near Connellsville. Their ceremony was performed by justice of the peace Joseph Stillwagon.
In about 1915, Elmer produced a son with Rena Pritchard, whom they named Cecil Miner. They resided at 510 North Avenue in Connellsville.
Tragically, the son contracted acute bronchial pneumonia and whooping cough which led to his death at the age of one year, one month on Feb. 16, 1916. Burial was in Hill Grove Cemetery.
With America's entry into World War I, Elmer was required to register for the military draft. He stated that he was unemployed and had suffered the loss of one eye.
Sadly, Elmer died at his father's home on Jan. 13, 1918, "following a lingering illness," said the Courier. Death was due to locomotor ataxia, a disease of the muscles caused by syphilis, in which individuals walk in a jerky, non-linear style. He was buried in an unmarked grave at Hill Grove.
The funeral was held at the family home, near the Washington School House along the Swaugertown Road. Following a funeral led by Rev. M.B. McLaughlin, of the South Connellsville Evangelical Church, he was laid to rest in Hill Grove Cemetery.
Rose's fate is not yet known.
~ Son Emory Franklin Minor ~
Son Emory Franklin "Frank" Minor (1884-1947) was born in 1884.
Frank had brown hair and grey eyes and left school at the age of 12. He was "a great big strong able bodied man" who had an explosive temper. He was employed as a coal miner, pumper and crane operator at the Sligo Mine at the Davidson Works of the H.C. Frick Coke Co.
On Jan. 2, 1907, he married Jessie Goldie Saer (or "Sayer") (1883- ? ) who was three years older than he, and the daughter of Filmore and Eliza Saer of West Virginia. They had three known children, Sarah Serena Miner (born in 1907), Harry Thomas Miner (1909) and Emma J. Miner (1911). They lived in Brownsville, Fayette County in 1909.
Sadly, son Harry contracted marasmus (severe malnutrition) and at the age of two months, nine days, with no physician in attendance, died on July 4, 1909. Likewise daughter Emma, two days shy of her seventh-month birthday, suffered from malnutrition and died on Sept. 30, 1911. Both children were interred at Hill Grove Cemetery.
By 1911, they later moved back to Connellsville and boarded with her aunt at Swaugertown. In 1913 and then again in 1914, Emery abandoned Goldie, the second time going to find employment in Newburg, NY. She sued for non-support, leading to his arrest and newspaper headlines. He was convicted and on Oct. 20, 1914 was sentenced to 301 days of hard labor in a "work house" where he helped make chairs. He was discharged on Aug. 16, 1915.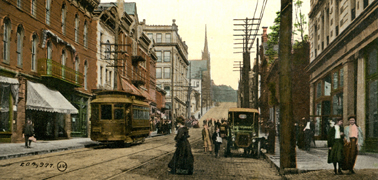 Connellsville's Main Street, looking east, early 1900s
Goldie generated income by performing washing and housecleaning, with the special ongoing assignment of cleaning the picture gallery of "Squire Howard" in Connellsville. At some point, Emory escaped from law enforcement officers, joined the U.S. Army and was soonafter shipped to Mexico. Goldie appears to have sued for divorce, which was granted in 1916. Emery eventually returned to Connellsville, where he was honorably discharged from the military in May 1917.
Emory wed his second wife, Elva L. Haines ( ? - ? ), daughter of Daniel and Jennie Haines, on Sept. 4, 1917. The ceremony was held in Erie, Erie County, PA, led by Rev. John R. Graf. He was age 33, and she 23. At the time, he spelled his last name "Minard" and was employed as a fireman in Connellsville. Elva's parents were separated or divorced, with the father living in Union City, PA and the mother in Erie.
In 1919, he again was arrested for domestic violence, which made news in the Daily Courier. The federal census of 1920 shows he was cohabitating with "Elva" (?).
Later in life, sometime before 1930, Emery married Blanche Wilson ( ? - ? ). They had no children. The couple is shown on the 1930 federal census of Fayette County, residing at the Sligo Works, with his unmarried brother David Aaron Minord living under their roof.
Emory was a pall bearer at the funeral of his uncle John Ross Miner in 1935. Said the Daily Courier, "For a number of years, he had been a desk clerk at the Arlington Hotel in North Pittsburg Street." In the 1940s, the Minors lived in Poplar Grove.
On Aug. 6, 1947, while attending a dance in the Ivory Ballroom of the Woolworth Building in Uniontown, Emory suffered a heart attack while climbing the stairs to the second floor. He died shortly thereafter. They are believed to be buried at the Mt. Olive Cemetery in Bullskin Township near Connellsville.
The fate of Blanche is not yet known.
Daughter Sarah Serena Miner (1907- ? ) was born Oct. 7, 1907 in Swaugertown. Dr. H.C. Hoffman assisted in the birth. Nothing more is known.
Son Harry Thomas Miner (1909- ? ) was born in 1909.
Daughter Emma J. Miner (1911- ? ) was born in 1911.

Bruce W. Miner
~ Son Bruce Wesley Miner Sr. ~
Son Bruce Wesley Miner Sr. (1903-1957) was born on March 18, 1903 in Connellsville.
He married Anna Christian (1907-1984) in about 1926, when he was age 20 and she 16. She was the daughter of Charles "Karl" and Mary (Pendroh) Christian, emigrants from Hungary. On their marriage license application, he spelled his last name "Minerd."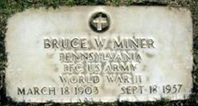 V.A. Cemetery, Los Angeles
The Miners went on to have six children -- Charles C. Miner, Anne Marie Thrash, Madeline "Sis" Coughenour, Patricia Sullivan Lloyd, Edith Davis and Bruce Miner Jr.
Bruce stood 5 feet, 6 inches tall and weighed 135 lbs. He had blue eyes and brown hair and bore a scar on his left arm, about four inches from the wrist.
Bruce was a coal mine laborer in Connellsville, following the footsteps of his brothers and brothers in law. When the federal census was taken in 1930, the Miners made their home in Connellsville, with Anna's widowed father residing in the household, just two doors down from Bruce's cousin, Martha Miner (daughter of Enoch Miner Sr.).
In 1931, while swimming in the Youghiogheny River at Stony Point, Bruce and Anna were rescued from drowning by young cousins Russell and Melvin Evans (the great-grandsons of Jennie [Miner] Paolone), with the news reported in the Monessen Daily Independent.
Bruce at the age of 38 was required to register for the military draft during World War II. He disclosed at that time that he resided in rural Dunbar and had no telephone in their home. and that Albert Premus of Connellsville would always know his whereabout. He was employed at that time by Giliardi Coal and Coke Company. He eventually joined the U.S. Army during the war with the rank of private.
The Miners later separated, and Bruce disappeared. His whereabouts and final fate were not known to his children for many years.
Bruce ended up in Los Angeles, where he resided from about 1952 to his death in 1957. His home was at 2635½ Sichel Street, and he earned a living as a laborer in "various" industries. California records show that he suffered from bronchial cancer and underwent surgeries in June and July 1957. He passed away in Los Angeles on Sept. 18, 1957, at the age of 54. He was laid to rest in the Veterans Administration Cemetery.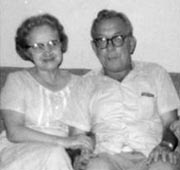 Anna and John Garella
Anna later married John Garella ( ? - ? ) and resided in Morrell, Fayette County. They are seen together at left, and her portrait is at right. She worked for many years in the dietary department of Connellsville State General Hospital, and was a member of the Immaculate Conception Roman Catholic Church of Connellsville.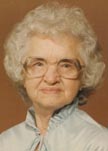 Anna Garella
She passed away on Oct. 29, 1984, at the age of 77, and is buried in the Brownsville Cemetery. At the time of her death, she had 17 grandchildren and 22 great-grandchildren.
Daughter Anne Marie Miner (1924-2001) was born in 1924. She married Damon Thrash (1916-1983). Circa 1976, they lived in Cuyahoga Falls, OH. Their three children were Damon Lee Thrash, Marlene Childre and Donna Marie Thrash. The family apparently returned to Connellsville at some point. Damon died there in March 1983 at the age of 67. Anna relocated later in life to Southern California. She died in Escondido, San Diego County, CA on March 7, 2001, at the age of 76.
Son Bruce Miner Jr. (1926-1976) was born in 1926. He married Betty J. Keys (1928-2015), daughter of Alfred and Hilda (Vanorsdale) Keys. The Miners had two children -- Mary Jane Prestia Kushner and David Bruce Miner Sr. The Miners made their home on 410 De Muth Road in Connellsville. Said the Daily Courier, Bruce "was a lifelong resident of Connellsville, was employed in the maintenance department at J&L Steel Corp., at its Pittsburgh plant, was a veteran of the U.S. Army Air Force and a member of the Connellsville Township Volunteer Firemen. He was a member of the Central Fellowship Church, where he served as a trustee." The Miners suffered the loss of grandson David Bruce Miner Jr. in 1974. Bruce passed away at the age of 50, of a massive heart attack, on Sept. 6, 1976. Betty later remarried to Glenn L. "Chick" Reed ( ? -1992). She was employed as a clerk by G.C. Murphy Company and then for three decades worked in the dining room of the Salvation Army in Connellsville. Active in the community, she was a deaconess and teacher of the Central Fellowship Church, and a member of the Connellsville Township Election Board and of the Eastern Star chapter. Said the Daily Courier, she "enjoyed spending time with her grandchildren and cats. She also enjoyed the outdoors, especially when working in her flower and vegetable gardens." Betty became a widow again in 1992 when Chick passed away. She survived him by more than two decades, remaining in her home in Connellsville Township. Toward the end of her life she went to live in Eicher's Family Home in Normalville. She died there at the age of 86 on March 19, 2015. Following funeral services led by Pastor Carl Irwin, she was laid to rest in Green Ridge Memorial Park.
Grandson David Bruce Miner Sr. married Debra D. Howell (1955-2010) and they had two children -- David Bruce Miner Jr. and Todd W. Miner. Debra "attended Central Fellowship Church in Connellsville," said the Daily Courier. She "loved animals and was an active volunteer in the Junior Livestock 4-H Club and various other youth activities." She passed away at the age of 54 on Jan. 23, 2010.
Granddaughter Mary Jane Miner was twice married first to (?) Prestia and second to Andrew "Corky" Kushner Jr. They had two known children, Robert Prestia and Christina Prestia. In 2015, they lived in Uniontown.
Daughter Patricia Miner (1930-2012) was born in 1930. At the age of 17, she married 21-year-old Griffith "Griff" Sullivan Sr. (1926-1983) in February 1947. They resided in Pittsburgh, where Griff was a baker, and later in Cassville, WV. Griff was "a manager of the Kirby Company of Morgantown, was a World War II veteran serving in the U.S. Army and was commander of the John L. Frazier Post 9916," said the Morgantown (WV) Dominion-Post. They had five children -- Mary Lou McConnell, Sandra Askey, Griffith Sullivan Jr., Patricia Ann Miner and Jeannette Kovach. Griff died on July 31, 1983, at the age of 56, while on his houseboat. After Griffith's death, Patricia wed Donald Lloyd, and they lived in the Munhall neighborhood of Pittsburgh. Patricia passed away at the age of 80 on Aug. 23, 2012. Her obituary was published in the Pittsburgh Post-Gazette.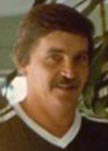 Charles C. Miner
Son Charles C. Miner (1936-2003) was born in 1936. He married Charlotte Louise DeMott (1940- ? ). They resided in Connellsville, where Charles was "employed by Modulus Corporation, Frick Hospital, Gatlings Warehouse, ... and by Highlands Hospital as a courier for many years," said the Daily Courier. "He was a member of St. Rita's Roman Catholic Church, Connellsville, the Knights of Columbus Bowling and Golf leagues, and he was a member of the Slovak Club." They had two sons -- Larry Miner and Brian Miner. Charles died at the age of 66 on Oct. 3, 2003, with burial at St. Rita's Cemetery in Connellsville.
Daughter Madeline "Sis" Miner wed Mace Coughenour (1924-2009), the son of Merritt W. and Rilla B. (Collins) Coughenour. The wedding took place on Aug. 11, 1945, and they remained married for 64 years. They had four children -- Dorothy Faith, Charles Coughenour, Scott Coughenour and Brian Coughenour.Mace was a farmer at the time of their marriage. Later, he worked "as an inspector for General Motors in West Mifflin for 30 years and was a member of the United Auto Workers," said the Daily Courier. "Made also was a member of the East Connellsville United Methodist Church and the United Methodist Men." The Coughenours maintained their home in Connellsville. Mace passed away at the age of 85 on Sept. 3, 2009, in Highlands Hospital. Following a funeral at their church, Mace was laid to rest at Green Ridge Memorial Park north of Connellsville.
Daughter Edith Miner married Chester Davis. They live in Winona, TX, and had two children -- Robert Davis and Joanne Potter.

Aaron David Minord
~ Son David Aaron Minord ~
Son David Aaron Minord (1906-1954) was born in 1906 under the name "Minerd" or "Miner."
He was a laborer who resided with his brother Emory Franklin Minor at the Sligo Works in Connellsville in 1930, as shown on the federal census.
In about 1929, when he was age 23, David married Beulah Thrash (1908-1992), a native of West Virginia, and the daughter of William A. and Della M. Thrash. They had three children -- David L. Minord, Emory Arthur Minord and Genevieve Gretz.
They initially spelled the name "Minor." After moving to Cuyahoga Falls, Summit County, OH, sometime before 1929, the story goes that David began to receive mail intended for a local judge by the same name. To clear up the confusion, he added the "d" back onto the family name, giving it a truly unusual spelling -- "Minord."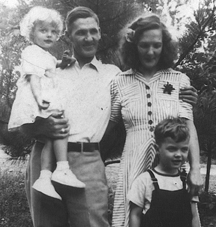 David, Beulah, Emory and Genevieve
The family is seen here with David holding daughter Genevieve, and son Emory.
When the federal census was taken in 1930, the family (spelled "Minard") lived with Beulah's parents in Cuyahoga Falls, with David employed as a coal miner.
Later, in about 1937, David became the operator of an upholstery shop on State Road in Parma, Cuyahoga County, a driving commute of about 13 miles south from their home. He ran the business for 15 years. During that time, the Minords made their home at 11119 Clifton Boulevard, N.W., several miles west of the center of Cleveland.
Tragedy rocked the family in 1949 when son David L. "Buddy" Minord (1930-1949) died in Cleveland at the age of 19. He was buried at Crown Hill Cemetery in Twinsburg, Summit County, OH.
Cleveland Plain Dealer, 1954
When cancer struck in 1952, David gave up the shop. He battled the illness for about two years, but inevitably lost the fight. He died at the age of 48, in late April 1954. Following funeral services at the Eyler Funeral Home in Parma, he was laid to rest near his son in Crown Hill Cemetery. His obituary was published in the May 1, 1954 edition of the Cleveland Plain Dealer.
Beulah was a dressmaker, and apparently worked in this field as a widow, residing in Columbus, Franklin County, OH. She died at the age of 84 at Mt. Carmen Hospital-East in Columbus on Feb. 1, 1992.
Son Emory Arthur Minord (1937-living) was born in 1937. He worked for Caterpillar in Ohio and Illinois. Emory married Doreen Sargis (Dec. 28, 1928-2006). They produced two daughters -- Doreen Sue Watson of Middlefield, OH and Sharon Demopoulos of Madison, OH. Sadly, Doreen passed away on July 6, 2006. Emory relocated to Oklahoma where he resides today.
Granddaughter Doreen Sue Minord (1965-2017) was born on July 15, 1965 in Cleveland. She married William "Bill" T. Watson ( ? -living). They resided in Middlefield, OH and had two daughters, Melissa Ward and Kaitlyn McNish. She was said to have been "a 'Jane of all trades', she worked many places over the years. She worked in the bakery and as a cashier for Middlefield Giant Eagle. She loved spending time with her family and grandson. She loved shopping Crafts, cooking, taking long road trips, and her animals especially the 'yappy' ones." Sadly, she died at the age of 52 at UH Geauga Hospital on Nov. 10, 2017. A celebration of her life was held in the Abundant Life Church of God in Middlefield. Their daughter Melissa married John Ward of Middlefield and Kaitlyn wedded Bryan McNish of Cortland, OH.
Granddaughter Sharon Minord was joined in marriage with ( ? - ? ) Demopoulos. Circa 2017, she dwelled in Madison, OH.
Daughter Genevieve Minord (1940-2003) was born on April 15, 1940. She married John Gretz in about 1961. They made their home in Pittsburgh, and later in Columbus, Franklin County, OH. They had five children -- David L. Gretz, Denise L. Moody, Deanne L. Gretz-Stewart, Donna L. McMullen and John A. Gretz. Genevieve died on April 11, 2003, in Mt. Carmel East Hospital in Columbus, with burial at Holy Cross Cemetery.
Copyright © 2000, 2003, 2005, 2007-2009, 2014-2015, 2020 Mark A. Miner