Home

Reunion 2009:
"A Gathering of the Clan"
Ten-year-old Jake Miner of Massachusetts helps hang the reunion banner at the Indian Creek Valley Community Center, site of our 2009 "Gathering of the Clan"
A smaller-than-average crowd of 50 cousins attended the "Gathering of the Clan," this year's national Minerd-Minard-Miner-Minor Reunion. The event was held on Sat., July 11, 2009, at the Indian Creek Valley Community Center near Indian Head, Fayette County, PA.
Of the total attendance, 16 cousins were first-time guests. Out-of-state cousins traveled from Florida, Indiana, Massachusetts, New York, Ohio and West Virginia. Cousins from Pennsylvania represented 16 towns in Allegheny, Beaver, Fayette and Westmoreland Counties.
Potted plants, special reunion magnets, family photo collage frames and other keepsakes were raffled by reunion treasurer Doris Hawker and her daughter Connie Gibson of Morgantown, WV to raise funds for the reunion. The highlight was the drawing for a light orange afghan, created and donated by cousin Bernetha Pritts of Ligonier, PA, and won by cousin Sharon Kern of Findlay, OH. Seen here left to right: Connie, Sharon (holding her prize) and Doris.
Each of the cousins had an opportunity to introduce her-or-himself and share a little about their families. Among many interesting stories, Jay Cramer of Jeannette, PA said he and his wife Frankie had returned to Western Pennsylvania a few years ago after residing for 30 years in northern California; Wayne Crawfis of Ossian, IN told how he had spent his early years in Sierra Leone, West Africa; Arlene Gelston related how she had amassed thousands of names in her genealogy database; Kirk Miner of Columbus, OH described that he was concluding a weeklong railroading vacation that had included stops in Altoona, PA and Cumberland, MD; Jody Minard of Monroeville, PA shared that her son is serving in harm's way in Iraq; and Vance Norton of Pittsburgh related how meaningful the reunion had been over many years of attendance.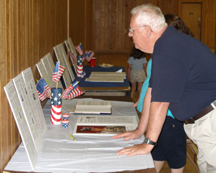 Seen at left, Bill Carey of Fort Wayne, IN studies the family tree panels, containing nearly 2,000 names of descendants of Western Pennsylvania pioneers Jacob and Maria (Nein) Minerd Sr., virtually all of them born before the year 1900.
Reunion president and Minerd.com website founder Mark Miner of Beaver, PA gave a talk about the rich treasures of family stories and photographs to be found on the website. He also led a discussion about the future of the website, including making it more search-engine friendly with the ability to be shared on FaceBook, Twitter and other social media venues.
Miner spelled out the need for a dedicated volunteer to handle children's games and entertainment for the reunion to be appealing to younger families with children. At present, this is a loosely run function of the reunion but could become much more meaningful with a commitment from the right person. Other key people are needed to help back up the current four-person planning committee in areas such as food coordination, mixer events for adults, "bored-spouse" entertainment and Sunday morning activities. If you have an opinion on this, please send an email to Miner at markminer@mindspring.com.
In closing, Miner posed general questions to the group – What is your desire for this reunion to grow? What is your commitment to help? Suggestions were made that we ask the same questions of the family-at-large via this website, and that we needed to build our volunteer team before we really could attempt to grow.
Miner has been organizing the reunion since 1992 and has served as president since 1995 but fears the day is coming when he can no longer continue to be as active, or even attend. Would it make sense to hold the reunion every two years, instead of annually? If you have an opinion on this, please send an email to markminer@mindspring.com.
Copyright © 2009 Mark A. Miner