Visit from a Civil War Soldier Highlights 2011 Reunion
National Family Gathering Honors 107 Civil War Cousin-Soldiers with a Picnic - Book Signing - Gettysburg Battlefield Tour
See major feature articles in the Pittsburgh Tribune-Review
[link] and Uniontown Herald Standard [link]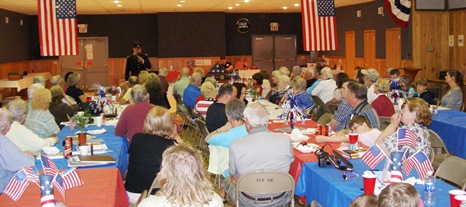 A member of the Sons of Union Veterans of Somerset County speaks at our 2011 reunion about the uniform and equipment of a typical Union soldier
One hundred cousins gathered over the weekend of June 24-25-26, 2011 to honor the extended Minerd-Minard-Miner-Minor family's extensive role in the American Civil War, with 107 cousin-soldiers honored for their service during a year which marks the 150th anniversary of the war. Many new cousins came for the very first time.
We will meet again in June 2013 -- the 100th anniversary of the first Minerd Reunion held nearby in 1913 -- so watch for details.
~ Friday Evening Book Signing ~
On Friday evening, reunion president and Minerd.com founder Mark A. Miner hosted a reception for cousins and friends at the Days Inn Hotel in Donegal, PA.
He inscribed and signed hardbound and softbound copies of his new book, Well At This Time: The Civil War Diaries and Army Convalescence Saga of Ephraim Miner of the 142nd Pennsylvania Infantry and 22nd Veterans Reserve Corps. The book is a biography of the author's great-great grand-uncle, who was injured in the Battle of Fredericksburg, spent 2.5 years in the army's ill-equipped health care and convalescence system, and crossed paths with Louisa May Alcott, General George McClellan, General George Meade and famed poet Walt Whitman. In fact, the soldier's first diary may have been a gift from Whitman himself.
New Family Civil War Book!

Copies of the newly published book, Well At This Time, are available for purchase. The volume contains the Civil War diaries and Army convalescence saga of Ephraim Miner, a private with the 142nd Pennsylvania Volunteer Infantry and the 22nd Veterans Reserve Corps. Authored by reunion president Mark A. Miner, the 180-page volume is illustrated with more than 100 diary scans, rare family photos and Civil War scenes. More about the soldier, the book and how to order your copy. >>>
~ Traditional Saturday Picnic ~
The traditional Saturday picnic, held at the Indian Creek Valley Community Center near Indian Head, PA, featured a daylong campout by the Sons of Union Veterans and Ladies Auxiliary based at the historic Mount Union Church in Somerset County, PA.
SUV members Bill Andrews, Dean Brant, Gary Fike and Everett Sechler, and Ladies Auxiliary members Rebecca Andrews, Joan Trimpey Ansell, Kristi Gross Ohler and Linda Trimpey Marker wore period costumes and each explained their clothing to the audience.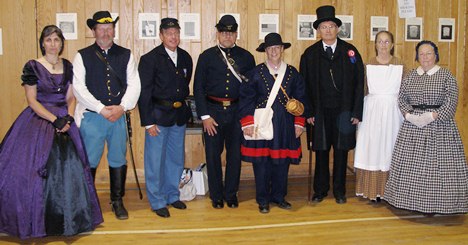 Members of the Sons of Union Veterans and Ladies Auxiliary of Somerset County -- L-R: Kristi Ohler, Dean Brant, Gary Fike, Bill and Rebecca Andrews, Everett Sechler, Joan Ansell and Linda Marker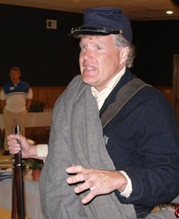 Bill May in action

Also on Saturday, re-enactor Bill May arrived in full uniform and gear, giving a one-man portrayal of a Union soldier on his way home from the front. His popular talk, entitled "A Visit from a Civil War Soldier," is based upon the actual diaries of his own great-grandfather who lived in Butler, PA.

At the center, 107 plaques were hung on the long walls honoring each of the known soldiers in the family who served in the military during the Civil War. This includes 106 Union and one Confederate, with more research being done to identify others. Red, white and blue bunting and American flags also were displayed around the room to celebrate America's hard-earned freedoms.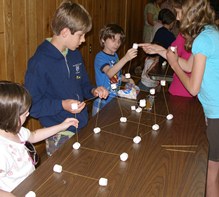 Marshmallows game for kids

Sharon Sheldon Kern organized a game for children involving building structures made of sticks and marshmallows. She also handed out a specially designed crossword puzzle for our reunion, drawing questions from our Minerd.com, with words that connect to our family, reunions and places in the local area.

Photographs were taken during the day by cousin Sid Miller, a retired staff photographer with the Waynesboro (PA) Record-Herald. This included our traditional group photo for posterity. During the group photo, V. Reed and Rosella (Resh) Miner were applauded for recently celebrating their 50th wedding anniversary.

Doris Sands Hawker, Peg Grimm Mansberry, Bonnie Pfeiffer Morell and Liz Zoeller Miner helped with table and chair set up and organizing the buffet line.

Many cousins brought delicious meat and side dishes, as well as sugary desserts, for the culinary delight of all. Rev. Tom Hoover returned thanks, following a moment of silence for all of the many cousins who have died during the past year.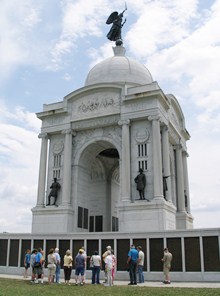 At the Pennsylvania Monument

A freewill donation was taken afterward to offset our costs. Doris Hawker led a drawing for some keepsake prizes, including small quilts, magnets, and potted plants. A short business meeting was held, at which time the resignation of vice president Peg Mansberry was accepted, with Robin Brocht Zambanini and Sharon Sheldon Kern volunteering to serve on the planning committee.

The community center is just a few miles from the farm near Mill Run where our pioneer-Revolutionary War ancestors Jacob and Maria (Nein) Minerd Sr. -- the "parents of us all" -- settled in 1791, and where a series of windmills stand today generating electricity for the region.



~ Sunday Tour of Gettysburg ~

On Sunday, a caravan of cars drove from Donegal to Gettysburg, where 25 cousins took part in a tour of the battlefield, led by licensed guide Tim Smith.

He escorted the group to the Pennsylvania Monument, where we saw the names of Martin Miner, Andrew Jackson Rose, Cyrus Lindley and Samuel Birch marked in bronze for eternity to memorialize their personal service at the great battle. (Rose lost an arm on the first day's fight.)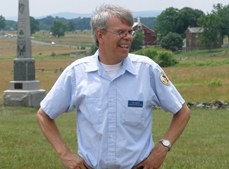 Gettysburg tour guide Tim Smith

Smith has appeared on television programs including A&E, C-Span and PCN, and has authored The Story of Lee's Headquarters: Gettysburg, Pennsylvania and Devil's Den: A History and Guide, among a host of other books, booklets and articles.

We also were shown spots on the field where cousins' regiments are known to have served – the 142nd Pennsylvania Volunteer Infantry (Martin Miner, Andrew Jackson Rose), 140th Pennsylvania Volunteer Infantry (Cyrus Lindley) and the 7th West Virginia Volunteer Infantry (James Eyster Murdock).

Sid Miller explained his ongoing work on behalf of our reunion to provide annual cleanup of the monument to the 107th Pennsylvania Infantry, which our reunion adopted for cleanup several years ago.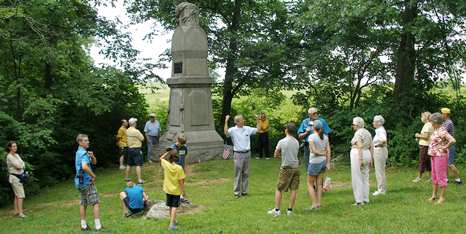 Licensed battlefield guide Tim Smith speaks to our group at Gettysburg, at the spot where Cyrus Lindley and the 140th Pennsylvania Infantry saw action.