Home

John 'Reuben' Minerd
(1860-1954)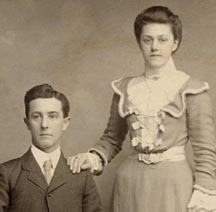 Reuben and Alice Maude
John "Reuben" Minerd was born in 1860 on the state line of Indiana and Ohio, near the town of Monroeville, Allen County, IN, the son of James and Martha Jane (Sheehan) Minerd. He was the third consecutive generation to own the Minerd family farm which his pioneer grandparents originally settled.
While Reuben was one of four siblings, thanks to the tragedy of early death, also was raised with a foster sister, Catherine "Kate" Singer, and fatherless first cousins Mentzer and Corwin Tilbury.
On Aug. 7, 1901, Reuben married Alice Maude Bell (1883-1974), a native of Paulding County, OH and the daughter of Edwin and Mary (Craven) Bell. Reuben was 23 years older than his bride.
The Minerds had two children -- Reuben Perry "Corwin" Minerd and Goldie Ethel Moennig. They are said to have named their daughter after "Goldie Morgan," the adopted daughter of a local judge.
The Minerds resided on the family farm on the state line, near Dixon, OH and Monroeville, IN.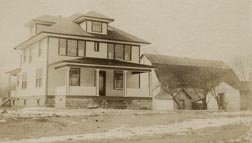 The Minerds' new Sears-Roebuck house
A terrible fire burned down the Minerds' old original pioneer house in 1917. Reuben's elderly father was injured in the calamity, and the news was published in the Fort Wayne newspapers.
The following year, the family purchased a new mail-order house through the Sears Roebuck catalogue. The house is seen at right, with a new barn in the background. According to the American Library Association:
For prices ranging from $725 to $1,995, the customer received plans, specifications, instructions and all the material needed: lumber, shingles, mouldings, doors, windows, frames, hardware, varnish and paints. Plumbing, wiring and heating systems were extra and had to be ordered separately, but were also available through the catalogs.
(The house still stands today in the possession of a grandson. In recent years, company representatives from Sears have revisited the house to take measurements and use it as a model for a promotion in Lafayette, IN.)
Circa 1927-1928, the Minerds provided care for Reuben's aging father, who was bedfast in their home. After the father's death in 1929, the ownership of the farm passed into Reuben's hands.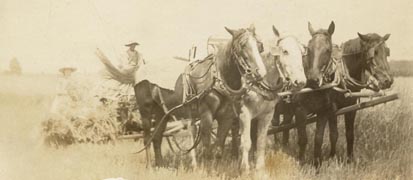 Reuben and daughter Goldie mowing hay with their team of four horses
Orchard at the Minerd farm
One of the farm's features were the plentiful orchard trees seen here, at a date unknown. Daughter Goldie is believed to be standing in this view, wearing a light dress, barely visible toward the left-center of the photo.
Reuben and his family regularly stayed in touch with their Tilbury and Thorne cousins in Chicago and Pittsburgh, PA. Many letters passed between them during the 1920s and '30s. In fact, in April 1929, the Minerds sent a fresh ham to Corwin Tilbury in Pittsburgh, which promptly was cooked and served with brown gravy and steamed potatoes. An August 1935 letter from cousin Leona Thorne, to Reuben's daughter Goldie, stated:
I hope Reuben has been as prosperous this year as we are told over the radio that all farmers are. It's some consolation that somebody is prosperous. We are all praying for better times but where they are coming from nobody seems to know.
Reuben and Alice's 50th anniversary news story
Another of Lena Thorne's letters asked:
We would like to know how Reuben likes the farm regulations under Roosevelt. Are they better than the old ways. I understand there are no restrictions now - on the amount of grain and the number of pigs - you raise. I would set out the entire farm in pigs!!
In the winter of 1934, the Minerds learned of the death of Reuben's aunt Matilda (Bodle) Minerd in Carson City, MI. They forwarded the news to Corwin Tilbury in Pittsburgh. In reply, Corwin wrote: "So Aunt Matilda is gone; do I know how old she was? Must have been near 90." In late July 1932, the Van Wert Daily Bulletin reported that the Minerds were hosting a visit from Corwin and Mentzer Filbury (sic) of Pittsburgh.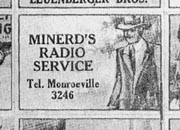 Ad for Corwin's radio business
In addition to farming, son Corwin was a skilled mechanic and ran his own radio sales and repair business near Monroeville. The ad seen at right was published at some point in the Monroeville News. In a letter to Corwin's sister Goldie in 1927, cousin Corwin Tilbury wrote from Pittsburgh: "Tell Corwin my Radio is on the bum and for him to come over and fix it -- but not at 50 cents a mile!!"
Reuben and Alice celebrated their 50th wedding anniversary on Aug. 7, 1951. The Fort Wayne News Sentinel published their photos and a short article, saying "The couple celebrated Sunday with a dinner for the family and several close friends. The Minerds received friends Sunday afternoon and evening, among them five of the wedding guests present at the ceremony 50 years ago, Mrs. Joe Kilgore, Edgerton; Mrs. Albert Carrier, Fort Wayne; Charles Bell, New Haven, and Mr. and Mrs. Henry Neadstine, of Dixon."
At age 93, in 1954, Reuben passed away in the Parkview Memorial Hospital in Fort Wayne, Allen County, IN. He was laid to rest at Monroeville Memorial Cemetery. In his will, Reuben stated that "out of the assets of my estate there should be a suitable marker placed at the graves of my father, James Minerd, and my mother, Martha Jane Minerd." The markers were installed at Sugar Ridge Cemetery near their home.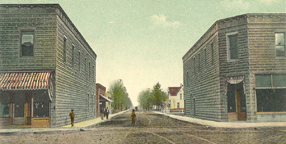 For many years the Minerds received mail through the post office in the town of Convoy, OH -- seen here -- even though they lived closer to Dixon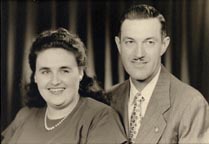 Corwin and Evelyn
At the age of 90, Alice was hospitalized at the Adams County Memorial Hospital in Decatur, IN. She died there on March 9, 1974. She was buried with her husband.
Son Reuben Perry "Corwin" Minerd (1903-1977) was born on April 14, 1903 on the family farm. He inherited the property, and raised his family there. He married Evelyn M. Sorg (1924-1992), the daughter of Lawrence and Flora L. (Till) Sorg. Their wedding photo is seen here -- there was a 19-year gap in age between them. Corwin's obituary in the Van Wert (OH) Times-Bulletin said he "was a native and lifetime resident of Allen County, Indiana and had been actively engaged in farming until last spring, when he retired due to ill health." One year, Corwin helped to re-enact "the controversial first election (1841) in Monroe Township and the 'first settlers' [as] part of the Monroeville Centennial Pageant ... at the Monroeville Fair." He was pictured in a commemorative edition of the Monroeville News. Corwin died in September 1977. Evelyn survived him by 15 years, residing in New Haven, Allen County. She died on Oct. 16, 1992 at the age of 68.
Karen Wagonrod's family tree scroll

Granddaughter Karen Minerd (1951-2020) was born on May 11, 1951 in Decatur, IL. On June 24, 1978, when she was 27 years of age, she was joined in the bonds of wedlock with Dennis Wagonrod ( ? -living). They established a home in Van Wert, OH and are the parents of Kathryn M. "Katie" Wagonrod. Karen received a degree in home economics in 1973 from Ball State University. She then obtained a master's degree in administration and supervision in 1986 from Purdue University. She pursued a career as an educator and spent 43 years teaching in the Wayne Trace Local Schools, retiring in 2016. She continued to work part-time in retirement as cafeteria supervisor for Wayne Trace. They were members of St. Mark's Lutheran Church in Van Wert. Karen was one of the historians of this branch of the family. Seen here, she holds a home-made Minerd-Sorg family tree drawn as a teenager on the back of a roll of wallpaper. She hosted a visit in the early 2000s from the founder of this website and fellow researcher Eugene Podraza. Karen and her family in turn attended the national

Minerd- Miner- Minor Reunion in 2004

featuring the theme of "Fallingwater." Grief blanketed the family when the 69-year-old Karen died at home on Nov. 5, 2020. Because of coronavirus concerns, only a graveside service was held at Van Wert Woodland Cemetery, conducted by Rev. William C. Haggis II. An obituary was published in the

Paulding County Progress

.
Grandson John Corwin Minerd wed Arlene ( ? -living). They own and reside upon the old family farm, the fifth generation family member to occupy this historic agricultural property. In the early 2000s, they hosted the founder of this website for a visit in their home.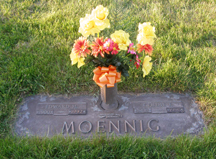 Greenlawn Cemetery, Fort Wayne
Daughter Goldie Ethel Minerd (1906-1998) was born on May 2, 1906. She was united in holy matrimony with Edward Herman Moennig (1900-1992), who was five years her senior. They produced a family of two children -- Lowell E. Moennig and Gloria Ann Carey. The Moennigs resided in Fort Wayne, Allen County. Goldie was a longtime piano and organ teacher. She also trained at Hammond Electric Organ Company as an electric organ technician for General Organ Service. Later, she was the first woman Wurlitzer organ technician in the United States, and owned the GEM Organ Service Company. Goldie had a green thumb and was flower show chair for the Fort Wayne Community Schools for about two decades. Edward owned General Radio and TV Service and later General Organ Service. He died at the age of 91 on Feb. 25, 1992, in Riverbend Nursing Home in Fort Wayne. Goldie outlived her husband by six years. She passed away in Fort Wayne on Dec. 15, 1998. They are buried together at Greenlawn Cemetery in Fort Wayne.
Son Lowell E. Moennig (1938-2007) was born on Oct. 18, 1938. He wed Sharon J. (?) (1941-2013). They had two daughters, Laurie Wenger and Beth A. Snyder. Lowell was a teacher for Fort Wayne Community Schools for 16 years, retiring in 1997. After a decade of retirement, he passed away on Dec. 30, 2007, at Hospice Home in Fort Wayne. Sharon outlived him by five and a half years. She died at the age of 72 on May 16, 2013. Her obituary in the Fort Wayne Journal Gazette said she was survived by four grandchildren.
Copyright © 2002-2003, 2007, 2009, 2013, 2020 Mark A. Miner