Agnes (Miner) Miller
(1884-1985)

Agnes Miller
Agnes (Miner) Miller was born on Oct. 11, 1884 at Normalville, Fayette County, PA, the daughter of Martin and Amanda (Williams) Miner.
She taught school in Fayette County for 28 years and with her husband was very active in the community. She lived to be 100 years of age.
As a young woman, Agnes attended the Normalville Normal Institute and the University of Pittsburgh at Uniontown, where she received training to become an educator. She taught school in Springfield and Saltlick Townships for 28 years. The schools where she taught included Middlefork, Poplar Run, Pritts, Normalville (#1 and #2), Pleasant Hill, Hampton, St. John, Indian Head and Washington (1905-1919; 1920-1921; 1925-1950).
Because female teachers of that era were not allowed to be married, Agnes spent her 20s and early 30s as a single woman.
One of Agnes' friends in Normalville was Ethel Buchanan. On Christmas Day 1908, Ethel wed one of Agnes' distant cousins, Albert S. Minerd of Uniontown, Fayette County. (Agnes' father Martin Miner, and Albert's father Isaac Herschel Minerd, were first cousins.) A festive wedding ceremony was held at the home of James Dickens, with many photographs taken that day. The event may have planted the seeds for the clan's first Minerd-Miner Reunion, held five years later, in August 1913, with Martin Miner and Isaac Herschel Minerd elected as officers.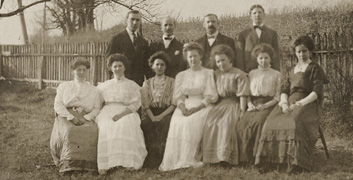 At a cousin's wedding, 1908: L-R: Jenne Minerd, Agnes, Mattie McClean, Ethel Minerd, Maude Brooks, Nettie Miner, Twila Brooks. Standing, L-R: Don Brooks, Bud Brooks, A.G.C. Sherbondy, Edward C. Miner.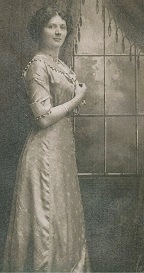 As a young lady
Courtesy Jill (Channing) Aird
Following the Buchanan-Minerd wedding, Agnes's Minerd cousins in Uniontown did not receive any communication from her for some time. The following May 1909, Jenne Minerd and Ethel (Buchanan) Minerd conspired to play a little friendly prank on Agnes. They sent her a penny postcard, seen here, with the word "NOTICE" written in all capital letters at the top. The message went on to read:
"$1,000 reward to the person giving any information of the whereabouts of Miss Agnes Miner. Her friends and relatives have not heard from her for long they fear she has been kidnapped. Cousins Jenne [and] Ethel Minerd."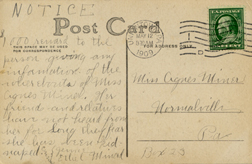 Postcard to Agnes from Minerd cousins, 1909
On June 6, 1918, when she was the age of 33, Agnes married 35-year-old carpenter and contractor Lloyd M. Miller (1883-1958), who was the son of Samuel P. and Sarah M. Miller.
The two families were close. Lloyd's sister Mary Miller married Agnes' brother John Walter Miner.)
The Millers together bore two daughters, Alene Cavanaugh and Freda Channing.
Many of the schools where Agnes taught were one-room facilities, including Poplar Run, seen here. Agnes' niece Helen Miner and cousins Florence Hart and Winifred Hart also taught at Poplar Run over the years.
For many years, Agnes was secretary/treasurer of the Normalville Cemetery Association. Her hand-drawn map of the old section of the cemetery, behind what is now the Normalville Methodist Church, is the only known reference to the burial site of her grandmother, Sarah (Ansell) Minerd. Agnes belonged to that church for 81 years, where she taught Sunday School and was a director of the Epworth League and an active member of the United Methodist Women.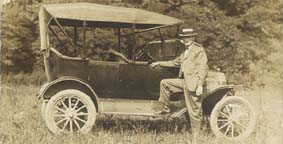 Lloyd proudly shows off a new automobile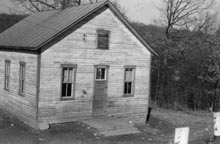 One-room Poplar Run schoolhouse
In 1927, Agnes served on the reception committee for the "Connellsville-to-Farmington Good Road Association." The organization played a key role in the economic development of Normalville by supporting the paving of the "Mountain Road"" between Connellsville and Normalville, and thence to Farmington. The road is seen here in a rare old postcard view.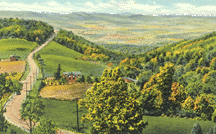 "Mountain Road" near Normalville
In August 1930, Agnes, Ailene and Freda, and Agnes' sister Nettie Brooks, attended the annual Minerd Reunion, held at Shady Grove Park in Uniontown. They gave their names to distant cousin Laura Jane (Minerd) Williams, who later wrote a lengthy account of the event for her local newspaper back home, the Huntingdon (PA) Daily News.
Lloyd also was active in the community. He served as a Springfield Township school director for 24 years, was township tax collector for eight years, was constable for one term and a charter member of the Indian Creek Valley Lions Club.
In October 1932, during the Great Depression, Lloyd and Tilden Kern directed several local men "on relief" who were "put to work on the improvement of the cemetery at [Normalville]," said the Daily Courier. "The work will embrace the removal of a bank at the present entrance, the filling in of the United Brethren church yard adjoining and construction of a parking place for cars during funerals." Added the Courier, "A funeral director is authority for the statement that more persons are buried in the Normalville cemetery than any in the region. the people of the community say it is one of the most desirable places in the mountains, very well located."
Lloyd in the 1950s

Daily Courier, 1958
Agnes and her sister in law Maude Brooks Miner helped in the summer of 1946 to organize the first reunion of former students and friends of the Teachers' Normal School at Normalville (for the years 1901-1904). The event was led by L.G. Chorpenning, a local attorney who was quoted in the Daily Courier saying, "Your hair may be gray, your head bald but no matter, we will turn back the old clock of time 40 years and all be young again for at least one day."
After a lifetime of hard work, Lloyd died at the age of 75 on Nov. 15, 1958 at Connellsville State Hospital. He was laid to rest in the Normalville Cemetery.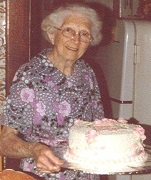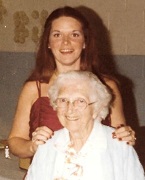 Agnes with a birthday cake and granddaughter Jill
Agnes outlived him by more than a quarter century, to the ripe old age of 100 years. During these later years, she was a member of the Pennsylvania Retired Teachers Association. Seen here, she holds a birthday cake circa 1980, when she turned 96.
The couple is mentioned in the 1960 book, Kern Family History, in connection with the Normalville Cemetery Association.
In her later years, to keep her mind busy, she also spent countless hours organizing and writing family trees of the various branches of her father's massive family. These included descendants of Jacob and Catherine (Younkin) Minerd Jr. and John and Sarah (Ansell) Minerd; the much-married Minerd and Ansell families; Minerd-Miner graves at Normalville Cemetery; descendants of Perry and Joanna (Miner) Enos, Elijah and Hannah (Minerd) Murray, Martin and Amanda (Williams) Miner and Andrew "Jackson" and Susanna (Minerd) Rose Sr.; and uncles and aunts on her father and mother's sides of the family. Click here to see scans of these manuscript lists, preserved today in the Minerd.com Archives.
Agnes died on May 15, 1985, in her 101st year, and was laid to eternal rest beside her husband Lloyd.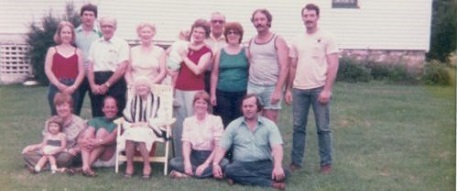 Miller-Channing-Cavanaugh reunion, 1980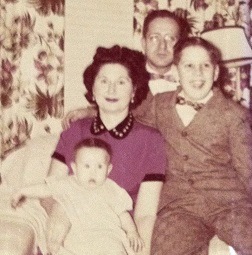 The Cavanaughs
~ Daughter Alene (Miller) Cavanaugh ~
Daughter Alene Miller (1919-2011) was born on March 10, 1919 in Normalville.
She entered into marriage with William S. Cavanaugh (1916-2004), the son of Edgar and Velma (Stauffer) Cavanaugh.
The couple bore two children -- Glenn Cavanaugh and Doris "Renee" Kociela.
They made their home in Monroeville, a suburb of Pittsburgh, for many years, where Bill was employed by Westinghouse Corporation.
Said the Pittsburgh Post-Gazette, Alene "was a member of Electric Heights United Methodist Church in Turtle Creek and was active in Card Club, Garden Club, Friendship Club, Senior Citizens and Shuffleboard. She had traveled to every state in the United States, except Alaska. She was a sweet, gentle and kind lady."
They are listed in the 1975 paperback book, Brooks Family History. They entertained the founder of this website in their Monroeville home one evening in the 1990s and extended many kindnesses.
Brooks History
Sadly, William passed into eternity at the age of 88 on April 19, 2004.
Alene died in the Cedars of Monroeville on Feb. 25, 2011, just a few weeks shy of her 92nd birthday. She joined her husband in eternal repose in Restland Memorial Park.
Son Glenn Robert Cavanaugh (1942-2023) was born on Sept. 13, 1942 in Connellsville. He was an alumnus of California University of Pennsylvania and then received his master's degree in education from Indiana University of Pennsylvania. He went on to a 36-year career teaching English and speech at Derry (PA) School District. He also served as agency relations director for the Westmoreland County Food Bank and was a coach of speech and debate for the National Speech and Debate Association and was elected to the association's hall of fame. He was united in matrimony with Jacquelyn Kaye Mraz ( ? -living). Their union spanned 55-plus years. The pair did not reproduce and made a home together in Greensburg. She taught English and composition for many years at Greater Latrobe (PA) High School. Sadly, after a long decline, Glenn passed away on Sept. 16, 2023 under the care of Senior Hellpers and Bridges Hospice.
Daughter Doris "Renee" Cavanaugh (1952- ? -living) was born in 1952. She received her undergraduate degree in 1973 in elementary education/early childhood from Edinboro University of Pennsylvania. She married Bruce Kociela ( ? - ? ). One daughter in this family was Christie Armao. They have dwelled in Trafford, PA. After obtaining an additional degree at Penn State University, she taught kindergarten for nine years; second grade for seven years; and fourth grade at Penn-Trafford (PA) School District for many more years.
Granddaughter Christie Kociela ( ? -living) wed Frank Armao.
~ Daughter Freda (Miller) Channing ~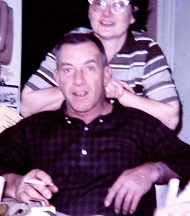 Freda and Blaine
Daughter Freda Miller (1922-2007) was born in 1922.
On June 10, 1947, at the age of 25, Freda married a distant Younkin cousin, 26-year-old Blaine H. Channing (1921-1986), son of Charles L. and Mollie J. (Johnson) Channing of Normalville, of the family of David and Jane (Younkin) Showman. The ceremony was held on the "spacious lawn" of the home of Freda's parents in Normalville and, said the Daily Courier, was "one of the loveliest weddings of the season."
They went on to have three children -- Gerald Channing, Jill Aird and Jay Lloyd Channing.
Following in her mother's footsteps, Freda went to college, receiving her bachelor of science degree in 1944 at Indiana University of Pennsylvania.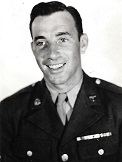 Blaine, World War II
Freda then taught at Normalville Elementary School for 37 years (1944-47 and 1950-84) and was guest speaker at our 1997 reunion, themed "A Sense of Wonder," honoring family educators.
Said the Connellsville Daily Courier, "She was an active member of the Community Food Bank, served on the Springfield Township Election Board for many years, served as past secretary for the Normalville Cemetery Association, was an active member of the Mountain Senior Citizens of Normalville and she organized many trips for the senior citizens."
As a teen, in the winter of 1938, Blaine worked at a Civilian Conservation Camp (CCC). He would return home on weekends and on holidays.
During World War II, he served with the U.S. Army Air Force in India. In a letter to his parents in July 1942, published in the Daily Courier, he wrote that "the temperature in India goes to 120 degrees and 110 degrees. There is very little rain there and the smell of the camels and goats, together with the actions of the Indian natives, is almost too much to bear." He spent three years in the service and rose to the rank of staff sergeant by the end of the war.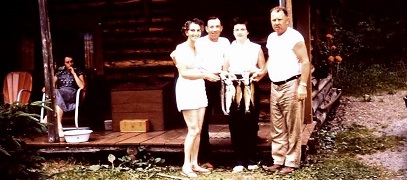 Blaine and Freda (center) with their catch,
flanked by Evelyn Channing and Ross Collins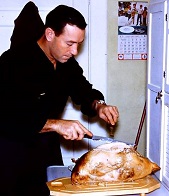 Carving a turkey, 1947
Immediately upon their marriage, the Channings moved to Turtle Creek in the eastern suburbs of Pittsburgh, where Blaine was employed for many years as a conductor for the Union Railroad. They eventually moved back to Normalville in the mid-1950s.
Blaine was a member of the National China, Burma and India Veterans Association, and a charter member and president of the Normalville Area Volunteer Fire Department. He and Freda also enjoyed camping and fishing with family.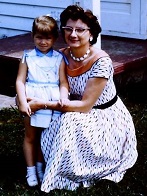 Freda and Jill
In August 1973, the family was among 180 relatives and friends to attend the second annual Channing clan reunion held at the Indian Creek Valley Recreation Center in Indian Head. Blaine was elected president and gave a reading, said the Daily Courier.
Blaine passed away after a lingering illness on June 10, 1986, at the age of 65.
Freda outlived him by more than two decades. She attended several national Minerd-Minard-Miner-Minor Reunions and graciously opened her home for visits from the founder of this website, freely sharing information and memories.
In 1994, Freda's essay, entitled "Is Everybody Normal in Normalville," was published in the book, Yesteryear in Ohiopyle and Surrounding Communities, Vol. II, compiled by author Marci Lynn McGuinness.
She died on Feb. 13, 2007, and was laid to rest with her husband at Normalville Cemetery.
Copyright © 2000, 2002, 2005, 2007, 2015-2016 Mark A. Miner
Poplar Run photography by Edward Grimm