Sarah Ellen (Enos) Hart
(1874-1945)
Ella Hart
Sarah Ellen "Ella" (Enos) Hart was born on Aug. 12, 1874 near Normalville, Fayette County, PA the daughter of Perry and Joanna (Minerd) Enos.

Daughters Florence
(left) and Winifred
Ella married a distant cousin on the Younkin side of her family -- William Harrison Hart (1870-1945) of Fayette County. Born at Mount Pleasant, Westmoreland County, PA on Sept. 14, 1870, William was the son of George H. and Nancy Jane (Showman) Hart and grandson of David and Jane (Younkin) Showman of near Normalville.
Their five children were Clyde Hart, George Hart, Ralph S. Hart Sr., Florence Pfeiffer and Winifred Zahn Ambrose.
Sadly, heartbreak visited the young family twice. Little Clyde died at the tender age of four months. George passed away when he was only 12 days old.
The photo seen here shows Florence, left, and Winnie, right, who later taught school for a combined total of 65 years.
William was a timberman, farmer and lay preacher. They resided in Fayette and Somerset Counties, PA.
William was not very scrupulous in matters of money. He moved his wife and children often, it's said, to avoid creditors at bill-paying time. He is known to have sold his father in law "old hay" and bushels of "bad corn." He once lost a hand in a work-related accident.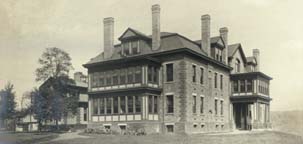 Rare postcard view of Beaver Valley General Hospital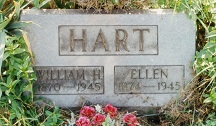 Normalville Cemetery
By 1924, Ella and William separated. She moved to McKees Rocks, near Pittsburgh, where she lived circa 1924. Later, she made her home in the rural outskirts of Rochester, Beaver County, PA near her daughters Winifred and Florence, who had gone there to teach school.
Ella found gainful employment as a laundress at the Beaver Valley General Hospital in New Brighton. William maintained his home at 208 South Prospect Street.
Sadly, Ella and William both died in 1945, she in New Brighton, and he in Connellsville.
William died first, on Feb. 6, 1945, at Connellsville State Hospital. he was 74 years of age. In an obituary, the Connellsville Daily Courier said he had "spent the greater part of his life in the Connellsville-Normalville district, being engaged in farming." The Courier also noted that among his survivors were eight grandchildren as well as his sister Mrs. E.G. Tressler of Cumberland, MD and brothers D.B. Hart of Connellsville, Jonathan Hart of Mill Run and Clyde F. Hart of Connellsville. Funeral services were held at the First United Brethren Church of Normalville, officiated by Rev. Clem B. Barcus. His remains were placed into repose in the Normalville Cemetery.
Ella suffered from heart and kidney disease in her final years. She passed away on Sept. 29, 1945, at the age of 71. Her remains were shipped back to her native Fayette County to join her husband in burial.
They rest together at Normalville Cemetery.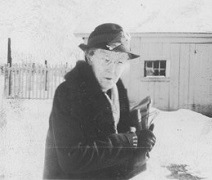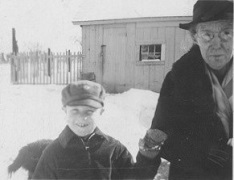 Ella, later in life, in Beaver County


Winifred and Andrew
~ Daughter Winifred (Hart) Zahn Ambrose ~
Daughter Winifred Hart (1900-2000) was born on Aug. 18, 1900 in Fayette County.
With a strong independent disposition, and striking out on her own as a young educator, Winifred taught for 32 years, first at Poplar Run School, Fayette County.
Later, she and her sister Florence migrated to Beaver County, PA, where Winifred was a teacher at the one-room Baker, Boggs, Majors and Fairview Schools. The Baker, Boggs and Majors school buildings were in New Sewickley Township, while Fairview was in the Western Beaver district.
Winifred is said to have been both stern and kind to her students. One former pupil recalled that if she brought cheese to school, Winifred would make grilled cheese sandwiches on the pot-belly stove.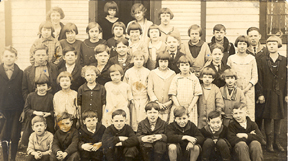 Winifred, standing in back row, far left
The photo seen here is of Winifred's class at the Majors School circa 1925. Standing just to the right of the doorway, in the back row, is eighth-grade student Helen (Balysh) Jagerski, who would later become the maternal grandmother of the founder of this website. Several other Balysh siblings also are among the group -- Peter, Olga and Sophie. This postcard-size image was the Minerd.com "Photo of the Month" in September 2013.
Some of Winifred's first cousins on the Hart side of the family also relocated to Beaver County over the years. Among them were Philip Hart and Paul Hart, sons of her uncle and aunt John F. and Edith (Collins) Hart.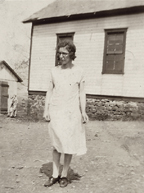 Majors School, early '20s
Winifred's first husband, John "Andrew" Zahn (1894- ? ) was born in about 1894. he was the son of John and Lydia (Binzley) Zahn of Rochester. Their wedding was held in Erie, Erie County, PA on May 20, 1924, when Winifred was age 23 and Andrew 30. Justice of the peace G.C. Graham officiated.
Andrew worked as an automobile dealer in the New Brighton area at the time of marriage, selling Whippets and Chevrolets. Later, he sold farm equipment. Among his customers was White Russia immigrant Constantine Balysh, great-grandfather of the founder of this website. He helped construct a building on Marion Hill near New Brighton, which Zirat Electric now occupies.
Winifred and Andrew divorced on Jan. 22 1943, upon decree of the Court of Common Pleas of Beaver County, following 18 years of marriage.
Her second husband was Wilbur Lane "Bill" Ambrose (1894-1975), a native of Millwood near Ligonier, Westmoreland County. He apparently moved to Ohio and lived there in the mid-1910s. During World War I, he served in the U.S. Army as a member of the 323 I.F. Artillery, 83-32 Divisions. He took part in the Battle of the Meuse-Argonne, and in a letter home, wrote this to his parents:
There are two nicks on my gun and I wish it could be two hundred.... Oh yes, I had another close call a few days ago. A shell lit near our horses, and I was covered with dirt. Well, we are going to let loose another barrage and try to get the boche out of the woods close here. Once we get them going we can drive them for 40 kilometers over some of the finest country in France. Shells are landing thick now. May we never take another prisoner. Curses on the whole Hun world.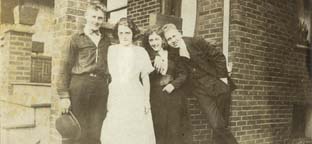 L-R: Morris, Florence, Winifred, Andrew. Below: a Zahn family Christmas, with Winifred and Andrew seated in the middle road, far right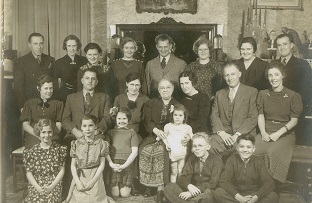 Bill Ambrose
Bill served in law enforcement for 48 years, nearly a half-century. He was policeman of the Vista Mines in Fayette County, a member of the Beaver County Chiefs of Police, chief of detectives of Beaver County, chief juvenile officer of Beaver County, chief of police of Aliquippa (10 years), and a parole officer and probation officer for more than a quarter of a century. He also was a member of the Fraternal Order of Police, Pennsylvania Chiefs of Police Association, American Legion and Regiment Light Field Artillery.
At the age of 80, Bill made his home at 620 South 11th Street in Connellsville. He died there on Aug. 22, 1975. His remains were returned to Beaver County for interment in Sylvania Hills Memorial Park, Daugherty Township. After Bill's death, Winifred found the letter he had written to his parents from the Meuse-Argonne battlefield, never having known any of this. She arranged to have the letter published on the front page of the Connellsville Daily Courier (Nov. 8, 1975).
Winifred spent her final years in a nursing home in Beaver County, and was almost deaf. She graciously entertained a visit from her former pupil Helen (Balysh) Jagerski, and the pupil's grandson, the future founder of Minerd.com, in the mid-1990s.
She celebrated her 100th birthday on Aug. 18, 2000. She died a month later, on Sept. 18, 2000.
~ Daughter Florence (Hart) Pfeifer~
Daughter Florence Hart ( ? - ? ) was born in Fayette County.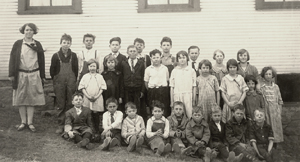 Florence and her students, circa 1923
She taught for 33 years, beginning her career at the one-room Poplar Run School in Fayette County.
Later, taking the bold step to relocate with her sister Winifred to Beaver County, PA, Florence taught at the one-room Mullins, Steele, Ohioville (Smith's Ferry) and Fairview Schools. In the photo seen here, Florence stands at far left, with her class in about 1923.
While in Beaver County, Florence met and married Morris Pfeifer (1902-1979).
Morris passed away at the age of 77 in November 1979.
Daughter Bonnie Pfeifer married John Morell and had a son, Patrick Morell. Bonnie also was a teacher, and retired in 1997 after 35 years at these schools in Beaver County: South Side Elementary in the South Side Beaver District; South Beaver Elementary in the Northwestern District; 4th Ward and 5th Ward Schools in the Monaca District; and Big Knob Elementary in the Freedom Area District.
Grandson Patrick Morell has raised thoroughbred stallion horses in Lexington, KY and Harrisburg, PA and has been profiled in trade publications such as Mid-Atlantic Thoroughbred (January 2009).
Ralph S. Hart
~ Son Ralph S. Hart ~
Son Ralph S. Hart (1895-1946) was born on May 10, 1895 in Somerset County, PA. He moved as a boy with his parents and siblings to Normalville, Fayette County.
Ralph married Clara "Ethel" Miller (1896-1984).
They were farmers and lived in Normalville early in the marriage and produced a family of six children -- Ella Mae Rhodes, Harry Hart, Frank Hart, Rutheline Hart, J. Ralph "J.R." Hart and Clyde E. Hart.
The family became heartbroken in the middle of winter 1919. Newborn daughter Rutheline, just 18 days old, suffered from a collapsed lung ("atelectasis"). She died on Feb. 15, 1919. Her tender remains were laid to rest in the Normalville Cemetery.
Later, they left the Normalville farm and relocated to Connellsville, making a residence along Reidmore Road.
Sadly, Ralph died in January 1946, just shy of his 51st birthday, of "a lingering illness," reported the Daily Courier. Following a funeral led by Rev. Samuel G. Clutter of the Normalville United Brethren Church, his remains were placed at rest in the Normalville Cemetery.
Ethel outlived her spouse by almost four decades. She was swept away by the Angel of Death in 1984.
Daughter Ella Mae Hart (1922-2001) was born in 1922 in Normalville. She was the mother of Bonnie Sines and Harold Hart. On Aug. 28, 1950, when she was 28 years of age, Ella wedded Lawrence r. Rhodes ( ? - ? ). The couple eventually separated, with Lawrence living in South Connellsville and Ella Mae in Vanderbilt. He filed for divorce in March 1960, with the news printed in the Connellsville Daily Courier. Ella Mae lived in Morgantown, WV in 2000. Sadly, Ella passed away in Morgantown's Sundale Nursing Home at the age of 80 on May 26, 2001. She was survived by 11 grandchildren and 14 great-grandchildren.
Granddaughter

Bonnie Hart wedded Kenneth Sines. Their home in 2001 was in Nemacolin, Greene County, PA.
Grandson Harold W. Hart

(1943-2013) was born on Jan. 31, 1943 in South Connellsville. Over the years, he earned a living as a mechanic. He was married to (?). They bore these known children -- Leann Hart, Sheila Grund, Kelly Garlitz, Tina Bartley, Eric Hart and Sean Snyder. Harold was a member of the Albright United Methodist Church. At the age of 70, on Dec. 27, 2013, Harold died at home. His remains were placed into eternal repose in Normalville Cemetery, with Rev. Stephen Lamb preaching the funeral service. His survivors included five grandchildren and five great-grandchildren.
Son Harry Hart (1923-2007) was born on March 30, 1923. He married Dorothy ( ? - ? ). They resided in Connellsville circa 2000 and in Ravenna, Portage County, OH in 2001. He underwent hip replacement surgery in 2007 and died later in the year, on May 9, 2007 at Maplewood Nursing Home in Streesboro, OH. A short death notice was published in the Connellsville Daily Courier.
Son Frank Hart (1925-1992) was born on Aug. 22, 1925. He married Irene E. Porterfield (1920-2001), daughter of Frank and Ida Agnes (Smalley) Porterfield of Normalville. The family lived on Reidmore Road in South Connellsville, possibly in his parents' former home (circa 1962) and at 250 North Sixth Street in Connellsville (circa 1964). The couple is believed to have had a son Franklin L. Hart who served in the U.S. Marine Corps during the Vietnam War. Then in 1971, they dwelled on Martin Road in South Connellsville. Frank passed away on Sept. 25, 1992, and rests in Normalville Cemetery. Irene outlived him by nine years. She joined him in death in 2001.
Son J. Ralph "J.R." Hart (1928- ? ) was born in about 1928 in Normalville. He was married and had a family. They relocated to Ravenna, OH by 1962 and were there in 2001. He was deceased by 2005.
Son Clyde E. Hart (1930-2005) was born on Nov. 10, 1930 in Connellsville. In May 1943, the teenage boy made news in the Connellsville Daily Courier when he was "bitten on the left leg by a dog ... and was treated at the Hospital." His entire life was spent in Connellsville. A member of the United Steelworkers of America, he was employed for two decades as a stamper and grinder with U.S. Steel Corporation's Christy Park Works. He married Dolores Jean Basinger ( ? -1986). Their two known children were Clyde Edward "Eddie" Hart Jr. and Patricia Nicholson. The family attended the Assembly of God Church. The family was plunged into grief when Dolores passed away in 1986. Clyde outlived her by nearly two decades. He enjoyed playing pool, music and dancing and was a member of the AMVETS of Belle Vernon and the Connellsville Slovak and Sons of Italy Clubs. He also endured the loss of son Clyde in 2004. Clyde died in his home at the age of 75 on Nov. 10, 2005. Rev. Joseph Wingrove officiated at the funeral service, with interment in Green Ridge Memorial Park. The Daily Courier printed an obituary.
Grandson Clyde Edward "Eddie" Hart Jr. (1951-2004) was born on Aug. 31, 1951 in Connellsville. He was the father of Robert "Spock" Hart and Crystal Smith. Over the years, Eddie was employed by Rack Engineering Corporation in Connellsville and by Nicholson and Sons Remodeling. In his free time, he liked to collect and build motorcycle models and to landscape. He belonged to the Sons of Columbus and Italian Independent Club. In about 1996, he was joined in wedlock with Kay Cunningham ( ? -living). She brought a son to the union, James Cunningham. Sadly, at the age of 52, Eddie passed away at home on Aug. 5, 2004. Burial was in Green Ridge Memorial Park, with an obituary printed in the Connellsville Daily Courier.
Copyright © 2000-2001, 2005, 2007, 2009, 2015, 2019 Mark A. Miner