Edward Campbell Miner
(1886-1970)

Edward Campbell Miner was born on Nov. 24, 1886 in Normalville, Fayette County, PA, the son of Martin and Amanda (Williams) Miner. He served as a teacher and principal of elementary schools in Fayette County for 43 years.
Ed married teacher Maude Brooks (1890-1955), the daughter of Charles H. and Frances (Miller) Brooks. Before marrying, Maude taught school in Springfield and Upper Tyrone Townships.
They resided on East Green Street and Wills Road in Connellsville and had two daughters, Dorothy Soisson and Virginia McDowell.
After completing his own elementary schooling, Ed received additional education at the Normalville Normal Institute (from 1903 to '05). He then attended California State Teachers College (now California University of Pennsylvania), where he served as assistant editor of the Normal Review and graduated in 1909. In 1934, he obtained a bachelor of science in education at the University of Pittsburgh.
Among Ed's Class of 1909 at California were his first cousin Andrew "Bud" Enos, second cousin Roy S. Minerd, and Roy's future wife, Nelle G. Penn. These relationships may have helped to pave the way for Ed's and Roy's fathers to found the first Minerd-Miner Reunion just four years later, in 1913.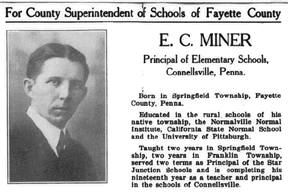 He began teaching in 1907 in Springfield Twp. schools, followed by two years in Franklin Twp. and two years in Perry Twp., where he was principal of the Star Junction Schools. In 1911, he moved to Connellsville, where he taught at elementary schools at South Side, Second Ward and Third Ward before being named principal in 1921. His annual salary in 1932, during the heart of the Great Depression, was $2,925.
In August 1946, Ed attended a reunion of the Normalville Normal Institute, where his cousin Bud Enos served as secretary. "On account of the surplus of food," Bud later wrote playfully, "E.C. Miner ... suggested a food administrator be named for the 1947 reunion. His suggestion was laughed down."
Ed once ran (unsuccessfully) for County Superintendent of Schools of Fayette County. When he retired in 1954, school board superintendent Ned Culler wrote him a personal letter, saying:
Every child, who has been under you during your tenure at Connellsville, has been blessed by your presence in the school system. Your kind calm and sincere manner in accomplishing the many projects for the children of Connellsville has made a lasting impression upon them and also upon the colleagues who have worked with you.

Connellsville's Pittsburgh Street as seen from Ed and Maude's neighborhood on Green Street
Active in the community, Ed served for many years with the Connellsville City Civil Service Commission (circa 1937), and was mentioned in this capacity in the inaugural edition of the Younkin Family News Bulletin, a national newspaper founded by a distant cousin, Charles Arthur Younkin.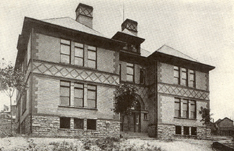 Seen at left is one of the schools where Ed taught and later would have been responsible for -- the Third Ward School in Connellsville.
He also was a superintendent of the First Presbyterian Church Sunday School and a member of several fraternal and social organizations. Maude belonged to the Daughters of the American Revolution (DAR), Philip Freeman Chapter.
Maude died on Nov. 9, 1955 after a long illness.
Ed survived her by 15 years, and passed away in 1970. They are buried together at Hill Grove Cemetery in Connellsville.
Ed and Maude are listed in the 1975 paperback book, Brooks Family History.
Daughter Virginia Miner (1916-2006) was a longtime school teacher in southwestern Pennsylvania. She married William J. McDowell. She received her bachelor's degree from Wilson College in 1939. Then, she went on to teach English and Latin at Clymer, PA (1939-1940), Dunbar Borough, PA (1940-1943) and Scottdale/Southmoreland, PA (1943-1978). She was honored in our 1997 reunion booklet, A Sense of Wonder. She passed away at age 90 on May 6, 2006.
Copyright © 2000, 2005-2007, 2009 Mark A. Miner