Sarah Jane 'Jenne'
(Minerd) Baily
(1879-1966)

Jenne Bailey

Sarah Jane "Jenne" (Minerd) Baily was born on June 14, 1879 in Mt. Pleasant, Westmoreland County, PA, the only child of Rev. Isaac H. and Sarah Susanna (Schiebler) Minerd.

She was but a young girl when her mother died, and her father later married Margaret Jane Sheppard.
When Jenne was 10, she was baptized at the Mt. Pleasant Methodist Church. But at age 12, she was stricken with polio, paralyzed in her legs, crippling her for life. She found the strength to be mobile, however, up until her last years.
As a girl, Jenne moved with her parents and family to the New Haven section of Connellsville, PA, and then in the early 1890s to Uniontown, PA.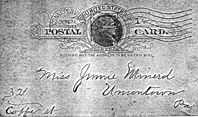 Postcard sent to Jenne

In 1904 and í05 she corresponded with Joseph K. Brown, a cousin (perhaps on her motherís side), and copies of two penny postcards he sent in reply are preserved in the Minerd.com Archives.

Jenne remained unmarried for many years. She felt a strong need for her family to make something of themselves. She lent money to her brother Roy so he could attend medical school, helping him become the first physician in his branch of the family.

When Jenne was 33, she married 51-year-old George Ellsworth Baily (1860-1917), the son of Ellis B. and Marietta (Gaddis) Baily, and the widower of Margaret (Lyunch) Baily. He was a native of Carmichaels, Greene County, PA. How the two would have met is a mystery.

Jenne and George's wedding was conducted by Homer B. Whitfield at Greensburg, Westmoreland County, PA. She was 19 years younger than her husband.

With the marriage, Jenne became an instant step-mother to George's adult children. They included John G. Baily, Robert W. Baily, Alma Gregg, Paul Baily and Harriett E. Baily. Stepson John eventually became a Greene County Commissioner and a county auditor.

George was a farmer and stock raiser and was said to have been "quite successful." They resided at Carmichaels, Cumberland Township. A Waynesburg newspaper once called George "a prominent early day resident of the Carmichaels area." He was a member of the New Providence Presbyterian Church, the Carmichaels Grange and the International Order of Odd Fellows (IOOF).

The Bailys together produced two children of their own Ė Grayce Beeman and James Ellis Baily.

Heartache rocked Jenne after only five years of marriage, when George contracted a deadly case of acute meningitis caused by an inner ear infection. Ill only about one day, he succumbed on June 10, 1917, at age 56. "His death came as a great shock to his family and friends," reported the Waynesburg Republican. He was laid to rest at Glades Cemetery at Carmichaels, also known as Laurel Point Cemetery.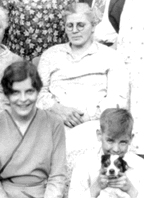 Jennie with daughter
Grayce and son James

In an obituary, the Republican noted that he was survived by brothers Edgar G. Bailey, Eli G. Baily and R.L. Baily of the Carmichaels area, and married sister Mrs. George E. Luse, also of Carmichaels. The Waynesburg Democrat Messenger also published an obituary.

The untimely death left Jenne as a single mother of one and expecting a second. She later relocated to Pittsburgh, where her widowed mother and siblings resided.

She never remarried.

When the federal census was enumerated in 1930, Jenne and her two teenage children made their home on Cora Street in Pittsburgh.

In 1940, the U.S. census shows that 60-year-old Jenne resided with her 22-year-old son James on Bennett Street in Pittsburgh. She had no occupation, but her son worked as a service man for a postage meter company.

Jenne after her son's marriage then moved into the household of her married sister and brother-in-law, Bess and Anton Beck, in the old Minerd residence on Susquehanna Street in Pittsburgh. At the age of 70, in 1950, census records show that she had no occupation.

Her final residence was with her married daughter Grayce Beeman at 740 Pierson Run Road in Monroeville.

Burdened with hardening of the arteries and blood clots of the brain at the age of 87, she died "of a brief illness" on Aug. 1, 1966, in Pittsburgh's West Penn Hospital, reported a Waynesburg newspaper. She and is buried at Restland Memorial Park in the Turtle Creek section of Monroeville, near Pittsburgh. At her death, she was survived by 12 grandchildren and 21 great-grandchildren.



~ Daughter Grayce (Baily) Beeman ~

Daughter Grayce Baily (1913-2006) was born in 1913.

On June 18, 1938, at the age of 25, she was joined in wedlock with Russell J. Beeman (1911-2005), son f Frank and Mina A. Beeman of 1205 Milton Avenue in Regent Square. Their wedding vows were made in the Homewood Methodist Episcopal Church and the marriage announced in the Pittsburgh Press. Officiating was Rev. E. Wilson Kelley, with Grayce's half-sister Harriet Baily serving as bridesmaid and brother James E. Baily as best man.

Their duo of offspring included Linda Seelhorst and Jay Russell Beeman.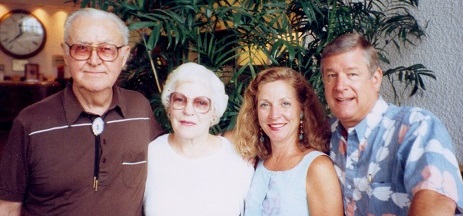 L-R: Russell and Grayce Beeman, Linda and Jack Seelhorst
. Courtesy Evelyn Baily
Their home in 1938 was in Uniontown and in 1946 in or near the District of Columbia, where he was serving as a lieutenant in the U.S. Naval Reserve. As of 1965, the Beemans resided in Swissvale, Allegheny County, PA, at his parents' home at 1205 Milton Avenue, Regent Square.
Grayce is believed to have been employed in 1961 as a Penn State program coordinator in the steel city. She was cited for this work in Charles E. Danver's Jan. 12, 1961 "Pittsburghese" column in the Pittsburgh Post-Gazette. She also earned a living as a private school secretary. In her free time she liked to play bingo, make crafts and attend the Christian Women's Club.
Their retirement years were spent in Sarasota, FL (1995) and later in Oregon, where their daughter had relocated.
The angel of death claimed Jack away on March 5, 2005.
Grayce only lived for another 20 months. She passed away in Bend at the age of 93 on Nov. 6, 2006. An obituary appeared in the Bend Bulletin, in which the family asked that any memorial donations be made to Central Oregon Home Health and Hospice.
Their names appear on two sets of grave markers -- one on the bronze tablet of their son Jay's at Sunset View Cemetery in Penn Hills, and the other in the mausoleum of Deschutes Memorial Gardens in Bend, OR.
Daughter Linda Beeman ( ? - ? ) was born on (?). She was a 1960 alumna of Swissvale High School and a 1964 graduate of Grove City College, where she studied elementary education/kindergarten. In the summer of 1965, in nuptials held in the Church of the Redeemer in Pittsburgh's Squirrel Hill section, she wed Jack William Seelhorst. ( ? - ? ), son of Harold Deily. Rev. Dr. Hugh Clark presided. Two sons of this union are Gary Seelhorst and Gregory Seelhorst. The newlyweds lived in East Orange, NJ in 1965. Eventually they relocated to Newport Beach, CA (1980), Sisters, OR (2006), San Diego (2009) and Indio, CA (2016). She is known to have been active with Grove City alumnae groups.
Son Jay Russell Beeman (1946-1965) was born on Jan. 6, 1946 in Washington, DC. On the fateful day of Aug. 7, 1965, while on a boat dock at the Duquesne Canoe Club at 158 Arch Street in Verona, Jay was electrocuted to death when he grabbed a pole carrying electrical wires. A friend "tried to pull Beeman from the pole but couldn't break his grip because of the electricity," said an Associated Press story published statewide. "A third person pried the two apart with a boar oar." A United Press International story said "It was believed a switch box had short-circuited sending electrical current into the pole." Jay was pronounced dead at the scene. His remains were lowered into eternal repose in Sunset View Memorial Park. The family filed a wrongful death lawsuit in Federal District Court in Pittsburgh, seeking $100,000 in damages.
~ Son James Ellis Baily ~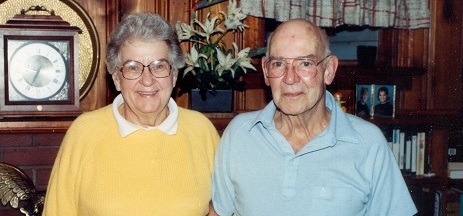 Evelyn and James Ellis Baily
Son James Ellis Baily ( ? - ? ) was born on Oct. 2, 1917, several months after his father's death.
In 1940, the federal census enumeration shows James at age 22 residing with his widowed mother on Bennett Street in Pittsburgh. His occupation was working as a service man for a postage meter company.
Then in the early 1940s, he married Evelyn Caldwell ( ? -2015). Their union endured over a remarkable 53 years.
Together, they bore a family of two -- Robert "Thomas" Baily and Janice E. Albright.
James was employed in 1950 as a technician in the laboratory of the Mellon Institute of Industrial Research, part of Carnegie-Mellon University. He was pictured in a Pittsburgh Press article on Sept. 10, 1951, testing oils in a miniature engine at the Institute to measure wear and tear on piston rings.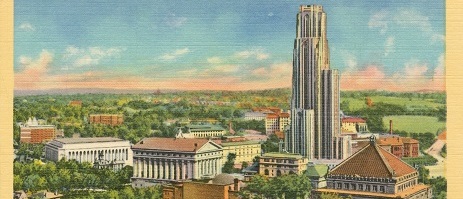 White, columned Carnegie Institute at left, near the Cathedral of Learning
Active in the community, Evelyn was a member of the Plum Creek Garden Club for half a century, and was a founding member of the Allegheny Foothills Historical Society and Plum Community Library. At the Garden Club's 50th anniversary, she was quoted in a 1994 story in the Pittsburgh Post-Gazette about how "What began in 1944 as a group of club women interested in World War II Victory Gardens, has evolved over the years to become a price-winning and widely recognized Garden Club.... As far are president Evelyn Baily knows, this is the only garden club to have 50 years of continuous shows."
Circa the early 1990s, the Bailys dwelled in Boyce Park, Plum Boro near Pittsburgh. They hosted a visit one evening from the founder of this website, and encouraged him to continue digging into the family's past.
James passed away at the age of 78 on Nov. 1, 1995. In an obituary in the Post-Gazette, the family asked that any memorial gifts be made to the Salvation Army.
Evelyn outlived her husband by two decades and remained in Plum. Death swept her away at the age of 96 on Oct. 29, 2015. The Post-Gazette also printed her obituary.
Son Robert "Thomas" Baily (1944- ? ) was born in about 1944. He resided in Export, PA in 1995.
Daughter Janice E. Baily (1948- ? ) was born in about 1948. She wed Terrence Albright ( ? - ? ). Two offspring in their family were Brent Albright and Jaime Fosnaught. The Albrights' home in 1995 was in Camden, ME.
Grandson Brent Albright was joined in wedlock with Dawn. They put down roots in Maine and are believed to be the parents of Alexander Albright and Skyler Albright.
Granddaughter Jaime Albright entered into marriage with Patrick Fosnaught. They produced a brood of two -- Juliana Fosnaught and Benjamin Fosnaught. Jaime is believed to have served as a public health nurse with the County of Allegheny. Patrick has served in as an officer with the Pittsburgh Bureau of Police, and in 2013, when promoted to sergeant, was pictured in the Pittsburgh Post-Gazette, with Jaime pinning him at the ceremony at the City-County Building. He also has been part of the city's Mounted Police force and was promoted to lieutenant in 2015. Then in March 2017, he had the honor to present the colors at the first round of the 2017 Atlantic 10 Menís Basketball Championship tournament at PPG Paints Arena.
Copyright © 2001, 2005, 2014, 2022-2023 Mark A. Miner