Clyde Miner
Clyde Miner was born on April 6 or 8, 1898 in either Wilmerding, Allegheny County, PA or near Mill Run, Fayette County, PA, the son of William Henry 'Squire' and Sara Jane (Basinger) Minerd.
As a young man, he was short and slender, with light hair and grey eyes. He was required to register for the military draft during World War I and disclosed that he was employed on his father's farm.
Clyde's first wife was Jane Hiles (March 23, 1899-1937), daughter Henry and Mary (Thorpe) Hiles.
They produced a family of three children – Edna McCutcheon, Wilma Mary Ellen Miner and Clyde Henry D. Minor.
Clyde was employed locally as a coal miner, and at one time worked at the Bridgeport Mine of the H.C. Frick Coke Co., part of the United States Steel Corporation empire. Their home in 1937 was in Mill Run.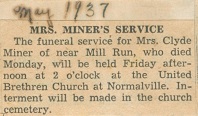 Connellsville Daily Courier
Sadly, while expecting their fourth child, at the age of 38, Jane experienced an intestinal obstruction, and was hospitalized at Connellsville State Hospital. She underwent surgery, perhaps to end the pregnancy in an attempt to save her life. Her system went into shock, and tragically she passed away on May 17, 1937. Her death was reported due to "complications where she was admitted earlier in the day," said the Connellsville (PA) Daily Courier. She is buried at the Normalville Cemetery, with funeral services held in the adjacent Normalville United Brethren Church.
Clyde remained a widower for several years. When the federal census enumeration was made in 1940, he headed a household in Springfield Township with his daughter Edna and son Clyde in the home. His occupation that year was coal mining.
Later, Clyde married Lydia (Haney) Marshall (Sept. 22, 1900-1974), daughter of Benjamin and Malinda (Basinger) Haney.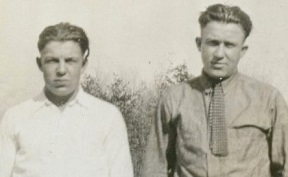 Clyde (right) with his brother Ralph.
She had four children from a previous marriage – Juanita Freeman, Virginia McMasters, John B. Marshall and Cloyd G. Marshall.
Circa 1953, Clyde lived and worked in the coal mine patch town of Hiller, Fayette County.
Lydia made a residence at 1400 Water Street in Brownsville in the 1970s. Sadly, as a patient in Brownsville General Hospital, she passed away on Oct. 7, 1974. An obituary in the Uniontown newspaper said that daughter Virginia McMaster lived in Brownsville, daughter Juanita Freeman in Scenery Hill, son Cloyd Marshall in Corona, CA and son John B. Marshall in Brownsville.
Clyde outlived his second wife by two years. He died at Mayview State Hospital in Scenery Hill, PA on Dec. 2, 1976, and is buried at Lafayette Memorial Park at Brier Hill near Uniontown. An obituary in the Courier said that he was survived by 11 grandchildren, 24 great-grandchildren and two great-great grandchildren.
In 1999, Clyde was honored among hundreds of cousins at our national family reunion for their longtime work in the coal, coke and steel industries.
~ Daughter Edna (Minor) McCutcheon ~
Daughter Edna Minor (1925-2006) was born on July 31, 1925 in Mill Run.
On Jan. 9, 1946, when she was 20 years of age, she married 21-year-old William L. McCutcheon (Oct. 13, 1924-2006).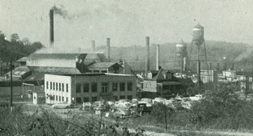 Anchor Hocking plant in Connellsville
They bore a pair of offspring -- Joyce McCutcheon and Larry McCutcheon.
William served in World War II as a corporal with Squadron A of the 4152nd Army Air Force. Later, said the Connellsville Daily Courier, he "worked for the New Haven Foundry, Pennsylvania State Highway Department, Anchor Hocking and the Connellsville Sewage Authority."
Edna was a member of the First Baptist Church of Connellsville.
They both passed away in 2006, he on Aug. 11, and she on Dec. 1 as a resident of Eicher's Family Home in Normalville. Dr. Martin Watson officiated at her funeral service, with burial following in Normalville Cemetery. An obituary was published in the Daily Courier.
Daughter Joyce McCutcheon (1947- ? ) was born in 1947. She made a home in Normalville in 2006.
Son Larry McCutcheon (1951- ? ) was born in 1951 in Connellsville. At the age of 24, on Dec. 6, 1975, he wedded 19-year-old Theresa Esponiola (1956- ? ), a native of Hawaii. Their children are believed to be Cheryl Ann McCutcheon, Mikeal/Michael McCutcheon, Natasha McCutcheon, Cynthia Lynn McCutcheon and Christine Beth McCutcheon. Circa 2006, they resided in Mauna Loa, Hawaii.
Granddaughter

Cheryl Ann McCutcheon

(1977- ? )
Grandson Mikeal/Michael

McCutcheon

(1978- ? )
Granddaughter Natasha

McCutcheon

( ? - ? )
Granddaughter Cynthia

Lynn McCutcheon

(1983- ? )
Granddaughter Christine Beth McCutcheon

(1985- ? )
~ Daughter Wilma Mary Ellen Miner ~
Daughter Wilma Mary Ellen Miner (1930-1976) was born in about 1930. She was age seven when her mother died.
Wilma is alleged to have passed into eternity at the age of 46 in 1976. At the death of her father later that year, she was not named in the obituary.
Nothing more is known, and her identity needs to be confirmed.
~ Son Clyde Henry Minor ~
Son Clyde Henry Minor (1932-1988) was born on Nov. 4, 1932 in Mill Run.
Clyde was joined in wedlock with Betty Ann (McCutcheon) Sidwell (Oct. 14, 1932-2000), a native of Connellsville and the daughter of William and Ethel (Helms) McCutcheon. Theyr wedding was held on Feb. 1, 1975.
Betty Ann appears to have brought three children to the second union -- William Sidwell, Vicki A. Malloy and Barbara Ann Sidwell.
He "retired from the U.S. Air Force following 21 years service," said the Daily Courier. "He was employed as a supply clerk at Davison Air Force Base in Virginia."
Betty "worked as a caregiver for many years and also as a receptionist at the Washington House in Alexandria, VA," said the Courier.
Their final residence together was in Alexandria, VA.
Clyde died on Feb. 25, 1988. His remains were returned to Fayette County to rest for all time in Normalville Cemetery.
She spent her final years with her daughter Barbara in Lake Ridge, VA. She passed away on Sept. 22, 2000, in Arlington Hospital. Her remains are at rest with Clyde in Normalville Cemetery.
Stepson William P. Sidwell (1954-1987) was born on Oct. 15, 1954. He died at the age of 32 on July 23, 1987. Burial was held at Green Ridge Memorial Park north of Connellsville.
Stepdaughter Vicki A. Malloy lived in Dale City, VA.
Stepdaughter Barbara Ann Sidwell dwelled in 2000 in Lake Ridge, VA.
Copyright © 2004, 2012, 2020 Mark A. Miner