William Thomas Minor
(1887-1967)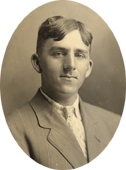 William T. Minor
William Thomas Minor was born on June 5, 1887 near Pursley Creek in the outskirts of Waynesburg, Greene County, PA, the son of Elias and Elizabeth (King) Minor. He was the second of five sons.
When Bill was a boy or teenager, his mother became ill, and a housekeeper was employed to help. About that time, he badly burned the last three fingers of his left hand. The panicked housekeeper, knowing no better, told him to curl the fingers down toward his palm, and then wrapped them in that position. The fingers locked in the curl, and remained that way permanently.
During the winters, he and his older brother Charley slept in the grain house on their farm, even in winter, and the snow blew through the cracks in the walls.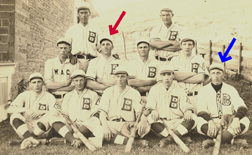 Bill (red arrow) and Ross (blue)
among Greene County teammates
Bill and his brothers Porter, Harold and Ross all loved to play baseball on local teams in the Waynesburg area. The photo seen here shows Bill and Ross posed with the same team, although they all are wearing different uniforms. The red arrow shows Bill, while the blue arrow points to Ross. See a larger version of this image, which was our "Photo of the Month" in April 2007.
When Bill was about 20, his father left the family and moved away from home, after years of disputes and hard feelings. It's said that the father was "vicious and mean, and did a lot of drinking," recalled one relative, and that Bill and Charley ran their father off at the point of a gun, or perhaps an axe.
Bill and his mother and brothers later moved to a farm house, just down the road from where he was born. Bill later lived there himself, as well as one of his married daughters.
Bill registered for the military draft during World War I, and listed his occupation as a laborer for the Carnegie Gas Company at Pursley, Greene County. On the registration card, he noted his crippled left hand.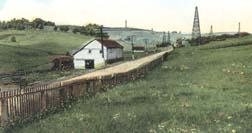 Typical oil pumping scene in Greene and
Washington Counties, early 1900s
He worked as a farmer (1912), wool dresser (1918) and oil field contractor (1920s and early '30s). He had an entrepreneurial bent, and once owned his own business, "Minor Brothers"' in partnership with his brother Charley. The work often involved specialized removal of broken drill bits from deep in oil wells and providing repairs to get the damaged machinery back into operation. They also delivered tools to job sites.
In one instance, the brothers lost a drill bit, and Bill and Charley had a lengthy discussion about it on the porch of Charley's home. Bill threw up his hands in desperation, and said, "That's it, I quit. If you want the business, it's yours. I'll sell you my half." Charley was interested in keeping the business, and replied, "I don't know where I'll find the money, or how long it'll take, but I'll pay you for it." A few days later, the bit was retrieved, cooler heads prevailed, and Bill changed his mind.
The Minor Bros. often did not get paid in cash for drilling, but instead would receive between 10 percent and 20 percent of the payouts from the sale of oil and gas produced by the wells.
Minor Bros. went out of business during the Great Depression. In 1932, they went after a big contract put out for bid by the Home Natural Gas Company. A nephew recalls that a lot of politics were involved. The brothers went in with a low bid, and got the contract, but their costs were too high, and they lost the business. Unfortunately, the brothers had to file for bankruptcy, and were officially declared bankrupt on July 9, 1932. Their bankruptcy paperwork is on file today in the Greene County Courthouse in Waynesburg, and also at the National Archives branch in Philadelphia.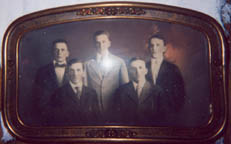 Large, color tinted and framed portrait of Bill (seated, right) and his brothers -- our "Photo of the Month" for Oct. 2003
Prior to marriage, in about 1910, Bill had a "significant other" relationship with Mary Whitehill. They had one daughter, Elizabeth "Pearl" Conaway, who was raised by the mother.
Bill was married twice. His first wife was Elizabeth Orndoff (1893-1916), whom he married Aug. 29, 1912. He was age 25, and she 19. She was the daughter of Inghram N. and Sidney (White) Orndoff. (The name also has been spelled "Orndorf.")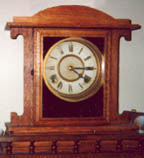 Wedding present for
Bill and Elizabeth
Seen at right is a clock, one of the first items that William and Elizabeth purchased when they were first married. It is a mantel clock with seven-day spring winding, which tolls on the hour and half-hour. The case is oak, assembled with small nails. It recently has been cleaned and oiled and runs well, and is in the home of a grandson.
The Minors had two children -- Fred Orndoff Minor and Ferne Elizabeth Shriver Higginbotham.
Tragedy rocked the young family when Elizabeth was stricken with blood poisoning while pregnant with their third child. She succumbed on Feb. 12, 1916, after only four years of marriage. She was only age 22, and left behind the two youngsters to her husband's care.
Adding to the tragedy, brother Charley's wife Bertha died of tuberculosis a little more than a month later, on March 23, 1916, leaving behind an infant son. Bill and Charley thus were both widowed before reaching the age of 30.
Bill felt he was unable to raise his son and daughter. Ferne was taken in by an uncle and aunt, Luther and Sudie (Orndoff) Cole. The Coles has been married in 1910, and were farmers who resided at nearby Pine Bank. They graciously raised Ferne until she was about 12 or 13, at which point she went back to live with her father and stepmother.

Mary Frances
Bill later married 28-year-old widow Mary Frances (Cole) Kniseley (1888-1938), the daughter of William and Josephine (Bell) Cole. They wed on July 13, 1918. Her first husband, Charles K. Knisely, had died the previous December.
Mary was a lifelong resident of Wayne Township, and was a member of the Pursley Baptist Church. She considered her husband's children as her own, and called stepdaughter Ferne "Puss." She died just a few months after this photograph was taken.
Bill and Mary had one daughter of their own, Irene Marie Glover. In addition to owning two homes near Pursley Creek, Bill also owned a farm at Kuhntown.
The topic of Bill's father was never discussed at home. If it came up in conversation, recalled Bill's daughter Ferne, "the subject got changed, or you got cut off." As well, Mary did not like Bill's mother, and no photographs of her were allowed in the house.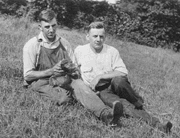 Brothers Bill (left) and Harold
In the photo seen here, Bill relaxes with brother Harold, visiting from Cleveland, OH, on the hillside farm circa 1920, and is seated at left holding a groundhog.
Mary suffered from heart disease. She began suffering from the effects of the illness in the fall of 1937, and never fully recovered. She passed away at age 49 on Feb. 25, 1938, at home, after enduring her ailment for six months.
At her funeral, held at the Ralph Scott Funeral Home, and led by Rev. Walter Linaberger Jr., the song selections were "Beautiful Garden of Prayer," "Face to Face," and "Good Night and Good Morning." Her pallbearers were Roy Stewart, stepson Fred Minor, Raymond Stewart, Earl Spragg, Allen Spragg and Albert Cole. She was survived by a sister Elizabeth J. Bell of Waynesburg and a brother George W. Cole of Brock.
In about 1949, Bill moved off the farm, and into the town of Waynesburg, where he remained the rest of his life.
Tragedy struck again in 1950, when son Fred died suddenly. Fred, a "big man," was a drilling contractor like his father. He obtained contracts wherever the work took him. In April 1950, he completed a job in Canada, and returned home to Pursley Creek. There was talk that he and his cousin Ray might pool their resources and revive Minor Bros. In sleeping one night on the family sofa, on April 11, 1950, Fred suffered a massive heart attack, and fell dead to the floor.
Bill was so shattered by his son's untimely death that he would not go to the funeral home.
Heartache struck once more in 1965, when married daughter Irene Glover passed away at age 46.
Bill outlived Mary by nearly three decades. He died at his home on Eighth Street in Waynesburg on Aug. 11, 1967, at the age of 80. He was laid to rest with his wives and mother at Rosemont Cemetery near Rogersville, Greene County. At the time of death, he had five grandchildren and seven great-grandchildren.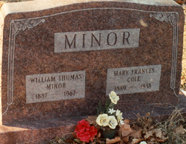 Bill's newspaper obituary and grave marker at Rogersville
~ Daughter Elizabeth "Pearl" (Whitehill) Conaway ~
Daughter Elizabeth "Pearl" Whitehill (1910-2001) was born in 1910. She was raised by her unwed mother.
She married Floyd Milton "Shavy" Conaway (1904-1961).
They resided at Brave and Spraggs. She was a member of Kents United Methodist Church in Brave, and was a part owner of Parker Texaco Service Station in Spraggs. When the federal census was taken in 1940, the family lived in Brave, where Floyd was marked as unemployed that year.
They had one son, Earl Milton Conaway.
Pearl's in-laws were mentioned a booklet entitled Nancy Minor Park Kinsfolk, compiled by the Park and Stemple families. While this group of Minors were from England, and thus not our family, Pearl was under the impression that it was our clan, and gave the booklet to a nephew. A copy today is in the Minerd-Miner-Minor Archives.
Sadly, Shavy passed away on May 14, 1961, at the age of 57. Details are not yet known. He was laid to rest in the Pine Bank Cemetery, following a funeral led by his former church pastor, Rev. Jack W. Miller.
Pearl outlived him by four decades, and passed away in Waynesburg on Oct. 3, 2001.
Grandson Earl Milton Conaway (1931-2002) was born in 1931. He married Evelyn Ruse. He was a disabled military veteran, and worked "as a crane operator and welder at Rohanna's Salvage Yard and Levine's Salvage Yard," said the Washington (PA) Observer-Reporter.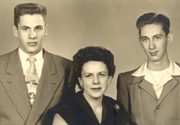 Ferne with sons Adam (left) and Bill
~ Daughter Ferne (Minor) Shriver Higginbotham~
Daughter Ferne Minor (1914-1993) was born in 1914. She was married twice.
Her first husband was Ephraim Adam Shriver Sr. (1908-1987). They resided in Greene County and had two sons -- Ephraim Adam Shriver Jr. and William R. "Bill" Shriver.
Ferne is in the photo seen here with her two sons, Adam (left) and Bill.
In 1947, after a divorce, she married Samuel Higginbotham, and they lived for many years in Adrian, MI.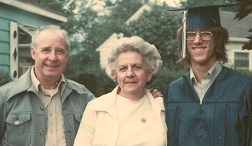 Ferne and Sam with grandson Ron Shriver
Ferne and Sam are seen here. In the late 1980s, Ferne graciously gave a telephone interview to the founder of this website, providing many important details about the family that otherwise would have been lost.
Her former husband, Ephraim Shriver, passed away in 1987 in or around Waynesburg, at the age of 79.
Ferne died in 1993, at the age of 79.
Son Ephraim Adam Shriver (1932-2004) was born on Jan. 14, 1932, likely in Waynesburg. He lived his life as a hermit. He resided by himself for many years and apparently was not social. He died in Carrollton, Carroll County, OH on Feb. 2, 2004, at age 72.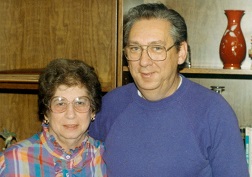 Peg and Bill Shriver
Son William R. "Bill" Shriver (1935-2015) was born on Jan. 8, 1935 in Waynesburg. He married Margaret L. Kiger ( ? -2003). They produced three children -- William "Rick" Shriver Jr., Ronald Shriver and Jeffrey Shriver. They made their home in Cortland, OH, moving there during the decade of the 1950s and remaining for more than 50 years. There, said a newspaper, he "a mechanical engineer spent his career with several companies in the steel industry. He also served on the Cortland City Council along with memberships in both the Cortland and Bazetta Christian Churches. For many years his house was a famous stop in Cortland for children during trick-or-treat night as he dressed up in various costumes that added to the Halloween spirit. He was actively involved in Cub Scouts along with coaching baseball and is remembered as a dedicated husband, father, grandfather and great-grandfather who loved to travel and socialize. He also enjoyed camping, hunting, and motorcycling." As a biking enthusiast, he acquired the nickname "Goldwinger Bill." He and Peg visited at the home of the founder of this website in December 1993. Sadly, Peg died on Jan. 3, 2003. Some years later, he attended our national family reunion in 2006 in Indian Head, PA, seeing several close cousins for the first time in decades, and meeting one he had never known. At that reunion, he displayed two prototype wooden treasure chests that he had made for his grandchildren. In 2013, Bill relocated to Raleigh, NC. He died there at the age of 80 on April 23, 2015. His remains were returned to Cortland for burial in Hillside Cemetery. At his death, he was survived by four grandchildren and five great-grandchildren.
~ Son Fred Orndoff Minor ~
Son Fred Orndoff Minor (1913-1950) was born on June 20, 1913 in Wayne Township.
He married Thelma Cox ( ? -1995). She was a descendant of a family of Samuel Minor, an early settler of Greene County of English origin, but not related to our group.
Fred also had a significant other, Jeanette Moore (1904-1980). She passed away on Aug. 19, 1980, as she approached her 76th birthday. Jeanette rests for eternity in Washington Cemetery, directly across the road from a distant cousin, Odger Miner and his wife Monalea.
Fred had two sons, William Fred Minor and Donald E. Minor. They resided at 154 South Richhill Street in Greensburg.
Following his father's occupation, Fred "worked as an oil well driller," reported the Waynesburg Democrat Messenger. "He had spent all his life in Greene County." During World War II, he gave three years in military service with the U.S. Army.

Donald E. Minor
Tragically, Fred suffered a massive heart attack on April 11, 1950, and was rushed to Greene County Memorial Hospital, where he died shortly after arrival at the age of 36. He was buried at Jefferson Memorial Park. His uncle Charles Ray Minor was so broken up over the untimely death that he could not attend the funeral, but wanted his fifth wife to go. In desperation, he asked his son Albert "Ray" Minor to escort her there. She was only two years older than her stepson, and at the funeral home, when friends asked who the attractive woman was whom Ray was escorting, he quipped "She's my mother."
In 1969, Fred and Thelma were mentioned in the Nancy Minor Park booklet, as Thelma was a descendant of the English family. She survived her husband by 45 years. She passed away in 1995.
Grandson Donald E. Minor (1935-2013) was born on Oct. 22, 1935 in Washington, PA, the son of Jeanette Moore. When he was young, his mother married William F. Richmond, who became a father to the boy. Donald married Nancy Paul on June 3, 1956. They had two children -- Barry D. Minor and Lori D. Caldwell. Donald spent 44 years as a newspaper press operator with the Washington Observer Publishing Company, from 1953 to 1997. It's said he was proud of the fact that he missed only one day of work during that entire time, including his five years of apprenticeship. He loved spending time out of doors. In 2006, he attended our national family reunion, meeting first and second cousins he had never known. He passed away on Nov. 16, 2013, at the age of 78.

Irene Glover
~ Daughter Irene (Minor) Glover ~
Daughter Irene Minor (1919-1965) was born on Feb. 24, 1919 in Wayne Township.
She married James Delbert Glover (1914-1984) on April 12, 1939. Ferne was age 20, and James 25, at the time of marriage.
They resided in her father's old home near Pursley Creek, and had one daughter, Ferne Lucille Glover.
The Glovers belonged to the Pursley Baptist Church. James worked for Tri-State Engineering Company in Washington, PA, and was a member of the Moose and Eagles lodges in Waynesburg.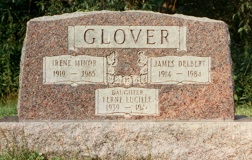 Rogersville Cemetery
Sadly, Irene died on April 14, 1965, at the age of 46. Reported a local newspaper, "She had a heart condition and was only seriously ill for the past few days." She was laid to rest in the Rogersville Cemetery, following a funeral led by Rev. Joseph Baily.
James survived his wife by 19 years.
He passed away at age 70 on June 15, 1984. He joined his wife in eternal repose in Rogersville.
Granddaughter Fern L. Glover (1940-2013) was born on May 25, 1940 in Wayne Township, Greene County. Said the Washington Observer Reporter, she "attended elementary school in Kuhntown and resided most of her life in Wayne Township. For 28 years, she made her home with the Loretta Cheek family in Wind Ridge." She died at the age of 72 on Feb. 27, 2013, in Ewing Manor Personal Care Home in Waynesburg. Burial was in Rogersville Cemetery.
Copyright © 2000, 2003, 2005-2006, 2009, 2012-2015, 2017 Mark A. Miner