My Parents and My Childhood
A Memoir of Robert and Alma (Ream) Sands
By Doris (Sands) Hawker


Alma and Robert Sands
My father, Robert A. "Cricket" Sands, was born and raised in Confluence, PA, on Sterner Street. He was the oldest of five children, three boys and two girls. His father died of sugar diabetes when he was 16 years old, leaving my grandmother with five children to raise.
Being that my father was the oldest, he had to quit school and get a job to help out. He would give most of his paycheck to his mother to help raise his brothers and sisters.
My mother, Alma Leora Ream, was the daughter of Joseph and Sadie (Harbaugh) Ream and also was born and raised in the Confluence area.
My parents met and dated a short time and were married during the Depression, January 11, 1930. They set up housekeeping in a downstairs apartment at Jones Avenue in Morgantown, WV.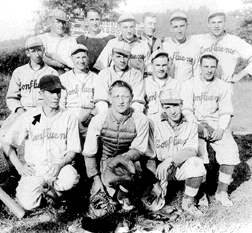 Cricket (lower left), Confluence baseball team
It was later discovered that my future husband, Jack Hawker, had later lived in the same house with his family. We were visiting my parents and looking at family pictures in an old album, when Jack recognized the house and asked my mother the address, they were the same.
My sister Virginia was born at Quataba, W.Va., which is where my parents lived later. Quataba was a small area just outside of Morgantown. They named her Virginia because they were living in West Virginia at the time. She was born February 24, 1931.
Due to the Depression of 1929, times were tough for a lot of years. As a result of the tough times my parents had to move back to Confluence. My grandfather Joseph Ream gave them a piece of property in which to build a house. My father built most of it by himself. It was a small story and a half house (seen here), and the only home I remember.
The Sands home
I was born Sept. 1, 1938. We did move to Connellsville, PA, for a short time when I was around five years old where Dad worked on the railroad. We left the house empty while in Connellsville, but returned later.
From that time on, most of Dad's jobs took him away from home, and he only returned on the weekends. My mother, sister and I stayed at home and took care of everything.
My parents had three children. There was a girl between Virginia and me, but she was miscarried. The little girl was a tubal pregnancy and was unable to be brought to term. Mother said it looked just like my Dad. My father had hoped with each pregnancy that he would get a little boy, but by the time I arrived he began to give up and made a tomboy of me.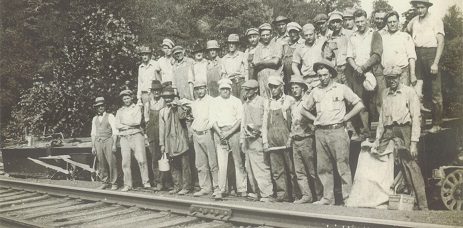 Robert (front row, holding stick) with fellow railroad laborers
Alma in later years
~ Postscript ~
Cricket (1907-1988) was born on Aug. 18, 1907 in Ohiopyle, Fayette County, the son of John and Nora (Sterner) Sands.
He earned a living over the years working as a laborer in the railroad, mining and concrete form industries. He obtained his Bituminous Miner's Certificate of Competency and Qualification at Quecreek, Somerset County on March 26, 1945. He also was a member of the Carpenters Local Union No. 2274, joining in 1946 and completing 40 years of membership.
He died on April 10, 1988, at the age of 81. Rev. John R. Wilson led the funeral service at the Sands Cemetery.
Alma passed away at the age of 90 on June 9, 1999 in the Henry Clay Villa in Markleysburg, PA.
Interment was in the Sands Cemetery, with Rev. James Thompson officiating.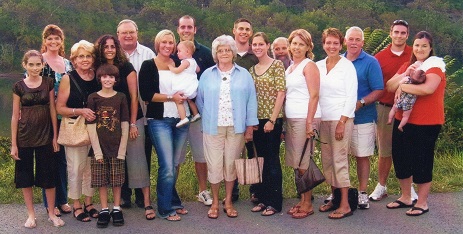 The Robert and Alma Sands family, 2009

Virginia Rederick Lemmon
~ Daughter Virginia Elaine (Sands) Rederick Lemmon ~
Daughter Virginia Elaine Sands (1931-2002) was born in on Feb. 24, 1931 in Quataba near Charleston, Kanawha County, WV. She was seven years older than her sister Doris.
In 1947, at the age of 16, she was united in marriage with a cousin, 24-year-old Ralph Ray Rederick Jr. (1923-1987), son of Ralph Ray and Susan (Porterfield) Rederick Sr. of the family of Thomas and Adaline (Shaulis) Ream Jr.
The couple produced one daughter, Mary Jane Black.

Ralph Ray Rederick
Ralph was a veteran of World War II. In October 1941, less than two months before the Japanese attack on Pearl Harbor, he was stationed in the Panama Canal Zone.
The couple produced a daughter but divorced within a year of their marriage.
On Aug. 24, 1954, she was wedded for a second time to James Martin (1932-living).
The Martins relocated to Perry, Lake County, OH in about 1957. They produced two more daughters, Teresa Brewster and Roxann Rostocil. James treated his step-daughter Mary Jane as his own, but an adoption never took place.
Their marriage lasted until the late 1970s. James later wedded Barbara and resided in Perry circa 2018.
Virginia's first husband Ralph Rederick served in the U.S. Armed Forces during the Korean War. He relocated to Madison, Lake County near where his daughter made her home. He passed away on Christmas Eve 1987 at the age of about 64. His remains were returned to Somerset County to rest in the Jersey Baptist Church Cemetery.
For a third time, Virginia married, this time to Marvin Lemmon ( ? - ? ). Their nuptials were held on Sept. 3, 1971. That marriage ended in divorce after a few months.

Mary Jane Black
Virginia made her home in Perry until her death on Nov. 10, 2002, at the age of 71. Her remains were returned to southwestern Pennsylvania to rest in the Sands Cemetery near Ohiopyle.
Daughter Mary Jane Rederick (1947-2018) was born on March 24, 1947 in Confluence, Somerset County. On July 14, 1968, when she was 21 years of age, Mary Jane was united in wedlock with 22-year-old Thomas Black (1946-living). They resided for rmany years in Madison, Lake County, OH. The couple produced two children -- Michelle Black-Couch and Bryan Black. After graduation from Perry (OH) High School, Mary studied cosmetology at Lake Erie School and made a living for 38 years as a beautician in Lake County, OH. Her life "was a living example of love and loyalty for her family," said one of her relatives. "Mary was a loving and dedicated wife, a loving and committed mom, eldest sister, aunt and loyal friend. Mary was deeply committed to her faith in Christ, a member of Bible Baptist Church where she served Christ and his community for many years, and prayer was a way of life for her. She took pride and joy in her home where she cooked up amazing meals and tended her lovely gardens. Mary enjoyed spending her time cooking, gardening, adoring her cats (Kitsu), listening to music, & was an avid reader, especially enjoying mystery novels." Sadly, having become seriously ill, she was admitted to University Hospital in Geneva, OH, where she passed into eternity at the age of 71 on May 2, 2018. Interment was in Madison Memorial Cemetery.
Granddaughter Michelle Black married Russell Couch. Their home in 2018 was in Beaver Falls, Beaver County, PA.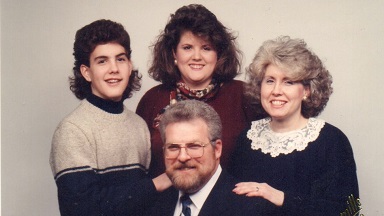 Thomas and Mary Jane Black and family
Daughter Teresa Martin married Rick Brewster. Their home in 2018 was in Perry, OH.
Daughter Roxanne Martin wedded Wayne Rostocil. In the late 2010s, they lived in Perry, OH.


Doris and Jack Hawker
~ Daughter Doris Lucille (Sands) Hawker ~
Daughter Doris Lucille Sands (1938-2023) was born on Sept. 1, 1938 near Confluence.
On June 4, 1966, at the age of 27, she married 35-year-old widower Jack Donald Hawker (May 23, 1931-2005), a native of Gladesville, WV and the son of William G. Hawker.
Jack had been married previously to waitress Marie Merle (White) Hawker (July 27, 1936-1965), daughter of Glaydon and Evelyn (Westfall) White. They produced three children whom he brought into to the union with Doris -- Michael J. Hawker, Richard Walter Hawker and Connie Darlene Gibson. Tragically, at the age of 28, Marie died just five days before Christmas 1965 from injuries sustained in an accident when her automobile went out of control on the streets of Morgantown.
Doris and Jack went on to bear one daughter of their own, Lisa Lynn Lizzie-Ann Janoske.
During the Korean War, Jack served as a fireman with the U.S. Navy.
Heartache shook this family on March 21, 1990 when son Michael died in Fairmont, Marion County, WV at the age of 36.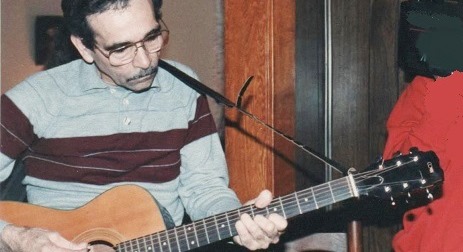 Jack Hawker practicing with his country music band -- on the acoustical guitar, harmonica and a dulcimer he built himself.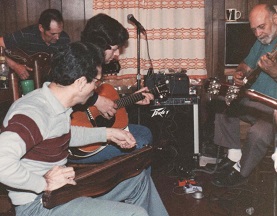 Early in life, Jack possessed a natural talent for music. It's said that he could pick up a few spoons and "get a tune from them." He never took lessons of any kind and could not read music but played everything by ear, including the harmonica, drums and bass, dulcimer and mandolin, but especially the guitar. At the age of 35, in 1966, he and some friends formed "Bob White and the Country Boys," with Jack on the rhythm guitar, which entertained at community functions and fairs and continues today with new members. Then in 1972, he joined "Frank DeWitt and the Drifters" which later regrouped as "The Royal Tones." He enjoyed mentoring his young daughter Lisa in singing and performing and incorporated her into some of their shows. When a new venue was built in 1974 at Appalachia Lake near Brandonville, The Royal Tones were the opening act for such Nashville stars as Ronnie Milsap, the Hager Brothers, Lynn Anderson, Tommy Overstreet and Doyle Holly from Buck Owen's band.
Following in the footsteps of her grandfather Joseph Ward Ream in the 1920s, Doris was elected treasurer of our national Minerd-Minard-Miner-Minor Reunion in 2001S and served through the 2019 event. She and her daughter Connie have helped with preparations and decorations on reunion day for several years. Doris has lent her creativity to our annual events with colorful quilts, table settings and plantings.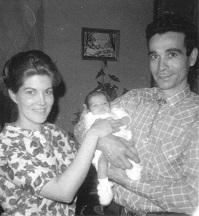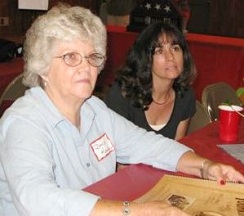 Left: Doris with Jack and baby Lisa. Right: with daughter Connie, 2009 reunion
Sadly, burdened with congestive heart failure and pneumonia, Jack passed away on Aug. 8, 2005 at the age of 74. His remains were placed into rest in Mount Calvary Cemetery in Morgantown.
Jack posthumously was voted into the West Virginia Country Music Hall of Fame and inducted on April 27, 2019. His election follows on the heels of the hall-of-fame induction of daughter Lisa in 2018. See their combined "Photo of the Month" feature.
Doris outlived Jack by nearly 18 years. Said an obituary, she:
...was a wonderful seamstress, cook, aunt, mother, grandmother, great grandmama and friend. She loved to sew, quilt, crochet and craft her whole life and create beautiful treasures for her friends and family along with many donations that she created during her lifetime. She enjoyed participating in rendezvous with her husband, Jack. She was involved in many clubs and organizations such as Girl Scouts, Red Hats, Quilt Club, Extension Homemakers, Daughters of the American Revolution, Minerd Family History, and a member of the WV Country Music Hall of Fame & Museum, home of the Sagebrush Round-Up Music Show in Fairmont, WV just to name a few. She loved going to music shows and listening to her husband, Jack, daughter, Lisa and son-in-law Bill over the course of her lifetime.
Grief blanketed the family when she developed stomach cancer and surrendered to the angel of death at the age of 84 on June 29, 2023.
Stepson Michael J. Hawker (1954-1990) was born on Nov. 15, 1954 in Morgantown. He was 11 years old at his mother's death. He passed away at the age of 36 in Fairmont, Marion County, WV on March 21, 1990. Burial was next to his mother in Mount Calvary Cemetery in Morgantown.
Stepson Richard Walter Hawker (1956- ? ) was born in 1956. He has made his residence in Morgantown.
Stepdaughter Connie Hawker (1957-living) was born in 1957. On Sept. 25, 1976, at the age of 19, she was united in matrimony with Larry Dale Gibson (1954- ? ). They produced a family of children, among them Rachael Gibson, Erin Coleman, Megan Wilson and Michael Gibson. The Gibsons have lived in West Virginia and Manassas. Connie graciously has assisted her mother at our national family reunions over the years.
Step-granddaughter Rachael Gibson lives in Franklin Farms, VA.
Step-granddaughter Erin Gibson entered into marriage with Cyrus Coleman. They dwell in Manassas.
Step-granddaughter Megan Gibson wed J.T. Wilson. They have lived in Manassas and Bealeton, VA.
Step-grandson Michael Gibson is the father of Mazie-Grace. He resides in Manassas.
Daughter Lisa Lynn Lizzie-Ann Hawker (1967-living) was born in 1967. She is a member of the West Virginia Country Music Hall of Fame in Fairmont, WV. She started singing at the age of three and has been going strong for four decades. Her early teachers were known to say, "Give her a stage, and she'll perform on it." On Aug. 24, 1991, she wed William Edwin "Bill" Janoske (1952-living). The nuptials were held in Morgantown. William brought a stepson to the union, Michael Gibson. The pair has resided in Oakland, Garrett County, MD and borne two children of their own, Jena Janoske and Jack Janoske. In October 2009, Lisa and Jena Janoske joined 155 other participants in a performance of Michael Jackson's Thriller dance as a fundraiser for House of Hope in Garrett County, MD. In the process, they not only raised more than $30,000 but also coordinated their dance with 300 cities in 32 countries around the world to establish a record in the Guinness Book of World Records.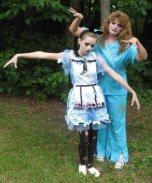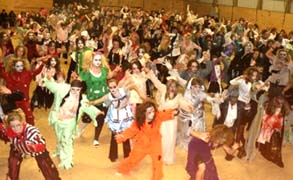 Lisa (Hawker) Janoske and daughter Jena take part in worldwide Thriller dance at Halloween 2009 to set a record in the Guinness Book of World Records. Below, Lisa and her bass gracing the stage.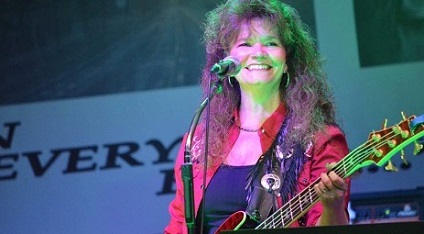 Lisa made her first stage appearance at seven with her father's band, The Royal Tones, at the Westover Fair near Morgantown. Even at a young age, she performed at Applachia Lake in Bruceton Mills with Nashville stars such as the Hagar Twins from Hee Haw, Doyle Holly, the Statler Brothers, Ronnie Milsap, Tanya Tucker, Herb Humphrey and Lynn Anderson. In addition to her father, she counts her mentors and teachers over the years as Jack "Tiny" Waycaster, Don Corbin, Bob "Tootie" White, and Dick and Kelly Choma. She also has been a leader in the music business as the youngest member to hold office on the board of directors of the American Federation of Musicians Union in Morgantown. In 2009, Lisa and her daughter Jena joined 155 others in a performance of Michael Jackson's Thriller dance to benefit House of Hope in Garrett County, MD. In the process, they not only raised more than $30,000 but coordinated their dance with 300 cities in 32 countries to establish a record in the Guinness Book of World Records. Today Lisa performs for Brenda's Body Shop dance company in Garrett County, MD and with her husband Bill is a member of the house band at Sagebrush Round-Up, a music hall in Bunner Ridge near Fairmont, WV which also houses the hall of fame. She has produced her own show, Honor Thy Legends, paying tribute to George Jones and Tammy Wynette. She is employed as a guidance secretary with the Garrett County Board of Education, is a Sunday School teacher and youth leader and enjoys using her music and dance to raise money for charity.
Step-grandson Will Janoske wed Mary Kay. They reside near their parents in Oakland and have two children, Jordon and Hayley.
Granddaughter Jena Jonoske is an alumna of California University of Pennsylvania. Jena is the mother of Bentley and Aiden. In her career, she is a licensed therapist working with autistic children.
Grandson Jack Janoske married Katelynn. Two children in this family are Remijo and Ivalynn. Their home is in Oakland.
~ More ~
Click to read a memoir of Alma Sands' parents, Joseph and Sadie (Harbaugh) Ream. Click to read Doris Hawker's special memoir about "Unusual Experiences in Life." Click to visit her website featuring homemade quilts. Click to visit the website of her daughter and son in law, Lisa and Bill Janoske, country musicians performing in Maryland and West Virginia.
Copyright © 1999, 2016, 2018-2019, 2023 Doris (Sands) Hawker and Mark A. Miner