James Dumphry Crosby
(1897-1951)
James Dumphry Crosby was born on June 10, 1897 near Mt. Pleasant, Westmoreland County, PA, the daughter of Lewis and Marietta (Minerd) Crosby.
James married Bertha Gray (1894-1969). They resided in Bridgeport near Mt. Pleasant, PA. Their eight children were James Lewis Crosby, Ruth Szczekoski, Bertha C. Wall, Lucinda Kelty, Betty Garsteck, Clare Eugene Crosby, Joann St. John and Leah Connors-Snyder.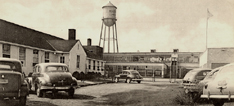 James worked at the Youngwood plant of the Robertshaw-Fulton Controls Company. The Robertshaw plant in Youngwood is seen at left in a rare old postcard photograph.
He also was a member of the Homestead Volunteer Fire Department and many social fraternities.
Later, the Crosbys resided on West Main Street in Mt. Pleasant.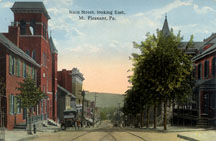 A rare old photographic postcard of Mt. Pleasant's Main Street is seen here, looking east.
At the age of 53, on Feb. 5, 1951, James died in the Frick Memorial Hospital in Mt. Pleasant. The cause of death is not known.
Bertha outlived him by 18 years. She passed away in 1969 in Westmoreland County. She is buried with her husband at St. John's Union Cemetery.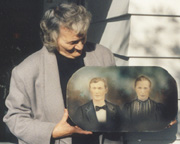 Seen at left circa 1991, daughter Ruth proudly holds the color-tinted wedding portrait of her grandfather and grandmother Crosby, which was a treasured heirloom.
Son Clare resided in Alaska for more than half a century, moving there on a military assignment in 1948. After an honorable discharge, he worked as an airline mechanic and later in the gold mining and geology fields, laboring for the Union Oil Company.
Copyright © 2001-2006 Mark A. Miner