Fannie Mabel Culp
(1874-1901)
Fannie Mabel Culp was born on July 27, 1874 in Tarlton, Pickaway County, OH, the daughter of Charles W. and Matilda (Miner) Culp.
As a young lady, she and her parents and siblings moved to Lancaster, Fairfield County, OH.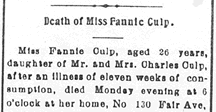 Fannie never married, and was a permanent resident of her parents' home at 130 Fair Avenue in Lancaster.
As with 2 of her sisters, Fannie suffered from a deadly case of "consumption," an old-fashioned term for tuberculosis.. In the spring of 1901, Fannie suffered for 11 weeks with the illness, and on May 13 of that year, at age 26, she passed away.
The Lancaster Eagle carried Fannie's obituary, seen here. She was buried at Forest Rose Cemetery in Lancaster.
Copyright Ó 2000, 2002 Mark A. Miner