Home

Matilda (Miner) Culp
(1835-1922)
Matilda and grandson Charles "Dutch" Culp

Matilda (Miner) Culp was born on either Feb. 8 or March 12, 1835 in Kingston, Pickaway County, OH, the daughter of John and Lucretia (Morris) Minor.
On Nov. 15, 1855, at the National Hotel in Circleville, Pickaway County, Matilda married farmer Charles William Culp (1833-1913). He was born on July 7, 1833 in Salt Creek Township, Pickaway County, the son of Peter and Susanna (Braucher) Culp Jr. She was age 20 and he 22 at the time of their nuptials.
The Culps produced 11 children -- Cephas Nelson Culp, Diantha Adaline Culp, Jennie Victoria Culp, Lucretia Ann Culp, Laura Ella Goulding, Lewis Mortimer Culp, Minnie Belle Bowers, Mary Blanche Missouri Culp, Mintia Clona "Minchie" Culp, Fannie Mabel Culp and an unnamed infant son.
Of the 11 children, Matilda outlived seven.
Both sons married and had families of their own, but only two of the daughters married.
Infant daughter Diantha died in November 1858 and is buried at the Stump Cemetery in Salt Creek Township, Pickaway County. It's possible that infant daughter Lucretia, who died in July 1863, and an infant son, who died in March 1869, are buried there also, but none of the graves is marked.
In 1870 and 1880, Charles and Matilda lived south of Tarlton, Pickaway County. The 1871 Atlas of Pickaway County shows the exact location of their farm near the Stringtown post office.

Above: bird's eye view of Circleville, 1836. Note the Ohio Canal at far right. Below: Lancaster's Main Street, 1886
Lancaster Eagle, 1922

Later, the Culps moved to Lancaster, Fairfield County, where they resided for many years, including for long time at 130 Fair Avenue. While in Lancaster, Charles earned a living as a railroad laborer.

In about 1905, married daughter Ella Goulding died, leaving a widower and two young girls. The Gouldings moved in with the Culps, and were together under one roof in 1910 when the federal census was taken.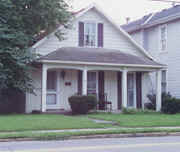 Lancaster Eagle, 1922

Just a few years later, Charles passed away, on Nov. 28, 1913, caused by "paralysis and infirmities of old age." In a eulogy, the Lancaster Daily Eagle called him "venerable."

In her later years, Matilda resided at 115 Arnold Avenue in Lancaster's Ward 1, making her home with her widowed son in law John Goulding and unmarried daughter Jennie Culp.

She outlived her husband by nine years, and during that time suffered from senility. After suffering a cerebral hemorrhage, she was swept away by the Grim Reaper on July 31, 1922, at the age of 87. She was buried at Forest Rose Cemetery in Lancaster. Daughter Jennie signed the official Ohio certificate of death, but erroneously gave the name of her father as "Adam" rather than "Charles William."

Today, the graves of Matilda and Charles, along with daughters Mintia, Blanche, Fannie, Jennie and Minnie, are marked with a single large monument.

Seven Culps buried together in Lancaster's Forest Rose Cemetery, and memorialized on one stone.
Copyright © 2000, 2003, 2005, 2009, 2016, 2022 Mark A. Miner
Sketches of Circleville and Lancaster from Historical Collections of Ohio (1888) by Henry Howe.