Home

Mary "Blanche" Culp
(1871-1897)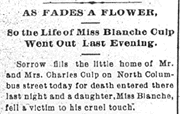 Mary "Blanche" Missouri Culp was born on May 16, 1871, in Tarlton, Pickaway County, OH, the daughter of Charles W. and Matilda (Miner) Culp.
She never married, but made such a mark on her many friends that when she died at age 26, the Lancaster Daily Eagle ran the headline, "As Fades a Flower, So the Life of Miss Blanche Culp Went Out Last Evening."
Blanche was employed by the A. Getz Shoe Factory in Lancaster for about 5 years.
As did two of her sisters, Blanche suffered from a deadly case of tuberculosis. Sadly, she died from the effects of the disease on Nov. 15, 1897. The newspaper obituary reads:
Sorrow fills the little home of Mr. and Mrs. Charles Culp on North Columbus street today for death entered there last night and a daughter, Miss Blanche, fell a victim to his cruel touch.
The death of Miss Culp was not unexpected, as the unequal siege which she had fought, against consumption since last July had been telling gradually on her constitution, and to the family and friends about her the end was not a surprise when at 9:05 last evening she folded her arms on her bosom, and as a star loses its luster in the grey dawn of the new day, so her life vanished into a brighter and nobler existence in that mysterious beyond.
Miss Culp was about 26 years of age and enjoyed a large circle of friends and associates, who sadly deplore her early death. She ... only last July was compelled to give up her [employment] to battle with disease.
The remains will in probability be taken to Amanda, the old home of the family, and interred in the Amanda cemetery, where their other dead are buried.
Unlike what was reported in the newspaper, Blanche was buried in the family plot at Forest Rose Cemetery, Lancaster, OH.
Copyright © 2000, 2002 Mark A. Miner