Lewis Mortimer Culp
(1866-1953)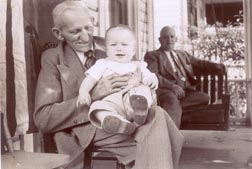 Lewis with great-grandson David V. Culp

Lewis Mortimer Culp was born on March 26, 1866 in Tarlton, Pickaway County, OH, the son of Charles W. and Matilda (Miner) Culp. He was one of the first men in eastern Ohio to operate electric coal cutting technology.
On March 22, 1890, at the age of 24, Lewis married 25-year-old Altoonis Gracie Jennie Dunn (1865-1938), the daughter of William and Grace (Crooks) Dunn. Her nickname was "Tune."
They went on to produce a family of three children -- Vere Dunn Culp, Charles William "Dutch" Culp and Mignon Louise Fisher.
In 1900, when the federal census was taken, Lewis and Tune lived on Main Street in the village of Roseville, Clay Township, Muskingum County, OH. The census taker recorded that Lewis was employed as a section foreman for the railroad, meaning he helped maintain sections of track along the line. Living next door were Tune's parents, both in their early 70s, with Tune's father William still working as a collections agent.
The Culps were members of the Tarlton Presbyterian Church and later joined the Roseville Methodist Episcopal Church after moving there.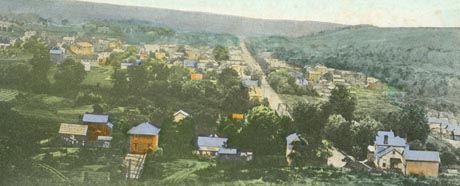 Town of Roseville seen in an old postcard from around the turn of the century
When the census of Roseville again was taken in 1910, Lewis had switched occupations, and secured work as a coal miner in the region's booming fields.
According to a memoir by grandson Robert L. Culp, Lewis was:
…a coal miner, railroad switch man, tinsmith, plumber and roofer. His house on Main Street in Roseville was one of the first to have an inside bathroom. It was seldom used, as both he and Tune preferred the "outhouse." He was the first man in eastern Ohio to be trained to use the electric coal mine digging equipment. He worked in several of the mines around Roseville. He later quit mining because he felt that the electric equipment was unfair and took work from miners. He also became fearful when striking miners set fire to a number of mines. At one time he was a partner of Ernest Duval in the plumbing and roofing business. He sold out to Duval about 1920, but continued to work for him.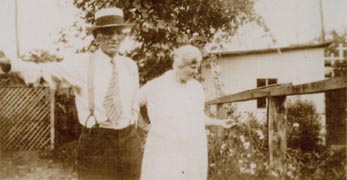 Lewis with Tune, admiring her flowers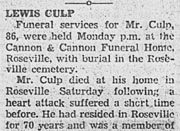 Obituary, 1943

The 1920 census shows Lewis using his railroad skills as a track layer in local coal mines in and around Roseville. He changed jobs again during the decade of the 1920s, and in 1930 was employed as a "tinner & plumber" in a local tin shop.

After suffering for about five months with stomach cancer, Tune passed away in Roseville at the age of 73 on June 9, 1938. She was laid to rest in the Roseville Cemetery, with Rev. R.E. Anthony conducting her funeral. The Zanesville Times-Recorder said she was a "well known life-long resident of Roseville" and that her parents had been "pioneer residents of Roseville."

Lewis outlived his wife by 15 years. He continued his work as a plumber until 1943, when he retired.

Lewis died at age 86 on Feb. 12, 1953, and is buried in Roseville Cemetery. In an obituary, the Perry County Tribune said that Lewis had resided in Roseville for 70 years.



~ Son Vere Dunn "Tony" Culp ~

Son Vere Dunn "Tony" Culp (1892-1978) was born on Sept. 23, 1891 in Roseville, Muskingum County.

As a young man, Vere was of medium height and stout build, and had blue eyes and brown hair. When registering for the military draft during World War I, he listed his occupation as a stenographer for the Columbus Railway Power & Light Company in its Rose Avenue Shop in Columbus, Franklin County, OH. That year, he was single, and resided with his married brother and sister in law, Charles W. and Daisy (Lowry) Culp. He later served in the U.S. military during the war.
Obituary, 1978

After returning home from the military, he lodged with Rollie A. and Louise M. Smith in Columbus, and continued working as a stenographer for the power and light company. In all, he was employed by the Columbus Transit System for more than four decades, retiring in 1959.

On Feb. 9, 1920, Vere married Margaret Louise Smith (1897-1988), the daughter of William James Baldwin and (Louise (Weis) Schmitt. They went on to have two sons -- Robert L. Cullp and David Vere Culp.

A decade after marriage, in 1920, the Culps maintained a home on Gault Street in Columbus, with Vere working in the office of the railway power and light company.

Vere passed away on Aug. 6, 1978 in Fairfield Care Center in Rushville, OH. He was laid to rest in the old Roseville Cemetery.

Margaret outlived her husband by a decade. She died on July 31, 1998 while at the home of her son David in Albuquerque, NM. Her remains were returned to Ohio for burial with her husband.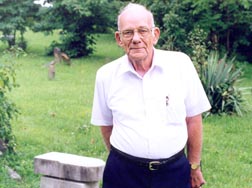 Robert Lewis Culp, 1997

Son Robert Lewis Culp (1923- ? ) was born in 1923. He married Lois Joan Berry (1923-1992). They had two children -- David Berry Culp and Mary Joan Meryweather. He was a longtime educator who taught for 30 years in Wapakoneta, OH and Monrovia, CA. While in Monrovia, he worked with a distant cousin in the school district -- Orlan Lloyd Miner. Lois passed away at home in Mission Viejo, CA on Aug. 6, 1992, with burial in Pacific View Cemetery, Newport Beach, CA. Circa 1997, he met with the founder of this website and cousin-research Eugene Podraza for a tour of family homeplaces in Muskingum and Perry Counties. Then in 2000, Bob attended the national Minerd-Miner-Minor Reunion, and received the award for the furthest-traveled cousin. His research has helped us understand this branch tremendously, and we seek to honor his memory with this webpage. He is seen here, standing at the grave of his great-great grandfather, Frederick Miner Sr., at Hopewell Cemetery near Somerset, Perry County, OH.

Son David Vere Culp (1928-2002) was born on Aug. 21, 1928 in Columbus. He and his wife Tenny Burlyn Churchwell ( ? - ? ) were married in Folkstone, GA and had three children -- Karen Workman, David Vere Culp II and Allen Culp. He spent his career in the Navy and in civil service, and moved the family to Albuquerque, NM in about 1961. Tenny was a county clerk in Albuquerque, NM. said the Albuquerque Journal, "David loved flying, traveling, and talking with people." He was a master of the Hiram Lodge of the Masons and the Ballut Abyard Shrine, as well as St. Timothy's Lutheran Church. Suffering from cancer, David died on May 24, 2002, in Albuquerque.
Granddaughter Karen Culp ( ? - ? ) wed (?) Workman
Grandson David Vere Culp II ( ? - ? )
Grandson Allen Culp ( ? - ? )

Charles W. Culp

~ Son Charles William Culp ~
Son Charles William ("C.W." or "Dutch") Culp (1893-1939) was born on Nov. 4, 1893 in Roseville, Muskingum County. As an adult, he was of medium height and build, with grey eyes and dark brown hair.
Charles married Daisy Charlotte Lowry (1893-1947) on May 30, 1914 in Newport, KY. She was the daughter of Curtis W. and Elizabeth (Stoneburner) Lowry, said to have been "pioneer pottery manufacturers of Roseville community." Daisy's father owned the C.W. Lowry Pottery in Roseville, the last pottery in eastern Ohio to make old-style cookware, and was a member of the Muskingum County board of deputy supervisors of elections.
Daisy thus would have grown up in a family where the closely-held pottery meant not only an income but a legacy for her future. It had been founded by Lyman Lowry in 1882 (relationship unknown). Said the Zanesville Signal Item, "He had two plants and turned out 3,000 pieces a day. This was known as asbestos fire clay cooking ware, made of a refined clay and crushed asbestos. Everything needed for roasting, boiling and baking was made."
Trained for a future in business, Charles secured employment during the 1910s as a stenographer for a railroad in the state capitol of Columbus, Franklin County. When he registered for the military draft during World War I, he stated his address as 107 West Northwood in Columbus, and that his employer was the Public Utility Commission of the State of Ohio. At the time, he noted he had a "wife and baby" depending upon him for support. His brother Vere apparently resided in their home that year.
When the federal census was taken in 1920, Charles and Daisy continued to make their home in Columbus, but had moved to a new dwelling on Blake Avenue.
By 1930, Charles had switched jobs, and accepted a position as a bus inspector in Cincinnati for a bus company. He and Daisy relocated to the Queen City, making their residence on Dana Avenue at the time of the federal census of 1930. During their years in Cincinnati, the Culps often returned to Roseville for visits with Daisy's family.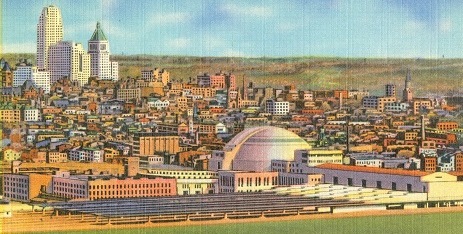 Cincinnati skyline, with the Union Terminal in the foreground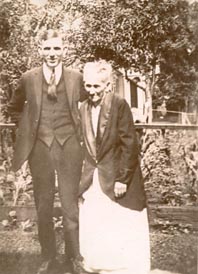 Charles and his grandmother Matilda Miner Culp

In 1934, Charles and Daisy apparently had made the decision to move back to Roseville. They He was active in Republican political work in Muskingum County and was elected president of the Roseville Republican Club. He was elected deputy grand chancellor of the Knights of Pythias Lodge, while Daisy was elected district deputy of the Pythian Sisters. It's likely that plans were being made for Charles and Daisy to inherit and run the family pottery at some future, unknown date.

Fate intervened during the summer of 1935, while the nation was still in the iron grasp of the Great Depression. On Aug. 19, 1935, Charles and his father in law Curtis W. Lowry went to the Lowry pottery. While walking back home, Lowry suffered a massive heart attack and dropped dead. The tragic loss left the pottery without leadership, and Charles was placed into the ownership and presidency of the company.

The brand name of Lowry products was "Star" (as inscribed in the center of the bottom) with the words "Fire Clay - Acid Proof" (around the edge). There was another Star pottery in Crooksville but there was no family connection.

Continuing his work with the Knights of Pythias, Charles became deputy grand chancellor at large of the local lodge. In May 1938, he helped organize a joint district meeting in Castle hall that was expected to draw 500 members, said the Zanesville Signal, attesting to the popularity of such lodges during the Great Depression. He also was a member of the Dramatic Order Knights of Khorassan (DOKK), an affiliate of the Pythians.

Obituary, 1939

Tragedy struck in late December 1939 when Charles, age 46, was driving on Main Street in Roseville. His vehicle was struck by a truck, he was thrown from the car and dragged for about 50 feet. In critical condition, he tried to recuperate at home, but was admitted to Bethesda Hospital in Zanesville. He died six days after the accident, on Dec. 29, 1939. He was laid to rest in Rose Hill Cemetery in Roseville.

Because they had purchased an all risk, all coverage insurance policy covering injured subscribers of the Zanesville newspaper, Daisy received a check for $1,000 within three weeks of her husband's death. The canceled check was published in the Signal on Jan. 20, 1940 in an advertisement about the value of the policy for all Times Recorder and Signal readers.

Daisy thus was thrust into the sole ownership of the family pottery. At some point her son in law Odin "Odie" Kildow worked for the firm and made molds for the pottery.

She outlived her husband by a dozen years and remained active, including in civic leadership in Muskingum County. In late August 1941, not quite two years since she had been widowed, she and a friend Mrs. Robert Moore embarked on a driving vacation to New England and back, returning in early September.

Among her community activities was serving as president of the Women's Society of Christian Service (WSCS) of the Roseville Methodist Church. The work included organizing annual bazaars at the church to raise funds. She also was active in the Business and Professional Women's Club and the Progress Club of Roseville.

In January 1945, Daisy was appointed to an advisory committee of the newly formed Roseville Flood Control Association to help organize "a campaign to raise $10,000 as the town's share of a half-million dollar postwar flood control project which already has the approval of U.S. engineers," reported the Zanesville Signal. "The project will include the straightening and widening of Moxahala creek for a distance of more than a mile through the town; also the construction of a levee on each side of the stream which overflows periodically with considerable flood damage to the Roseville business district."

Ill fate once again struck Daisy's world in early December 1945. With the pottery still in operation, and employing about 30 workers, fire swept through and destroyed the old pottery building on Dec. 9, 1945, with "twisted pipe and brick walls ... all that remained," reported a front page story in the Zanesville Signal. "A new addition to the plant, which was under construction, together with new machinery installed recently, was destroyed as well as all stock stored in the plant warehouse." The loss was estimated at a staggering $25,000, though Daisy told news reporters that it was all covered by insurance.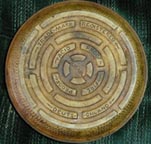 Detail from a Lowry Pottery pie plate, date unknown
The fire effectively put the Lowry Pottery out of business after some 82 years of operation. To rebuild would have been a monumental feat in itself, had not mounting debts been overwhelming. Daisy was sued by the Ferro Enamel Corporation of Cleveland in January 1947 for failure to pay nearly $1,700 in debt of materials the pottery had purchased.
Several examples of the Lowry stoneware later were donated to the Ohio Ceramic Center in Crooksville, OH.
Overwhelmed with life's twisted circumstances, and suffering from a hip injury, Daisy passed away at the age of 53 on March 24, 1947. She joined Charles in eternal rest in Rose Hill Cemetery.
Daughter Helen Culp (1915- ? ) was born on March 1, 1915. She married Odin R. Kildow (1912-1969), a Roseville native and the son of Blaine and Jennie (Rhodes) Kildow. The couple was wed on Nov. 2, 1941, in a small ceremony attended by Helen's grandfather Lewis Culp, mother Daisy, and Odin's parents. At the time of marriage, Helen was a third grade teacher in the Roseville elementary school, having received her higher education at Wittenberg College and Ohio University. They had two children, Eric Kildow and Kristine Miller. Odin served with the U.S. Marine Corps during World War II. Continuing the Culp family tradition of community leadership, Helen was an organizer of the Circle of the Women's Society of Christian Service at the St. Paul Methodist Church in Roseville, while Odin was a master of the Masons, commander of the Roseville American Legion and Roseville town councilman. After working at the family pottery, Odie worked as a "diemaker for Nelson McCoy Pottery for several years," said the Times Recorder, and "established his own block and die shop in Roseville." Odin suffered from heart disease and died at the age of 56 on June 29, 1969. As a widow, Helen followed her mother's example by remaining closely knit to community affairs. In October 1973, she announced her candidacy as a write-in candidate for Roseville Village Council, "believed to be the first woman to seek the office," said the Times. "She has been endorsed by Roseville Area Republican Women's Club." Circa 1977, she served as park and swimming pool manager in Roseville.
Granddaughter Kristine Kildow ( ? -1973) married Robert Patrick "Pat" Miller in December 1965 at St. Paul's Methodist Church in Roseville. At the time, she was about to graduate from Ohio State University and was president of Alpha Gamma Delta Sorority on campus. Pat, having completed service in the U.S. Air Force, was employed as a printer for American Match Company. They had one daughter, Mary Patricia Miller. Kristine worked as library coordinator for the Maysville School District and was the choir organist at the Roseville United Methodist Church in Roseville. The family received another shocking blow on Jan. 31, 1973, when the 28-year-old Kristine died in Good Samaritan Medical Center. She was laid to rest in Rose Hill Cemetery, following a funeral led by Rev. Lowell Sharrock.
Grandson Eric G. Kildow married Judith Ann Long, daughter of Donald E. Long, in March 1973. A graduate of Ohio University's Zanesville campus, Eric was employed at Robinson-Ransbottom Pottery, while Judith worked as a librarian at Newton School. They had at least two daughters, Erika Kildow and Kristen Kildow. In February 1974, he was pictured and profiled in the Zanesville Times after he was named as a special receiver for the Muskingum County Welfare Department. In that role, said the article, he "will assist in criminal investigations of welfare fraud and absent fathers... [and] will assist in the investigation and probes of food stamp and aid to dependent children abuses."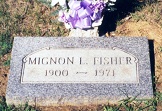 Maplewood Cemetery

~ Daughter Mignon (Culp) Fisher ~
Daughter Mignon Culp (1900-1971) was born on March 28, 1900 in Roseville, Muskingum County.
She resided at home as a young adult and in 1920 attended college.
In about 1927, at the age of 27, Mignon married Eugene L. "Gene" Fisher ( ? -1960), the son of Frank and Alice (Rarick) Fisher.
They bore two children, Rodney Eugene Fisher, born in 1928, and Merilyn Louise Noll, born in 1933.
Obituary, 1960

When the federal census was taken in 1930, the Fishers lived on Summit Avenue in New Lexington, Perry County. Gene was employed that year as a salesman in a local grocery store.

Circa 1938, they were still in New Lexington, Perry County, OH. Mignon "was a member of the Holy Trinity Lutheran church of New Lexington, and a charter member of the Advance Club," said the Perry County Tribune. Gene worked from 1953 to 1960 for the Perry County Highway Department.

Gene died at home of a heart attack at the age of 58 in April 1960.

Obituary, 1971

Mignon survived her husband by 11 years.

She passed away on Sept. 11, 1971 in New Lexington, at the age of 71. She rests in Maplewood Cemetery, also known as New Lexington Cemetery. At the time of her death, she was survived by 14 grandchildren.

Son Rodney Eugene Fisher (1928- ? ) was born in 1928.

Daughter Merilyn Louise Fisher (1933- ? ) was born in 1933. She wed (?) Noll ( ? - ? ).

Copyright © 2000, 2002, 2008, 2011-2012, 2022 Mark A. Miner