Cephas Nelson Culp
(1856-1938)
Cephas Nelson Culp was born on Oct. 13, 1856 near Tarlton, Pickaway County, OH, the son of Charles and Matilda (Miner) Culp. Cephas and his parents may also have had Maryland connections, as one of his daughters claimed he was born there.
On March 29, 1888, Cephas married Susan Baker (1862-1928), daughter of Phillip and Mary Ann (Smith) Baker. Susan was born on July 21, 1862 in Hagerstown, MD, and moved to Springfield, OH as a girl.
Their children were Ethel B. Culp, J. Miner Culp, Paul M. Culp, Marie Belle Culp, William V. Culp and Susan Culp.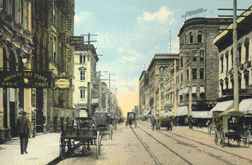 Cephas was a bookkeeper, and found a position in Springfield, Clark County, OH. A view of Springfield's Main Street is seen here in a rare old postcard image.
Relatives said Cephas and his brother Lewis looked enough alike to be twins.
The Springfield Daily News said that Susan's "extensive interests and work in club circles made her well known in Springfield and she had numerous friends…. [She] was for years an active member of the Union Mite Society and also of the Good Cheer Club. She had been a member of the Second Lutheran Church since the year of its organization."
Susan died at age 65 of chronic hepatitis on April 21, 1928, and is buried at Ferncliff Cemetery in Springfield.
Cephas outlived his wife by a decade. He passed away on Feb. 12, 1938, at the age of 82.
~ Son J. Miner Culp ~
Son J. Miner Culp (1892- ? ) married later in life. At the age of 19, in 1910, while living with his parents in Springfield, Miner made a living as a traveling salesman of wholesale dry goods. He also resided in a Chicago rooming house that year in connection with his employment, and actually is enumerated on the 1910 U.S. census in both locations.
He moved to Louisville, Jefferson County, KY, sometime during the decade of the 1910s. The federal census of 1920 shows him as an automobile salesman in Louisville, and living in a rooming house on Fourth Street.
In 1926, at the age of 34, he married Lillian (?) (1902- ? ), a Kentucky native who was a decade younger than he.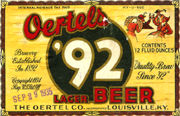 The 1930 census shows them making their home on Trevillian Avenue in Louisville, with Miner employed as vice president of a motor company. For reasons not yet clear, he later became president of the Oertel Brewing Co., a venerable Louisville landmark founded in 1892. Circa 1951, Miner is known to have dealt with issues over labor disputes and picketing at the brewery involving the American Federation of Labor (AFL) craft union and a carpenter's union. The dispute eventually was heard by the National Labor Relations Board (NLRB). (See Decisions and Orders of the National Labor Relations Board, Vol. 93, 1951.) Oertel was sold to Brown-Forman Distillers Corporation, and closed in 1967, after Miner's retirement. A rare old Oertel Beer label, dated 1937, is seen here.
~ Daughter Ethel ( Culp) Worley ~
Daughter Ethel Culp (1890- ? ) married Robert C. Worley (1889- ? ). They resided Springfield.
They had at least three daughters, Suzanne Worley, Jane Worley and Nancy Worley.
The 1930 federal census shows the Worleys making their residence in Springfield, where Robert worked as employment manager for an automobile accessory manufacturer. Living temporarily under their roof that year were Ethel's married sister Marie Lowry and her children Nancy Lowry and Louise Lowry.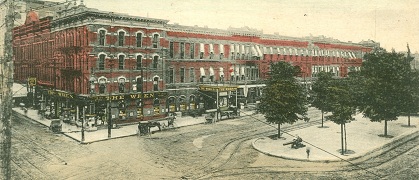 Fountain Square in Springfield, Ohio, early 1900s
~ Daughter Marie Belle (Culp) Lowry ~
Daughter Marie Belle Culp (1894- ? ) married H.C. Lowry ( ? - ? ), who is believed to have been a career Navy officer.
In 1928 the Lowrys lived in San Diego, CA. They had two daughters, both born in California in the late 1920s -- Nancy A. Lowry and Louise Lowry.
The 1930 federal census shows Marie and daughters Nancy and Louise making their home in Springfield with Marie's married sister and brother in law, Ethel and Robert Worley. By 1934, the Lowrys had moved to Pagopago, American Samoa.
~ Son Paul McK. Culp ~
Son Paul McK. Culp (1896- ? ) lived in Columbus, Franklin County, OH.
~ Son William V. Culp ~
Son William V. Culp (1903-1934) was born in 1903.
He moved to Detroit where, in March 1934, he died at age 31.
Copyright © 2000, 2002, 2005, 2009 Mark A. Miner