Jennie Victoria Culp
(1861-1949)
Jennie Victoria Culp was born on May 29, 1861 in Tarlton, Pickaway County, OH, the daughter of Charles W. and Matilda (Miner) Culp.
As a young girl, Jennie and her parents moved to Lancaster, Fairfield County, OH.
Jennie was never married, but was popularly known as "Aunt Jennie" in Lancaster. She worked for a shoe business "and was employed for many years as seamstress in the altering department of The Hickle Co. in Lancaster," a ladies' clothing store, said a newspaper. She was a member of the First Presbyterian Church.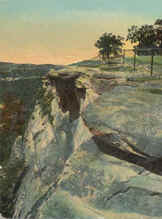 Seen at right is an old postcard view of the "Summit of Mt. Pleasant," a scenic and popular tourist spot in the Lancaster area with which she would have been very familiar. Circa 1920, she made her home with her widowed mother, widowed brother in law John Goulding and John's unmarried daughter Laura.
In her later years, Jennie resided in Lancaster with her niece and nephew, Mr. and Mrs. George Tobin. In about 1946, she retired and moved to Roseville, Perry County, OH to live with her brother, Lewis Mortimer Culp.
On Jan. 17, 1949, after an illness lasting three weeks, the 87-year-old Jennie died of heart disease at her brother's home in Roseville. She was buried in the family plot at Forest Rose Cemetery in Lancaster.
In Jennie's obituary, the Lancaster Eagle Gazette acknowledged her parents as "pioneer Pickaway Co. residents…"
Copyright © 2000, 2002, 2008 Mark A. Miner