Minnie (Culp) Bowers
(1868-1950)
Minnie Belle (Culp) Bowers was born on Nov. 1, 1868 in Tarlton, Pickaway County, OH, the daughter of Charles W. and Matilda (Miner) Culp.
As a young lady, Minnie and her parents and siblings moved to Lancaster, Fairfield County, OH.
In about 1904, Minnie married Isaac Jacob "Jake" Bowers (1861-1936), the son of Levi and Lucinda (Miller) Bowers of Lancaster. He brought a daughter to the marriage, Mrs. John Nixon.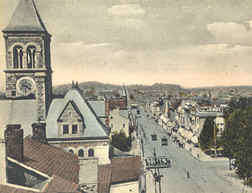 The Bowerses resided in Lancaster, at 402 East Chestnut Street. A bird's eye view of the town, from a rare old postcard photograph, is seen here.
Six years into the marriage, in 1910, Jennie was known to have been performing "mechanical work" for a printing company in Lancaster.
Minnie was admitted to the state insane hospital in Athens, OH, as early as January 1902, and may have lived there on and off during her lifetime.
Jake passed away just two days before his 75th birthday, on June 3, 1936, of the effects of a stroke. He was interred at Forest Rose Cemetery.
She died at the age of 82, of a cerebral hemorrhage suffered for months earlier. Her death occurred on Dec. 4, 1950, at the Fairfield County Home.
Minnie is buried under her maiden name in the family plot at Forest Rose Cemetery, Lancaster, OH.
Step-daughter Mrs. John Nixon made her home in Bremen, OH circa 1950.
Copyright © 2000-2003, 2008 Mark A. Miner