Christina (Dull) Sweitzer
(1833-1874)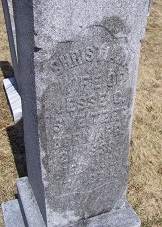 Christina's grave
Courtesy Linda Marker
Christina "Tena" (Dull) Sweitzer was born on April 21, 1833 (or 1835) in or near New Centerville, Somerset County, PA, the daughter of George and Christina (Younkin) Dull.
She married Jesse C. Sweitzer (1830-1897), born on Oct. 7, 1830 (or 1832). He stood 5 feet, 6 inches tall and weighed 128 lbs., with a fair complexion, dark hair and hazel eyes. He was a resident of Gebhart's near New Centerville and worked before the Civil War as a grocer.
They resided in Middlecreek Township, Somerset County, where Jesse earned a living as a farmer, shoe maker and grocer in the years before the Civil War broke out. He provided farm work for Michael Freese and Reuben McMillan and harvested with Peter Pile. The Sweitzers' family physician was Dr. William Steele Harah, a graduate of Jefferson Medical College who set up his practice in New Centerville at the White Hall Inn owned by Joseph Pile.
The Sweitzers produced these known children -- Josiah D. "Joseph" Sweitzer, Margaret Sweitzer, William Sweitzer, Sarah "Sadie" Lowry, Sweitzer, Ida Belle Kepner, Ellen F. "Ella" Berkey, Lillian "Lillie" Muhlenberg Faidley, Annie Sweitzer and George Sweitzer.
During war, on Nov. 1, 1864, Jesse was drafted into the Union Army and assigned the rank of private with the 29th Pennsylvania Infantry, Company A. His company was commanded by Capt. Andrew Johnson. The regiment was sent from Chambersburg, PA to Nashville, TN and then transferred to New York only to be moved again to Savannah, GA, placed in the 20th Corps which had control of the southern city.
In January 1865, the 29th Pennsylvania took part in a raid of the Carolinas, with skirmishes in or around Raleigh, NC and Rolla, SC. During that time, he became afflicted with rheumatism of the legs and could not keep up with his fellow soldiers during the marches. He often straggled into camp long after the rest of his mates had arrived.
Then, on a march between Fayetteville and Goldsboro, NC in late March 1865, Jesse came down with chronic diarrhea after a litany of day and night marches through marshes and streams, rainy weather and building corduroy roads, often moving from 25 to 35 miles a day on foot. He later blamed oor water, exposure and poor food" as the cause of his medical problems. Recalled company clerk William Buchanan: "We frequently run short of rations and depended chiefly upon the country for subsistence, but did not always get it." Of the loose bowels, Buchanan noted that "that thing was of a common occurrence to us." John B. Buchanan, also of the 29th Pennsylvania, recalled that "We had our regular rations of coffee, but had but forty five hard tack on that march of from four to six weeks, of course we foraged around in the country, which was good living when we got it, but the cavalry was almost always aheade of us, which made our chances pretty slim."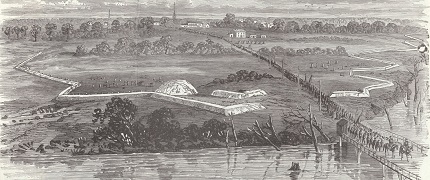 Union troops under Gen. Schofield march past abandoned Confederate earthworks in Wilmington on their way to Goldsboro, NC
Jesse initially received medical treatment at a field hospital at Goldsboro on or about March 28, 1865. After a week, he was transferred to Foster General Hospital in New Bern, NC, and while there asked fellow patient and friend Hermon D. King to write home letting friends know where he was. Because Foster was so crowded, he was transferred to McDougal Hospital at Fort Schuyler in New York, arriving about April 13, 1865. Then, after the Confederate surrender later that same month, after which the army ordered all invalids to be treated in the state from which they originated, he was moved to Satterlee U.S. General Hospital in West Philadelphia.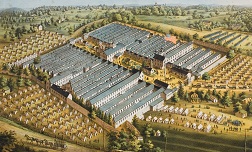 Satterlee U.S. General Hospital, Philadelphia
Courtesy Library Company of Philadelphia
Several of Jesse's Younkin cousins by marriage also recieved medical care at Sattlerlee during the war -- among them Michael A. Firestone, Ephraim Miner and Elias Hartzell. Encompassing 12.5 acres between 40th and 44th Streets, Satterlee had opened to handle the heavy volume of wounded Union soldiers. Said one narrative, it was "perhaps the largest and most complete Army Hospital in the world." Some 35 medical officers served thousands of patients in 36 wards and an overflow space of hundreds of tents. Patients had access to a reading room, library and piano, as well as a sutler store, stationery and newspaper depot, barber shop and printing office.
Jesse spent a few months at Satterlee and discovered there his old friend Jacob Hinebaugh from home, and they spent time together every day. At Satterlee, Jesse developed hearing problems in his right ear with a buildup of infected matter, although he told friends at home years later that it was due to the loud firing of guns. He was treated by nurses, and the infected matter broke up and was discharged, but his hearing never recovered. His military service ended on June 22, 1865 when he received an honorable discharge.
Jesse returned home to New Lexington, Somerset County. Family and friends -- who had known him as a stout, able-bodied man -- could not help but notice that he was pale, run down and debilitated. On his second day home, he went to see Dr. Edward S. Connelly at New Centerville, who remarked that it was a shame for the army to send a man home in that condition. Connelly prescribed a syringe and soap for cleaning out the pus. Jesse also received nursing care at some point by friend David E. Baldwin. For six months after his return, he could not work due to the debilitating effects of diarrhea.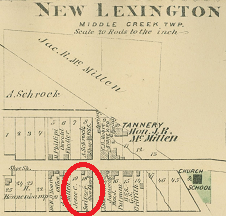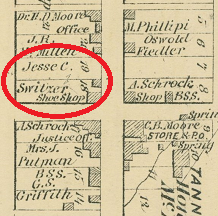 Location of Jesse's home and shoe shop in New Lexington, 1876
After recovering somewhat, he earned a living fashioning leather whips and making and repairing shoes, boots and harnesses. He received an award at the Second Annual Exhibition of the Somerset County Agricultural Society for "best bridle without buckle, and best whiplashes," said the Somerset Herald.
His hearing never improving, Jesse once wrote: "At the time of my discharge from the Army, I could only hear loud sounds through my right ear, and it has remained so, the deafness not having varied perceptibly since. If I close my left ear I cannot hear conversation; sometimes my deaf ear aches and is very painful."
The 1870 census lists Jesse, Christina (marked as "Catharine") and their nine children residing in Centerville. Their next door neighbor was 69-year-old widow Margaret Sweitzer, who made a home for eight year old William Sweitzer, marked as "Idiotic."
Christina passed into eternity at age 39 on July 17, 1874. Burial was in Union Cemetery in New Centerville.
Jesse survived her by 23 years. When the federal census was enumerated in 1880, he headed a household including his 22-year-old daughter Sarah and nine-year old son George.
On Oct. 17, 1879, Jesse was awarded a federal pension as compensation for his wartime ailments. [Invalid App. #316.687 - Cert. #409.481] He did not think it sufficient. A number of his friends provided affidavits of support for his claim for an inrease, among them James R. Waugh, an employee of Cambria Iron Company of Johnstown, PA; Josiah Wilt of Coleman, Somerset County; William Flick of Glade; William C. Miller of New Lexington (who later served jail time for the murder of Jonathan Hostetler); William Pyle (whom he had known since 1850); Dennis C. Barclay, S.P. King, William R. King and Alexander C. Moore of New Lexington; Hermon D. King and Cyrus Knopsnider of Kingwood; Adam Sanner of Casselman; Jonas Gary of Trent; Michael Ansell, Hamilton B. Barnes, Thomas Henry and Paul Miller of Middlecreek Township; David E. Baldwin of Somerset; and A. W. Miller and Daniel G. Smith of Rockwood.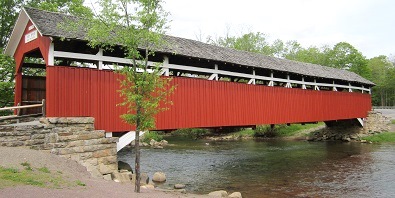 King's Bridge, a landmark built in 1802 near New Lexington
The federal govenment launched its own investigation of Jesse's claims for a raise in pension. A.W. Roome was dispatched to Somerset County in the winter of 1884 to interview Jesse's friends to get to the truth, trying to prove that Jesse was an alcoholic. When questioned, Peter Pile of New Centerville said that he saw Jesse almost every day but had not heard him complain of health problems until just a few years earlier. Pile also said he had never seen Jesse drunk but that the veteran "will take a drink once in a while." Jacob Heinbaugh of New Centerville said that Jesse had been seen "drinking some [but had] never seen him tight before enlistment.... since discharge he has been a drinking man for some years, and he would get a little too much once in a while." Singleton Kimmel of New Lexington testified that "I have at no time known or heard of his being sick in any manner or hurt, before he went to the war" and only heard him speak of diarrhea and rheumaism "about 18 months ago." Dr. M.H.H. Gardner of New Centerville said he "has often seen him inder the influence of liquor; and he has had the reputation of being a drinking man before he went to the war and ever since, to the present time." Hamilton B. Barnes said that "it seems to me that his life time since the war has been one series of complaints of one kind or the other." The investigator sent a report back to Washington, DC saying "I am of the opinion that this case has but little merit as to the disability resulting from deafness. I do not consider that it exists to a pensionable degree."
Occasionally he provided farm labor to neighbors such as William Flick of Glade and A.W. Miller of Rockwood. Later he was elected constable and justice of the peace and at one point was named a postmaster. In about 1880, he began selling goods an an auctioneer. As justice of the peace, in 1879, he performed the wedding nuptials that year for Chauncey Pile and Mary Gairy. He was elected county Poor House Director circa 1893 during an era in which his brother in law William Dull also served there as a director.
As of 1890, he received a $14 check every month from the federal government. He also wrote this of his military service in February 1886:
My body was sadly wasted, and the hearing of one ear nearly gone, and now, after more than twenty years of suffering, having resorted to every specific known to me for cure, I am still in feeble health, lingering out a miserable existence from the cause above set forth. i can say with price, that as a soldier, I was never reported for disobedience, was never under arrest for misconduct, and always at the post of duty when able to answer at roll call; and for which I only ask the pittance which the Government may give, to help me tide over the balance of a life, lived in poverty and distress, for the last twenty years.
He passed away on the Fourth of July 1897. Burial was beside his wife.
One of their daughters married Alvin Ghetts and lived in Cumberland, MD, and another married Bert Hager and made their home in Niagara Falls, NY.
~ Son Josiah D. "Joseph" Sweitzer ~
Son Josiah D. Sweitzer (1853-1922) -- more commonly known in adulthood as "Joseph" -- was born on April 5, 1853 in New Centerville, Somerset County.
He was twice married. His first spouse was Elizabeth Gross ( ? -1887), also spelled "Goss." During their brief marriage, they produced two children -- Elsie Wasson and Elmer Sweitzer. Tragically, Elizabeth died on Oct. 1, 1887.
When he was 26 years of age, on Oct. 10, 1889, Josiah married his second bride, 24-year-old Catherine "Kate" Leer (1865-1946), daughter of Garrett and Sarah (Snyder) Leer of Upper Turkeyfoot Township, the father a German immigrant. Rev. Thomas Woods officiated at the ceremony, held at the residence of his cousin by marriage, one-legged justice of the peace Jacob Kreger in Kingwood.
Josiah and Kate produced a daughter of their own, Edna Pletcher.
They were longtime farmers in Upper Turkeyfoot Township.
Suffering from hardening of the arteries and paralysis on his right side, Joseph died at age 69 on July 26, 1922. Burial was in the Lutheran Church Cemetery in New Centerville. David Shultz of Kingwood gave details for the death certificate.
Kate lived on for another 23 years as a widow in her home in Upper Turkeyfoot. Afflicted with incurable breast cancer, she died at the home of her daughter Edna Pletcher in Kingwood at the age of 80 on Jan. 14, 1946. Her funeral service was led by Rev. J.I. Kalp of Pittsburgh and Rev. E.C. Hall of the Kingwood Church of God, followed by interment in New Centerville. An obituary in the Meyersdale Republican said she was survived by two grandchildren, one great-grandchild, sister Mary Snyder and brothers W.A. Leer and E.B. Leer.
Daughter Elsie Sweitzer (1880-1947) was born on March 11, 1880. She married William A. Wasson (1881-1956), son of Robert B. and Mary (Miller) Wasson of Huntingdon, PA. William was a longtime produce wholesaler. In 1946, they lived in Brownsville, Fayette County, at the address of 602 Second Street. Stricken with cancer of the uterus, she died at age 66, on Jan. 8, 1947, in Brownsville General Hospital, after 56 days of treatment there. Burial was in Monongahela Cemetery. William outlived his wife by nine years and spent his final years in Carmichaels, Greene County, PA. Having spent two years fighting a deadly case of colon cancer, he died on Nov. 24, 1956, at age 75.

Bird's eye view of Brownsville, Pennsylvania
Son Elmer Sweitzer (1887-1958) was born on Sept. 9, 1887. He married Elsie Stevenson (1889- ? ), daughter of Robert and Jane Elizabeth (Laidlaw) Stevenson. The couple had one known daughter, Georgia Durst. They made their home in Newell, Fayette County, where Elmer was a longtime railroad employee, eventually becoming an engineer. They were members of the Newell Methodist Church. At the age of 71, suffering from bladder and lung cancer, he was admitted to the Charleroi and Monessen Hospital, where he died eight days later on Sept. 18, 1958. His remains were interred in LaFayette Memorial Park in Brier Hill near Uniontown. Elsie survived her husband by 14 years and endured the death of their daughter Georgia in 1971. She passed away in Brownsville Hospital on June 25, 1972. Rev. Charles Reynolds officiated at her funeral and burial. The Uniontown Morning Herald published an obituary.
Daughter Edna Sweitzer (1891-1988) was born on May 5, 1891 in Lower Turkeyfoot Township. She was united in matrimony with William H. Pletcher (1888-1976), son of Irvin and Melinda (Gary) Pletcher of Middlecreek Township. The couple produced two children -- William Dale Pletcher and Leora Christ. They resided in Kingwood in the mid-1940s and were members of the Church of God in Kingwood. William was employed by the Pennsylvania Department of Transportation and was a member of the Kingwood Odd Fellows lodge. In 1969, they relocated east to Willow Street, Lancaster County, PA. William passed away in St. Joseph's Hospital, Lancaster, at the age of 88 on Jan. 29, 1976. Said the Meyersdale Republic, "His passing severs a marriage union of 63 years." Edna survived him by more than two decades and endured the deaths of both children and two great-grandchildren. She died in the United Zion Home of Lititz, PA at the age of 97 on May 23, 1988. Her remains were brought back to Somerset County to rest in the family's ancient burying ground, the Union Cemetery, also known as the Messiah Lutheran Cemetery in New Centerville. Rev. Richard Yates oversaw her funeral service, and an obituary was printed in the Somerset Daily American.

~ Daughter Margaret Sweitzer ~
Daughter Margaret Sweitzer (1855- ? ) was born in about 1855 in Centerville, Somerset County.
Nothing more about her is known.
~ Son William Sweitzer ~
Son William Sweitzer (1856- ? ) was born in about 1856 in Centerville, Somerset County.
He is believed to be the same William Sweitzer who, on June 22, 1877, at the age of 21, was united in wedlock with Martha "Mattie" Hyatt (1856- ? ) of Lower Turkeyfoot. The ceremony took place at New Centerville by the hand of justice of the peace Aaron Will, with the news covered in the Somerset Herald.
The couple is thought to have produced at least two children -- Lafayette Sweitzer and Jane Sweitzer.
Federal census records for 1880 show the young family residing in the mining community of Jimtown, Lower Tyrone Township, Fayette County, PA, with William earning a living as a shoemaker.
Son Lafayette Sweitzer (1878- ? ) was born in about 1878.
Daughter Jane Sweitzer (1880- ? ) was born in about May 1880.
~ Daughter Sarah "Sadie" (Sweitzer) Lowry ~
Daughter Sarah Sweitzer (1858- ? ) was born in August 1858. At age 22 in 1880, unmarried, she lived at home with her father and was a "house keeper."
On June 2, 1887, at age 29, she was joined in marriage with 25-year-old laborer Albert W. Lowry (March 1862-1934), son of G.W. and Susan Lowry of Upper Turkeyfoot Township, Somerset County. Rev. W.B. Christner led the nuptials held at Milford Station, Somerset County. Their two known children were Lulu Lowry and Earl Lowry.
Federal census records for the year 1900 show the Lowrys making their home in Scottdale, Westmoreland County. That year, Albert earned an income as a shearman in a local sheet metal mill.
Sadly, Sadie is believed to have died during the decade between 1900 and 1910. The federal census for 1910, of Scottdale, shows Albert marked as widowed with son Earl in the household. Albert worked as a laborer in a rolling mill and son Earl as a machine shop laborer.
Sometime during the 1910s, Albert relocated to the West Coast, settling in Riverside, Riverside County, CA. The 1920 census shows him as a roomer in the home of Daniel and Nellie Capper in Riverside. There, made a living as a laborer in a fruit packing house.
Albert married again during the 1920s to Daisy F. (?) (1888- ? ) of Pennsylvania. She was 26 years younger than her husband. In 1930, they lived in Riverside, with Albert working as a laborer and Daisy as a packer for an olive company.
Albert died in Riverside on March 1, 1934. News of his death was sent to his sister Cora Pyle of Loucks Avenue in Scottdale which in turn was published in the Connellsville Daily Courier. The news story said that Albert "formerly resided in Market street and was employed in the sheet mills here."
Daughter Lulu Lowry (1888- ? ) was born in June 1888.
Son Earl Lowry (1889- ? ) was born in September 1889.
~ Daughter Ida Belle (Sweitzer) Kepner ~
Daughter Ida Belle Sweitzer (1860- ? ) was born on Jan. 28, 1860 (or 1862) in New Centerville, Somerset County.
She was united in wedlock with Jacob E. Kepner ( ? - ? ). They produced these known children -- Jesse C. Kepner, C. Ray Kepner, Margaret Loucks, Pearl Kepner, Lillian Kepner and Martha Kepner.
In about 1890, they established a home in Scottdale, Westmoreland County, PA. The family worshipped at the Scottdale Methodist Church. Her address in the 1940s was 604 Parker Avenue.
Ida Belle enjoyed socializing and traveling. In September 1918, she and Mr. and Mrs. Walter Loucks motored to Brownsville, Fayette County to visit relatives. She and her daughters Pearl and Lillian drove the following year to Atlantic City, NJ where they spent two weeks in August 1919. She enjoyed hosting visits from her niece and nephew Ethel and John Tannehill of Brownsville and Prentice Porter of Cumberland, MD.
Ida Belle contracted senility in her last years and, while remaining in her home, was malnourished. She died of a heart attack at the age of 87 on April 27, 1949. Burial was in Scottdale Cemetery. Son Jesse C. Kepner of Scottdale was the death certificate informant and signed his name to the document. An obituary in the Connellsville Daily Courier reported that survivors included six grandchildren and four great-grandchildren.
Son Jesse C. Kepner Sr. ( ? - ? ) was born in (?). On July 25, 1919, he was united in marriage with Emma Carlson (1889-1972), daughter of Swan and Anna (Johnson) Carlson. Reported the Connellsville Daily Courier, the wedding was held in the Methodist Episcopal Church in Scottdale, officiated by Rev. N.L. Brown. They lived in Scottdale for many years and were members of the Trinity United Methodist Church. The Kepners had one son, Jesse C. Kepner Jr. Jesse owned and ran the Clover Farm Store for more than 35 years on High Street in Scottdale. He also served on the Scottdale Borough Council. He loved the outdoors and, in June 1939, went fishing with his brother Ray, Meade Tannehill and Albert Reynolds in the Chesapeake Bay. Emma belonged to the Woman's Society of Christian Service. She died in the Wolfe Nursing Home in Scottdale at the age of 83 on Oct. 26, 1972. Burial was in the Scottdale Cemetery, with an obituary printed in the Daily Courier.
Son C. Ray Kepner (1896-1968) was born two days after Christmas 1896 in Mount Pleasant, Westmoreland County. During World War I, he served with the U.S. Armed Expeditionary Force. He married Birdella Herwick ( ? - ? ) and had two children, James K. Kepner and Lois Rentz. For many years, Ray owned and operated Kepner Motor Company of Scottdale. He was active in the community as a member of the Scottdale Elks Club, Rotary Club and American Legion post, where he held the post of commander. They eventually retired and moved to Deland, FL. There, Ray was a member of the Deland Methodist church and Lake Hallen American Legion post. He died July 1, 1968, at age 71, in Fish Memorial Hospital in Deland.
Daughter Pearl Kepner (1886-1975) was born on March 26, 1886 at Meyersdale, Somerset County. She never married. For more than 35 years, she worked for her brother Jesse in Scottdale at the Clover Farm Store on High Street. She lived at 421 Fountain Mills Road and belonged to the Trinity United Methodist Church. After what the Connellsville Daily Courier called an "extended illness," she died in Frick Community Hospital in Mount Pleasant at the age of 89 on July 25, 1975. Rev. Ralph G. Shipley preached the funeral sermon followed by burial in Scottdale Cemetery.
Daughter Margaret Ellen Kepner (1884-1946) was born in (?). She married Walter Loucks ( ? - ? ). Their children were Robert A. Loucks, Mildred K. Wible and Engeue Loucks. Pearl and Walter made their home at 611 Walnut Avenue in Scottdale and were members of the First Methodist Church. Pearl died at the age of 62 in Frick Memorial Hospital, Mt. Pleasant, on Aug. 25, 1946. Rev. W.M. Baumgartner preached the funeral sermon, and an obituary was printed in the Connellsville Daily Courier.
Daughter Lillian M. Kepner ( ? -1973) never married. She was a member of the Trinity United Methodist Church of Scottdale. In 1940, she and Mrs. Robert Love drove to New York City to take in the World's Fair. In 1949 lived at home, and in the 1970s at B and Irene Streets in Scottdale. She passed into eternity on March 22, 1973.
Daughter Martha Kepner dwelled in her mother's home in Scottdale in 1949. She enjoyed traveling to Florida with her sisters to visit their brother Ray and his wife who resided in Deland.
~ Daughter Ellen F. "Ella" (Sweitzer) Berkey ~
Daughter Ellen F. "Ella" Sweitzer (1865-1906) was born on Aug. 26, 1865 (or 1862) in Centerville/New Lexington, Somerset County.
At the age of 24, on Feb. 23, 1890, she was united in holy wedlock with 22-year-old Charles M. Berkey (1867-1928). He was the son of Edward and Therissa (Finling) Berkey of Lavansville, Somerset County, the mother an immigrant from Germany. As he had done for Ellen's older brother Josiah, Rev. Thomas Woods officiated at the wedding held at Kingwood, Somerset County.
Charles held a job at the time of marriage as a broom manufacturer. The Berkeys relocated to Scottdale, Westmoreland County, PA, where their address in the early 1900s was on Parker Avenue. Charles worked as a retail meat dealer.
Sadly, at the age of 41, Ella contracted pulmonary tuberculosis and died on April 22, 1906. Her remains were lowered into eternal repose in Scottdale Cemetery.
Charles survived his wife by 22 years. He remarried to Lydia Stark ( ? - ? ) and remained in his home at 601 Parker Avenue. He suffered from sleeping sickness ("encphalitis lethargica") and died at age 61 on May 24, 1928. He too was placed at rest in Scottdale Cemetery.
~ Daughter Lillian "Lillie" (Sweitzer) Muhlenberg Faidley ~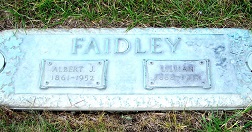 Somerset County Memorial Park
Courtesy Linda Marker
Daughter Lillian "Lillie" Sweitzer (1866- ? ) was born on May 5, 1866 in Centerville, Somerset County.
She was married twice. Her first husband was William Muhlenberg (1863-1913), son of Henry and Elizabeth (Thrombier) Muhlenberg, the father an immigrant from Germany. The Muhlenbergs made their home in Pittsburgh, at 11 Vincent Street, where he was employed as a clerk with the United States Express Company.
Tragically, afflicted with lesions on his heart valves, William died just a few weeks before his 50th birthday on April 13, 1913. His remains were returned to Somerset County for interment in Berlin. Rose Muhlenberg of the home signed the death certificate.
Widowed at the age of 47, Lillie continued to reside in Pittsburgh. After two years, she married again.
Her second spouse was carpenter Albert J. Faidley (1861-1952), son of Alexander W. and Hester (Weimer) Faidley. They were wed on March 25, 1915, at Ursina Somerset County, when she was age 48 and he 53. Rev. J.C. Cunningham performed the ceremony.
At the time of marriage, Albert made his home in Wakefield, Clay County, KS. He is thought to have migrated there by the early 1880s, as in 1885 he returned to Somerset for a visit with relatives and friends and then returned to Kansas with two of his brothers. Among others, he is known to have built an addition to the home of E.S. Little in Junction City circa 1899. He was a member of the Old Bethel Church of God in Wakefield, and the lodges of the International Order of Odd Fellows and Masons.
Lillie and Albert resided in the Highland Addition of Rockwood, Somerset County.
Suffering from hardening of the arteries, Lillian was admitted into the Frick Memorial Hospital in Mt. Pleasant, Westmoreland County, PA. She died there at age 86 on Jan. 13, 1952. Her remains were brought back home for interment in Somerset County Memorial Park. Edna Pletcher of Markleton, Somerset County signed the death certificate. [Find-a-Grave] An obituary in the Connellsville Daily Courier only listed her husband among her survivors.
Albert bore his own heart and kidney ailments and was admitted to Weimer's Nursing Home in Uniontown, Fayette County in late May 1952. His stay only lasted for eight days until his passing on June 7, 1952, less than six months after his wife's demise. Ernest Hawkins of Connellsville was the informant for the Pennsylvania certificate of death. In reporting his death, the Daily Courier said he was survived by 17 nieces and nephews as well as his brother J.C. Faidley of Wakefield.
~ Daughter Annie Sweitzer ~
Daughter Annie Sweitzer (1867- ? ) was born in about 1867 in Centerville, Somerset County.
Her story is lost to history for now.
~ Son George Sweitzer ~
Son George Sweitzer (1869-1922) was born on June 16, 1869 (or 1871 or 1873) in Centerville, Somerset County.
He never married. For some years in the 1910s and '20s, he made his home with his married sister Ida Kepner.
George specialized in work as an automobile mechanic in and around Scottdale.
Tragically, on Oct. 16, 1922, George sustained catastrophic injuries in an automobile accident at the age of 49. Reported the Connellsville Weekly Courier, "his car overturned with him into the sulphur creek at the foot of Chestnut street" in Scottdale. "Mr. Sweitzer was engaged in cranking the machine, when it started. He leaped to the running board in an effort to stop it and was pinned under it when it dashed into the stream. He suffered a puncture of the lungs, fractures of the ribs and wrist and injuries about the head." He was rushed to Mt. Pleasant Hospital, but shock set in and he succumbed. His remains were placed into rest in the Centerville Lutheran Church Cemetery where his parents and Dull grandparents rest for eternity. Brother-in-law J.C. Kepner of Scottdale, PA signed the death certificate.
Copyright © 2014-2017
Research for this page graciously shared by the late Donna (Younkin) Logan, Clark Brocht and Linda Marker.