Mallie (Fawcett)
Parkhurst Merhie
(1873-1940)
Mallie (Fawcett) Parkhurst Merhie was born in 1873 in Kingwood, Preston County, WV, the daughter of Charles Wesley and Margaret Elizabeth (Herndon) Fawcett.
Her first husband served as private secretary to West Virginia Governor William Mercer Owens Dawson and is profiled in a 1911 book about the history of Charleston and Kanawha County.

William's cousin,
activist C.H. Parkhurst
At the age of 21, Mallie was united in matrimony with 25-year-old William Brewster Parkhurst (1869-1908), the son of Judge Jonathan Gilbert and Emma (Dodge) Parkhurst of Michigan. The wedding was held on Nov. 28, 1894, at the Kingwood Methodist Episcopal Church, officiated by Rev. S.P. Crummett.
William was a ninth generation descendant of William Brewster of the Mayflower and Plimouth Plantation in Massachusetts. His cousin, Charles Henry Parkhurst (1842-1933) -- seen here -- was a well known clergyman and social reformer whose attacks helped bring down the corrupt Tammany Hall political machine in New York City.
The Parkhursts had two children, Rachel B. Parkhurst, born in West Virginia in 1896, and Reginald Brewster Parkhurst, born in Michigan in 1897.
William's father was a county judge in Michigan, and his mother was lecturer on temperance.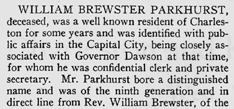 William's profile, History of Charleston
William received his education in New York City "and was admitted to the bar but never engaged in the practice of law," said his biographical profile in the History of Charleston and Kanawha County, West Virginia, authored by W.S. Laidley. "He was a Republican in politics, and was a member of the Elks, the Eagles and the Knights of Pythias, in all these organizations having devoted personal as well as fraternal friends."
Continued the History:
He came to Preston county, W.Va., to become an official reporter for the five courts presided over by Judge Joseph T. Hoke, and continued until the retirement of Judge Hoke in 1897, when he came to Charleston to become private secretary to Governor Dawson. He was a man of talent and served also as circuit, criminal and Federal court stenographer. From too close application he fell ill and never regained his health, his death occurring ... while still a young man.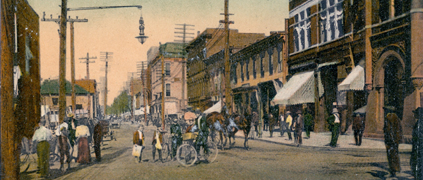 Charleston's busy Kanawha and Capitol Street corner in the early 1900s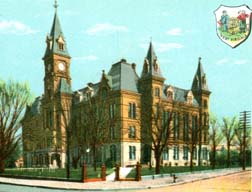 State capitol as William would have known it
William would have reported to work in the state capitol building in Charleston -- the seat of government in West Virginia. The building seen here was destroyed by fire in 1921, and after a second building burned, a buff limestone structure was built with a prominent landmark dome which stands today.
Tragedy struck the family on Feb. 6, 1908 when William, age 37, passed away in Charleston at the age of 37 years, seven months and 11 days, of "dropsy" (internal buildup of fluids).
His final resting place is not yet known. Son Reginald would have been age 13 at the time.

William's boss,
Gov. W.O. Dawson
After several years as a widow, on June 28, 1911, Mallie married her second spouse, moving picture company agent Nedgar E. "Ned" Merhie (1880- ? ) .
Some seven years younger than his bride, Nedgar was a resident of Charleston and "a member of the West Virginia Film Exchange," said the History of Charleston.
The couple appears to have separated and divorced sometime before 1920.
When the federal census was taken in 1920, Mallie was employed as a manager of a theatre in Charleston, while 23-year-old son Reginald, living at home, was a chemist. Their address was 2309 Washington Street.
Taking back the surname "Parkhurst," Mallie made her home as a widow at Washington Street, Edgewood Drive (1932) and at 415 Greenbrier Street in Charleston.
The census of 1930 shows Mallie living alone, but with a servant cook in the household. By that time, she apparently had purchased the "Lyric Theatre" and was shown as its "owner."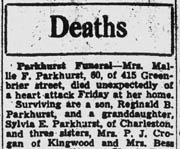 Charleston Daily Mail
Former husband Ned Mehrie remained in Charleston and in 1925 was a charter member of the Civitan Club, comprised of local businessmen. He eventually was elected as its second president. The club raised funds for charity, including more than $40,000 over 10 years to benefit mentally and physically handicapped children and funds to build a girls' dormitory for the Union Mission. He remained a member as of 1960. He was elected to Charleston City Council, representing the 10th Ward, and held a seat as of 1931. He ran again for re-election in April 1931 and was still serving as of 1936.
In the late 1930s and 1940, Mallie resided at 415 Greenbrier Street in Charleston. The Lyric, at 305 Washington Street West in Charleston, may still be in existence.
Mallie died unexpectedly of a heart attack ... at her home," said the Charleston Daily Mail, just one day before her 61st birthday, on Nov. 29, 1940. Her remains were interred at Sunset Memorial Park in South Charleston.
~ Son Reginald Brewster Parkhurst ~
Son Reginald Brewster "Reggie" Parkhurst (1897- ? ) was born in 1897.
He obtained his bachelor's degree from the Massachusetts Institute of Technology. A November 1922 article in the institute's alumni magazine, The Technology Review, said that he had attended the alumni dinner.
In our happy group was R.B. Parkhurst, X-A, 99 Laighton Street, Lynn, Mass. With a cap on Reg's noble brow it topped a large evening, but it might have been much larger. With the General Electric Company in Lynn (in their laboratory), Reg applies the ka's to a T. But then Lynn is not far from the three-mile limit.
Reginald married Miriam F. (?) (1901- ? ), a native of the District of Columbia. The wedding took place in about 1923.
They had one known daughter, Sylvia Ella Walker, born in 1925 in Massachusetts.
In 1922, Reginald and William Thompson Smith co-authored a paper on "The Solubility of Sulfur Dioxide in Suspensions of Calcium and Magnesium Hydroxides" that later was published in the Journal of the American Chemical Society.
The family lived in a hotel in Houston, Harris County, TX as shown in the 1930 census. Reginald was employed that year as a chemist for an oil refinery. By the early 1930s, Charleston (WV) Daily Mail printed articles mentioning Reginald or Sylvia and show that had returned to West Virginia and were living in Charleston.
In 1932, he was knife-stabbed in the stomach by Forest Walton of Charleston and was treated in the city's McMillan Hospital. He recovered and continued his work. He also was an avid chess player and his name often was in the Charleston newspapers for his gamesmanship. Circa 1935, he served on the executive board of the Charleston Chess Club. He also enjoyed studying the heavens and once spoke at a meeting of the Kanawha Astronomical Society on "Why I Like Astronomy."
Daughter Sylvia Ella Parkhurst (1925- ? ) was born in 1925 in Massachusetts. When she was age 30, she married 30-year-old Lawrence Harris Walker (1925- ? ) on May 3, 1955, in Charleston. Rev. Joachim Cain officiated. At the time, she resided at 1547 Lewis Street in Charleston.
Copyright © 2007-2010, 2021 Mark A. Miner
Portrait of Charles Henry Parkhurst by Sarony circa 1892. Photo of Gov. Patterson courtesy Library of Congress' George Grantham Bain Collection.