Myrtle (Firestone) Layton
(1883-1958)
Myrtle (Firestone) Layton was born on Jan. 4 or April 4, 1883 at Murphy Siding near Connellsville, Fayette County, PA, the youngest daughter of Lewis and Sarah Ann (Rose) Firestone. She was briefly married, to a man named Layton, and was tragically killed in a freak vehicle accident.
There was an 18-year difference in age between Myrtle and her eldest brother, Austin.
She resided in Pittsburgh circa 1930 but did not stay there for long.
Myrtle is believed to have married (?) Layton, and this is the name she used circa January 1931 at age 48. That month, the name was printed in legal papers when she received $115.09 in payments from the estate of her late father. But later that year, when signing her name, she used "Firestone," and kept that name for the remainder of her years.

Myrtle's penciled signature on a receipt for an inheritance, 1931
By 1933, Myrtle had moved to a farm in Bullskin Township north of Connellsville. In June 1933, she was assaulted by former boarder Thomas McCutcheon, allegedly with intent to kill her. He was charged with the crime and indicted by a grand jury to stand trial. The outcome of the case is not yet known.
Said the Connellsville (PA) Daily Courier, she was "a familiar site on the streets of Connellsville as she sold garden products." She refused to use an automobile of any sort in her selling, but rather relied on a horse and buggy to make her rounds. In the 1950s, she occasionally took out advertisements in the Daily Courier offering a six-month-old heifer for sale; and wanting to buy a horse wagon and an "all-around work horse."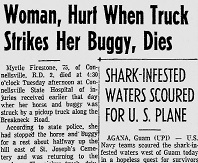 Daily Courier, 1958
In about 1951, she moved back to her birthplace region, the Breakneck area near Connellsville, also known as Murphy Siding. Her home was located along Breakneck Road, between Pleasant Valley School and the DeMarco summer home.
Tragedy struck in September 1958 when the 75-year-old Myrtle was on her usual rounds delivering goods. She "stopped the horse and buggy for a rest about halfway up the hill east of St. Joseph's Cemetery and was returning to the roadway," said the Courier. A pickup truck "struck the right rear wheel of the buggy as he swerved to pass the slow moving vehicle. When the truck hit the buggy the horse bolted, turned sharply to the right, throwing the operator to the roadway. The horse then dragged the buggy, destroying it."
Myrtle died soonafter at Connellsville State Hospital. She was laid to rest at Rich Hill Cemetery near her parents and siblings. Serving as administrator of her estate was Albert Breakiron who, among other duties, arranged for her household furniture and livestock to be sold -- a horse, wagon, harness, one cow, seven chickens and two ducks.
At a Fayette County coroner's inquest, the driver of the other vehicle was held blameless.
Copyright © 2004, 2013, 2020 Mark A. Miner