Home

Catherine (Gaumer) Shirer
(1804-1830)
Catherine (Gaumer) Shirer was born on Aug. 15, 1804 in Southampton Township, Somerset County, the the daughter of Daniel and Hannah (Baughman) Gaumer Sr.
As a girl of the age of four, in 1809, she relocated with her parents and siblings to Muskingum County, OH.
On Sept. 1, 1823, at age 19, she was united in holy wedlock with farmer Valentine Shirer Jr. (Aug. 20, 1797-1881), in a ceremony held in Muskingum County. He was the son of Valentine and Elizabeth (Kirby) Shirer Sr., also natives of Southampton Township. They are profiled in the 1995 book Shirar, 1762-1995, authored by A.S. Sanders.
During their seven short years of married life, they produced five children -- James "Riley" Shirer, Haley Wilson Shirer, Rebecca Leydig, Eunice Crane and Valentine Wills Shirer.
The Shirers made their home on a farm in Adams Township, Muskingum County, later owned by S.W. Sutton.
Tragically, likely due to complications in the birth of their youngest son Valentine, both Catherine and the baby died untimely deaths in 1830 in Adams Township, Muskingum County. It's been supposed by researchers that mother and baby were buried together.
Valentine remained in Adamsville for the remainder of his life. He married again to his wife's sister, Hester "Esther" Gaumer (1807-1897). Between his first and second wives, Valentine was the father of 17 offspring.
He died there on Jan. 24, 1881, with interment in the Bethesda Methodist Cemetery in Adams Township.

Quiet country road and creek in Clossen's Grove near Adamsville, Ohio
~ Son James "Riley" Shirer ~
Son James "Riley" Shirer (1824-1900) was born on April 30, 1824 in Muskingum County. He was twice married.
His first bride was Elizabeth Rutter ( ? - ? ), whom he wed on May 10, 1850 in Carroll County, IN.
They produced three children, all unidentified.
Sadly, Elizabeth is believed to have died sometime between 1854 and 1855.
Now widowed, James apparently returned to Ohio. In 1855, in Muskingum County, he married a second time to Ann Nelson (1830- ? ).
They bore five children of their own -- Ellen Shirer, Ada Shirer, (?) Shirer, Alfred Shirer and Oceana Shirer.
During the Civil War years, they migrated west to Edgar County, IL. James may have been a church pastor but this needs to be confirmed.
He died in Elbridge Township, Edgar County, IL on Oct. 23, 1900 at the age of 76.
Daughter Ellen Shirer (1856- ? ) was born in 1856, presumably in Muskingum County.
Daughter Ada Shirer (1858- ? ) was born in 1858 in Ohio.
Son Alfred Shirer (1865- ? ) was born in 1865 in Edgar County, IL.
Daughter Oceana Shirer (1870- ? ) was born in 1870 in Edgar County, IL.
~ Son Haley Wilson Shirer ~
Son Haley Wilson Shirer (1825-1865) was born on June 24, 1865 in Muskingum County. He also was married two times.
On March 18, 1847, when he was age 21, he married Elizabeth Hanks ( ? - ? ).
His second bride was Elizabeth Sissel ( ? - ? ).
Haley died at the age of 39 on Feb. 3, 1865, location unknown.
~ Daughter Rebecca (Shirer) Leydig ~
Daughter Rebecca Shirer (1826-1880) was born on Sept. 1, 1826 in Muskingum County, OH.
She was united in matrimony with Emanuel Leydig ( ? -1905?) on Sept. 16, 1852, when she was 26 years of age. He was the son of Jacob Valentine and Catherine (Albright) Leydig. The two families were close, and Emanuel's brother Josiah A. "Joe" Leydig was the first husband of Rebecca's cousin Winifred Agnes "Winnie" (Shirer) Leydig Lydig, of the family of Valentine and Hester "Esther" (Gaumer) Shirer.
By about 1856, they relocated to Iowa, settling on a farm two miles southeast of Greene, Butler County.
Their eight known children were Mary E. Shaw, Eliza J. Harrington, Christiana "Ann" McKee, Jacob Valentine "Jake" Leydig, Carrie Shook, Emma Thompson, Elizabeth "Lizzie" Martin and Ida F. Leydig.
Heartache blanketed the family when Rebecca passed into eternity on April 17, 1880, at the age of 49.
When the 1880 federal census was enumerated two months later, on June 9, 1880, the widowed Emanuel was listed heading a household in Coldwater Township with his six children in the residence. He waited two years and then circa 1882 was wed to Rebecca's first cousin, Hannah (Shirer) Leydig (1841-1909), also of the family of Valentine and Hester "Esther" (Gaumer) Shirer.
Emanuel brought Hannah to Greene to live. Their union endured for 23 years.
Sadly, Emanuel died in 1905.
Daughter Mary E. Leydig (1855- ? ) was born in 1855 in Ohio. She traveled as an infant with her parents to their new home near Greene Butler County, IA. She married Milas Shaw ( ? -1914). Their only known daughter was Laura Ferris. Residing in Topeka in June 1912, Milas suffered some sort of stroke of paralysis, and their daughter and son in law, newly graduated from the University of Iowa, rushed to his side. Following the stroke, Milas seems to have moved into the home of their daughter in Melbourne, Marshall County, IA. Sadly, while traveling to visit family in Greene and Clarksville, IA in late June 1914, Milas was again stricken and was admitted to a hospital in Waterloo, IA. He died there on June 29, 1914. His remains were shipped home for burial on the Chicago, Rock Island and Pacific Railroad (CRI&P) Clipper. An obituary in the Greene Recorder said among his survivors were Ed Shaw and Mrs. Lafe Wamsley.
Granddaughter Laura Shaw married Louis Ferris and made their home in Melbourne, Marshall County, IA.
Daughter Eliza J. Leydig (1857-1913) was born on Feb. 11, 1857, the first of the children born on the family farm southeast of Greene, Butler County. In about 1880, when she was about age 23, she married 27-year-old farmer Joseph M. Harrington (1853- ? ). They dwelled near Greene and had one daughter, Rebecca A. Harrington. The 1910 federal census shows this family together near Greene, with their farm located foru miles west and one mile south of town. She died at the age of 56 on Jan. 9, 1913. The Greene Recorder said that she "had been quite sick for several months. The best of medical care had been given her and a nurse had been with her for several weeks. She had been seriously afflicted with rheumatism and fatal complications followed the chronic muscular rheumatism which caused her death." Funeral services were held in the home, followed by interment in the Dunkard Cemetery, two miles south of Greene.
Granddaughter Rebecca A. Harrington (1890- ? )

born in 1890

.
Daughter Christiana ("Chrystie" or "Ann") Leydig (1860-1938) was born on Aug. 7, 1858 in Greene, Butler County. As a young adult, she was a teacher in the Butler County schools and received further training in the Cedar Falls Normal College. At the age of 40, in 1900, she married Milton McKee ( ? -1916). Milton was a grocer for many years in Cedar Falls, IA. They were members of the First Presbyterian Church of Cedar Falls. Death snatched Milton away in May 1916 in Cedar Falls. Chrystie's married sister Emma Thompson was notified at her home in Granite Falls, MN and traveled to attend the funeral. At the age of 79, Chrystie was found dead in bed at home on July 12, 1938, having suffered an apparent fatal heart attack. Burial was in Rose Hill Cemetery in Greene, with an obituary published in the Greene Recorder.
Son Jacob Valentine "Jake" Leydig (1861-1947) was born in Feb. 1861 in Iowa. As a young man he worked in the timber business in northern Minnesota, often scaling large trees. In about 1893, at the age of 31 or 32, he married Greene resident Susanna "Susie" Nixt (Dec. 1873-1962). Their brood of children were Harold William Leydig, Carl Frederick Leydig and Catherine "Alice" Matson. Wrote their daughter, "Dad being an interior fine finish craftsman always cold find work." Jacob also had an aptitude for mechanical devices and on May 11, 1886, he received a U.S. patent for a sheaf-carrier for harvesters. [Patent #341,668] Circa 1899, working as a carpenter, he subscribed to the Mississippi Valley Lumberman trade journal, in which a man named Ketridge "continue[s] to agitate violently the idea of the lumber dealer in the small town becoming the boss contractor with a view to elevating architecture and having the entire business done on a high moral plane." Jacob wrote a lengthy letter in response which was published in the Improvement Bulletin edition of June 10, 1899: "I have been much interested in Mr. Ketridge's articles in the past, especially those on contracting and contractors, and will say, like the old German with whom I had a business conversation the other day, 'Just talk enough, more is waste of breath.' This applies, I think, to Mr. Ketridge, as I think he is getting like Hobson's kissing. He doesn't know when he has said enough about the poor carpenters." Jacob is known to have been very close with his double cousin, James Valentine "Jim" Leydig, son of Josiah A. and Winifred Agnes "Winnie" (Shirer" Leydig, of the family of Valentine and Hester "Esther" (Gaumer) Shirer. The two kept in touch all of their lives. Wrote Jacob's daughter Catherine Matson, "They couldn't have been much closer related."
When the federal census enumeration was made in 1900, the Leydigs dwelled in Dougherty, Cerro Gordo County, IA. As a carpenter, he took on a project in California and in January 1904 was named in a Greene Recorder article saying he was "building a fine house in California for Dan Carney. All the folks from here out there are enjoying the fine weather." After completing the Carney house, he returned to Greene to work on a large barn for Albert Boggs as a subcontractor to Mr. Daly. Then in April 1904, he was busy building his own carpentry shop on a town lot behind Hoil's blacksmith shop in Greene. Later in 1904 or early 1905, the family pulled up stakes, left Dougherty and "started for the West," wrote their daughter. "First stop Kansas where there was a big family gathering at cousin James Valentine's. I remember it well -- picnic out under big trees. How long were we there?" The family spent the next winter in Springdale, AR, and then moved to Shawnee, OK for another year. They moved once again to Long Beach, CA. A large earthquake hit California about this time, breaking the dishes and scaring the entire family. Their daughter wrote that "We soon left for Missoula Montana where Dad established us in the odl Florance Hotel... Dad then went on to Spokane to find a home there and work in one of the big lumber yards. He was well qualified for any type of construction."
In 1906, the family relocated to Washington State, settling in Spokane, WA and remaining for 41 years. Circa August 1916, Jacob helped construct a Catholic school building at Dougherty. The census of 1920 lists them in West Spokane, and for many years, he owned and operated Leydig Sash and Door Company. The Leydigs occasionally returned to Greene to see relatives including an August-September 1938 visit with his sister Carrie Shook, as noted in the gossip columns of the Recorder. In 1940, Susanna is known to have resided in Garden Springs, OR and provided a living space for her widowed daughter-in-law Fay and grandson Harold. But grief and despair blanketed the family when, despondent over poor health, Fay shot her own son and then herself while in her in-laws' home. Sadly, just five months after relocating to Selah, WA, Jacob died in St. Elizabeth Hospital at the age of 86 on Feb. 21, 1947. His obituary in the Spokane Spokesman Review called him a "pioneer Spokane contractor." Susie outlived her husband by 15 years. She died at the home of her daughter Alice Matson in Selah on March 27, 1962, with a short obituary printed in the Recorder.
Great-grandson Frederick Leydig
Great-grandson William Leydig
Great-grandson Donald Carl Leydig ( ? - ? ) was born in (?). He received a bachelor's degree and a master's in education degree, both from Stanford University. Donald then joined the Peace Corps in young manhood, receiving his training at Bisbee, AZ, and learning the language of Arabic. On Oct. 6, 1968, he was united in matrimony with fellow Peace Corps volunteer and Stanford alumna Lani Lee Alleman ( ? - ? ), daughter of Victor C. Alleman. The wedding was held in her hometown of Santa Ana, CA, at the First Presbyterian Church. An article in the San Mateo Times announcing the marriage reported that Lani wore "an A-line floor length organza dress trimmed with lace and accented with pink velvet ribbon around the neckline and down the front. Her full length veil and train were trimmed in matching lace." At the time of marriage, Lani held a master's degree frm Johns Hopkins University in Baltimore, MD. The newlyweds made their first home in Libya, Africa.
Great-grandson Leonard "Len" Leydig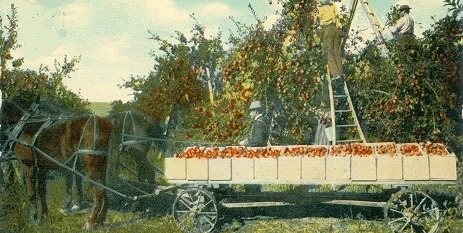 Apple harvest time in the Yakima Valley
Granddaughter Catherine "Alice" Leydig (1900-1998) was born on Sept. 20, 1900. She took two years of college classes and was hired to teach seventh grade and art at Selah, WA, located in the Yakima Valley. In 1923, she wedded 32-year-old Chicago native Roger Emanuel Matson (July 8, 1890-1955), a resident of Selah, near Spokane, WA. News of their marriage license was printed in the Spokane Spokesman-Review. Alice later wrote, "We met first Sunday in Selah and were together for too few years." The pair bore four sons -- Keith Roger Matson, Alan Leydig Matson, Paul August Matson and Marc John Matson. Having been born in Illinois, Roger had migrated to the Yakima Valley in childhood and stayed until 1910. He then moved to Minneapolis, remaining there until a return to Yakima in 1920. The family remained in Selah for good. Roger was a "prominent Selah fruitman," said the Spokesman-Review, as a partner in Matson Fruit Company. He also "was prominent for many years in Republican party activities in the county" and was a member of the Elks Lodge and American Legion post. Sadly, Roger died on April 15, 1955, at the age of 65, in St. Elizabeth's Hospital in Yakima. Circa 1962, Alice remained Selah and in 1966 she and her nephew Fred began researching the family history. Then in her early 80s, she exchanged letters with cousins Elsa Bernice Haupt, daughter of James Wilbur and Kathryn "Annabelle" (Thomas) Haupt, and Corinna (Leydig) Talbot, daughter of Harry Spencer and Cora Amelia (Linn) Leydig, both of the Hester "Esther" (Gaumer) Shirer branch. Writing on May 18, 1983, she said that "Today 3 years ago this morning 10:00 A.M. Our Lady Mt. St. Helens blew her top. Was that ever a mess but we were so fortunate that only some 60 people lost lives. She still builds a big dome and sends steam clouds as high as 20,000 ft. No damage frmo steam vents. Do hope she just continues to steam and build dome." At the age of 98, she died in Yakima County on Oct. 13, 1998. Her remains were laid to rest in Terrace Heights Memorial Park in Yakima.
Great-grandson Keith Roger Matson (1925-1978) was born on Jan. 21, 1925. He is believed to have served in World War II. He married Mary Ellen Mann (March 10, 1926- ? ). Their four children were Timothy Keith Matson, Jonathan Mann Matson, Jennifer Lyn Matson and Christopher Matson. In 1955, the Matsons dwelled in Corvallis, OR. In time they moved back to Selah, WA. Sadly, Keith died on July 13, 1978.
Great-grandson Alan Leydig "Magoo" Matson (1926-2011) was born on March 29, 1926. He grew up on the family's fruit ranch in Selah Heights. Just three weeks after his 18th birthday, in 1944, he enlisted in the U.S. Navy, and served aboard the USS Shields. He attained the rank of petty officer third class and was bestowed several commendations, among them the American Area Campaign, Asiatic Pacific Area Campaign, Philippine Liberation and World War II Victory medals. Upon his return home, he attended junior college and then studied business administration at the University of Washington. He spent the rest of his working career in the fruit and construction industries. Said a family obituary, he "belonged to too many clubs over the years to list and was active as a community volunteer for many decades. He was an active read, a patron to northwest artists and traveled extensively. All of his life, Al remained a supporter of our personal rights to access our public lands." As a skiier, he belonged to the White Pass Ski Company, and he also held memberships in the Washington State Snowmobile Association, Pacific Northwest Four Wheel Drive Association and the Ridgerunners, a Jeep club. Alan was a lifelong bachelor. In 1983, his mother wrote: "Still single at 57 but such a nice guy -- helped me plant shrubs yesterday." He passed away at the age of 84 on Jan. 3, 2011. His mass of Christian burial was held at Our Lady of Lourdes Catholic Church in Selah, with burial following in Terrace Heights Memorial Park.
Great-grandson Paul August Matson (1931-2018) was born on Oct. 17, 1931 in Yakima, WA. His growing-up years were spent in Selah, WA in and around the family orchard. His with his younger brothers, he loved the out-of-doors, and was active in fishing, hiking in the mountains, raising horses and tinkering with cars. During the Korean War, he joined the U.S. Navy, first assigned to a Tacoma harbor patrol and later on the refueling vessel USS Platte. During the war years, he met and wedded Joyce Bransford (Jan. 10, 1934- ? ), having met on a blind date and marrying on Feb. 24, 1953. Their lives together spanned an extraordinary 65 years. Six offspring born into this union were David Paul Matson, Roger Gerard Matson, Michael "Mike" Matson, Janet Brown, Beth Matson and Jeanne Matson. They settled in his parents' "old house" in Selah and remained for good. Paul liked to ride horses, fish, hunt, and drive Jeeps and snowmobiles. The family enjoyed getaways to their cabin in Goose Prairie. Paul and Joyce treasured their Sunday afternoon drives and trips to other states, among their favorites Alaska, Canada, Florida, Hawaii and the American Southwest. Over the years, they endured the grief of losses including their son David, daughter Jeanne, nephew Tim and great-grandson Michael. Paul passed away on March 10, 2018, "just as peacefully as he would walk through the orchards," said a family obituary. Following a mass of Christian burial at Our Lady of Lourdes Catholic Church, his remain were lowered into the sleep of ages at Terrace Heights Memorial Park.
Great-grandson Marc John Matson (1934-2015) was born on April 4, 1934. He was a graduate of Selah High School and served in the U.S. Army during the Korean War. In young adulthood, he performed fire watch duty at Goat Peak Lookout and "wrangled" horses at the Double K Dude Ranch in Goose Prairie. On Nov. 7, 1966, Marc was united in matrimony with Dot ( ? - ? ). The couple produced a family of three chidlren -- Douglas Matson, Terri Wentz and Dee Petersen. They enjoyed summers in a cabin which his mother had designed and Marc and his brothers had built. He made his residence in Selah Heights near Yakima, WA, where he cultivated orchards of apples and pears. He was a leader of Selah's 4-H horse club, liked to boat and water ski, snowmobile in the Cascades, fish, hunt on horseback and ride Jeeps along with his brother Paul. He also learned to fly at the McAlister School of Flying. Marc and Dot enjoyed spending the winter months exploring the Arizona and Nevada deserts, making their home base in Laughlin, NV. Sadly, while working in his orchard on Nov. 8, 2015, he was stricken and died at the age of 81.
Daughter Carrie Leydig (1863-1945) was born on March 25, 1863 on the family farm two miles southeast of Greene. At the age of 19, on Nov. 26, 1882, she was joined in marital union with Andrew Shook ( ? -1918). He had been married before and brought a daughter to the family, Ida Pettit. The couple went on to have two more children of their own, Paul D. Shook and Mrs. George Hamilton. They spent their years in the Greene area and were members of the Church of the Brethren. In June 1903, Carrie accompanied her pastor and several other friends to Franklin County, MO to attend a Brethren love feast. Terminating their 36-year marriage, Andrew was swept away by death in 1918. Carrie survived her husband by 27 years. She was named in a Greene Recorder obituary of her cousin Wilson Haley Crane at his death in October 1937. At her birthday in March 1943, her son Paul and his daughter and grandchildren visited from their home in Plainfield and prepared a dinner and decorated cake. She suffered from an "extended illness," said the Recorder, and died at home at the age of 82 on June 19, 1945. At the time of her passing, two of her grandsons were serving in the U.S. Armed Forces during World War II and tried to obtain furloughs home to attend the funeral.
Da
ughter Emma Leydig (1865- ? ) was born in about 1865 in Iowa. She married John Thompson ( ? - ? ). In 1916-1927, they lived in Granite Falls, MN and then Emma moved into the home of her sister Chrystie McKee in Cedar Falls, IA circa 1938. After the sister's death, she moved to Long Beach, CA, where she made her home in 1945.
Daughter Elizabeth Leydig (1867- ? ) was born in about 1867 in Iowa. She married John Martin ( ? - ? ). In March 1910, living in or near Greene, she entertained her sister and brother in law Chrystie and Milton McKee, visiting from Cedar Falls, IA. By 1938, she had established a residence in Long Beach, CA. They had at least one son, Wayne Martin.
Daughter Ida F. Leydig (1871-1913) was born in about 1871 in Iowa. She graduated from Greene High School in 1887, devoted her life to teaching and never married. She initially made her home in Allison, Butler County. By 1902, she was named Butler County superintendent of schools and focused her attention on the quality and effectiveness of one-room country schools. Said the Greene Recorder, "She is arranging to hold township meetings all over the county and requests patrons, school officers and teachers to turn out to them. The meetings will be informal, and ... subjects of mutual interest and benefit will be discussed." That same year, she was elected president of the Inter-County Teachers' Association, comprised of teachers from Franklin,. Butler, Hardin and Grundy Counties. She also conducted teacher's institutes to further educate her educators. In March 1909, she was awarded a liberal arts degree at the University of Iowa. She then accepted new employment and moved to St. Louis, MO in 1912, but by February 1913 was living in Cedar Falls, IA, likely due to poor health. Tragically, although admitted to a sanitarium in Wisconsin, she died there in August 1913. Reported the Recorder, "The news ... was received with profound sorrow by her Bristow friends, who had not known of her condition. As county superintendent of schools several years ago and as a well known teacher both before and after that time she was widely known and held in highest respect." Her remains were transported to Greene for burial.
~ Daughter Eunice (Shirer) Crane ~
Daughter Eunice Shirer (1828-1901) was born on Nov. 10, 1828 in Muskingum County.
She was joined in wedlock with Aaron Crane ( ? - ? ).
Their known children were Wilson Haley Crane and (?) Crane.
Greene, IA blanketed in snow, corner of 2nd and River Streets
They resided in Muskingum until about 1863, when the family migrated to Greene, Butler County, IA. Their residence, said the Greene (IA) Reporter, was "just at the edge of this city."
In her final years, Eunice dwelled in Butler County. She died there on May 9, 1901.
Son Wilson Haley Crane (1857-1937) was born on March 21, 1857 near Zanesville, Muskingum County. When he was six years old, he moved west with his parents to Iowa, settling in Greene, Butler County. He appears to never have married. In 1902, when Wilson was 45 years of age, he relocated to Minnesota, where he made his home in Chokio, Stevens County. Reported the Greene (IA) Recorder, "He was a farmer, but later took up the carpenter trade, which he practiced until his health failed him" in about 1934. "He was a kind and upright man and was trusted by his fellow men in all his dealings with them." At the age of 80, Wilson suffered a heart attack and died in his sleep in October 1937 in Chokio. His body was returned to Greene for burial in Rose Hill Cemetery, with Rev. Stanley Kenderdine officiating at the service. An obituary in the Recorder noted that he was survived by a niece Bessie LaRue Smith of Bellingham, WA; his sister in law Mrs. Oliver E. Crane; and cousins Chris Shirer and Mrs. A.S. Shook of Greene.
Son Oliver E. Crane (1871-1940) was born in 1871 in (?). He married Rose A. Brunars ( ? - ? ) and lived in the 1920s and '30s in Mason City, IA. They returned to Greene for a visit in August 1923, in company with Wilts Crane of Morris, MN, "looking over the old town and meeting friends of many years ago," said the Greene (IA) Recorder. "It has been twelve years since their last visit. The Crane home here in the early days is the farm now owned by Harry Drew, which adjoins the city limits to the east." They returned to Greene again six years later for the 1929 Homecoming Week, and made sure to pay a call on "Aunt Jane Bragg," as noted in the gossip columns of the Recorder. Oliver also stopped by the Recorder office and told the editor what had become of the Crane and LaRue families now scattered away from Greene. Oliver died at the age of 69 at home in Mason City on April 18, 1940. The body was shipped to Greene for interment in Rose Hill Cemetery.
Daughter Hattie Crane (1860-1910) was born in 1860 in (?). She married Reason LaRue (1854- ? ). Their children were Charles LaRue, Edward "Eddie" LaRue and Bessie Smith. They dwelled in Greene. She became afflicted with a large tumor and underwent surgery in August 1909. Dr. V.C. Birney, Dr. W.R. Arthur and Dr. E. Birney of Nora Springs were involved with removal of the tumor. Said the Greene (IA) Reporter, "The operation was most successful and the patient is now resting easy and getting along nicely at her home under the care of Mrs. Carrie Yontz." Then in 1910, she was admitted to a hospital in St. Joseph, MO, where she did not rally and where her health was in serious jeopardy. In August 1910, deathly ill, her brother and family traveled from Mason City for a visit at her bedside. She succumbed in September 1910. Several of her friends from nearby Pleasant Grove traveled to Greene for the funeral. Circa August 1929, their daughter Bessie Smith made her home in Bellingham, WA where she was married to a jeweler, and son Edward was "also in the west, where he is teaching school," said the Recorder. Son Charles is believed to have married and dwelled in Waterloo, IA in the mid-1940s.
~ More ~
We are grateful for records provided by Gilbert R. Gaumer, Paul K. Gaumer, Mary L. Shirer and the National Archives in the preparation of the Daniel Gaumer Sr. family biographies.
Copyright © 2000, 2006, 2011, 2015-2017, 2021 Mark A. Miner