Home

Lebanon 'Leb' Gaumer
(1817-1899)
Lebanon "Leb" Gaumer was born on July 17, 1817 in Washington Township, Muskingum County, the son of Daniel and Hannah (Baughman) Gaumer Sr. His name also has been spelled "Letterman."
Growing up as a farmer, he stood 5 feet, 9½ inches tall, with brown eyes and hair and a dark complexion. He often did farm work with his neighbor Thomas Phillips, which included clearing land, making fencerails and helping with harvests. "He worked right smart for me," Phillips recalled. He also provided rail-making labor for Solomon Baker and his father. At the age of 15, Lebanon joined the Lutheran Church, although he later switched to the Methodist Protestant Church in Linton Mills.
On May 6, 1845, at the age of 28, Lebanon was joined in wedlock with 16-year-old Nancy Reynolds (1829-1904). Thomas Platt performed the ceremony in Plainfield, Coshocton County, OH. The couple did not produce any children.
They resided in the early 1860s in Linton Mills, Coshocton County. During the Civil War, at the age of 45, Lebanon joined the 69th Ohio Infantry, Company I, enrolling on Feb. 11, 1862. Younger members of the regiment considered him an "old man," and one member of his regiment said Lebanon was "no soldier. He could not learn military tactics.... He could not march and keep up with the company." He became ill with the measles within a month of joining the army and was left behid at the post hospital at Camp Chase, OH when the regiment left in March. He remained incapacitated for a few months and then on April 18, 1862, was sent home. Upon arrival in Linton Mills, friends told him the army would send for him when they wanted him, and he claimed he believed that. But after 14 months away, an officer came to his home in September 1863 and put him under arrest, and he was housed in a successive chain of guard houses until they arrived back at the regiment.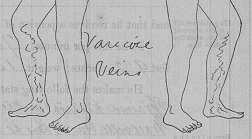 Actual surgeon's sketch of Lebanon's legs
Lebanon faced a court martial for desertion, but was found guilty of a lesser offense of being absent without official leave (AWOL). The army tacked 14 months onto his term of service since he had lost that time while away. He became sick again and was hospitalized at Kingston, GA in mid-May 1864 and then at Murfreesboro, TN on June 3, 1864, where he was given the light duty assignment of tending to the government gardens. At about that time, he sprained an ankle and after a march to Graceville, GA claimed that rheumatism had settled in the leg. In September that year he was hospitalized again in Chattanooga, remaining until April 1865, but including a two-week furlough in November 1864. He received an honorable discharge in Louisville, KY on July 17, 1865.
After the war's end, the Gaumers continued to live on a 40-acre farm near Linton Mills. Among their neighbors was a first cousin, Jacob Riley Gaumer and his wife Mary (of the family of John and Mary Magdalena [Shirer] Gaumer). Lebanon helped make rails for the father of Robert McKaig, but insisted that he be paid by the hundred rather than by the day. Nancy joined the local Methodist Episcopal Church in the spring of 1869.
In the year 1867, he was caught up in a federal investigation of voting irregularities and gave a sworn deposition that, in Linton Township on Oct. 9, 1866, he had voted for George W. Morgan for Congress. His brother Jonathan Gaumer and relative Riley Gaumer also gave similar testimony in the case.
The Gaumers moved a few miles to the east, in about 1878, crossing the county line into the northwest section of Guernsey County, OH. There, they purchased a 95-acre farm near Birds Run, Wheeling Township and made a home for many years. Friends called it "poor hill land." Lebanon's cousin Jacob Riley Gaumer said he was "a hard working man" and that "his habits were good." When they were older, however, the farm became inactive, and they did not even own a cow or pig or farm implements. Yearly income circa 1899 did not exceed $140. Neighbor John Furney considered them "a very strange couple, considered miserly, + it was thought that they had considerable money." One evening in the early 1890s, they were robbed in their home of between $300 and $400.
On May 13, 1880, Lebanon was awarded a military pension as compensation for his wartime ailments. [Invalid App. #366.397 - Cert. #542.870] He claimed he was totally unable to earn a living because of leg infections and varicose veins contracted while in the service, added to hemorrhoids, pleurisy (lung inflammation) and kidney disease as well as lumbago (lower back pain). His wife once said that his legs "all swelled up + bursted + water run out of them. They were the awfulest legs you ever saw. They were larger than two or three legs ought to have been."
The Gaumers' post office during that time was considered Plainfield.
In March 1899, Lebanon was gored by cow's horn, with his collar bone broken and his breast bone badly bruised and possibly split. During his convalescence, he got up one cold night from bed, with no fire in the fireplace, but fell on the floor from exhaustion, and Nancy would not get up to help him. He lay helpless and uncovered until morning, when a friend helped him back into bed. This led to pneumonia. He received visits from his cousin Jacob Riley Gaumer, but Nancy was angry at the guest for having called in township authorities, and he did not stay long. Lebanon was treated by Dr. M.T. Moorehead and recovered sufficiently to be up and about the house.
In his final illness later in 1899, Lebanon refused to call a physician, although a township trustee stopped by and demanded that they do so. Nancy recalled that "he got so that he could not sit up, he just lay down + remained a couple of day, and swelled up, all over, his hands and arms, + face swelled up terribly before he died." Lebanon passed away on July 2, 1899 at home. An obituary which ran in the Adamsville Register and the Plainfield Sentinel reported that Rev. C.R. Blades of the Methodist Protestant Church officiated at the funeral, with burial in Plainfield Cemetery. A short obituary in the National Tribune in Washington, DC -- which covered veterans' affairs -- mis-reported that he left behind "several children."
His estate was administered by local merchant and postmaster Lewis Carruthers of Birds Run. Unfortunately, he carried no life insurance and so Nancy received nothing financially upon the death.
Later that month, Nancy applied to begin receiving her husband's monthly pension payments. There is no evidence to show that this was approved. [Widow App. #702.901 - no certificate] Several friends gave affidavits of support in her cause, among them Daniel Dusenberry, John Baker and R.L. Baker.
A government investigator looking into her pension claim said that she had "no stock in her farm, has lived the life of a hermit nearly all the time since soldier's death except short intervals, she being so contrary and miserly that no one will live with her. She claims she can't afford to fence the farm properly, hence no one wants to rent her land. Her sister and husband came in from the west to look after her and live with her, but after remaining one day became disgusted and returned home."
Just three days before Christmas 1903, Nancy fell and was badly hurt, requiring bed rest. She stayed in her own home for about seven months until July 1904, when she was moved to the home of George Clemens. There, said the Newcomerstown News, she "received the msot tender nursing until death called her away." Nancy died on Dec. 6, 1904. The News noted that she "has not relatives in the country, but leaves two sisters in the farm west to mourn their loss." Her mortal remains were returned to the earth beside her husband in a funeral service led by Rev. Bowers of the Birds Run Methodist Episcopal Church and Rev. C.P. Aller of the Plainfield Methodist Protestant Church.
He is named in J. Hope Sutor's 1905 book Past and Present of the City of Zanesville and Muskingum County, Ohio.
~ More ~
We are grateful for records provided by Gilbert R. Gaumer, Paul K. Gaumer, Mary L. Shirer and the National Archives in the preparation of the Daniel Gaumer Sr. family biographies.
Copyright © 2000, 2006, 2011, 2015-2017 Mark A. Miner