Harvey Grim (1818-1906) and
Permelia Headley (1825-1899)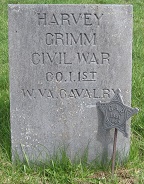 Prosperity Cemetery
Harvey Grim was born on Nov. 17, 1818 or 1820 in Jackson Township, Greene County, PA the son of Adam and Hannah (Syphers) Grim.
He married Permelia Headley (1825-1899), also a native of Greene County. She was born on March 8, 1825, and her nickname was "Permelie."
Other researchers give the name of Permelia's parents as Amos and Experience (Lindley) Headley, and of her grandparents as Joseph and Abigail (Morris) Headley. We're looking into whether she was a direct grandchild of one of the Headleys who served in the British army during the American Revolution, were pioneer settlers of New Jersey and early hunters and farmers of Greene County.
They became the parents of these 10 known children -- Lawrence "Clark" Grim, Mary E. Grim, Experience "Perie" Hinerman, Dr. Adam Grim, Samuel D. Grim, Sarah Grim, Margaret Parkson, Reese "Cooper" Grim, Lucy J. Winget and Cora Grim.
The Waynesburg Republican once said that Harvey "followed farming and stock raising all his life and had been very successful." He stood six feet tall with a fair complexion, dark hair and grey eyes.
When the federal census was enumerated in 1860, the family made its home in Jackson Township, with Harvey engaged as a tenant farmer, and 17-year-old son Lawrence assisting him as a farm laborer. Their post office at the time was White Cottage.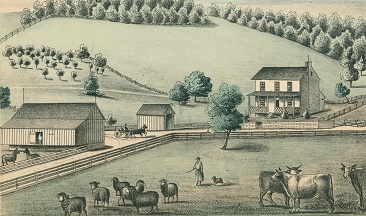 Typical farm in hilly White Cottage, PA. Atlas of Greene County, 1876
Family friend A.G. Cross said that "before he was enlisted, he was regarded as one of our Stoutest men, was noted for his endurance and physical strength." Another acquaintance, family physician William M. Parry said "I think he was somewhat noted for his physical strength; he had that reputation," but added "I have heard that he has been addicted to drink, particularly before the war." During that time, Dr. Francis M. Hull employed Harvey to help harvest -- "the hardest work we have" -- and to shear sheep.
Upon learning the news that the Civil War had erupted, the 40-year-old Harvey was recruited to enlist by his part-time employer, Dr. Hull. He left home and family and traveled to Wheeling, Ohio County, VA (later West Virginia) where he joined the army on Oct. 4, 1861. He was assigned to the 1st West Virginia Cavalry, Company I, initially commanded by Capt. Thomas Reeves and later by Lieut. Joseph Wilson.
He then was sent to Clarksburg, WV for training. Some of the other local men serving in the same regiment -- Chance Minor, Daniel H. Younken and Marcellus "Marsh" Andrews -- also are profiled on this website.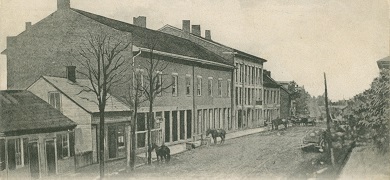 Clarksburg, WV during the Civil War
Their son Clark also enlisted in the army with the 18th Pennsylvania Cavalry, waiting until 1864 to do so.
In a drilling exercise at Strasburg in Virginia's Shenandoah Valley, in November 1862, Harvey and his comrades were training their horses to jump ditches. Harvey's mount failed in the maneuver, and slipped backward into the ditch, falling hard on Harvey. The top of the saddle horn punched into his back, severely damaging his kidneys.
Friend Jacob Staley, who was with Harvey at the time of the incident, noted that "he had to be carried off the field" and "could not straighten up without assistance." He laid on the ground for about two hours, and then got up and rode a horse back to camp. With the regiment's surgeons not providing any treatment, Staley stayed with him for a few days to obtain meals and water. The injury plagued Harvey for the rest of his life.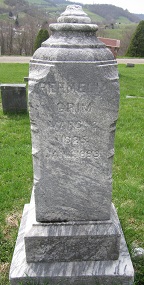 Permelia's grave marker,
Prosperity Cemetery
A day or two following the incident, Harvey's company marched to Front Royal, VA to meet up with another detachment of their regiment. Together, they proceeded to Alexandria, VA to rejoin the rest of the 1st West Virginia. With his pain worsening, Harvey was sent for treatment to Odd Fellows Hall General Hospital in the District of Columbia. Upon arrival, he was marked as having "remittent fever." Later that month, he was transferred to a Philadelphia hospital at Broad & Cherry Street. There, he showed evidence of a contusion. After about 18 days, in January 1863, he was sent away to Mower General Hospital in Philadelphia's Chestnut Hill. A physician at Mower diagnosed a condition of phthisis pulononalis (general wasting away due to tubercular deposits in both lungs).
Not recovering fully, he received an honorable discharge on Feb. 6, 1863 in Philadelphia, and returned home to Ryerson's Station, along Hart's Run. Adult son Lawrence was at home when Harvey arrived, calling him "very much reduced." A little more than a year later, the son enlisted to serve in the war with the 18th Pennsylvania Cavalry.
Pain and heartache shook this family over the years. In mid-January 1872, one of their sons "purchased a pistol a few days ago, and concluded to have some fun," said the Washington (PA) Reporter. "He loaded it heavily, and while handling it, by some mishap it went off, the load tearing one of his fingers. He went to a physician who tied it up, but in a few days he had to have the finger taken off, and it is now feared he will lose his hand." Even worse, in about 1879, their married daughter Experience "Perie" Hinerman died unexpectedly, leaving behind a husband and four young children. None of the children is known to have been taken in to the Grim household.
In 1880, remaining in Jackson Township, the census shows Harvey working as a farmer.
As he aged, Harvey began to suffer from rheumatism in addition to his old kidney ailments, experienced deafness in both ears and increasingly was unable to work. He said he felt pain when frequently urinating and complained to a neighbor about blood mixed in his urine. He regularly used a cane when walking. At times he spent a day or two in bed due to "spells." He obtained medicines from druggist W.B. Rogers in Waynesburg during periodic trips to the town.
Friend Roseberry Hughes, of White Cottage, Greene County, testified that "[I] have lived clost by him for 6 years. I have saw him try to worke and he can't do eny thing. He hast to hire his fire wood cut." Other friends providing testimony on his behalf were boyhood friend Thomas Chess of Ryerson's Station; John Messenger of Cameron, WV; Jacob Staley of Deep Valley, PA; Dr. F.M. Hull of Bristoria, PA; Samuel Stall of Bristoria; John Yoders of Bristoria; son in law James Parkson of Ryerson's Station, PA; Dr. A.G. Cross of Waynesburg; and brother in law Job H. Ross of Bristoria.
Stall recalled that he had employed Harvey at times for work thrashing crops and during harvest, but only for "a piece of a day." William Filby of Bristoria hired him to help hoe and husk corn but added that in two years' time, he had only worked for him for 10 days.
Friend Yoders said:
I have known him to refuse work lots of times because he said he wasn't able to do anything.... Well, he was at my house, attending a gathering; the neighbors were at my house gathering wood for me and he came, and attempted to help. He slipped and hurt himself, and had to quit; he slipped and fell very near down, but some of the boys catched him; he was complaining when he come, and I told him he had better not do anything.
But Harvey also had his detractors. His son Lawrence told a government agent that before the war, "there would be spells that [Harvey] would tinker around at some little things, but I never knowed him to do any work of any account until after I came back from the army, and he has done very little since." The son said that he and his siblings provided financial support for their father's well being.

The village of Old Concord, where the Grims moved in about 1890
The postmaster of Deep Valley asked around about Harvey's claims of kidney disease, and received a reply from one citizen that "it was a common thing to hear men of claimant's age who were always found about houses of ill fame and in company with lewd women complain of the back." He is known to have met friend William H. Rinehart at a place "kept as a public house, and known as the Widow Thomas's tavern stand, in Jackson Township.... I have never known of his drinking to excess; I know he has occasionally taken a drink of whiskey." Dr. Parry, who had known Harvey since 1858 and treated him from 1870 to 1880, said that in his professional opinion, he:
...was not aware that he had any chronic disease except "downright laziness and general cussedness." Should say if he has the diseases claimed they were brought on by hard service "among the bad women and whiskey." It is [my] opinion that if nine-tenths of the people in the community were asked what his disease was they would reply that they did not know he had any except the two named above, laziness and cussedness....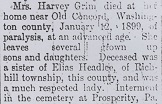 Waynesburg Republican, 1899
Samuel H. Roach of Bristoria claimed to have known Harvey since 1849. When asked if he knew whether Harvey had worked pretty regularly since the war, Roach replied: "I should rather think not; I have not known of his doing much; he and I have not worked together since the war, but we worked together a great deal before the war [ when he was] considered one of our best hands...." He added that Harvey "has occasionally taken a drink, of course, but he has always known when to let it alone."
In 1884, when Harvey was 64 years of age, he was awarded a federal pension in compensation for his injuries. [Application #284.264; Certificate #263.302] He underwent period medical examinations by government physicians to assess his condition.
After a lifetime spent in and around Jackson Township, Harvey and Permelia relocated in 1890 to Old Concord, Washington County, PA. Their post office at that time was Nettle Hill.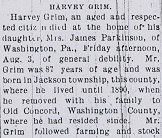 Waynesburg Republican, 1906
Permelia was considered "a much respected lady," said the Republican. Paralyzed due to a stroke in the winter of 1899, she died at home in Old Concord on Jan. 12, 1899, at age 74. She was laid to rest in the Prosperity Cemetery, otherwise known as the Upper Ten Mile Church Cemetery. In an obituary, the Republican noted that she was survived by a brother, Elias Headlee, of Richhill Township, Greene County.
Harvey survived his wife by seven years. His final pension payment amount was $12 per month. By 1905, his eyesight had declined to the extent that he could not even sign his own name.
During the summer of 1906, in late July, he traveled for a visit to the home of his married daughter Mrs. James Parkinson in Canton Township on the outskirts of Washington, Washington County. He was stricken with an illness and died there 10 days later on Aug. 3, 1906. Burial was in Prosperity Cemetery. The examining physician wrote that the cause of death was "General Debility accompanying old age and Bowel trouble." R.C. Grim, of Old Concord, signed the official Pennsylvania death certificate.
In 1995, a record of their interments was published in Greg R. Dunn's book, Burials in the Upper Ten Mile Church Cemetery, produced by Closson Press.
~ Daughter Mary E. Grim ~
Daughter Mary E. Grim was born in 1846. Nothing more is known.
~ Son Adam H. Grim, M.D. ~
Son Dr. Adam H. Grim (1849-1925) was born on Oct. 23, 1849 or 1850 near Waynesburg. He grew up with a life of farming, and decided that it was not be his future. As such, he made the most of his three or four months of studies each winter at school.
Circa 1870, when he was 20 years of age, he lived at home and was a teacher. "He then commenced teaching, which he followed in connection with working on the farm, handling coke, coal, mining, and attending school at every opportunity, till he graduated from Duff's College, at Pittsburgh, Pennsylvania, in 1872," said a profile in the 1881 book History of Lee County.
On March 1, 1876, he relocated to Newman, Douglas County, Illinois, where he began to study medicine under the tutelage of Dr. J.M. Wagner. Said the History, "He soon, however, found himself without means, and again resorted to teaching and working on a farm, keeping up his studies at night."
He saved enough funds to enter Rush Medical College in Chicago, where he graduated on Feb. 22, 1881. The following day, he relocated again to Franklin Grove, China Township, Lee County, IL, where he established a medical practice. In 1902-1903, he served as a contracting surgeon for the C. & N.W. Railway. He enjoyed writing and at one point published an analysis of a case he had handled involving the death of an expectant mother due to a tubal pregnancy. The 1914 History of Lee County, by Frank Everett Stevens, named Adam and said that "Franklin Grove always has been provided with the best of surgeons."
Adam married Florence (?) (1860- ? ) in about 1887. They had two children -- Margery A. Howard and Roger A. Grim.
He also dabbled as an inventor and, in collaboration with John Blocher of Franklin Grove, invented a voting machine which was submitted for a patent in June 1902.
Sadly, Florence died during the decade between 1900 and 1910.
In 1920, when the federal census was made of Lee County, Adam was age 69 and lived with his married daughter and son in law, Charles and Margery Howard, on Lincoln Way.
He is believed to have married late in life to Anna Patterson ( ? - ? ).
At the age of 75, Adam died in Rochelle, Ogle County, IL. His remains were returned to Franklin Grove for burial. [Find-a-Grave]
Daughter Margery A. Grim (1892- ? ) was born in February 1892 in Illinois. She wed Charles A. Howard (1886- ? ), a native of Nebraska. He was a blacksmith who operated his own shop in Franklin Grove. Their home in 1920 was on Lincoln Way, and under their roof that year were Margery's father, brother and 24-year-old cousin Almeda Grimm. They went on to have at least four children -- Doris L. Howard, John R. Howard, Janet Howard and Marilyn Howard. They remained in Franklin Grove during the 1920s and are shown there on the 1930 census.
Son Roger A. Grim (1894- ? ) was born in June 1894 in Illinois. In 1920, when he was age 25 and single, he boarded with his married sister and earned a living as a laborer performing "general work."
~ Son Samuel D. Grimm ~
Son Samuel D. Grimm (1855-1934) was born on April 4, 1855 in Aleppo Township, Greene County.
He lived in Washington, Washington County, and spelled the family name "Grimm." Samuel was married and had one son, E.H. Grimm.
Said the Waynesburg Democrat Messenger, "For more than 43 years he has resided in Washington and during his active years he was engaged as a carpenter and contractor."
In June 1934, stricken with serious illness, Samuel was brought into the home of W.H. Moore at 79 North Main Street. There, he died at age 79 on June 20, 1934. He was buried in Washington Cemetery.
~ Daughter Sarah Grim ~
Daughter Sarah Grim was born in 1857. Nothing more is known.
~ Daughter Margaret (Grim) Parkson ~
Daughter Margaret Grim (1859- ? ) was born on March 8, 1859 (or 1862).
She married James Madison Parkson (1852-1918) in about 1879, when she would have been age 20 and he 27. Upon marriage, they went to live with James' grandparents, William and Sarah Ashbrook, in Richhill Township, Greene County.
By 1885, they had migrated into the Washington County seat of Washington.
They made their home on Fayette Street in West Washington, Washington County, PA. James earned a living as a day laborer circa 1900.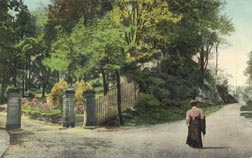 Washington Cemetery entrance
The Parkinsons had nine children, of whom six are known -- Jennie Parkinson, Harvey Parkinson, Edna Parkinson, Stanley Parkinson, Marta Parkinson and Charles Parkinson.
Afflicted with diabetes for the final two years of her life, Margaret passed away in Washington Hospital at the age of 53 on March 18, 1915. She was placed into eternal rest in Washington Cemetery.
Evidence suggests that James died on April 18, 1918 at the age of 66.
Daughter Jennie Parkinson (1882- ? ) was born in July 1882.
Son Harvey James Parkinson (1885-1964) was born on April 5, 1885, in Washington. Said the Waynesburg Republican, "All of his life was spent in the Waynesburg vicinity where he was a farmer." Harvey married Lucy Montgomery ( ? -1924). They had nine children -- James Parkinson, Lewis Parkinson, Fannie Cunningham, Belle Kiger, Mae Mitchell, Alice Knight, Florence Henderson, Virginia Thomas and Albert "Bud" Parkinson. Sadly, Lucy died in 1924. Harvey outlived her by four decades. He suffered a stroke in Waynesburg and died in Greene County Memorial Hospital on Feb. 4, 1964. At his death, noted the Republican, he was survived by 18 grandchildren, nine great-grandchildren and one great-great grandson.
Granddaughter Fannie Parkinson married Lewis Cunningham and lived in Rices Landing, Greene County.
Granddaughter Belle Parkinson wed Grover Kiger and in 1964 resided in Waynesburg R.D. 4. She died sometime before 1973.
Granddaughter Mae Parkinson married Clarence Mitchell. They made their home in Wellsburg, WV. She died sometime before 1973.
Granddaughter Alice Parkinson wed (?) Knight. Circa 1964, her residence was in Waynesburg.
Granddaughter Florence Parkinson married George Henderson. They lived in Waynesburg in the 1960s.
Granddaughter Virginia Parkinson wed (?) Thomas. She resided in Waynesburg R.D. 4.
Grandson Albert "Bud" Parkinson (1921-1973) was born on May 21, 1921 near Waynesburg. He was a longtime farmer in the Waynesburg region and employed by Guthrie Trucking Company. He married Katherine Hillberry, who had been married before and brought six step-children to the marriage. They had one daughter of their own, Dolly Jane Parkinson. They made their home in the 1960s in Sycamore, R.D. 1, Greene County, and in the early 1970s in Nemacolin, PA. Bud died of a coronary occlusion at home at age 51 on Feb. 8, 1973. Burial was in Smith's Cemetery.
Daughter Edna Parkinson (1886- ? ) was born in May 1886.
Son Stanley Parkinson (1889- ? ) was born in October 1889. In 1964 he lived in Washington.
Son Marta ("Martin"?) Parkinson (1894- ? ) was born in April 1894.
Son Charles Parkinson (1897- ? ) was born in June 1897. He made his home in Claysville in 1964.
~ Son Reece "Cooper" Grimm ~
Son Reece "Cooper" Grim (1859-1951) was born on June 17 in 1859. He may have spelled his family name "Grimm" as an adult, and was a longtime farmer in Old Concord, Washington County.
Reece was married at least three times. On Jan. 21, 1887, at age 27, Cooper married 21-year-old Margaret "Maggie" Gatts (or "Gates") (1866- ? ), daughter of Noah and Emily Gatts of Greene County. They were wed by hand of Waynesburg justice of the peace G.W. Rinehart.
The couple had five children -- Godia M. Grim, Emily Permelia "Emma" Shriver, Adam H. Grim, James A. Grim and Almeda Grim.
Their home in 1906 was on a farm near Sparta, Washington County, about two miles from Prosperity as the crow flies, or four miles by road. Cooper labored there as a farmer. They remained there by 1910, as shown in the federal census.

Man and dog rest on a crude footbridge above Tenmile Creek
Sadly, Maggie died on July 20, 1911, terminating a marriage of 24 years. She was laid to rest in the Prosperity Cemetery, otherwise known as the Upper Ten Mile Church Cemetery.
Cooper married again on Sept. 21, 1912. His second wife was Fannie Berdine ( ? - ? ). The union did not last long. She deserted the marital dwelling, and they divorced on July 1, 1915.
On Aug. 2, 1915, at the age of 54, he married his third wife, widow Emma M. (Roach) Clutter (1870- ? ), daughter of Samuel and Matilda (Filby) Roach. Emma's first husband had died on March 9, 1907.
Circa 1934, he resided in Old Concord.
Reece passed away in 1951, at the age of 92, and is buried with his first wife in Prosperity Cemetery.
In 1995, a record of their interments was published in Greg R. Dunn's book, Burials in the Upper Ten Mile Church Cemetery, produced by Closson Press.
Son Adam Grim (1892- ? ) was born in 1892 in Sparta or Old Concord. He was married and divorced. He migrated to Illinois and at age 38 boarded with the family of George H. and Ruth V. Fruit, worked as garage laborer and lived next door to his married first cousin Margery (Grim) Howard.
Son James A. Grim (1894- ? ) was born in 1894 in Sparta. As a young man he labored as a farmer. On May 8, 1915, at the age of 21, he wed 19-year-old Lizzie Russell of Claysville. Rev. S.L. Parcell performed the nuptials. She was the daughter of farmers David and Haney (Tilton) Russell of South Franklin Township, Washington County.
Daughter Emily Permelia "Emma" Grim (1894- ? ) was born in 1894 at Old Concord. She was named in part for her grandmother Grim. On Sept. 1, 1915, Emma wed farmer Albert E. Shriver, son of Thomas E. and Anna J. (Main) Shriver. She was age 26 at the time, and he was 25. The ceremony took place at 160 Jefferson Avenue in in Washington, with Rev. Arthur Smith officiating.
Daughter Almeda Grim (1896- ? ) was born in 1895 in Old Concord. She made her way to Illinois to live with her uncle Adam Grim, a physician, and his family in Franklin Grove, Lee County. She lived under their roof in 1920.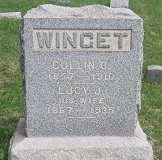 Prosperity Cemetery
~ Daughter Lucy Jane (Grim) Winget ~
Daughter Lucy Jane Grim (1867-1935) was born on March 11, 1867 in Washington County, PA.
She resided in Sparta, Morris Township, Washington County, in early adulthood. On Oct. 27, 1886, at age 19, Lucy wed 28-year-old Collin Osborn "Ozzie" Winget (1858-1910), also of Sparta, Morris Township. He was the son of Harvey and Matilda (Garrett) Winget of Old Concord.
Because she was underage, Lucy's father had to provide his consent to the marriage. The nuptials were held in Prosperity, Washington County, by Rev. Arthur Smith.
The couple had seven children, of whom the following are known -- Mary H. Winget, Hannah H. Winget and Opal E. Winget.
In about 1902, Collin suffered a serious injury, of a nature not known. This led to a tuberculosis infection of his spine, called "Pott's Disease." He never fully recovered, despite the passage of eight years of convalescence.
Circa 1906, the Wingets lived in Jefferson, Ashtabula County, OH. They are shown there on the 1910 federal census, with Collin having his "own income" which may have been a pension of some sort due to his injury.
But in declining health, Collin died at home in Jefferson on May 30, 1910, age 52. In an obituary, the Waynesburg Republican said "He was a member of the Presbyterian church and was highly respected." His remains were returned to Prosperity for burial in the local cemetery.
By the 1930s, she had relocated to Warren, Trumbull County, OH, where her residence was at 183 Kennelworth SE.
Lucy died there at age 67 on Feb. 20, 1935. Her remains were returned to Washington County for burial in Prosperity Cemetery. Opal E. Lewis of Warren was the informant on her Ohio death certificate.
~ Daughter Cora Grim ~
Daughter Cora Grim was born in 1869. Nothing more is known.
Copyright © 2014-2015, 2017 Mark A. Miner