Ollie (Harbaugh) Hall
(1900-1995)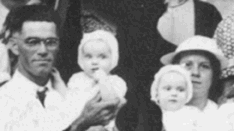 Ollie Magdalene (Harbaugh) Hall was born on Aug. 9, 1900 at Maple Summit, Fayette County, PA, the daughter of Robert B. and Elizabeth (Long) Harbaugh Sr.
Ollie married Lloyd Jackson Hall Sr. (1896-1982), the son of Josiah and Eleanor (Lytle) Hall of Maple Summit. They had five children -- Lloyd J. 'Red' Hall Jr., twins Ila Jane Dull and Ina Jean Hutchinson, David Hall and Verna Burton.
Said the Uniontown (PA) Herald-Standard, she "was a member of the Asbury United Methodist Church, Asbury United Methodist Women, Wesleyan-Pope and Jo Kriz Circles in Uniontown, and devoted her entire life to her beloved husband and their loving family."
In an interview in 1994, she said she went to school with her future husband in a small school house across the road from the Maple Summit Church. She only had to walk as far as across the fields from home to get to school. Lloyd, on the other hand, had to walk two miles to get to school. Ollie said she believed her husband was a relative of Winfield Hall, who married cousin Josephine Minerd. In fact, Winfield was Lloyd's half uncle, and the son of Joseph and Elizabeth Hall.
During World War I, Lloyd served in the American Expeditionary Force in France. He was on a march, possibly to the front, when news came of the Armistice.
Later, Lloyd worked for AT&T for 40 years. He was an "open-wire man" or lineman. In 1938, the Halls resided at Lemont near Uniontown. They lived in Newtown Square near Philadelphia for eight or 10 years, and then were transferred to Kane, McKean County; to Pittsburgh; to Uniontown, PA (twice); and thence to Morgantown, WV.
Ollie and Lloyd were very active leaders and supporters of the annual Harbaugh Reunion over the years. They are pictured in the 1936 group photograph, and are recorded to have attended in 1947 and in 1959-64 (when Lloyd served as President); in the years of the '60s and '70s (when they handled the opening prayers, awards and prizes) and in 1968, 1974-1981 (when they received the "Longest Married" award); in 1974-1981 (when he was recognized as "Oldest Man Present") and in 1977-91 and 1993-94 (when she was acknowledged as "Oldest Woman Present").
In 1949, when the Harbaugh History book was published, they were residing in Morgantown.
Lloyd died in February 1982, just a few months before they would have celebrated their 60th wedding anniversary.
As she aged, Ollie entered the Eicher Personal Care Home in Normalville, Fayette County. She passed away there at age 94 on July 16, 1995.
Copyright © 2003, 2008 Mark A. Miner