Ollie (Harbaugh) Hall
(1900-1995) and
Lloyd Jackson Hall Sr. (1896-1982)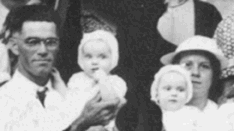 Lloyd, Ollie and twins, 1936
Ollie Magdalene (Harbaugh) Hall was born on Aug. 9, 1900 at Maple Summit, Fayette County, PA, the daughter of Robert B. and Elizabeth (Long) Harbaugh Sr.
Ollie married a cousin, Lloyd Jackson Hall Sr. (1896-1982), the son of Josiah H. and Eleanor "Ellen" (Lytle) Hall of Maple Summit of the family of Joseph and Elizabeth (Rowan) Hall.
They produced a family of five children -- Lloyd J. "Red" Hall Jr., Lewis "David" Hall, Verna Burton and twins Ila Jane Dull and Ina Jean Hutchinson.
In an interview in 1992 with the founder of this website, Ollie said she went to school with her future husband in a small school house across the road from the Maple Summit Church. She only had to walk as far as across the fields from home to get to school. Lloyd, on the other hand, had to walk two miles. Ollie said she believed her husband was a relative of Winfield Hall, who married cousin Josephine Minerd. In fact, Winfield was Lloyd's half uncle, and the son of Joseph and Elizabeth Hall.
During World War I, Lloyd served in the American Expeditionary Force in France. He was on a march, possibly to the front, when news came of the Armistice.
Later, Lloyd worked for Bell Telephone and AT&T for 40 years. He was an "open-wire man" or lineman. In 1935-1938, the Halls resided at Hopwood/Lemont near Uniontown. They relocated to Newtown Square near Philadelphia and Kane, McKean County. The federal census of 1940 shows the family in Wetmore, McKean County, with Lloyd continuing his work as a telephone company lineman.
Said the Uniontown (PA) Herald-Standard, Ollie "was a member of the Asbury United Methodist Church, Asbury United Methodist Women, Wesleyan-Pope and Jo Kriz Circles in Uniontown, and devoted her entire life to her beloved husband and their loving family."
Future transfers were to Pittsburgh; to Uniontown, PA (twice); and thence to Morgantown, WV.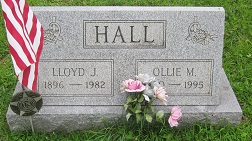 Maple Summit Cemetery
Ollie and Lloyd were very active leaders and supporters of the annual Harbaugh Reunion over the years. They are pictured in the 1936 group photograph, and are recorded to have attended in 1947 and in 1959-64 (when Lloyd served as President); in the years of the '60s and '70s (when they handled the opening prayers, awards and prizes) and in 1968, 1974-1981 (when they received the "Longest Married" award); in 1974-1981 (when he was recognized as "Oldest Man Present") and in 1977-91 and 1993-94 (when she was acknowledged as "Oldest Woman Present").
In 1949, when the Harbaugh History book was published, they were residing in Morgantown.
Lloyd died in February 1982, just a few months before they would have celebrated their 60th wedding anniversary.
As she aged, Ollie entered the Eicher Personal Care Home in Normalville, Fayette County. Her married niece Betty (Harbaugh) Lafferty introduced the founder of this website to her during a visit on Sept. 20, 1992.
She passed away at Eicher's at age 94 on July 16, 1995. Her remains were lowered into rest beside her husband's in Maple Summit Cemetery.
~ Son Lloyd J. "Red" Hall Jr. ~
Son Lloyd J. "Red" Hall Jr. (1923-1990) was born on Sept. 11, 1923 near Confluence, Somerset County..
He dwelled in Morgantown, Monongalia County, WV in the 1940s.
On July 29, 1945, at the age of 21, Lloyd was joined in marital union with 28-year-old Naomi Ruth Pickenpaugh (March 12, 1917- ? ), daughter of George T. and Havilah (Powell) Pickenpaugh and a native of Morgantown. The nuptials were held in Morgantown, by the hand of Rev. W. Sproule Boyd of the Methodist Church.
The couple did not reproduce.
Later, Lloyd wedded Loretta M. (July 25, 1933-2000). They too had no children.
Lloyd died on Jan. 16, 1990. His remains were interred in Shady Grove Cemetery in Bruceton Mills, Preston County, WV.
Loretta lived for another decade as a widow. She was cut away by the Grim Reaper of Death on Oct. 7, 2000, and is buried in Shady Grove.
~ Son Lewis "David" Hall ~
Son Lewis "David" Hall (1927-2013) was born on Feb. 10, 1927 in Bryn Mawr, PA.
He was united in holy matrimony with Marjorie Madilene Lough ( ? - ? ).
The couple bore two daughters -- Diana Crawford and Barbara Hall.
Their home in 1980-1992 was in Charleston, Kanawha County, WV.
Later in life, the Halls dwelled in Smyrna, TN. They were members of Cross Lane Church.
David died in Smyrna at the age of 86 on Sept. 15, 2013. Funeral service were held at Rural Hill Church of Christ. His obituary was published in the Nashville Tennessean.
Daughter Diana Hall married Eric Crawford. They lived in Antioch, TN.
Daughter Barbara Hall was in Scott Depot, WV in 2013.
~ Daughter Verna (Hall) Burton ~
Daughter Verna L. Hall (1931- ? ) was born in about 1931.
On Aug. 27, 1955, she was joined in wedlock with Roy Lunn Burton Jr. (Sept. 28, 1927-2010), the son of Roy Lunn and Helen (Holland) Burton Sr. A native of Clarksburg, Harrison County, WV, Roy served in the U.S. Army during World War II and obtained a degree from West Virginia University.
They were the parents of these known offspring -- Christopher Burton, Adam L. Burton, Katharine M. "Kate" Hessinger, Polly Burton, Amy Burton, Ann Burton and William George Burton. Any and Ann appear to have been stricken with cystic fibrosis.
For many years, the family lived in Dayton, OH, where Roy was employed as general manager of Times Publications, which produced the Kettering-Oakwood Times and Centerville-Bellbrook Times. He held a term as president of the Suburban Newspapers Association. He helped found the Kettering Holiday at Home Festival and the Kettering-Oakwood Exchange Club.
The Burtons endured the untimely deaths of their daughters Amy and Ann and son William.
Circa 1995, Verna resided in Cambridge, OH. In retirement, Verna and Roy made a home in West Lafayette, IN.
Roy spent his final time in Heritage Healthcare, where he died at age 82 on Aug. 15, 2010. A memorial service was held at the St. Thomas Aquinas Center in West Lafayette, officiated by Rev. Fr. Tom Poulsen. The family asked in a Dayton Daily News obituary that any memorial donations be made to the Cystic Fibrosis Research Foundation.
Son Christopher Burton and Lori were wed in 2001 in Fort Smith, AR.
Son Adam L. Burton dwelled in Dayton, OH.
Daughter Katharine M. "Kate" Burton married Greg Hessinger. They make a home in Riverside, IL.
Daughter Polly Burton wedded Richard Tarbell, son of Richard E. and Jo Lee (Fuller) Tarbell Sr. Her residence has been in Florida and in Charlottesville, VA.
Son William George "Billy" Burton was deceased by 1992.
~ Daughter Ila Jane (Hall) Dull ~
Daughter Ila Jane Hall (1935-1980) was born on Oct. 29, 1935, a twin with her sister Ina Jean.
She married Donald L. Dull (1926-2004). He was nine years older than his bride.
The couple made a home in Forest Hills near Pittsburgh.
They were the parents of Sharon Dull and Donald Dull.
Sadly, while in Rehoboth Beach, DE, Ila passed away on Aug. 29, 1980 at the age of only 43. Her remains were shipped back home for burial in Penn Lincoln Memorial Park in North Huntingdon Township, Westmoreland County. [Find-a-Grave] A death notice was published in the Pittsburgh Post-Gazette.
Donald lived as a widower for another 24 years and remained in Forest Hills. He succumbed to death at the age of 77 on July 21, 2004. His obituary was printed in the Greensburg Tribune-Review.
Daughter Sharon Dull married Michael O'Dell. Their home in 2004 was in Hubbard, OH. Their children were Michael O'Dell, Andrew O'Dell and Lyndsey O'Dell.
Son Donald Dull served in the U.S. Marine Corps in 1995. He wedded Paula. They bore three children -- Jacob Dull, Grace Dull and Rebecca Dull. Circa 2004, they were in Altoona, Blair County, PA.
~ Daughter Ina Jean (Hall) Hutchinson ~
Daughter Ina Jean Hall (1935-1985) was born on Oct. 29, 1935, a twin with her sister Ila Jane.
She wedded Roy "Rocky" Hutchinson (1924-1997). The couple did not reproduce.
They put down roots in the Wilkinsburg section of Pittsburgh.
She was gathered away by the Angel of Death in February 1985. She rests for all time in Penn Lincoln Memorial Park in North Huntingdon Township, Westmoreland County. [Find-a-Grave]
Roy outlived his wife by a dozen years. He passed into eternity on April 28, 1997. A death notice in the Pittsburgh Post-Gazette requested that any memorial donations be made to the American Cancer Society.
Copyright © 2003, 2008, 2020 Mark A. Miner