Philip Hupp (1781-1865) and
Phoebe Johnson (1789-1845)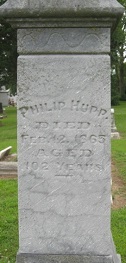 Philip Hupp's grave,
Piasa, IL
Philip Hupp was born on Oct. 4, 1781 in or near what today is Clarksville, Greene County, PA, the son of Everhart and Margaret (Thomas) Hupp. He and several of his sons were pioneer settler of Illinois.
During the War of 1812, when in his early 30s, Philip joined the Pennsylvania Militia, 1st Regiment, serving under the command of Lt. Col. Joel Ferree. The regiment was mustered into service of the United States at Pittsburgh on Oct. 2, 1812. Their term was set at six months' service. The troops underwent training at Dunlap's Plains near Pittsburgh until Oct. 19, 1812, when they were deployed.
The regiment spent much of its time in October marching, first going to Akin's, Sholer's, Beaver's Mills, Bough's, New Lisbon, Crook's Hill, Sandy Creek, Nimiskillen/Canton and Camp Tuscarawas in Ohio. In November, their movements included marches to Camp Orr, Scott/Wooster, Camp Kilbuck, Mohican/Muddy Fork, Lake Fork and Black Fork, Green Town, Camp Ferree and Mansfield. During that time, they had walked 167 miles.
Their daily ration included 18 oz. of flour, 20 oz. of pork or beef and in winter a gill of whiskey. Every 100 days, the men also received 1.5 lbs. of candles, 4 lbs. of soap, a half-gallone of salt and a half-gallon of vinegar. Said the book Pennsylvania Archives, Sixth Series, Vol. VIII, "A soldier's life in those days was one of hard labor and much suffering" in "dragging the artillery and stores from Sandusky to the Rapids."
They stayed at Mansfield for about a month, from Nov. 13 to Dec. 10, and then were ordered to march to Upper Sandusky, a distance of 40 miles. The troops settled into a winter camp, remaining until Jan. 24, 1813. In company with a Virginia Brigade, they began a march to the Rapids of the Miami and crossed the frozen Tiamaughta (Tymochtee), leaving their horses and packs as the ice was not thick enough to support the weight of horses.
They finally met up with Gen. William Henry Harrison -- future President of the United States -- at the Portage River, having covered another 60 miles from the rapids to Sandusky. The month of March was spent in occasional skirmishes with Indians, and one of the militiamen was found scalped about three miles from Fort Meigs, along the Miami River.
When the time period of militia service elapsed, the men were mustered out at Fort Meigs, OH on April 2, 1813. They were paid also for a 13-day period allowed for returning home. While en route, their commanding officer Ferree died at Zanesville on April 9, 1813.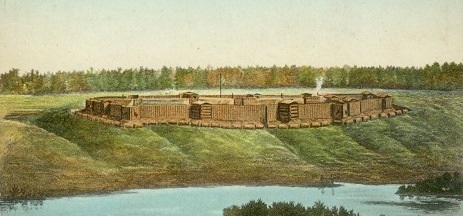 Fort Meigs, Ohio, as it looked during the War of 1812, when Philip Hupp was stationed there in March-April 1813.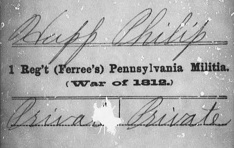 Phillip's War of 1812 record. National Archives
Once back home, Phillip began planning for his future.
On Nov. 9, 1815, when he was 34 years of age, he married 26-year-old Phoebe Johnson (1789-1843). She was born in either Pennsylvania or Delaware, and was the daughter of Isaac and Lyda (Miller) Johnson. Her heritage was Welsh.
They produced a family of nine children, of whom six are known – Imri/Emri J. Hupp, Isaac J. Hupp, Israel Bailey "Izra" Hupp, Phoebe Ann White, Ellis Hadley Hupp and Eli Lindley Hupp.
When the federal census was enumerated, Philip was listed as residing in Millsboro, Washington County, PA. Eight free white persons lived under their roof, including four adults and four children. One was employed in river navigation and two in manufacturing and trade.
Philip was a shoe and boot maker. He taught this trade to his youngest son Eli, and in later years they worked together in Pennsylvania and Illinois. While a military veteran, there is no evidence that Philip ever applied for or received a pension for his service.
In the early years of the 1840s, Philip and their sons Imry and Eli struck out for the west and migrated to Illinois. The extreme flatness of the terrain differed markedly from the steep hills and valleys they had known back in Pennsylvania. Philip and Eli found attractive opportunities in Jersey County, and decided to settle permanently, possibly for the benefit of Phoebe's health. But if she were ailing, she did not find suitable relief. They apparently returned to Washington County in the spring of 1842, and Phoebe died the following year, in 1843, at the untimely age of 54.
A table in the Alton (IL) Weekly Telegraph dated March 9, 1844 shows that the absent Philip owed back taxes on 140 acres of land in Jersey County, located in Section 28, Township 8, Range 12
Philip and his son Eli remained in Washington County for two years, until the autumn of 1845. Then, while one or more of his adult children remained behind, Philip and Eli returned to Jersey County, leaving for good the life and heartache they had known. One of those staying behind was Isaac, the third great-grandfather of the founder of this website.
The Alton Telegraph edition of Oct. 11, 1845 reported that Philip had unclaimed letters awaiting him at the Jerseyville post office.
For four years, Philip and Eli were employed in harness-making in Otterville, Jersey County. They then appear to have reclaimed possession of their old farm, remaining until 1855. (Township 8, Range 12).

Farm near Shipman, Macoupin County, Illinois, on what today is Prairie Dell Road, where Philip resided with son Eli for about a decade, until his death in 1865.
When the federal census was taken in 1850, Philip made his home on the farm of his son Eli in Jersey County. Also in the household that year were grandson Philip M. Hupp, 15-year-old Sarah Turner, and 12-year-old Joseph Piggott.
During that time, Eli purchased what eventually became the "Walnut Row Farm" in Macoupin County, IL, and relocated there four years later in 1855, when father Philip would have been age 75.
In 1860, when the census again was taken, Philip remained in his son Eli's dwelling in Macoupin County. The census-taker recorded his age as 92, when in reality it was closer to 79.
Philip passed away in Macoupin County on Feb. 12, 1865. By that time, he had outlived all but four of his nine children. His remains were laid to rest in the Piasa Cemetery, otherwise known as the Mt. Pleasant Cemetery. On his grave marker is this inscription: "Philip Hupp. DIED Feb. 12, 1865 AGED 102 years." This reference needs to be double-checked, as Minerd.com's research shows he only would have been 85 years old at the time of death. [Find-a-Grave]
In 1879, 14 years after Philip's passing, he and Phoebe were named in a profile of their son Eli in the book History of Macoupin County, Illinois, published by Philadelphia's Brink, McDonough & Co.
Philip is not to be confused with another man by that name who served in Captain Sullivan's company during the American Revolution; married Mary Buzzard in Hampshire County, VA on July 25, 1782; and died on Nov. 9, 1831 in Monroe County, OH, and whose widow received a Revolutionary War pension after his death.
~ Son Imri/Emri J. Hupp ~
Son Imri J. Hupp (1816- ? ) was born on Aug. 27, 1816 in Pennsylvania. He was named after his mother's brother, Imri Johnson, but at times his name was spelled "Emri."
Imri was a carpenter, and migrated to Illinois in 1840 or earlier. Four days after Christmas 1840, when he was 24 years of age, Imri married Elizabeth R. Abraham ( ? - ? ) in Jersey County, IL.
Whether they had any children is unknown. Elizabeth's fate is unknown.
When counted in the 1850 census, Imry lived by himself in the Northern Division of Marshall County, MS, and at the age of 34 boarded in the household of cabinet-maker Randal Forehand and his wife Martha.
By 1860, he had migrated into Arkansas, with his home in Augusta, Bay Township, Jackson County. There, at the age of 43, he earned a living by clerking.
He also continued to farm, and in 1870 headed a household in Augusta, Woodruff County, AR, with the family of his married sister Phoebe Ann White, and also Joseph Holland, as boarders.
In 1880, Imry was retired and boarded with farmers Alonzo and Emma Mitchell in Augusta. In the census of 1880 he claimed his mother's birthplace as Delaware.
Imri passed into eternity at the age of 79 on Aug. 10, 1896. His remains were placed into eternal rest in Augusta Memorial Park in Woodruff County.
~ Son Israel Bailey "Izri" Hupp ~
Son Israel "Bailey" Hupp (1818?-1903) -- also known as "Izra" or "Izri" or "I.B.," was born on Dec. 19, 1818 or 1820 in Pennsylvania or possibly in Illinois. (Son Frank's death certificate is the source for the Illinois reference.) His name also may have been "Isaiah."
He learned how to sew and became a tailor by 1860. He also enjoyed the out of doors, especially hunting fox.
Bailey is believed to have married Martha McCallister (1831- ? ), or possibly "Lloyd." They were wed in about 1850 and were 13 years apart in age.
The couple had 10 children, born over a remarkable 30-year span -- among them Virginia Hupp, George Hupp, John Hupp, James W. Hupp, William Franklin "Frank" Hupp, Nelson Hupp, Limincy Hupp and Lantz Linoell Hupp.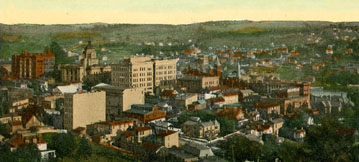 Fairmont, West Virginia
Within a few years of marriage, Bailey and Martha relocated across the state line into Virginia (later renamed West Virginia) and over the years resided in Wetzel County and Fairmont, Marion County. They were in District 2 of Marion County circa 1860. In 1872, at the time son Lantz was born in Wetzel County, Bailey worked as a miner.
The 1880 and then again in 1900, the federal census shows Bailey and Martha living in the Church District of Wetzel County, with Bailey marked as a farmer. For the 1900 census, their son Lantz was the census-taker, working for the government.
He is believed to have died in Earnshaw, Wetzel County on March 31, 1903, at the age of 85 (or 83). Son L.L. Hupp was the informant for his official West Virginia certificate of death.
Evidence suggests that Martha outlived her husband by six years and died in Fairmont on May 26, 1909. Their burial places are not yet known.
Daughter Virginia Hupp was born in about 1852.
Son George Hupp was born in about 1854.
Son John Hupp was born in about 1856.
Son James W. Hupp was born in 1858.
Daughter Alice Hupp was born in about October 1860 (or November 1859) in Marion County.
Son William Franklin "Frank" Hupp was born on May 25, 1863 in Marion County. He chose to spend his life in West Virginia. He was married and lived at 1808 Virginia Street in Moundsville. Tragically, Frank died of asphyxiation from natural gas on Dec. 16, 1933, at the age of 60. Burial was in Fairmont.
Son Nelson Hupp was born in 1866 in West Virginia.
Son Lantz Linoell Hupp (1872-1949) was born on July 1, 1871 or July 4, 1872 in Wetzel County. (He is not to be confused with a cousin, Dr. Andrew "Lantz" Hupp of Harrison County, WV.) He was married and resided in Marion County, and was employed as a meter reader for West Virginia Gas Company. In about 1939, he suffered a heart attack, but regained his health. But a decade later, he was stricken with bronchial pneumonia and when compounded on top of the earlier damage to his heart, he died in Jackson County, OH at the age of 78 on Dec. 29, 1949. His remains were returned to Farmington, Marion County for interment in the International Order of Odd Fellows (IOOF) Cemetery.
~ Son Eli Lindley Hupp ~
| | |
| --- | --- |
| | |
| Eli Lindley Hupp | Minerva (Piggott) Hupp |
Son Eli Lindley Hupp (1826-1893) was born on Oct. 6, 1826 in Washington County. He was a pioneer settler of Illinois.
As a teenager, Eli was taught by his father on how to make harnesses. He knew the trade was portable, and in the spring of 1842 or 1845 (sources differ), he migrated to Illinois, where he set up business in Otterville, Jersey County. His father Philip traveled with Eli, or joined him at another time. Whether or not Eli's mother came with with them, or died back in Pennsylvania, is not yet known.
He is believed to have been married twice. On Feb. 25, 1847, when he would have been age 21, an "Ely Linley Hupp" married Jane E. Turner in Jersey County. How this marriage ended is unknown.
On New Year's Eve 1848, Eli married again, to Minerva Jane Piggott (1828-1903), the daughter of Joseph and Anna (Spurlock) Piggott. They originated in Virginia and had migrated to St. Clair County, IL and thence to Jersey County. Minerva is said to have been a niece of "Judge Piggott" of St. Louis.
The images of them seen here were produced for the 1879 book History of Macoupin County, Illinois, published by Philadelphia's Brink, McDonough & Co. (page 230), and are courtesy of RootsWeb.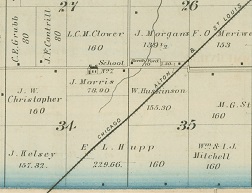 Eli's farms, below center, of 229.66 and 160 acres, bisected by the Chicago, Alton & St. Louis Railroad.
1875 Atlas of Macoupin County
They had eight children, among them Philip M. Hupp, Henry Newton Hupp, Alice A. Hamer, Imry Lincoln Hupp, Franklin L. Hupp, William F. Hupp, Hannah "Zella" Hupp and an unnamed son who died in infancy.
A written profile once said that Minerva was an "estimable wife, who is a lady of many marked personal advantages, culture and refinement..."
Eli changed his business in about 1849 when he began farming in Otterville and purchased a farm in Macoupin County, IL. They were there when the federal census was taken in 1850. (Township 8, Range 12) Also under their roof that year were four month-old son Philip, 15-year-old Sarah Turner and 12-year-old Joseph Piggott.
Moving to Chipman, Macoupin County in 1855, the Hupps remained on that property -- "Walnut Row Farm" -- for many years. It comprised two tracts totaling 389.66 acres. In 1874, cows of his farm's breeding were named in The Cultivator & Country Gentleman newspaper, and in 1875 in Bailey's Shorthorn Reporter. Some of their stock were described and pedigreed in volumes of The American Shorthorn Herd Book, published in the 1880s. Among his specialties was raising Clydesdale horses which were "sent to the cities to be employed in havy drafting. he also has bred many fine roadsters," said one observer.
A profile in the 1879 book History of Macoupin County said this of Eli:
In politics Mr. Hupp is a republican. He cast his first vote for Zachary Taylor for President, in 1848. In life he has been very successful, as his broad acres of well-tilled fields and herds of fine stock will testify; -- the accumulation of years of honest toil, and the practice of rigid economy, aided by sound judgement and business tact. He is regarded as one of the leading agriculturalists of the county. [link]
When the census was taken in 1860, Eli and Minerva and their children are shown on their Macoupin County farm, Township 8, Range 8, with their post office marked as "Plainview." Eli's elderly father, Minerva's kinsman Mary Piggott (age 16) and German-born farm hand William Wankin also were in the residence that year.

Sketch of the Chicago, Alton & St. Louis Railroad line cutting through Eli's farm near Shipman, Illinois
Another profile of Eli, in the book Portrait and Biographical Record, said:
There must be a satisfaction and serene content to a man who has endured the privations and hardships of pioneer life in a Western settlement, and who has known what it is to take his corn to mill at a distance of many miles before he could have flour to make his bread, and to take his crops to a distant market, where he found a sale for them at a very low price, to now enjoy the comforts and advantages of life at the present day, with its railroad facilities, its comparatively high prices for farmers' produce, and easy access to the commodities of life, and to know that he has been instrumental in effecting this change, for, although we may not all be railroad contractors, or even have had the means to build up communities, every individual effort helps to complete the perfect whole.
Eli's farm is shown in an 1875 Atlas of Macoupin County, produced by Warner & Beers. The page headlined "Shipman Township," shaded in blue, depicts the tracks of the Chicago, Alton & St. Louis Railroad crossing his property in a diagonal direction. Eli would have been paid handsomely by the railroad for this privilege of access. Active in the community, he was a local school trustee and an elected official of township positions.
Eli's profile in the Portrait and Biographical Record
Eli died on April 21, 1893, at the age of 67. Minerva and their adult children Zella and William were with him at the end. He was laid to rest in the Piasa Cemetery in Macoupin County. [Find-a-Grave]
In a flowery obituary, the Macoupin County Enquirer said this of his final days of life:
The calm, earnest, resolute and patient soul of E.L. Hupp, recked not of the wild fury of the elements, Friday evening, as it looked back upon a well-spent useful life and its earthly existence neared a peaceful close, soothed with the tender sympathy, sustained by the loyal devotion of his beloved wifely companion. The pangs of dissolution, softened by the presence of sons and daughters, he dreaded not that marvelous change which touches mortals and they know the inexplicable mystery that refutes the doubt of immortality and reads the divinity of a never ending eternity. For some time Mr. Hupp has not felt the vigor and perfect health that in years past marked his daily life. Thursday his illness assumed a more serious character; Friday evening the end came.
Minerva survived him by a decade. She entered eternity on Oct. 9, 1903, at her home south of Shipman. A short article in the local newspaper said she "was one of the old pioneers of Macoupin county." Likewise, the Alton (IL) Evening Telegraph noted that she was the "mother of Mrs. Alice Hamer, of this city." She was laid to rest in Piasa Cemetery in Shipman, and the newspaper reported that she was survived by four sons, two daughters "and a great number of grandchildren."
They and their children are listed in Howard Leckey's book The Tenmile Country and Its Pioneer Families.
In 1987, Eli and Minerva were named in volume 20 of The Connecticut Nutmegger, a publication of the Connecticut Society of Genealogists, in a section devoted to the Piggotts.
Son Philip M. Hupp (1849- ? ) was born in 1849 in Illinois. He married Alice A. Ryan (also spelled "Rhine") on Dec. 7, 1871, in Macoupin County, when he was 22 years old.
Son Henry Newton Hupp (1854- ? ) was born in 1854 in Illinois. He married Alice Whiteside ( ? - ? ).
Daughter Alice A. Hupp (1857- ? ) was born in 1857. At age 20, she married Bates F. Hamer ( ? - ? ) in Macoupin County on Sept. 12, 1877.
Son Imry Lincoln Hupp (1862- ? ) was born in 1862 and was named for three people -- "Imry" after an uncle and grand-uncle; and "Lincoln" after the President of the United States at the time. He wed Elizabeth "Lizzie" Miller ( ? -1942). They were the parents of Zehria Stutsman. The family at one time resided in Shipman, IL. After Lincoln's death, Elizabeth traveled and is known to have spent the winter of 1935-1936 at the Los Angeles home of her daughter Mrs. A.J. Tierney. As she aged, she went to live with her daughter Zehria Stutsman in Springfield, IL. She died in the Stutsman residence at the age of 77 on Oct. 27, 1942. Her obituary was published in the Alton (IL) EveningTelegraph, noting that she was survived by her brother C.W. Miller of Shipman. Interment of the remains was in Springfield.
Son Franklin L. Hupp (1863- ? ) was born in 1863. He married Mattie Marshall ( ? - ? ).
Son William F. Hupp (1866- ? ) was born in 1866.
Daughter Hannah Zella Hupp (1868- ? ) was born in 1868.
~ Daughter Phoebe Ann (Hupp) White ~
Daughter Phoebe Ann (Hupp) White (1838-1922) was born in October 1838 in Greene County.
When she was about 20, circa 1858, she was joined in marriage with William "Will" White (May 1835-1921).
This couple produced 10 offspring, among the known names Angeline A. White, Emri H. White, Eliza A. White, Stephen L. White, Sarah Jobe Rusa, Thomas E. White and William Bradford White. Four of the 10 were deceased by 1900.
The federal census enumeration of 1860 shows the couple as farmers in Springfield Township, Greene County.
Sometime between the births of children in 1865-1868, the Whites relocated to Arkansas and initially settled in Augusta, Woodruff County. In Augusta, they made a home with Phoebe's elder brother Imri J. Hupp and worked on his farm.
They continued farming during the decade of the 1870s and by 1880 had moved to Ruddle Township, Independence County, AR.
William and Phoebe pulled up stakes again and migrated to a farm in Richwood Township, Stone County, AR. They are shown in this location in the 1900 federal census.
Sadly, William died in 1921.
Phoebe Ann only outlived him by a year. She succumbed to the Grim Reaper in 1922.
The Whites are in eternal sleep in Augusta Memorial Park in Woodruff County, AR. They are said to have been the great-grandparents of Houston Mayor Bill White.
Daughter Angeline White (1859- ? ) was born in about 1859 in Greene County, PA.
Son Imri/Emri H. White (1860-1909) was born in about 1860 in Pennsylvania. He appears to have been named for an uncle, Imri/Emri J. Hupp. He grew up assisting his father with farm work in Arkansas. At about the age of 24, on Jan. 27, 1884, he wedded Bertha Maxwell ( ? - ? ) of Independence, AR. The Whites produced two daughters, Pauline White and Ethel White. They may have initially dwelled in Batesville, AR. Then sometime in or before 1894, they moved to Texas and remained there for some years, leaving their daughters in Arkansas in the care of Bertha's mother. Eventually Imri and Bertha migrated back to Arkansas, settling in Augusta. Imri died in Augusta, AR on Dec. 17, 1909. Word of his passing was telegraphed to his brother in law Charles E. Maxwell of Batesville. A short obituary was published in the Batesville Guard, stating that "The many friends of the family, who knew them in former years while residents here, extend their heartfelt sympathy."
Daughter Eliza A. White (1862- ? ) was born in about 1862 in Pennsylvania.
Son Stephen L. White (1864- ? ) was born in about 1864 in Pennsylvania.
Daughter Sarah Jobe White (1865-1935) was born on Sept. 24, 1865 in Pennsylvania. She was a girl when accompanying her parents to Arkansas. She wedded John Enoch Rosa (1865-1948). The offspring born to this union were Louise Schwenck, Hugh W. Rosa, Patti M. Klyce and Brent H. Rosa. The cople's address in the 1930s was 287 Lewis Street in Memphis, Shelby County, TN. Sarah was afflicted with cancer of the uterus and admitted to Methodist Hospital in Memphis. Surgery to drain the growth was unsuccessful. She died there at the age of 70 on Nov. 3, 1935. She slumbers in Forest Hill Cemetery Midtown in Memphis.
Son Thomas E. White (1868- ? ) was born in about 1868 in Arkansas.
Son William Bradford White (1879-1935) was born on Jan. 30, 1879. When he was age 23, on Nov. 16, 1902, he was united in matrimony with 21-year-old Lilly Byrd (June 8, 1881-1966), a resident of Riverside, Woodruff County. Their nuptials were held in Woodruff County. He died on May 28, 1935.