Harriet Inks was born in 1865 near Farmington, Fayette County, PA, the daughter of Andrew J. and Minerva (Minerd) Inks.
She never married, but, like her sisters, was a skilled seamstress.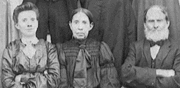 In her younger adult years, Harriet resided with her parents in Fairchance, PA. She is seen here, posed with her mother and father, at what is thought to have been a family Thanksgiving gathering in 1906.
After her mother died, Harriet lived with various brothers and sisters, including Bertha Wilson in Greensburg, Minnie Johnson in Philadelphia, Calvin Inks in Connellsville, PA and Sarah Chisnell in Wilkinsburg, PA.
Harriet was a longtime member of the Fairchance Presbyterian Church.
Harriet passed away at the age of 80 on May 7, 1945 at the home of her sister Sarah in Wilkinsburg. She was buried beside her parents at the Hopwood Cemetery, near Uniontown, PA.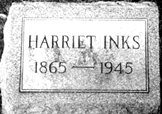 Copyright © 2001-2002, 2020 Mark A. Miner