John and Alice Inks
John H. Inks was born on April 21, 1874 near Farmington, Fayette County, PA, the son of Andrew J. and Minerva (Minerd) Inks.
As a boy, John is thought to have been injured in a freak and unexplained farm accident. The Aug. 31, 1883 Connellsville Keystone Courier reported that:
... a son of A.J. Inks, aged about 10 years, was sent to put a horse in pasture. A short time afterwards he was found lying in the road in an insensible condition and had a gash two inches long cut in his leg. The bone was laid bare along the whole length of the wound. Dr. Newman was sent for, who sewed up the wound. After the boy was restored to consciousness he could give no account of the manner in which he received his injuries.
As a young adult, John moved to Pittsburgh, settling in the city's Knoxville and Carrick neighborhoods. He was an electrician, and was employied by the city's major electric utility, Duquesne Light Company.
On Oct. 23, 1901, in Knoxville, the 28-year-old John married 27-year-old Alice Powell (Aug. 29, 1874-1954), the daughter of William T. and Margaret (Phillis) Powell.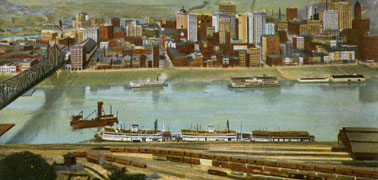 Pittsburgh and the Monongahela River as seen from Duquesne Heights in the South Side -- a view the Inkses would have known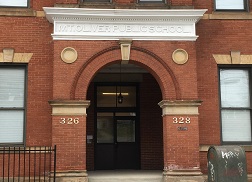 Local landmark, Mt. Oliver Public School
They bore two known daughters, Mildred Smyers and Alice May Inks.
In 1910, the Inkses lived at 324 Sheridan Avenue in Pittsburgh, and in 1914 at 6034 Rodman. Circa 1920, they resided at 405 Sierra Street, also in Pittsburgh.
Heartache shook their world on Nov. 15, 1914, when one year old daughter Alice died of gastroenteritis, an infection of the stomach and intestines. The child's remains were laid to rest in Allegheny Cemetery.
Circa 1926, John was employed as a dispatcher with the Green Taxi Cab Company, part of Pittsburgh Transportation. Their home was at 253 Phillips Avenue in the city's Carrick section.
John was afflicted with a perforated ulcer of his digestive tract ("duodenum") which led to a deadly infection of peritonitis. He was taken to Pittsburgh's St. Joseph's Hospital, where he expired on July 13, 1926, at the age of 52.
Interment was in South Side Cemetery in Pittsburgh. His obituary was published in the Pittsburgh Post-Gazette. Alice's sister Marion Crocker was the informant for his official Pennsylvania death certificate.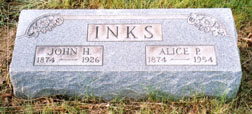 South Side Cemetery
By 1929, widow Alice was living at 300 Walnut in the Pittsburgh suburb of Mt. Oliver. She outlived her husband by more than a quarter-century. Circa 1940, federal census records show in the household of her married daughter.
Burdened with hardening of the arteries and hypertension, Alice was stricken by a cerebral hemorrhage at the age of 79. She passed away on Aug. 2, 1954, and was buried beside her spouse at South Side. An obituary in the Pittsbugh Press noted that her survivors included her sister Marion Crocker and brother Howard Powell.
Several other Minerd branches have offspring who rest for eternity in South Side Cemetery -- among them Hester Minerd (1887); Mentzer E. Tilbury (1938); and Frank F. Gribble (1943), who actually lived nearby.
~ Daughter Mildred (Inks) Smyers ~
Daughter Mildred Inks (1907-1987) was born on March 7, 1907.
She once held a position as clerk for Metropolitan Life Insurance Company.
Pittsburgh Press
She married Herbert Allison Smyers Sr. (July 16, 1901-1967), son of George and Elizabeth (Hellen) Smyers.
Herbert was an alumnus of the Carnegie Institute of Technology, today's Carnegie Mellon University.
They bore two offspring -- Mildred Muse and Herbert Allison Smyers Jr.
The couple dwelled on Mt. Washington in Pittsburgh at the address of 424 Ruxton Street. They were members of the Bailey Avenue United Presbyterian Church, and Herbert belonged to the Allegheny Lodge of the Masons and the Knights Templar.
Herbert was an engineering draftsmen and mechanical engineer for United Engineering & Foundry, and retired from the position.
Sadly, suffering from cirrhosis of the liver and a buildup of pus around his lungs at the age of 65, Herbert was admitted to South Side Hospital, where he died on Feb. 15, 1967. The Pittsburgh Press ran an obituary.
Mildred survived as a widow for another two decades. She was carried away by the Angel of Death on March 15, 1987. An obituary was printed in the Pittsburgh Post-Gazette, in which the family asked that any memorial donations be made to the American Cancer Society.
Daughter Mildred Smyers wedded (?) Muse ( ? - ? ). They were the parents of Matthew Muse and Ruth Muse. Her home in 1987 was in the Pittsburgh suburb of Bethel Park.
Son Herbert Allison Smyers Jr. ( ? - ? ) was born in (?). He was joined in matrimony with Joyce Myers ( ? - ? ), daughter of James W. and Hazel (Mason) Myers of Brookline in Pittsburgh. They produced two children -- Kurt Smyers and Sharon Smyers. The family relocated to Western Springs, IL.
Copyright © 2001-2002. 2010, 2014, 2020 Mark A. Miner