Clyde J. Jones
(1898-1973)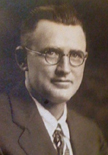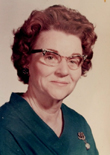 Clyde and Nellie

Clyde J. Jones was born was born on Jan. 4, 1898 in or near Harris, Anderson County, KS, the son of Martin Luther and Nellie (Brown) Jones.
In early manhood, Clyde was employed in Kansas City, on Holmes Street, and also at Lee Summit. He also worked in western South Dakota circa 1917 and as a blacksmith in Toutilla, TX in 1926. He then moved to Mercedes in Texas Rio Grande Valley to be a mechanic.
Clyde married Nellie Myra Hawley (1909-2000), the daughter of Jay W. and Achsa W. Hawley, of Lincoln Township, Anderson County. The groom and bride were 11 years apart in age.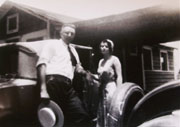 On their honeymoon

A snapshot taken during the couple's honeymoon is seen here. See below for a colorful impressionist painting by their daughter, based upon this image.

Their three children were Cecil Jarden Jones, Douglas Luther Jones and Lynda Achsa Janell Jones.

Prior to marriage, Nellie was employed as one-room school teacher in Lincoln Township. She gave up teaching after she wed, as was the policy of many early schools. Once settled in EdCouch, she opened a dress shop across from Clyde's machine shop. After becoming pregnant with son Cecil, she closed her shop following her belief that a mother should not work outside the home until her children were in school.

The Joneses made their home in EdCouch, Hidalgo County, TX, where Clyde served as Water Commissioner for many years for the City.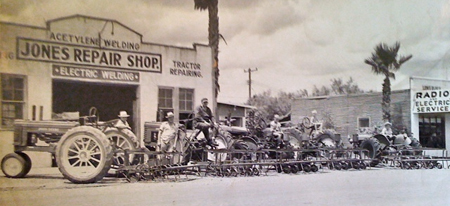 Clyde's machine repair and welding shop in EdCouch, Texas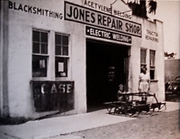 Clyde's repair shop

Clyde's primary occupation was as owner and operator of his own entrepreneurial business, the "Jones Repair Shop." The business served local farmers and others who needed repairs to their tractors and machinery. A variety of technical skill was needed such as blacksmithing, and electric and acetylene welding.

In the 1970s, Clyde received a letter from a cousin asking about family history. He responded with a six-page letter, using a typewriter on pink paper. He retyped memoirs his mother had written, entitled "Great Land Rush of Oklahoma 1889."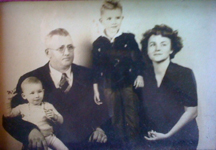 Clyde, Nellie and sons

He also covered part of his own personal history as well as listing his own children. In closing, he wrote: "Sure glad to hear from you & I know you have sure put in a lot of work. If there is any thing else I can do to help let me know." (The original today is preserved in the Minerd.com Archives.)

After her youngest child began first grade, Nellie returned to teaching and college, achieving Dean's List honors even while teaching and managing the household. She taught third grade for years in La Villa, TX, "and loved it," recalls her daughter.

While there she also taught Head Start in the summers and developed the Head Start curriculum and teaching materials. Her last two years of teaching were in EdCouch, a block away from her home, and where she taught second grade and English as a second language.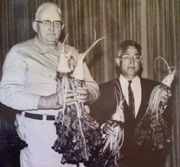 Clyde and friend with prize-
winning crop of turnips

Clyde is seen here with friend C.O. Forester, holding some of C.O.'s prize-winning turnips.

Clyde passed away in November 1973, at the age of 75.

Nellie outlived him by more than a quarter of a century. She died on Jan. 7, 2000, at the age of 90, having made it into the new millennium by a week.



~ Son Cecil Jarden Jones ~

Cecil Jones

Son Cecil Jarden Jones (1937-2002) was born in 1937.

He was married four times -- to Marilyn Hughes ( ? - ? ), Judy Holye ( ? - ? ), Sharon Ann Mosley ( ? - ? )and Diane Haspany ( ? - ? ). He had children, and/or step-children, with each one.

Cecil resided in McAllen, Hidalgo County, TX. He was an avid motorcyclist and enjoyed riding in parades with his bright yellow Harley Davidson hog trike, decorated with scripture and Bible scenes.

Tragically, his wife Sharon (Mosley) was killed in a motorcycle accident in which Cecil broke nine ribs and son Jarden Jones also suffered broken bones.

Cecil passed away on Jan. 15, 2002, in McAllen. His funeral, recalls his sister:

... was quite spectacular. All the riders came. He also was a chaplain at a prison and a lot of the guards came and even some prisoners were allowed to come. He was also the son in law of the preacher who built the church, so all the church members were there. Imagine a huge church with 1/3 bikers, 1/3 prisoners and 1/3 church types. It was a sight to see. He would have loved it.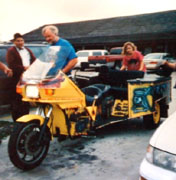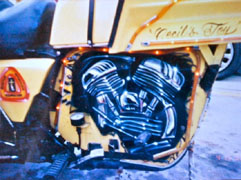 Cecil Jones' bright yellow trike motorcycle, left, and a close-up of its decor

Douglas Jones

~ Son Douglas Luther Jones ~
Son Douglas Luther Jones (1939-1999) was born in 1939.
In 1968, he wed Sharron Klandrud ( ? - ? ).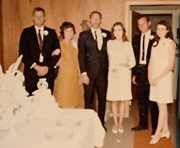 Wedding day, Douglas and Sharon

They together produced three children.

The Joneses made their home in Houston, where Douglas was employed as a chemist.

They relocated to McAllen, TX after Douglas was seriously injured in an automobile accident. He suffered a concussion which left permanent brain damage and led to the onset of a type of schizophrenia.

Never the same after the accident, Douglas passed away in 1999 at the age of 60.



~ Daughter Lynda A.J. Jones ~

Daughter Lynda Achsa Janell Jones ( ? -living0

She was married to Michael Bernard Gray from 1967 to 1976 and lived in Corpus Christi. After her divorce, she gave up her married name of "Gray" and today uses her maiden name "Jones."

She is a retired high school art teacher and an artist in her own right whose works are shown below.

Active in the artistic community in Corpus Christi, she served for 17 years with the City's Arts and Cultural Commission, including 16 years as visual arts chairwoman and her final year as commission chairwoman. This work involved refurbishing the city's publicly owned artworks and on education for the community about the pieces on display. Her photographs of individual pieces of art are on the commission's website. On Nov. 10, 2009, the City of Corpus Christi issued an official proclamation of "Lynda Jones Day." The proclamation reads, in part:

WHEREAS, Lynda Jones not only knows and loves art, but the story behind it, its history, the artists, and the people who attend the galleries and art shows. Every aspect of art is her passion!

WHEREAS, today we recognize & honor Lynda Jones for promoting the arts for the betterment and enjoyment of the people of Corpus Christi!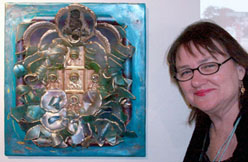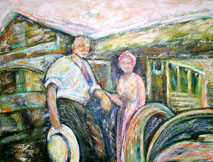 Daughter Lynda Jones and her artworks -- left: sculpture based on a Belarussian icon, incorporating old wine and Dr. Pepper bottles, oils and a metal Mexican frame; and right: impressionistic painting based on a honeymoon snapshot of her parents in the 1930s. Below, the official Corpus Christi Proclamation of "Lynda Jones Day" and a commemorative tile plaque she received for her years of service.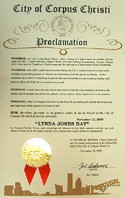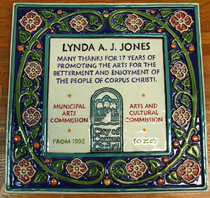 Some very old photographs of unknown faces, as found in this family's collection, are available for viewing on our "Unknown Faces and Places" webpage. Can you help us identify these individuals?


Copyright © 2000-2002, 2008, 2010, 2022 Mark A. Miner